How Editor Elaine Welteroth Is Making Up Her Own Rules in Life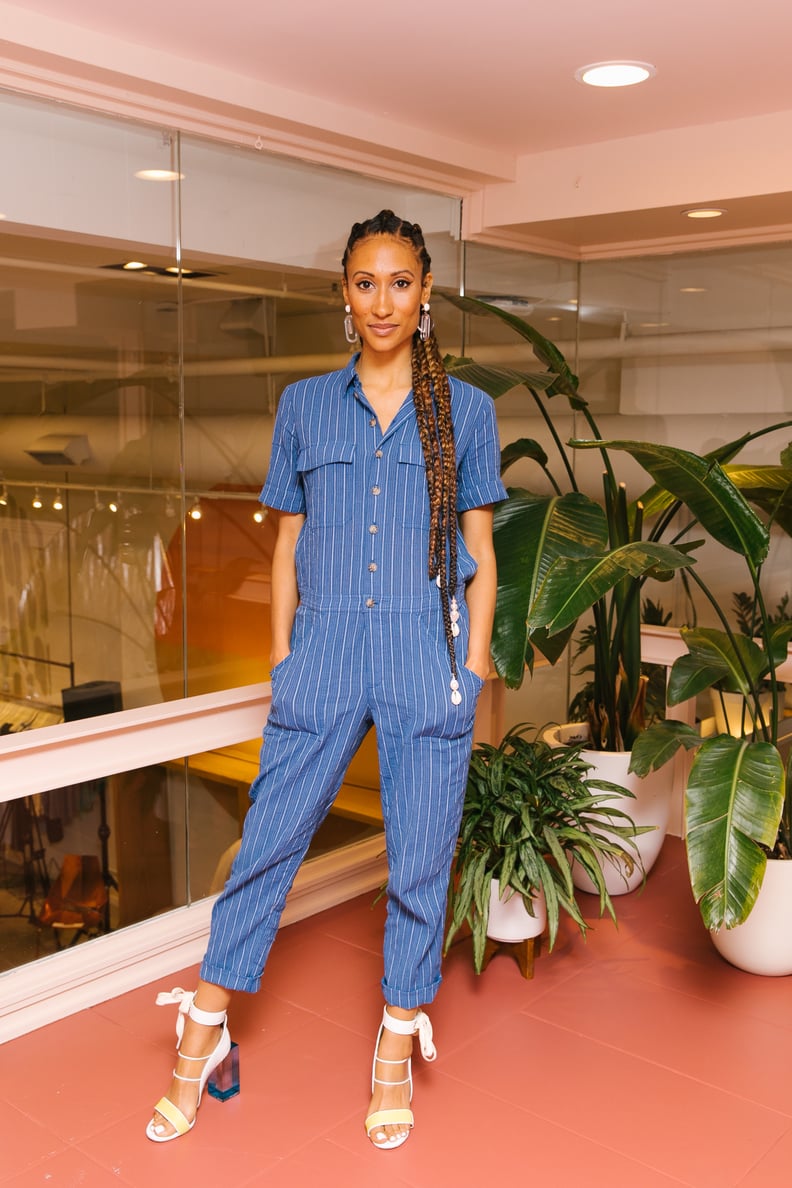 Courtesy of Lou and Grey
Courtesy of Lou and Grey
In a world of fireside chats and panels featuring aspirational girl bosses, it's easy to get caught up in searching for a blueprint for success. You find yourself obsessively reading successful women's LinkedIn accounts and checking their Instagram feeds for the one inspirational nugget that will somehow change your life forever. We often look for the "what" and the "how" in their journeys rather than the "why."
That's a perspective that OKREAL, described as "a curation of wisdom shared by aspirational women," is seeking to shift. We recently attended an OKREAL event in partnership with Lou & Grey called Girls Talk Real, which spotlighted award-winning journalist Elaine Welteroth, who is known for her repositioning of Teen Vogue and launching the Teen Vogue Summit.
Since leaving the magazine in early 2018, the former editor-in-chief has gone on to cover major news events like the March For Our Lives in partnership with Freeform and ABC News, and she also wrote an episode of Freeform's Black-ish spinoff, Grown-ish. We had the opportunity to catch up with the powerhouse ahead of her talk with Mindy Kaling at POPSUGAR Play/Ground. We asked her about the advice she would giving her younger self, the importance of mentorship, and the biggest influences in her career.
POPSUGAR: What advice would you give your 22-year-old self?
Elaine Welteroth: I could write a book about that. At 22 I was just starting my career in New York and I felt like the world was my oyster and anything was possible. Every day was an adventure and every boy I met could be my husband. It was the beginning of everything. Such an exciting time but also such an intimidating time. If I could give myself advice at 22, it would be to never let anything or anyone make you feel smaller than you are. I felt intimidated by a lot of things, people, and experiences because there was so much newness around me. The best was when I was confident enough to own my experience, show up as my full self, be fully present, and just experience it.
"The true magic of you is when you show up and do it your way."
PS: You've really shown with the trajectory of your career that you don't have to just be one thing and that's been incredibly inspiring for me and, I'm sure, a lot of other people.
EW: It's about having the courage to rewrite the rules and do old things in new ways. Reinvent a role. That's important because you'll aspire to a role or to be in this space that there's this overwhelming pressure to conform to what this has always looked like, sounded like, and felt like. The true magic of you is when you show up and do it your way. That's when you shine. Giving yourself permission to find your way to be in the room and express yourself. There isn't just one way to do something, and that concept came so much later for me.
PS: What do you feel really influenced your career as it is now?
EW: So many things, so many people. Meeting people that relate to me in any way inspires me so much. It reinforces that there's a larger community of people that always need you to be who you are. You not showing up as yourself is actually a disservice to the people that need you to be you. There's a certain magic that only you can bring. We don't really realize how much people rely on that. I get inspired by the young girls that I meet more than anything. It makes everything I do feel so much more worthwhile. It's like, you exist. I thought so and now I know.
Every boss and colleague I've had has inspired me so much — particularly my first boss and mentor Harriette Cole. Finding out about her and how she was able to share her gifts across various platforms inspired me endlessly. It gave me the blueprint for my career. Knowing that she existed meant that there was a path that I could identify with and get excited about pursuing. Prior to her I only saw boxes that I didn't fit into. It was hard to get excited about my future. Seeing someone who was really multifaceted, firing on all cylinders, and fully [reaching] her potential really inspired me.
PS: What role has mentorship played in your life? Do you have tips for finding a mentor?
EW: I think peer mentorship is as important as finding a mentor who's older than you. Sometimes we underestimate the value the people in our tribe can offer. It's about not being afraid of being vulnerable with the people that are already in the circle, and sharing more about your journey and asking more about theirs. We're always seeking something different, bigger, and more unattainable — someone we think has it more figured out. I wish I was 22 in the age of social media and everyone is a DM away. You have an open platform to show the world who you are and what you care about, which will draw the right mentors to you. Be persistent. I would not be here if I wasn't persistent. Don't underestimate the power of persistence, but don't wait on someone's approval to get started.