The Easiest Way to Upgrade Your Vacations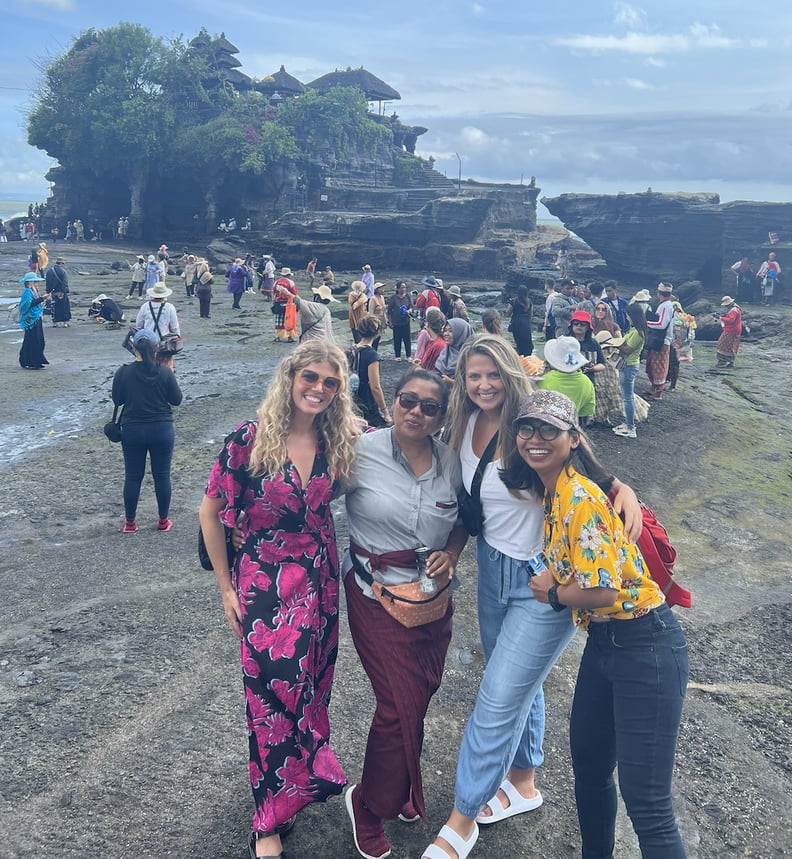 Taylor Andrews
Taylor Andrews
If you want to level up your next vacation, there's one simple and easy way to do so. It's not upgrading to an unlimited drink package or requesting a city-front hotel view; it's simply booking a local tour guide. Before visiting Bali, I'd never consider getting a tour guide because I didn't think I'd be able to swing it financially, but the truth is, it's a pretty affordable (and well worth it!) luxury.
If the word "tour guide" brings up an image of a monotone, name-tag-wearing someone that herds you around a museum with 100+ people, know that this is not what I mean. When I say hire a tour guide, I mean hire a local one who understands the culture, land, food, and traditions of the place you're visiting firsthand.
I learned the importance of having a local tour guide when I recently traveled to Bali with a company called EF Ultimate Break. If you're unfamiliar, EF Ultimate Break is what I'd consider to be a travel concierge service that handles all the logistical stressors that come with vacationing. This includes booking your flight, hotel, and general itinerary for the trip. (Truly things that are too much of a hassle to do yourself.)
Most importantly though, EF Ultimate Break pairs your group of up to 44 people with a local tour guide and tour director who show you the country or cities from their native lens — and honestly, this is what elevated my Bali experience more than anything. Allow me to explain why hiring a local tour guide should be a priority on your next vacation.
You Gain Access to Intimate Cultural Information
My Ultimate Break's group tour guide, Putri, 44, and tour director Aggie, 31, were both from Pejeng, a small village in Bali just a few minutes outside of the main city of Ubud. With them both being Balinese, they were able to provide cultural information I otherwise wouldn't have retained traveling without them.
They spoke openly about their own families and religious practice and also used their personal lives to provide insight on Balinese customs, like why and how the traditional Balinese offerings are made. These offerings are handmade up to 15 times a day, and include flower pedals, rice, incense, food to eat, and sometimes cigarettes. They're placed along the sidewalks, the street, in hotels, and more, with the idea being that they "nurture the land" and "protect the people." Putri even taught us how to make an offering.
In addition to the offerings, with US politics being in shambles and abortion access being stripped away at the federal level here, I also asked them questions on how Balinese people viewed topics like abortion access, LGBTQ+ rights, and marrying below or above their individual caste system. We were able to talk openly about the cultural differences and the progress we hoped to see come out of our respective countries.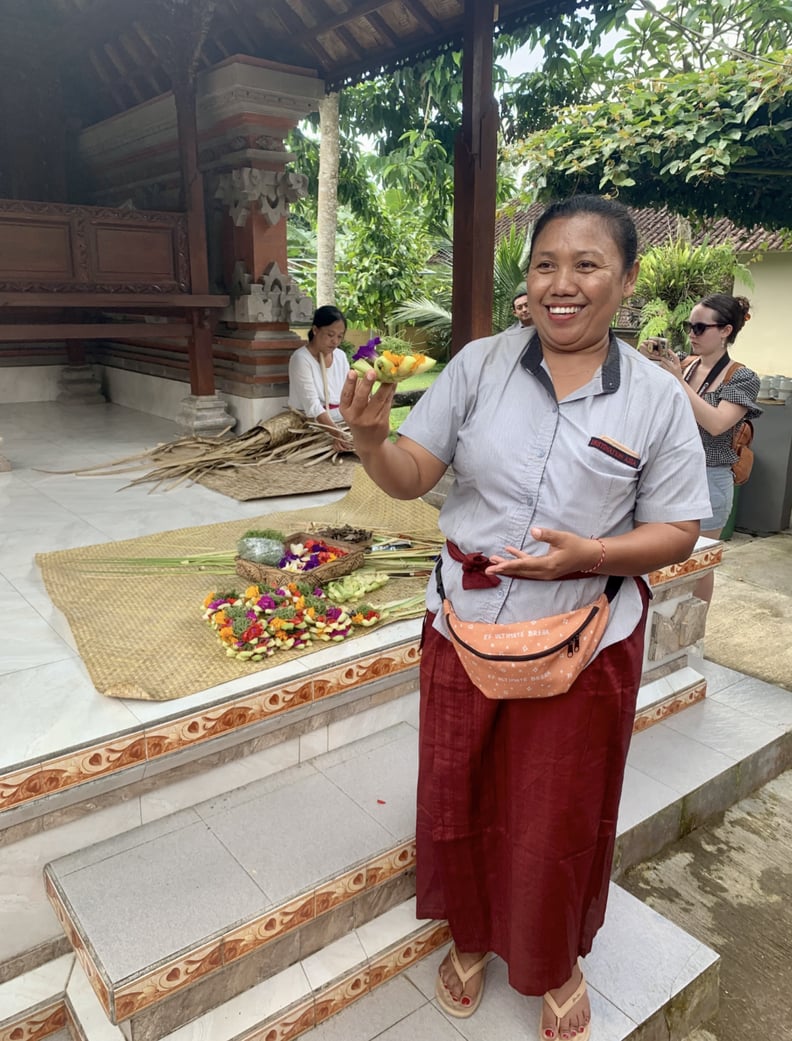 You Feel Prepared For Anything and Everything
. . . and I mean everything. With the Ultimate Break itinerary already planned, Aggie and Putri knew exactly how to prepare us for the excursions and activities. For example, before going canyon tubing, Aggie messaged our group with information on what to wear, noting that long sleeves and long pants would be best because of the leeches in the river. She also came prepared with salt just in case a leech latched on to our skin. When it was time to tour a few local temples, Aggie had sarongs ready for people to put over their clothing beforehand because legs and shoulders have to be covered when you're inside.
In addition to the activity prep, they gave us food and bar recommendations that they knew were tourist-friendly and would only be using ice from filtered water, for example, which meant no Bali Belly (also known as traveler's diarrhea) for me or anyone else in my group.

Putri also talked me through how the bathrooms worked, which, when out in more rural areas of Bali, is a hole in the ground — and if it wasn't for her, I definitely would've thought I was in the wrong place. (It's me, hi, a dumb American.) She was also always helpful in telling the group how much we needed to tip people like Budi, for example, who guided us down a waterfall.
Without these little tidbits of information they provided, I might have been embarrassed or come off as disrespectful or silly to many of the local Balinese people. And honestly, being informed of what to expect instead of having to figure things out myself was a lifesaver for the anxious, control freak I can be.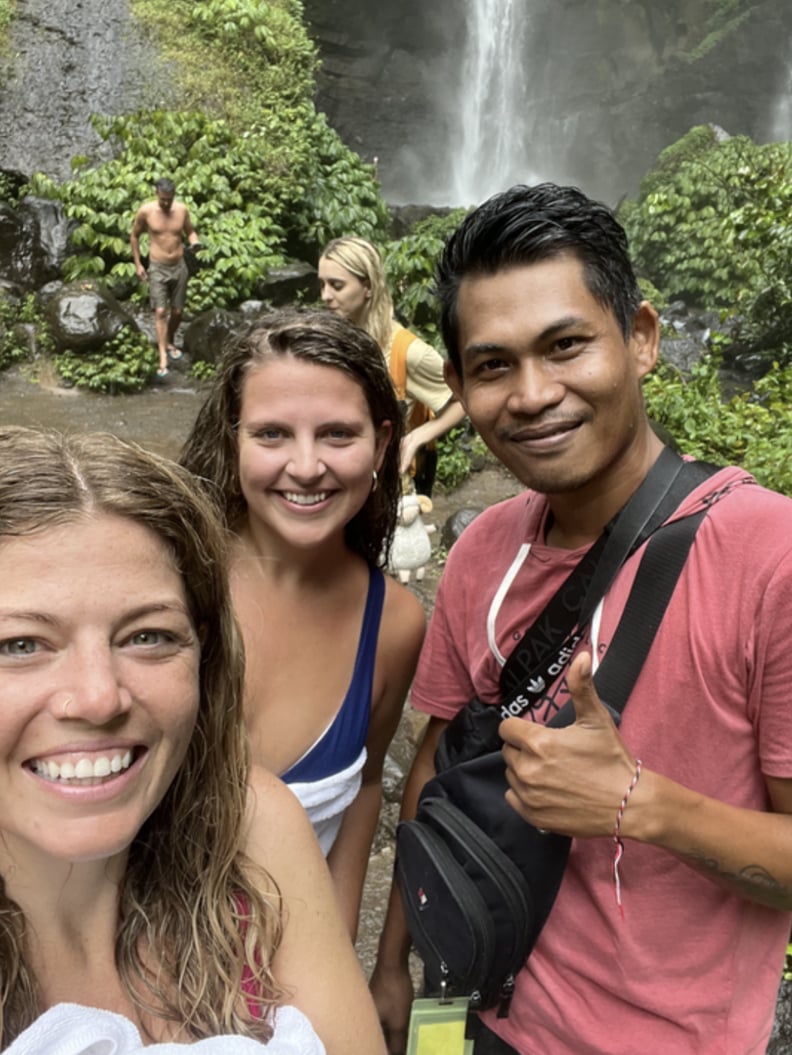 There Will Be a Sense of Security
Hiring a local tour guide who can speak the native language is extremely helpful incase of an emergency. Though Bali is a very safe place — crime is pretty much nonexistent there — I felt a major sense of comfort being with two local guides who knew the areas and were even friendly and familiar with the local people from the places we were visiting, like store owners, other tour guides, and merchants in the markets. Most everyone in Bali speaks English, so there wasn't much of a language barrier. But in other places you visit, having someone around who can speak the language and get you through all your excursions while translating is helpful (and safer).
You Never Miss Out on Exploring Hidden Gems
In addition to local tour guides knowing which tourist places are actually worth the hype (and which aren't), they also know about the hidden gems in their country that maybe tourists aren't familiar with. In my case, when traveling with Putri to a waterfall, though this wasn't on our itinerary, she asked the driver to pull over when she noticed an Instagram-worthy spot didn't have a long line of people waiting to take a picture. There, we hopped out and took a glamorous photo at the Handara Gate (see below), which some say is the "the pathway to serenity." (Umm, love it?)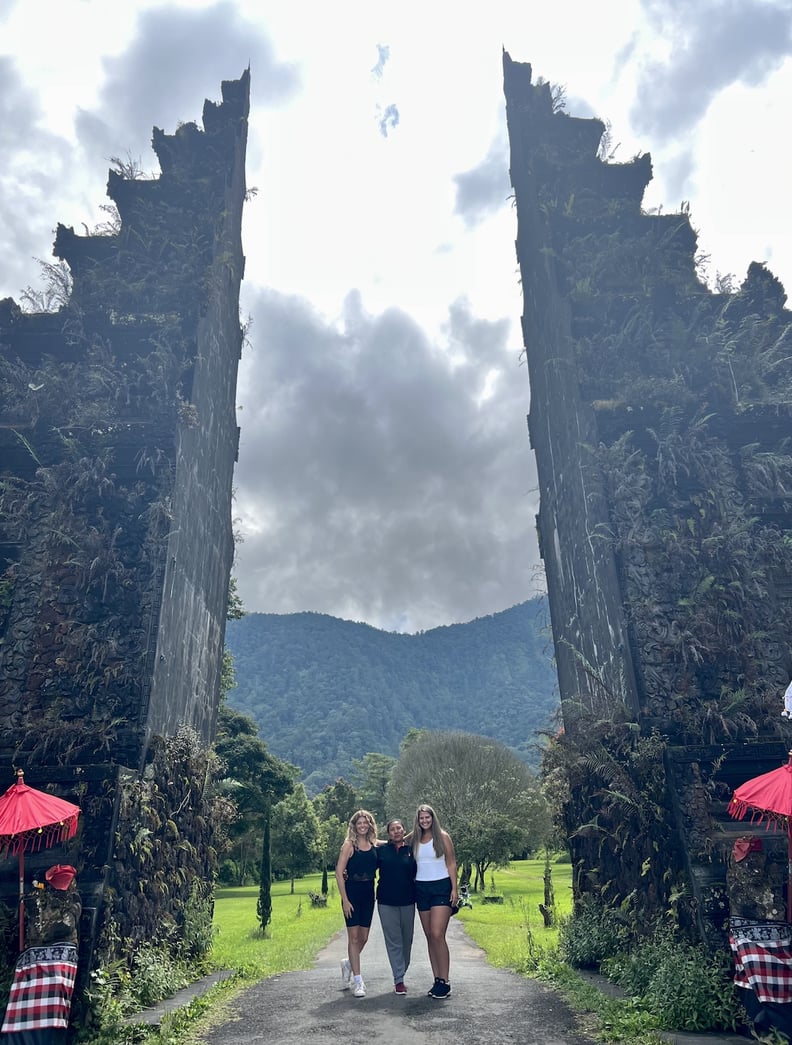 You Have Access to a Personal Photographer
Considering Bali has so much breathtaking scenery and architecture, Balinese tour guides and locals are very well-versed in how to take a good photo. When I was at Nusa Penida, our day-of local tour guide Alit offered to take my photo using his newer iPhone instead of my old rusty one (a much-appreciated gesture). And I can't tell you how many times Aggie played photographer and had each of us from the Ultimate Break group go up in front of a temple and take a picture without us even asking. No matter where you go, it's likely a local tour guide would be more than happy to take your picture — so no need to fret if you're traveling solo or don't like taking photos in selfie mode.
Though hiring a local tour guide is not necessarily cheap, it's not as much as you may think it is. According to one travel site, a local guide's rate can range between $100 and $300 per day, but it also depends on where you're vacationing. Still, considering all the perks you get from hiring a local travel guide, I'd say it's 100 percent worth it.
If the cost seems a little high in addition to the other things you're spending your money on while vacationing, booking a vacation through Ultimate Break just may be the move for you. They provide all their groups with a local tour guide and director for no additional fee, plus, they have tons of amazing packages including a multicountry 35-day European adventure or a 10-day trip around the islands of Greece.
While some vacations are all about relaxing, other times, they're about exploring a new place in a truly authentic way. Why not do both with the recommendations and help from a local?
Travel and expenses for the author were provided by EF Ultimate Break for the purpose of writing this story.