Here's How to Clean Your Clothes Dryer in Minutes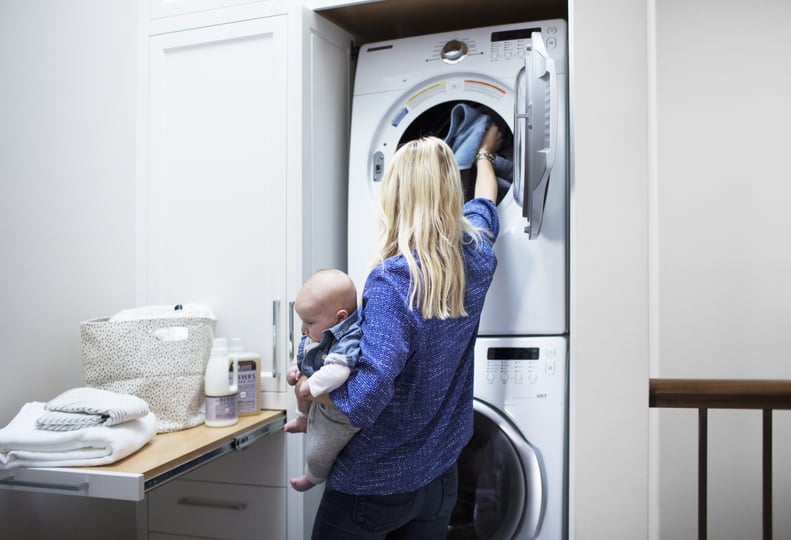 POPSUGAR Photography | Sheila Gim
POPSUGAR Photography | Sheila Gim
Cleaning your dryer might be the last thing you're thinking about, but keeping it in top shape ensures it's running efficiently and isn't turning into one big fire hazard. It only takes a few minutes to get this job done.
Start by removing everything from the top of your dryer and wiping down the machine. Toss any collected lint from the lint trap.
Now use a dry cloth to wipe the lint trap and around the vent. It's a good idea to have a garbage can close by to toss all the collected lint.
Use the hose attachment on the vacuum cleaner to further suck out any lingering lint that's stuck around the lint-trap area. After vacuuming, use a damp cloth to wipe the inside drum of the dryer and check for lost items of clothing.
Before replacing the lint trap, give it a quick cleaning with warm, soapy water. Wipe clean and replace. Clean around the lint trap with a damp cloth to remove any buildup.
Gently pry open the top of the dryer using a screwdriver and vacuum around the drum of the machine. Replace the top of the dryer, and then carefully pull out the dryer and vacuum out the discharging vent found at the back of the dryer. But if the idea of moving or prying makes you freak out, simply giving the lint trap a serious cleaning keeps your dryer working efficiently and cuts fire hazards.
Repeat the cleaning process every six months for a happy dryer.