I Live With Roommates, and Doing This 1 Simple Thing Every Week Always Keeps Our Place Tidy
If sitting through meetings, running errands, doing laundry, and keeping up with everyday life in general gives you a headache, then chores are probably the last thing on your mind by the end of the week. When it comes to living with roommates, making sure your apartment isn't a mishmash of unwashed dishes and layers of dust can be even more difficult because you want to make sure everyone's doing their fair share of work.
I've lived with three different sets of people in three different apartments over the last four years, and I'm proud to say that nowhere I've lived has ever come close to looking grimy or taken more than a single weekend to piece back together. No, my roommates and I don't practice the KonMari method and we aren't obsessed with tidiness (well, I might be a little). So what's the big secret? Brace yourself. It's . . . a whiteboard!
It might seem super simple, but this trick has gotten me through midterms, finals, and countless days of being too tired after work to even think about digging a broom out of the closet or wiping down the counters. With a whiteboard, which we like to hang in the kitchen so everyone can catch a glimpse of it regularly, my roommates and I are able to map out the chores for the week, mark down upcoming plans, and even keep track of whether or not the dishwasher needs to be emptied. There are so many possibilities!
My roommates and I are able to map out the chores for the week, mark down upcoming plans, and even keep track of whether or not the dishwasher needs to be emptied.
I get that this doesn't seem like the most groundbreaking idea, but there's something I personally find so comforting about knowing which task I'm expected to complete that week and not having to argue about who took out the trash most recently. Having a physical reminder of when the rent is due or when it's my turn to clean the bathroom just makes life so much easier than having to keep track of a Google Doc or rack my brain about whether or not I was the designated kitchen cleaner last week. Writing down these seemingly simple reminders puts everyone on the same page and acts as a point of reference for everyone.
I'm not saying you should run out and buy a whiteboard immediately, but having one has definitely helped me avoid so many unnecessary passive aggressive arguments and saved me so much mental energy. Maybe consider getting one for yourself, and see how my roommates and I use ours to keep our apartment (and our lives) from getting out of hand.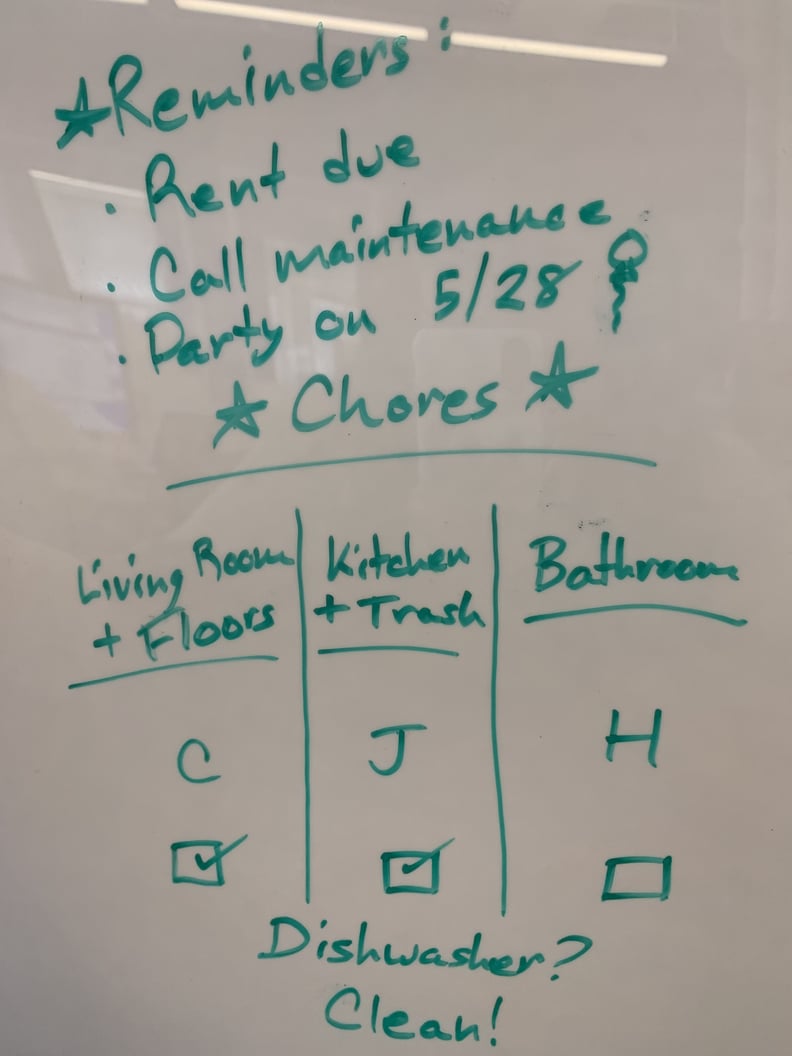 Mark Down Important Dates and Reminders
What I love most about having a whiteboard is that it can be switched up whenever and wherever, like a temporary bullet journal — you can even add check boxes to mark off when you've completed your chores. You can arrange your board in whatever way is most convenient for you and the people you live with, making sure important reminders stand out or highlighting special dates.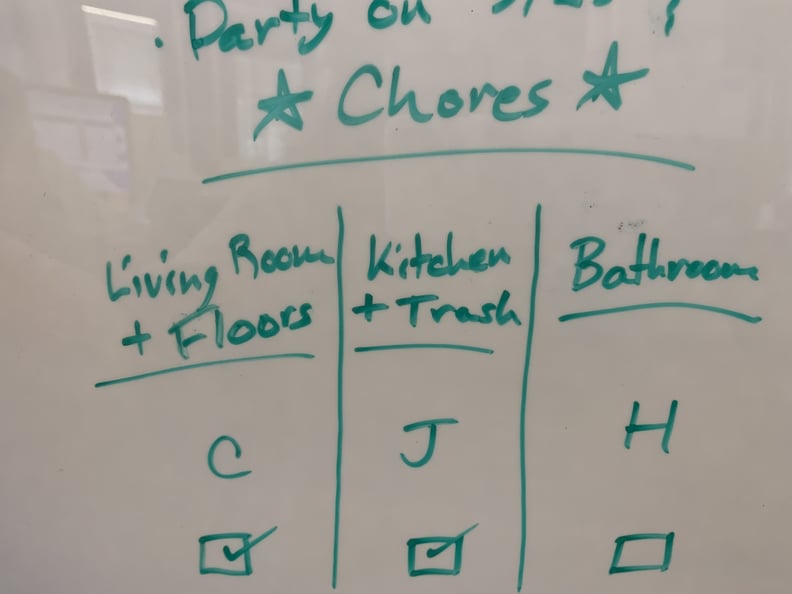 Keep Track of Chores
When it comes to my living situation, everyone's in charge of their own dishes and putting them in the dishwasher. From there, we divide our chores so that the workload isn't too much for any one person on any given week. One person vacuums the living room and mops/sweeps the floors while someone else can keep the kitchen from getting gross and take out the trash, leaving the third roommate to handle bathroom duty. The best part is that you can divide the chores in whichever way works best for you, and just because you aren't assigned to a particular chore doesn't mean you can't help out mid-week if something is in desperate need of cleaning.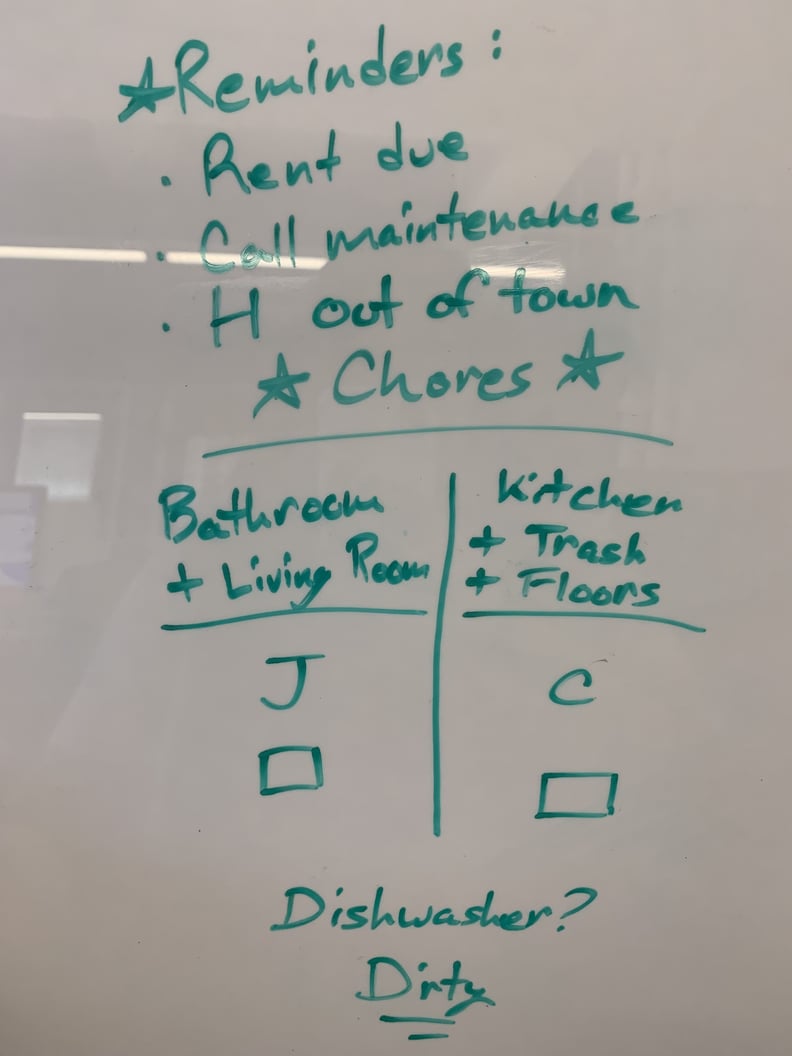 Don't Be Afraid to Switch It Up
If you want to keep your chore board from getting passive aggressive, communication is key. Talk to your roommates about whether your workload is heavy that week or you won't be around to help out. If someone's not going to be around, you can always switch up the designated chores and change up the board in whatever way you need to, making it a simple but versatile tool that helps keep everyone in the loop.