DIY the Prettiest Tinted Glass Jars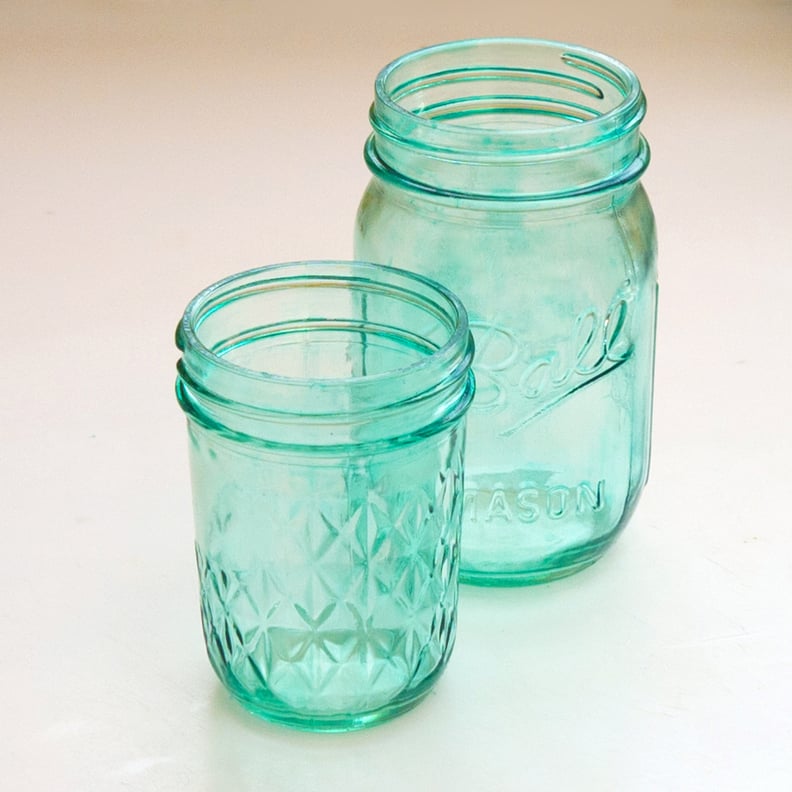 Don't toss your glass jars into the recycling! The next time you have a bunch on hand, mix together this easy tinting paint that coats the outsides, creating really pretty containers. We found smart directions on Pinterest and had to give tinting our own glasses a try. The finished jars look so cute holding makeup brushes or flowers and make nice homemade gifts or really special wedding decor, too.
What You'll Need:
Glass jars
Parchment paper
Small container
Blue food coloring
Green food coloring
Mod Podge
Paint brush or foam brush
Directions:
Wipe the jars clean, removing any labels and lingering food bits that might cause the paint to bubble or drip. It's OK if the container has writing on it or a pattern, you just have to pay a little more attention to the raised or indented areas on the glass when painting.
Add three drops of blue food coloring to a small dish along with one drop of green. Now add one teaspoon of Mod Podge and one tablespoon of water. Mix together until nice and smooth. It's going to be a bit runny, which is just fine.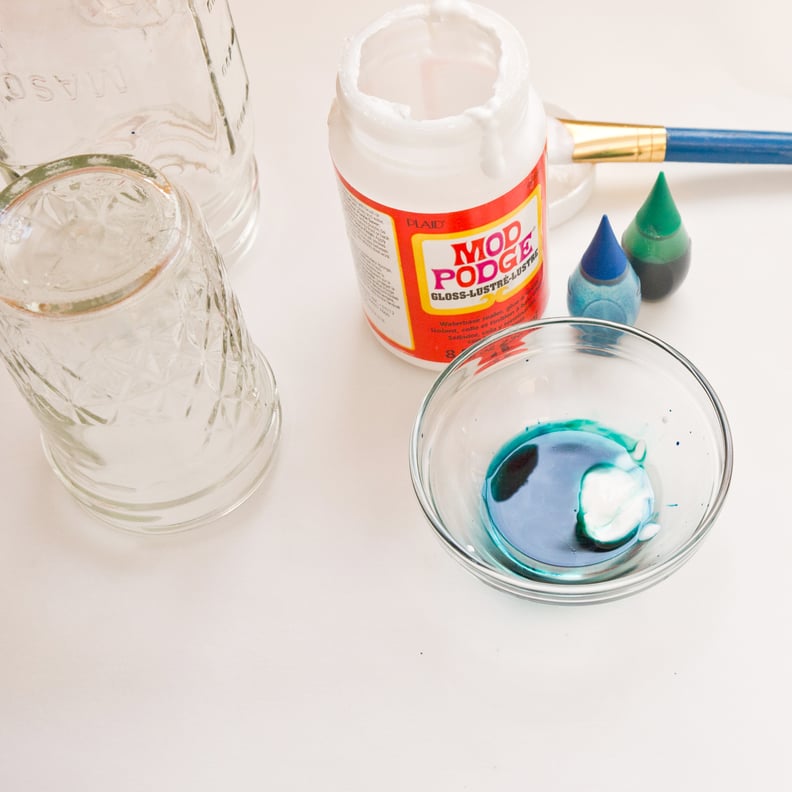 Cover your work area with parchment paper, and flip the jars upside down so the openings are on top of the parchment paper. Food coloring will stain your clothing, hands, and work area, so it's a good idea to toss on some old clothes or wear plastic gloves while working if you're worried about discoloring hands.
Now start painting the jars working from the now-facing-you bottom down to the rim of the jar. You only need a little paint to coat the container and can run your brush lightly over any drips to smooth out the paint. It might look a little messy, but as it dries, the color lightens and the white streaks smooth away. Let dry for 20 minutes.
Give the jars another coat of the glue paint, and let dry for an additional 20 minutes. Touch up as needed.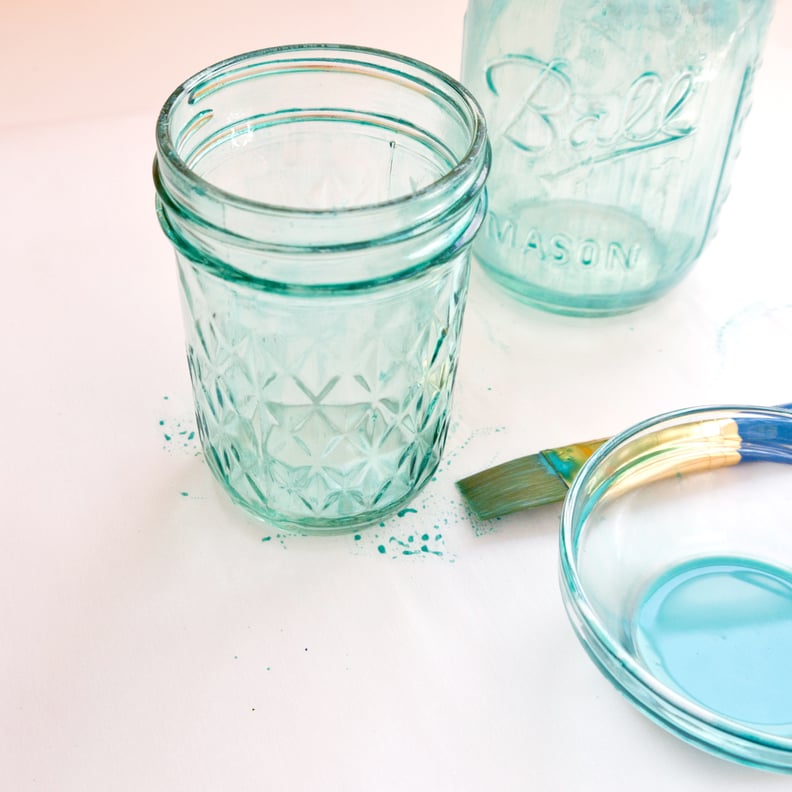 You can use any color of food coloring to create a rainbow of colors, but we really loved the aqua tint to our jars! Just remember that the paint isn't permanent, so avoid getting the outside wet. Swap translucent glass paint for the food coloring for permanently colored jars.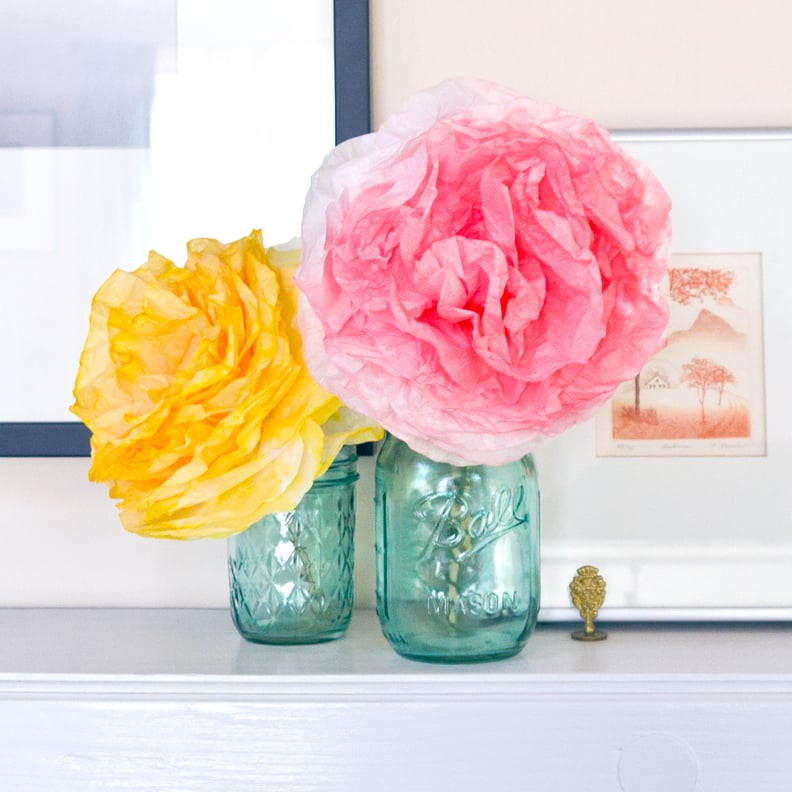 Like our coffee filter peonies? Here's the easy DIY!