I Followed Meghan Markle's Daily Routine For a Week, and It Helped Me Regain My Sparkle
Since the start of lockdown amid the ongoing COVID-19 pandemic, I have gradually become less inspired. It's surprising to me, as I have always had a get-up-and-go approach, but recently I have just felt a bit . . . flat. And I'm sure so many other people can relate. So, I recently decided to turn to the stars for inspiration (the celebrity kind – not the celestial) and pondered, "Who would be the best person to emulate, in a bid to restore my joie de vivre?"
Meghan Markle quickly came to mind. After all, the Duchess of Sussex appears to be the ultimate goal-setter; once she sets her mind to something, there's no stopping her, and that's something I've always really loved about her. But how exactly would I emulate the life of a royal? Well, because Meghan is a former actress who lived a relatively quiet life in California — one that she returned to with husband Prince Harry after they stepped down from their senior roles in the royal family in early 2020 — it turned out to be easier than I thought. Meghan may be one of the most famous women in the world, but she's still relatable (another thing I've always loved about her).
So, I decided to live my life as Meghan for a week to see if I could regain my motivation. I, of course, did so on a budget, but I learned that you don't have to live extravagantly to give yourself a boost. Keep reading to see what I did every day for a week and how it made me feel.
4:30 a.m.
In an interview with Delish before she became a royal, Meghan revealed that she would usually get up around 4:15 a.m. while filming Suits, so I reluctantly get out of bed in what feels like the middle of the night. My alarm usually goes off at 5:30 a.m., which is bad enough, but this is another level. Still, once I have stumbled about a bit, I eventually come to.
I start my (very early) day by doing some yoga. I started using the excellent app Down Dog when the gyms originally closed back in March, and I'm a convert! You select your type of class, its level of challenge, and its duration, and you're good to go. I opt for the "full practice" as it's a Vinyasa flow, which is the practice favored by the duchess, who revealed in a 2016 interview with Women's Health, "I love an intense Vinyasa class — and even better if it's blasting hip hop and done in a dark room with candlelight."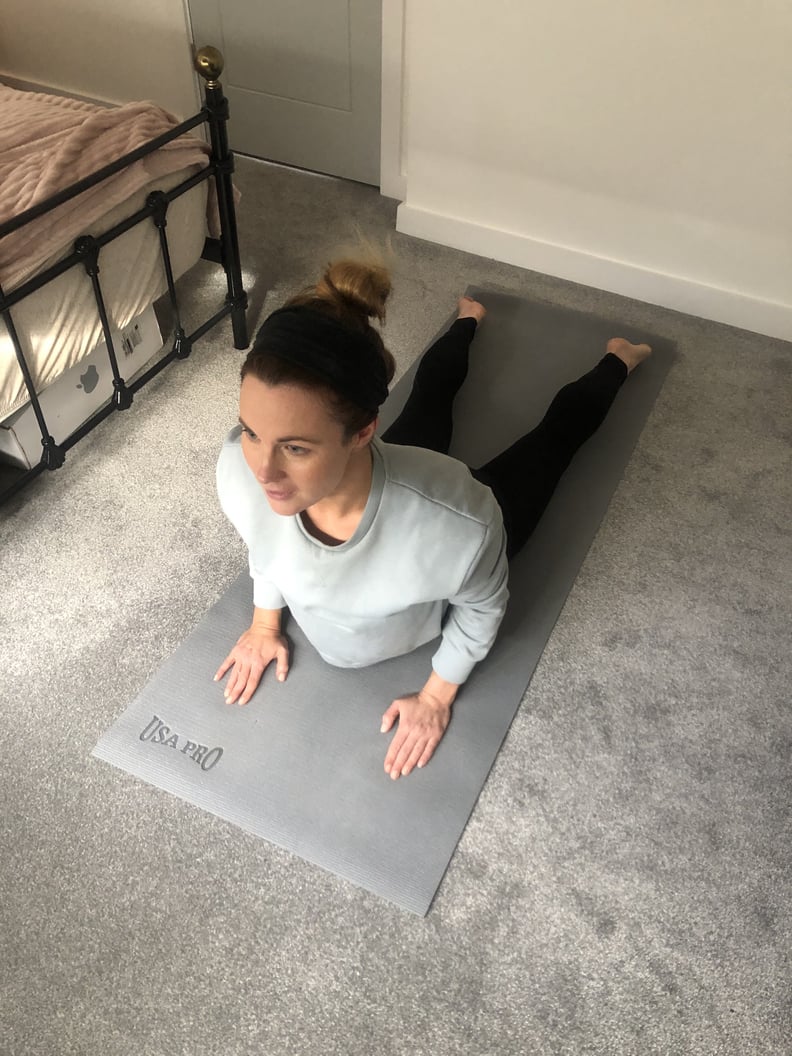 I forgo the candles and the loud hip-hop music for fear of burning my house down and waking a potentially grumpy boyfriend, but I complete the class!
5 a.m.
Meghan is renowned for sending early morning emails, so I decide to do the same thing over a healthy breakfast. Like the duchess, I don't drink coffee, however it's hard replacing my normal morning tea with a cup of hot water and lemon, which is her go-to morning drink. I also have a shot of green juice, although I cheat and drink a store-bought one, as my blender needs replacing.
Like Meghan, I tend to eat a healthy breakfast. She told Delish that she enjoys steel-cut oats with bananas and agave syrup in the morning. I don't like bananas, and I have no idea what agave syrup is, so I opt for my usual overnight oats (with dairy-free yogurt, cinnamon, blueberries, and crushed nuts). Similar enough!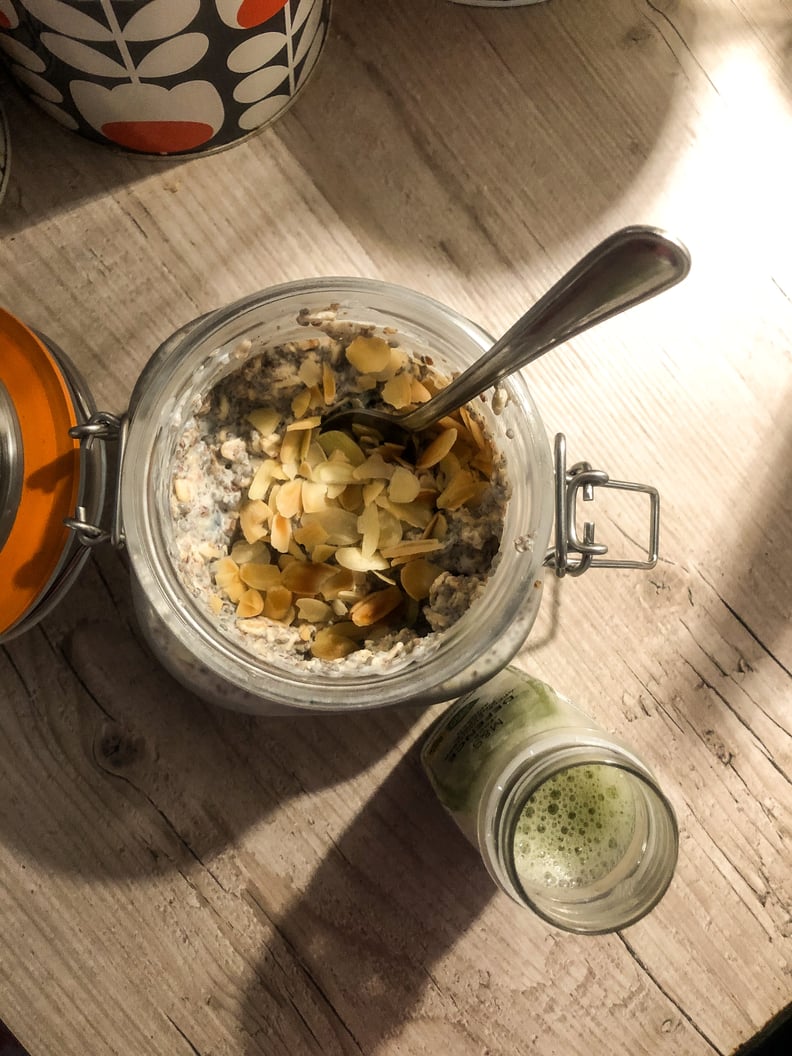 Usually I'll check my social media accounts over breakfast, but not today. Speaking at Fortune's 2020 Most Powerful Next Gen summit, the duchess said that for her own "self-preservation," she has not engaged with social media for a long time.
I'll admit that I have a mild addiction to social media. I'm not obsessive about it, as it's born more out of habit than anything, but I know that having a bit of a break will be a good thing.
By 5:30 a.m. I'm feeling very virtuous — smug even. Not one person has replied to my emails. What slackers!
5:30 a.m.
I put my makeup on, do my hair, and get dressed. As I'm channelling my inner Markle, I keep everything very simple and fresh. My makeup is minimal and dewy, I make my hair as sleek as possible, and I dress in a crisp white shirt and a black pencil skirt. I also opt to wear my Barbour jacket with a fur-trimmed hood — it doesn't really go with the rest of my ensemble, but it's very similar to one owned by the duchess.
I head to work.
4:30 p.m.
Meghan is all about good-quality, healthy food, plus she's an advocate for eating fresh, local produce. With this in mind, I pay a visit to an excellent independent food store instead of the national supermarket chain I usually favor to stock up on groceries.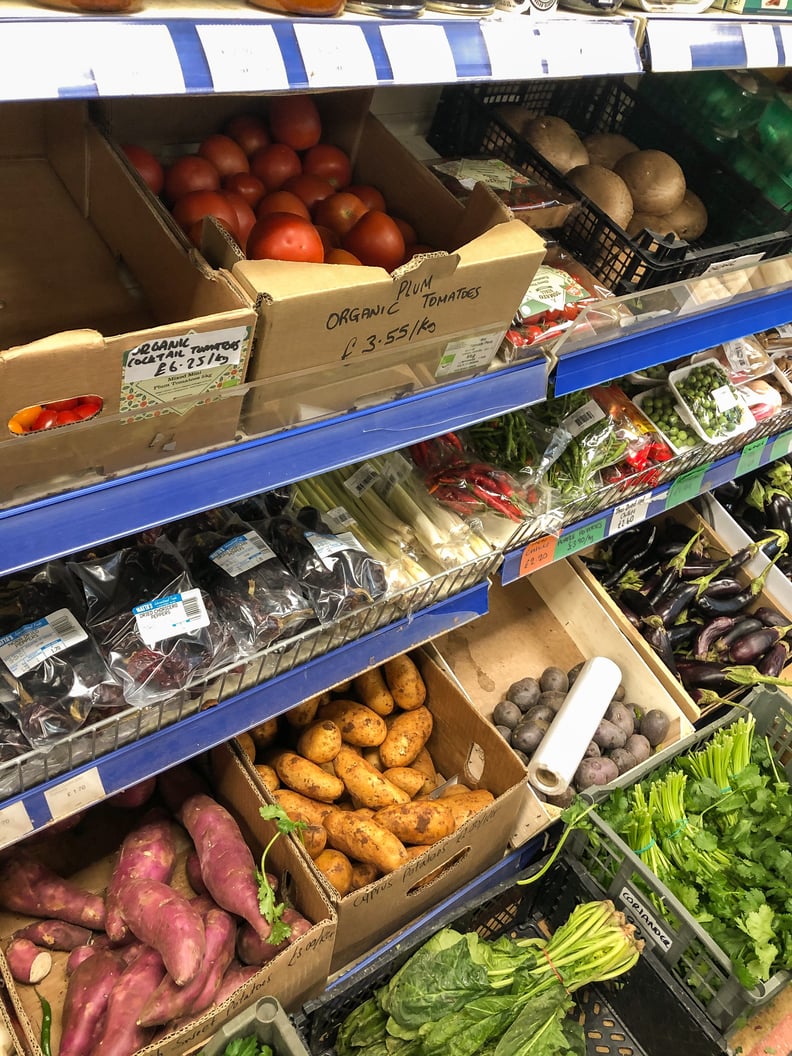 5:30 p.m.
To stay in shape, Meghan has expressed being a fan of both running and Pilates, so I decide to go for a run. I put on my specially curated playlist, which is filled with uplifting and energetic songs. Meghan has praised the power of the playlist, writing on her former lifestyle blog, The Tig, "Because when the air is filled with positive vibes, there's no winter cold that can block out the warmth of happy hearts."
6:30 p.m.
Using the fresh produce I purchased earlier on, I make a simple but delicious pasta dish. The duchess told Delish that a friend once convinced her to slow cook zucchini for four to five hours until it breaks down into a "filthy, sexy mush" to toss with pasta. I don't own a slow cooker, so instead I create a sauce using sun-dried tomatoes, onions, garlic, organic chicken, black olives, and zucchini. And like Meghan, I top my pasta with a generous helping of parmesan cheese and serve it with a glass of red wine.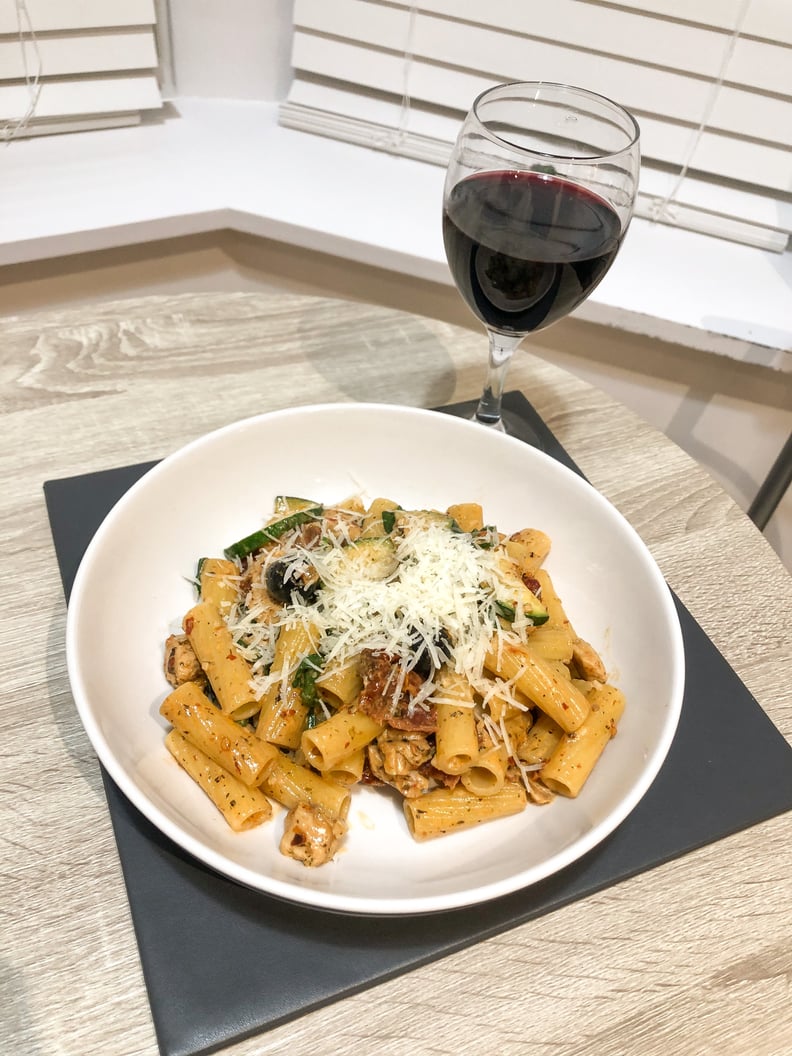 8:30 p.m.
Apparently when staying in Toronto, Meghan and her then-boyfriend, Prince Harry, would unwind by watching episodes of their favorite TV shows. I do the same (minus a member of the House of Windsor on the sofa) and settle in to rewatch The Sopranos.
9:30 p.m.
Seeing as I have an early start again tomorrow with Meghan's wake-up time, I head to bed at 9:30 p.m. I find it impossible to fall asleep immediately, so I read a few pages of The Motivation Manifesto by Brendon Burchard, as recommended by the duchess, before nodding off.
Final Thoughts
So, did living my life like the Duchess of Sussex for seven days teach me anything? I remain unconvinced that I could wake up every day at 4:30 a.m., however, I did benefit from having the extra time to do some yoga. It was a great start to the morning and left me feeling invigorated and ready to face the day ahead.
Obviously, eating healthy and well-sourced food is a sensible thing to do, so I found that to help my overall mood and energy levels. But I also really like the fact that the duchess doesn't deprive herself of enjoying pasta, cheese, and red wine. That's something I'm definitely on board with.
Giving up social media was hard. I was so tempted to take a peek numerous times throughout the day. But the advantage of being a nobody is that no one is writing negative comments about me on Instagram (well, none that I'm aware of!), so my user experience is quite different than hers.
Overall, I think the "Markle Sparkle" can be attributed to the balance Meghan has clearly found in her life, and that's something we can all aspire to — whether we're royalty or not.