My Favorite Place in the World Is This Tiny Town on the Southwest Coast of Ireland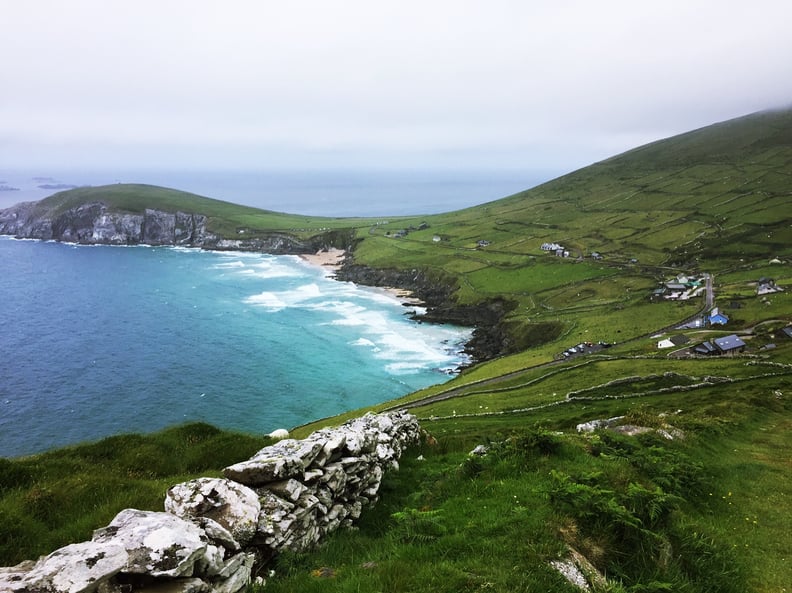 POPSUGAR Photography | Caitlin Gallagher
POPSUGAR Photography | Caitlin Gallagher
I'm both a huge homebody and a huge traveler. I love exploring exotic places and just hanging out in my own backyard. But throughout my both near and far travels, I have one place that will always win for my absolute favorite place on Earth. And that's Dingle, Ireland. I lived in Ireland for two-and-a-half years after college and fell in love with the entire country, but Dingle in particular. For anyone who's been there, you know just how breathtakingly beautiful it is. And for those who haven't, it's 100 percent a see-it-before-you-die bucket-list destination.
Dingle is a small port town situated on Ireland's southwest coast that's known for its rugged scenery, beautiful sandy beaches, and rolling green hills. It's so quaint and charming, and it truly encompasses what people want to experience when they go to Ireland — friendly Irish people, good Irish food (try Out of the Blue), live Irish music, cozy pubs (head to Dick Mack's or Foxy John's), comfy B&Bs, and the greenest of green landscapes.
Whenever anyone asks me what towns they should visit when traveling to Ireland, I always tell them to make Dingle a priority. While it takes a bit of effort to get there (it's a four-hour drive from Galway), it's so, so worth it. Not only is there so much to do — check out Conor Pass, Slea Head Drive (which is part of the Wild Atlantic Way), Dunquin Pier, Inch Beach, and more — but just being there will make you feel calm, grounded, and happy. It's a feeling I've never been able to accurately describe.
Dingle is just one of those places that stays with you long after you leave it, and I think everyone should see it at least once. So, whether you are planning a trip to Ireland or have never considered it until right now, keep reading for 12 photos that will further convince you that Dingle is a little piece of heaven on Earth.