Why Is Everyone Obsessed With the Bizarrely Wonderful Town of Marfa, TX?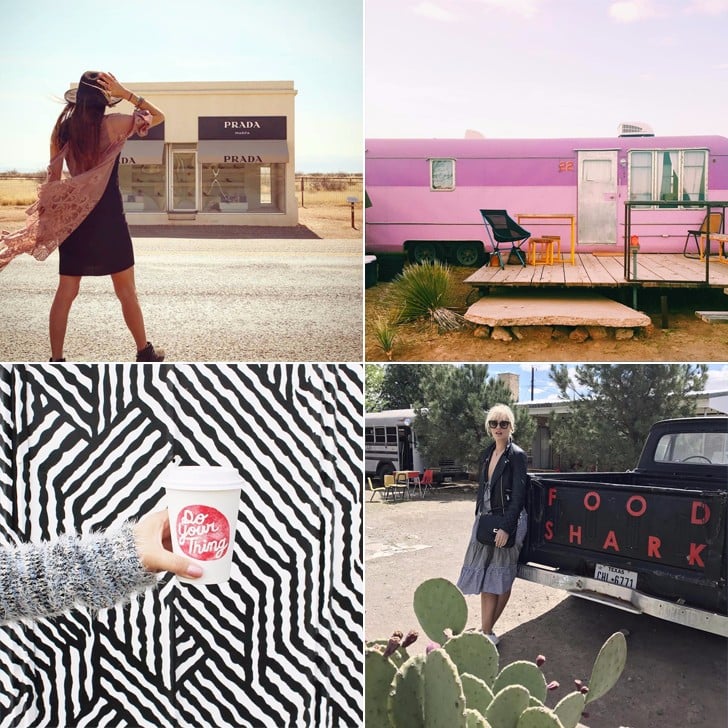 Set in the middle of the desert is Marfa, TX. The tiny town, with a population of just 1,900 people, has been the center of fascination and mystery for a few years now; people have begun to flock to the area for art, music, and food. In 1971, artist Donald Judd started going to Marfa every year to create incredible art installations you can now see scattered throughout town to this day.
It's about a three-hour drive to get to Marfa from the closest airports (El Paso and Midland). The journey will be well worth it, as there's definitely no city quite like this one. We curated a list of the best places to eat, play, and stay so you can get an authentic experience. Check it out!
01
Prada Marfa
When you're driving to Marfa, you have to make a stop at Prada Marfa, just 35 minutes outside of town. The Prada store replica sits in the middle of the desert with nothing surrounding it, which makes it a bizarrely wonderful sight. Plus, Beyoncè has been there, so what more reason do you need to stop by?
02
Chinati Foundation
This contemporary museum was founded by Donald Judd. It's known for large-scale installations, like 15 Works in Concrete. If you go to any museum while visiting, it should be this one. You'll learn a lot about how Marfa became a popular art scene.
03
El Cosmico
El Cosmico is a 21-acre nomadic hotel and campground in town. You can stay in vintage trailers, safari tents, Sioux-style tepees, or Mongolian yurts when you book a visit here. Inside the shelters you'll find colorful spaces with unique furniture.
04
There's a trailer in just about every color you can think of at El Cosmico. The campground opened in 2009 and has since become a hot spot for bloggers and influencers.
05
The trailers come fully equipped with a dry goods minibar, towels, robes, and pretty much anything you would get at a normal hotel.
06
Hotel Paisano
If camping in the desert isn't your thing, book a room at the Hotel Paisano — it's in the heart of Marfa. The historic building served as the headquarters for the 1956 movie Giant. James Dean, Elizabeth Taylor, and Rock Hudson stayed at the hotel during filming.
07
Food Shark
Come with an empty stomach to the Food Shark truck. Their menu includes Mediterranean and West Texan dishes like their marfalafel, fattoush salad, bacon grilled cheese, and smoked pork plate.
08
You might see a truck or an old-school car nearby with Food Shark painted across the surface. It's meant for pictures, so don't be shy!
09
Once you get your food, you can sit down and enjoy it in the dining car, which is an old-school bus with booths inside.
10
Do Your Thing Coffee
Get your morning Joe at Do Your Thing Coffee, a quirky cafe with patterned walls and primary-colored decor. The coffee shop is in an old lumberyard shared with artists who also have their studios on site.
11
Make sure to try their specialty toast, too, as it's what they're known for.
12
Ballroom Marfa
Founded in 2003, Ballroom Marfa is a museum that focuses on contemporary visual art, music, and film. The museum building was once a dance hall built in 1927.