6 Dreamy Locations to See on a Journey Through Mexico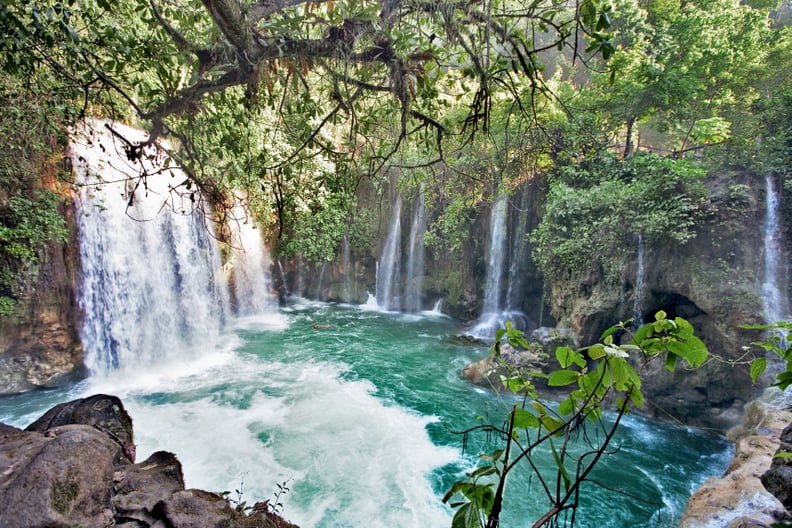 Mexico Tourism Board
Mexico Tourism Board
Fascinating history, one-of-a-kind shopping, and scenic beaches: these are among the selling points that land travel destinations a covetable position on our bucket lists. But instead of jetting across the ocean for your next getaway, we found one spot that's practically around the corner, and so convenient that it'll soon become one of your regular travel destinations.
From cultural wonders to rich history to photo-worthy attractions, Mexico won't leave a single box unchecked. Read on to see six uniquely mesmerizing spots that offer something to spark an interest for any traveler. Trust us, you'll definitely want to visit more than one.
01
Baja California Sur
Kick off your tour of Mexico in Baja California Sur. If you've ever scoped out Spring break hotspots, this is likely one location you've come across due to cities like Cabo San Lucas. But beyond all-inclusive resorts and sandy beaches, this state at the very edge of Mexico's western coast has a lot to offer.
Most notable about Baja California Sur are it's scenic deserts and abundance of marine mammals, especially whales. If the potential to spot these giant mammals up close is a once-in-a-lifetime experience you've always dreamed of, this is the Mexican destination for you. The best places to catch a glimpse of them? Guerrero Negro, Laguna San Ignacio, and Sierra de Laguna.
Fun fact: Thirty-nine percent of the entire world's marine mammals live and thrive in the Sea of Cortez off Baja California Sur.
02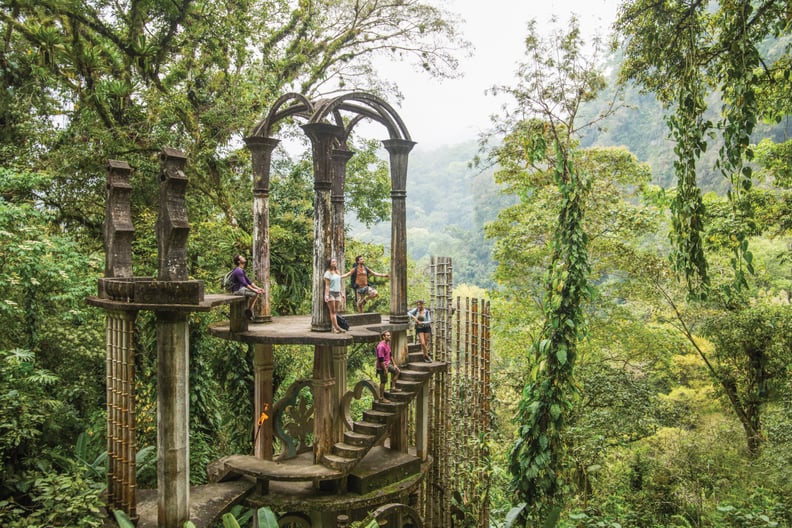 San Luis Potosi
Architecture-lovers, listen up. If there's any Mexican spot that can really prove it's not all about the beaches, it's San Luis Potosi. It's landlocked by eight other states, so you won't find glimmering oceans lining its borders, but endless one-of-a-kind sites will surely make up for it. San Luis Potosi is jam-packed with stunning sites that look straight out of a fairy tale, especially in Xilitla. This town spans 20 acres of surrealist-inspired architecture like the structure pictured above, and it is home to 36 in total.
Fun fact: Xilitla was built in the 1950s by British artist Edward James after he was drawn to Mexico for its spacious and lush lands. Because he found it to be more romantic than his native England or the United States, there was no better place to plant his ode to surrealism.
03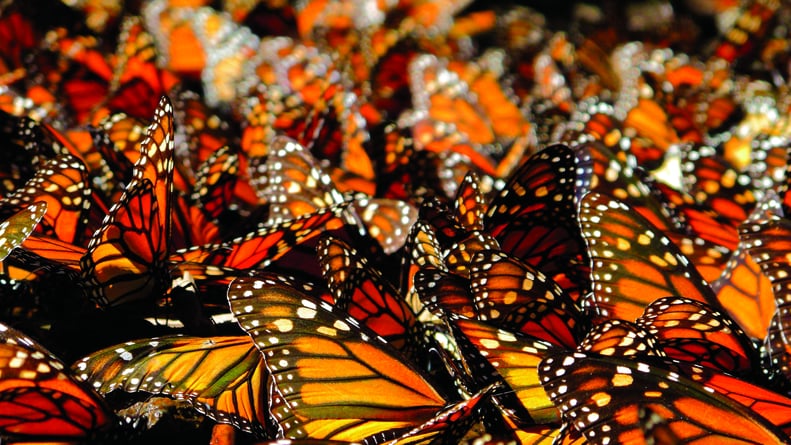 Michoacan
For travelers looking to make one-of-a-kind memories, continue your vacation in biodiverse Michoacan. The most unique attraction in this Mexican destination is the Monarch Butterfly Biosphere Reserve, which spans 200 square miles and has protected these colorful beauties and their habitat since 1980. Just be sure to plan your visit when the reserve is open to the public, November through March, after the butterflies have made their migration from Canada.
For the rest of your trip to Michoacan, take some time to immerse yourself in the rich arts culture — and grab a few pieces to take home. From pottery to embroidered pieces, you'll find countless unique treasures that can easily fit in your carry-on bag.
Fun fact: Millions of monarch butterflies travel upward of 3,000 miles every October to make Mexican fir trees their home.
04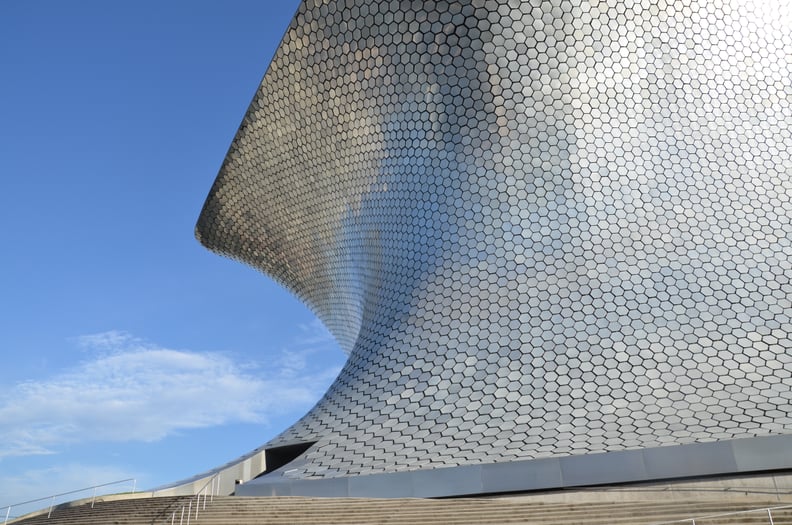 Mexico City
Do you shine in a fast-paced urban setting? If so, your next destination is just a short flight away in Mexico City. This bustling arts and culture oasis is packed with a dose of everything a well-versed traveler truly loves, from stellar shopping to a wealth of dining and entertainment options to an unmistakably vibrant culture.
One of this city's most appealing features is its diverse art scene, and no trip here would be complete without paying a visit to the famous Museo Soumaya, pictured above. It's home to works by artistic legends like Salvador Dali and Diego Rivera, so any history- or art-lover will stay occupied for hours. And even if those topics don't pique your interest, you'll at least appreciate the opportunity to snap a photo with this unique building as a backdrop.
Fun fact: Mexico City is home to so many museums that it'd be nearly impossible to feel bored on a trip here! In fact, it boasts a whopping 150 plus options, which surpass those of Paris and New York.
05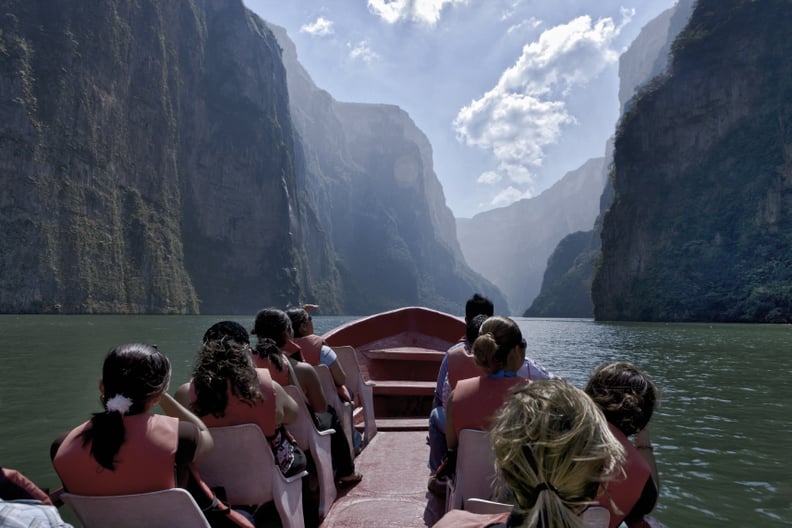 Chiapas
Ecotourism is the newest trend to fuel the adventures of curious travelers. For those looking to get an untainted look at some of Mexico's unique biodiversity and most jaw-dropping natural sites, head to Chiapas. Spots like the Sumidero Canyon are just one of the many eco adventures you can embark on here, many of which are lined with waterfalls and natural structures you can scope out as you coast through the water by boat.
If you're looking to dedicate an entire trip to ecotourism experiences, check out Las Lagunas de Montebello, a stunning national state park, or Las Cascadas de Agua Azul to cool off by gorgeous cascading waterfalls.
Fun fact: Standing at 16,000 feet above sea level, Tacana Volcano is Chiapas's highest peak and eight times taller than New York's Statue of Liberty.
06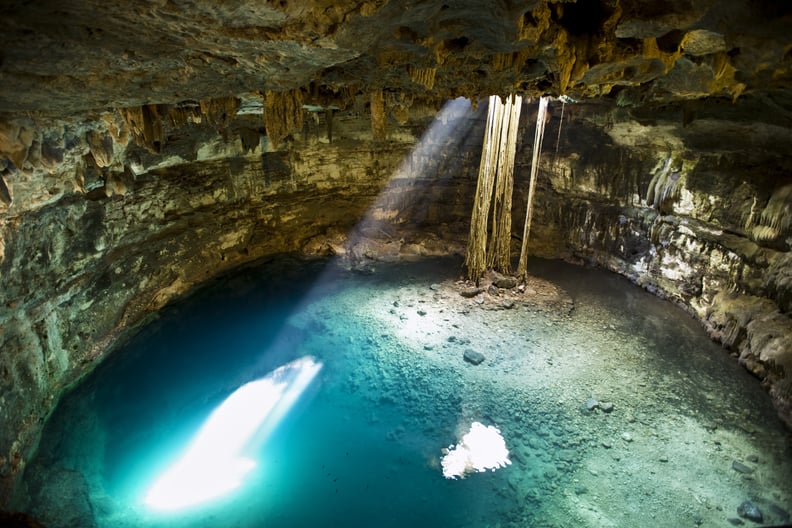 Yucatan
For the history-lovers out there, Yucatan is the perfect spot to round out your tour of Mexico. Not only is it filled with the breathtaking fresh-water pools (aka cenotes) and the natural scenery of your dreams, but it's also home to the ancient Maya ruins you grew up learning about in school.
To get a taste of their rich history, don't even think about visiting Yucatan without stopping at Chichen Itza, a large and well-known Maya city — and one of the seven wonders of the modern world. The focal point? A towering pyramid known as El Castillo. Once you're ready to return home to reality, grab a flight from an airport in Merida, Yucatan's capital, or nearby Cancun that'll take you directly to several US cities.
Fun fact: Though they may catch your attention for their beauty today, the Maya people relied on cenotes for both functional and spiritual purposes. Not only were villages built around these natural wonders to use as a primary source of water, but also to perform sacrificial rituals.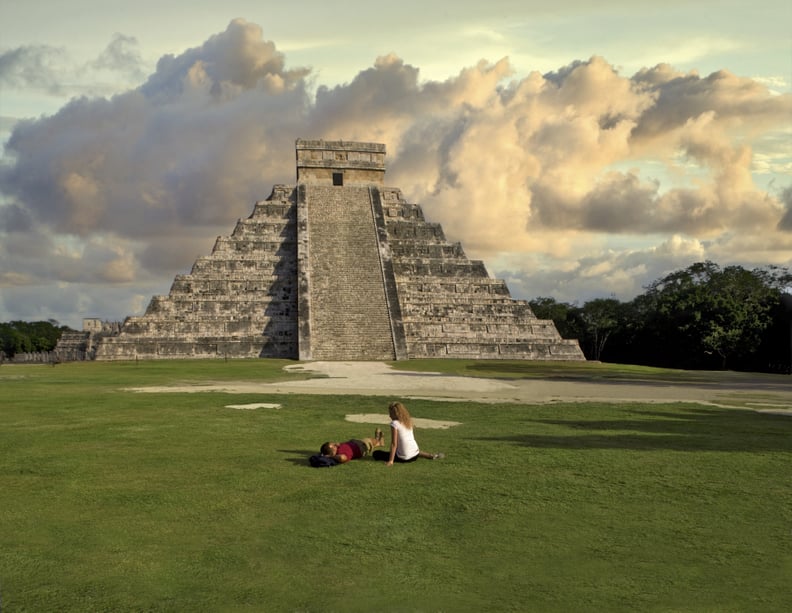 More From Mexico Tourism Board Below:
Mexico doesn't only have beautiful beaches, it's also a modern, unique, and sophisticated country that offers great cultural diversity. As the famous Mexican saying 'mi casa es tu casa' (my home is your home) personifies, travelers from all over the world define Mexico as one of the most friendly and welcoming countries in the world. Visit Mexico and trail your ultimate dream vacation, making stops at these amazing destinations, and enjoying everything Mexico has to offer.