9 Travel Destinations in the Color This Generation Is Obsessed With (Millennial Pink!)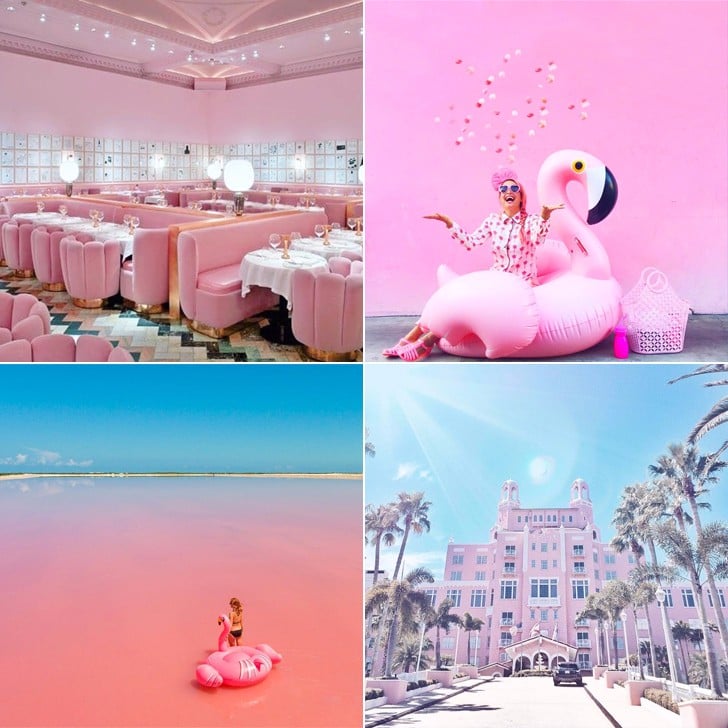 What is Millenial Pink? It's the color you have been seeing everywhere, you just never realized it. Millenials are utterly obsessed with shades of this blush tone — it's been popping up repeatedly since 2012. It has even become a point of interest in travel destinations — people are posting buildings, lakes, hotels, and restaurants in Millenial Pink all over Tumblr and Pinterest.
We rounded up the most beautiful destinations in the mesmerizing hue. Take a look at the places you ca visit in the trendiest color of this decade.
02
Lake Hillier, Australia
This pink lake in Australia gets its color because of a micro-algae called Dunaliella salina that's in the water.
03
Paul Smith Wall, Los Angeles
04
Hawa Mahal, Jaipur, India
This massive palace in India was built with pink sandstone in 1799, but the shade is more relevant than ever today.
05
Nassau, Bahamas
Many of the beaches in the Bahamas have light pink sands because of the red coral in the water. The pretty color makes the area appealing to young travelers.
06
Pietro Nolita, New York City
If you think the outside of this restaurant is pink, just wait until you see the inside. It's all over Instagram.
07
The Don CeSar, St Pete Beach, FL
08
Las Coloradas, Yucatan, Mexico
The algae and brine shrimp that live in these salty lakes give them their pink color. Visitors will drive a few hours from popular destinations like Cancun to get to the lakes.
09
Edgewater Beach Apartments, Chicago, Il