15 Money-Saving Tricks From Real Brides
You don't have to be engaged or married to know that weddings are expensive. But what better way to cut corners on your budget than learning from other brides' experiences? Our friends at Bridal Guide have gathered some tips from their readers on how to save money planning your big day.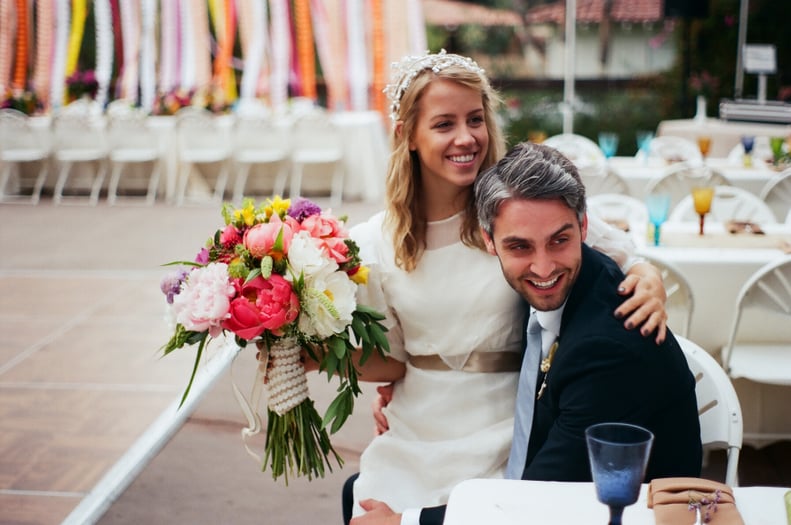 With weddings becoming more and more expensive — according to CostofWedding.com, U.S. couples spend an average of $26,444 on their big day, and that figure doesn't include the cost of a honeymoon — brides are constantly looking for ways to achieve their dream day for less.

Although weddings can be super pricey, there are always ways, big and small, to save a few dollars. We asked money-savvy brides to spill their best tips!
1. Marry during the off-season.
Venues and hotels usually lower their rates during the off-season (which is from November through April), so planning your wedding during this time could help you cut major costs, like it did for Melissa Phillips from New Milford, NJ, who's getting married on January 18th.
Plus, this gives you the opportunity to play up the colder weather and feature unique wedding details that wouldn't be possible during warmer months, like a hot chocolate bar complete with marshmallows and whipped cream!
2. Take advantage of the holidays.
If you marry during the holiday season, you could benefit from beautiful churches and venues that are pre-decorated with flowers, lights and holiday sparkle, keeping out-of-pocket décor costs down to a minimum.
"I always dreamt of getting married during Christmas, with the church ablaze with red poinsettias and my bridesmaids in red and green velvet dresses," says New York City bride Samuella Becker-Maltese.
To her surprise, her dream wedding cost much less than she had anticipated. "When I booked the ceremony, I discovered that there was no charge for the flowers, as they are paid for every year through donations by members and friends of the congregation who wish to honor a loved one," Becker-Maltese says.
3. Host your wedding earlier in the day.
You can save up to 30 percent by having a Sunday brunch reception instead of an evening reception. Michigan bride Brittany Scherr and her husband decided to host their party in the afternoon: "We started our ceremony at 11 a.m. and had a full buffet at lunchtime for half the cost," she says.
And just because it's earlier in the day doesn't mean it can't be just as fun as an evening wedding! Scherr reveals that "We still had a DJ, a full bar, and dancing. We saved a ton of money by simply having our wedding earlier in the day."
4. Have your ceremony and reception at the same venue.
Holding your reception in the same location as your ceremony is an easy way to cut the cost of transportation and decorations.
My husband and I saved money during our July wedding by having the ceremony and reception at the same site," says Nicole Nelson from Milwaukee, WI. "We had no travel costs. We saved a ton of money by utilizing the outdoor decorations, indoors."
5. Host your ceremony and/or reception at a non-traditional location.
"We skipped paying the crazy banquet hall prices and decided to hold our ceremony in Central Park in New York City," says LeslieAnn Dunn from Throgsneck, NY. "It was free, minus a $25 fee we had to pay to make sure no one came jogging through during our ceremony."
6. Pay for your dress in full.
Ask your bridal salon if they offer any discounts for paying the full price of your gown upfront, like bride Lisa Padley from Easthampton, NY did.
"I asked and got another 5 percent off. Although it doesn't sound like a lot, it all helps towards paying for other parts of your wedding day outfit," she says.
7. Consider buying your dress off the rack.
Our wedding gown is arguably one of the most important outfits you'll ever wear, but with dresses costing up to thousands of dollars, it can be frustrating trying to find the perfect style that's within your budget.
Jennifer Ostdiek, a bride-to-be from California, says her solution was to buy a dress off the rack. "I purchased my gown at half off the regular price and it was exactly what I wanted," she says.
Before purchasing an off-the-rack gown, be sure to check for stains, rips, or loose beadwork. Also, keep in mind that it's much easier for seamstresses to let a dress in rather than letting it out, so don't be afraid to purchase the next size up.
8. DIY whenever possible.
More brides are taking on bigger DIY projects to cut costs, especially when it comes to invitations and decorations. "I even made the ribbon wands and bows for the aisles myself," says Phillips.
But going the handmade and personalized route doesn't always cost less. In order to determine whether a DIY project will actually save you money, we recommend researching the purchase price of that item and comparing it to the cost of supplies if you were to make it yourself. Plus, factor in the value of your time. Consider the skill level of the project and come up with a plan B if you find that it's more difficult than you anticipated.
9. Skip anything that's not important to you.
If you don't want a three-tier cake or a skyscraper-like centerpiece, then skip it! There's no reason to purchase something if you truly would prefer not to have it.
"We are doing away with aisle runners and programs," says Phillips.
Amy Mitchell from New York City tells us she's ditching wedding favors: "Who really wants a tin of mediocre candies anyway? Instead, we will be making donations in each of our guest's names to a charity or organization of our choice."
Of course, hindsight is always 20/20: Newlywed Anshwa Lewis from Houston, TX says that if she could go back in time, she would have skipped the programs, menu cards and bar menu. "I don't think my guests noticed these things as much as I thought," she says.
10. But don't skimp on what you truly want!
Before you cut out something from the budget entirely, consider if (and how) it'll impact you and your husband years from now. Caputa-Speranza's tip? "You'll want a keepsake years down the road," she says.
Instead of forgoing a videographer, she decided to opt out of the edited DVD footage. "We got the raw, unedited footage, and we didn't miss a thing!" she says. If you go with a basic, no-frills package, you always have the option of upgrading after the wedding.
11. Buy in bulk.
If you don't want to skimp on alcohol or you dream of having a lush candy bar, you may be able to cut costs by buying in bulk. Discounts are usually given to larger purchases of candy, liquor or craft materials.
"I've bought everything from my candy and flowers to bells, ribbons and gable boxes in bulk. It's really helped out a lot with staying on budget," says Phillips.
12. Double up!
Newlywed Joelle Caputa-Speranza from Lake Hiawatha, NJ, used centerpieces that served double-duty as wedding favors. "For my wedding, we purchased adorable and cheap vases at Ikea and put baby's breath in them. Each guest took a vase home as his or her favor," she says.
Or you can skip the florals and use more budget-friendly décor, wherever possible. "My husband and I had a big bridal party so I knew flowers were going to be expensive. Because I also wanted to be a little different, I had my bridesmaids and flower girls carry vintage purses down the aisle instead," Caputa-Speranza says. "This not only cut down on floral costs, but also counted as part of their bridal party gifts!"
13. Utilize discount sites.
Groupon has become extremely popular for anyone looking to save a few dollars, but did you know it can also be great for planning a wedding? Caitlin Mooney, a bride-to-be from Connecticut, has used the site to purchase items for her February 14, 2015 nuptials.
"We have bought several Groupons that helped us save a ton on our save-the-dates, the photo guest book, our gifts for the bridesmaids and groomsmen, and even my fiancé's wedding band," she says. "And we still have a year to go!"
14. Recycle items from former brides.
Brides are taking advantage of websites like RuffledBlog.com and Tradesy.com, which allow them to score steep discounts on gently-used items that are still in excellent condition. You can find anything from candles and table numbers to chair sashes and wedding dresses.
Amy Mitchell loves browsing RuffledBlog.com for products she can potentially use at her upcoming June 2014 wedding: "I literally check every day for updates," she says. The items listed are not only a steal, but there's some super creative finds you may not be able to get anywhere else! Once the big day has passed, you can continue the cycle by cashing in on items you don't want to keep (think wooden table numbers, vases and handmade signs).
15. Enter sweepstakes and competitions.
Entering sweepstakes and competitions is an amazing (and free!) way to win items or services for your wedding.
Megan Cook from Cleveland, OH tells us that she won both her candy buffet and her honeymoon from entering competitions! Ostdiek was also glad she took the time to enter giveaways — "Enter as many contests as you can. It is very much worth the time! I won our wedding bands and our honeymoon," she says.
Tell us: What's the biggest way that you've cut costs at your wedding?
— Jenna Hastings
Check out more great stories from Bridal Guide: