This Single Hotel Room in the Middle of the Swiss Alps Is Completely Open to the Air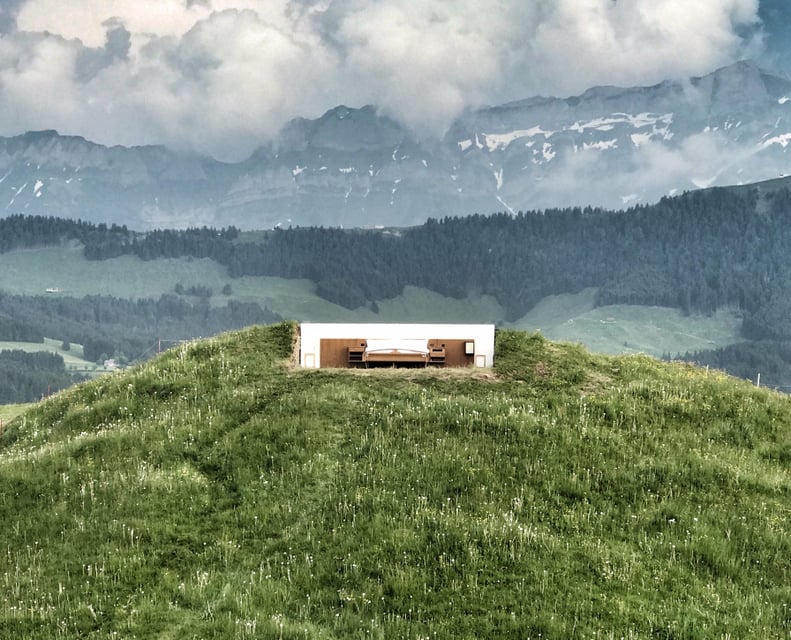 Courtesy of Null Stern
Courtesy of Null Stern
One room with a view, please! Perched on a grassy hill in Switzerland between Appenzell Innerrhoden and Appenzell Ausserrhoden is a hotel like nothing you've ever seen before. The Null Stern is more of a single room than an actual "hotel," already with an over-1,300-guest waiting list since first opening on June 9, 2017. Get this: it's completely open air without any walls or ceilings (talk about minimalism).
For about $303 a night (CHF 295), up to two guests can enjoy panoramic views of the Swiss Alps from 3,937 feet above sea level, welcome drinks, butler service, breakfast, and transportation to and from the nearest train station. Your very own butler helps you check in and even serves a freshly cooked breakfast straight to your double bed. But think of it as the ultimate glamping experience — because there aren't any bathroom or shower facilities except for self-service water supply nearby.
The Null Stern is actually an art installation created by Swiss artists and brothers Frank and Patrick Ricklin, who partnered with cofounder and hotelier Daniel Charbonnier. The concept of the suite alone is interesting enough, but the room also features a TV with one channel they named "TV-Direkt." Guests shouldn't expect any on-demand movies, only news, weather, and jokes or anecdotes about the region. The butler even speaks to you live from the analogue television. According to the hotel's site, "'TV-Direkt' is a statement against the social digitization delusion. At the same time 'TV-Direkt' flirts with the copy-paste era and the fake news."
This is definitely a once-in-a-lifetime experience, to say the least. See the amazing hotel for yourself ahead!