12 Party Favors That Are Sure to Impress Your Guests
As POPSUGAR editors, we independently select and write about stuff we love and think you'll like too. If you buy a product we have recommended, we may receive affiliate commission, which in turn supports our work.
There's always a reason to throw a party, and summer is especially full of them. Outdoor barbecues, boozy sunset picnics, dreamy wedding receptions, or indoor dinner parties — the opportunities to get together with old, new, and potential friends are endless. But whatever the occasion or type of celebration, there's one practice that can make your summer party a little more memorable — and that's sending guests home with the right party favor.

These days, party favors are often associated with kids' birthday parties or bigger adult events, like weddings, showers, and bachelorette parties. But there are plenty of inexpensive party favors for adults that are a great fit for any party and can really cement your rep as an amazing host. From custom matchboxes to personalized shot glasses, there are a lot of fun adult party favor ideas out there.
We've rounded up this list of party favors for adults to inspire your next summer festivity. You can choose an adult party favor that's tied to the theme of your party, or stock up on a bulk number of inexpensive party favors for adults that would be an appreciated send-off gift at any get-together. We promise, it'll leave guests raving.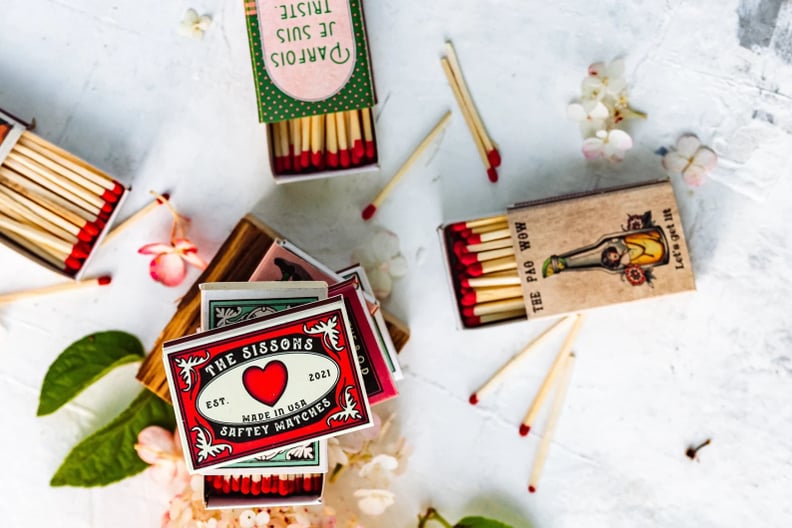 Adult Party Favors: Custom Matchboxes
Etsy Custom Matchboxes ($33)
These custom matchboxes are perfect for any occasion. This Etsy designer has a variety of designs and fonts that you can choose from, and you can work with them to create perfect little party mementos.
Adult Party Favors: Porcelain Boxes
Etsy Porcelain Boxes ($3)
These dainty porcelain boxes are so sweet and extremely versatile. Whether it's to hold jewelry or to double as a cute pill case, this adult party favor is sure to impress your guests.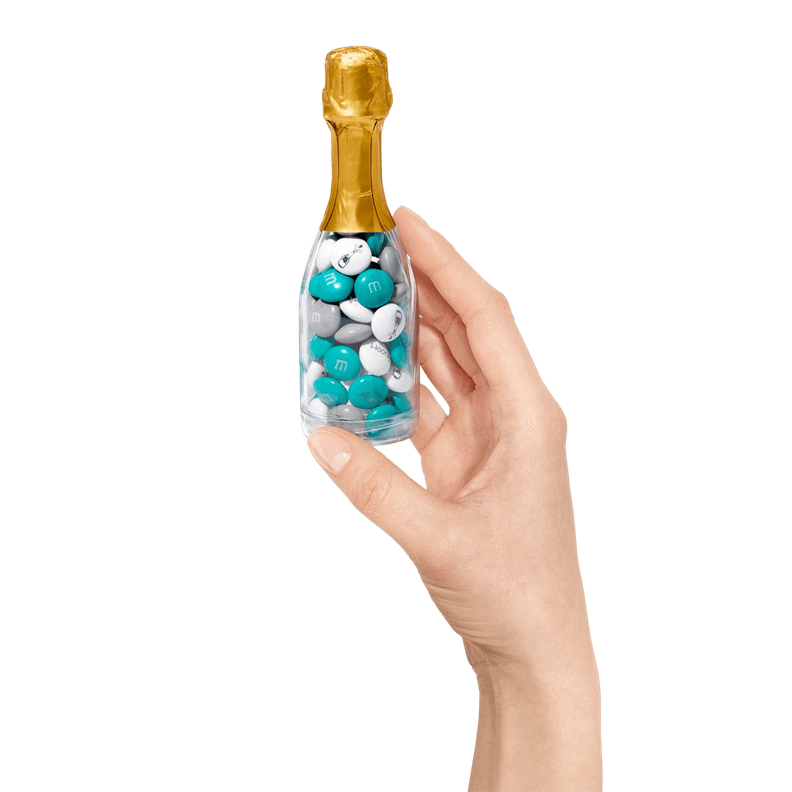 Adult Party Favors: Personalized M&Ms
M&M DIY Mini Occasion Bottle Party Favor Kit ($100)
This kit requires some DIY: it comes with a two-pound bag of your personalized M&M's and 20 mini occasion Champagne bottles. Fill each bottle and you're ready to go. Or you can save money by buying a bulk bag of M&Ms — the site has plenty of themes, from congratulations to Pride — and portioning them into small organza sacks, which you can get for cheap at craft stores or off Amazon.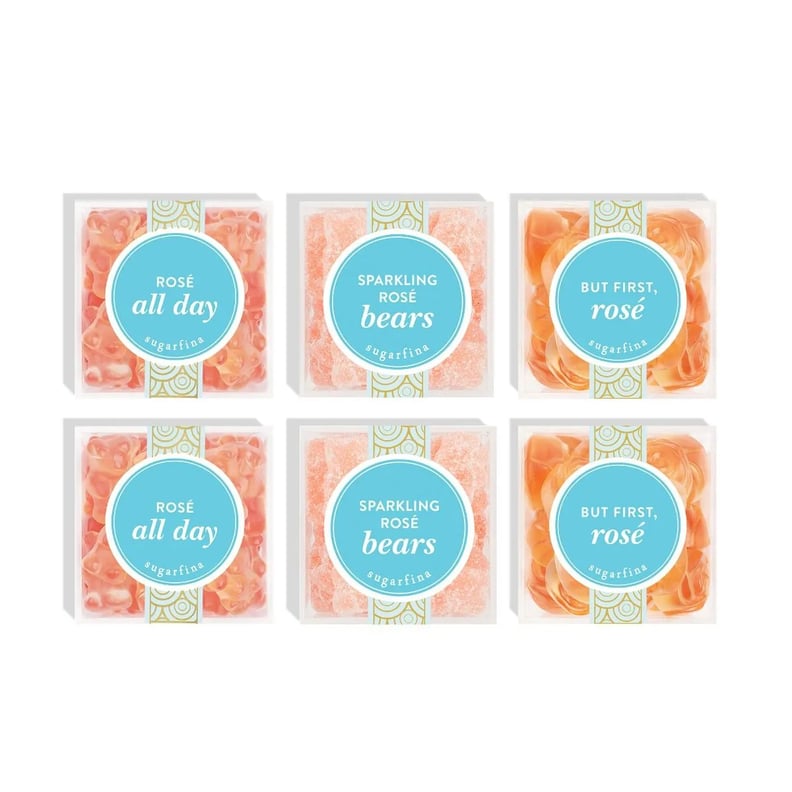 Adult Party Favors: Rosé Flavored Gummies
Sugarfina All Day Rosé Party Pack ($18)
This Sugarfina party pack is sure to be a crowd pleaser. Featuring Rosé-flavored gummy bears, Rosé-flavored rose gummies, and sparkling Rosé gummy bears, these Rosé-infused desserts are the perfect takeaway from an adult party, especially if the main drink served was wine.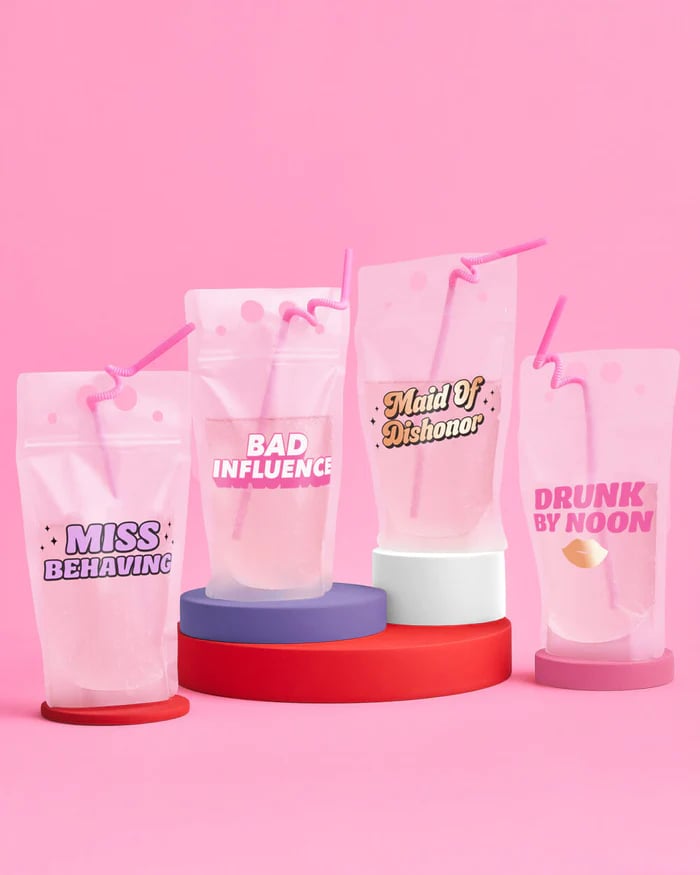 Adult Party Favors: Drinking Pouches
XO Fetti Guess Who Sippers ($17)
XO Fetti is known for their fun bachelor and bachelorette party favors, and these drink pouches are no exception. These reusable 15-ounce pouches, which come in packs of 16, each come with a pink twirly straw and a fun superlative for each guest.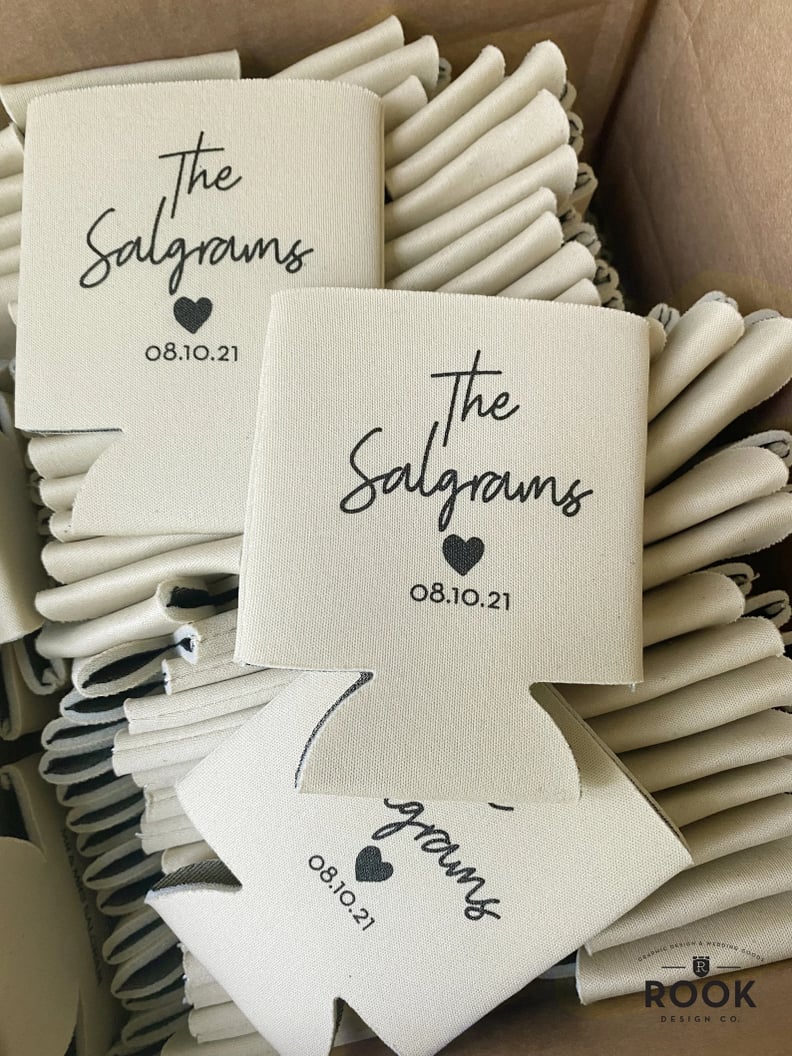 Adult Party Favors: Personalized Drink Koozies
Etsy Personalized Koozies ($86)
These personalized drink koozies are a great adult party favor for any summer event — give 'em out at the beginning of the party instead of the end, so your guests can start to get attached early. They'll be sure to reuse them for all future summer occasions, and you'll make great use out of any leftovers, too. You can work with the designer to customize your own design to fit with your party theme.
Adult Party Favors: Fun Bottle Openers
Urban Outfitters Bootle Opener ($18)
This Urban Outfitter's "Bootle" Opener is one example of the many different fun bottle opener options out there. This particular option is the perfect favor for a Western-themed party, but you can find one suited to your party theme, too.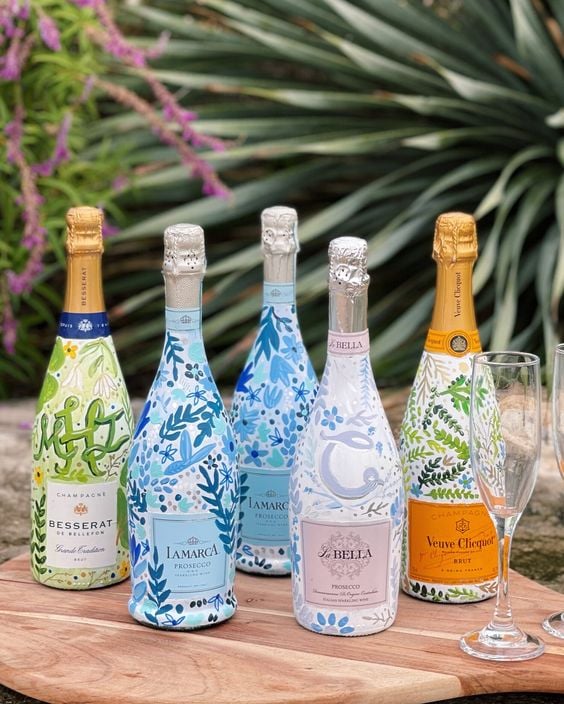 Adult Party Favors: Painted Wine Bottles
Papergarten Hand-Painted Champagne Bottles ($200)
Papergarten is a service that's local to Dallas, TX. If you're in the area, it's worth looking up: you bring in Champagne bottles and they paint them for a truly memorable drinks cart. But if you're elsewhere or looking to save money, we suggest building your party around this activity: set out paints and let your guests decorate their empties however they choose, then bring the resulting masterpieces home with them.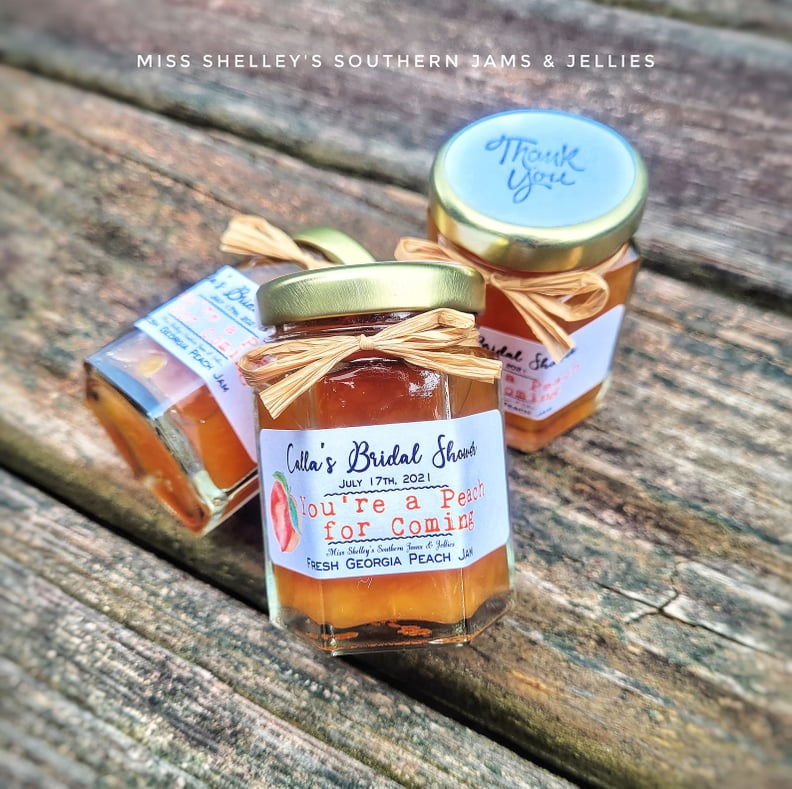 Adult Party Favors: Homemade Jam
Personalized Mini Jam Jar Favors ($156)
This is another one you could DIY or buy. This Etsy seller lets you pick the flavor of jam and the message (we love "You're a peach for coming!" on a peach jam), and the price is for 48 1.5-ounce jars. But you could also make your own and spread it into tiny jars from any craft store to pass out to guests.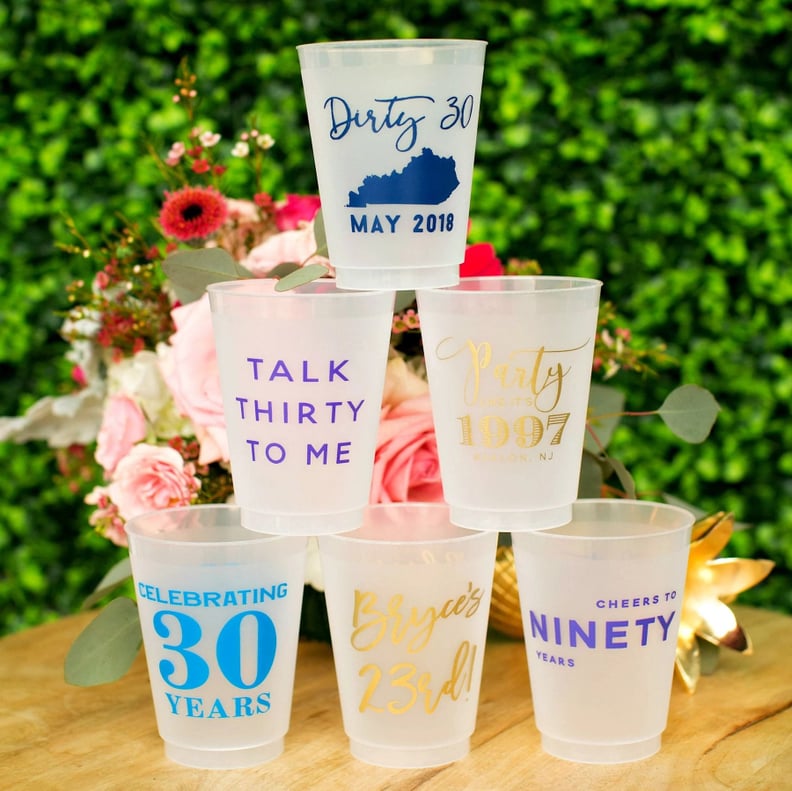 Adult Party Favors: Personalized Frosted Cups
Sip Hip Hooray Custom Birthday Frosted Cups ($39)
These cups, which come in packs of 15 for $39, don't just have to be for your next birthday party; they can be a hit for any summer event. You can choose the font, color, design, and image that'll be printed on them. They're another favor you can use during the party, and then let guests take home — or you can stuff them with other favors (personalized M&Ms anyone?) for a really impressive swag bag.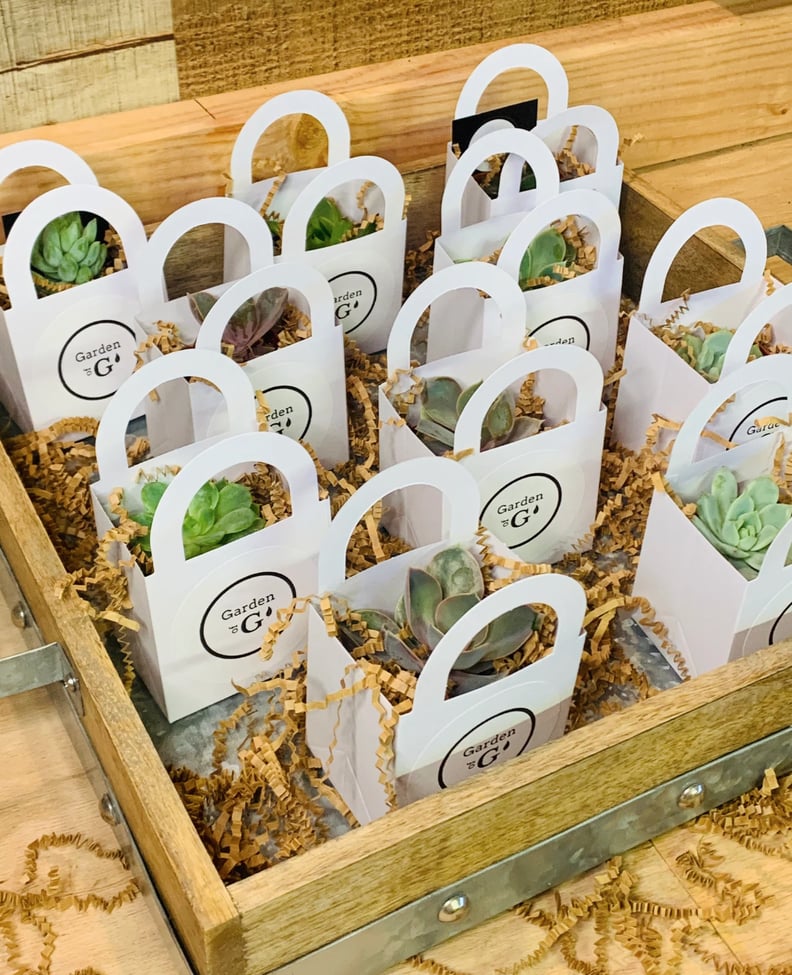 Adult Party Favors: Succulents
Etsy Succulent Bag Party Favors ($50)
These bagged succulents, which come in sets of 12, are both adorable and thoughtful. Each one comes in a bag, and you can personalize the sticker for $5 more. These allow your guests to remember your party every time they care for the (low-maintenance) plants.
Adult Party Favors: Custom Olive Oil
For this party favor, prices vary based on what flavor you choose, which range from rosemary oil to truffle oil to lemon oil. The vendor allows you to put your name and event date on the bottle. Worth noting: the listed price is for one bottle, but there's a 20-bottle order minimum.