Still Looking For the Perfect Gift? It Doesn't Get Any Easier Than This DIY Sharpie Mug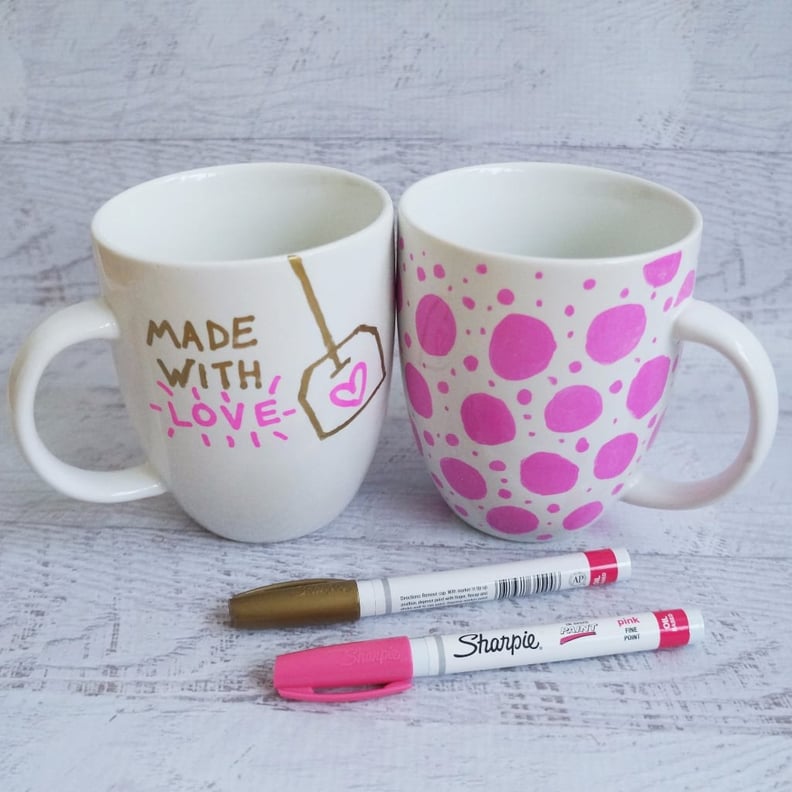 POPSUGAR Photography | Emily Co
Do you have a plain, boring mug that needs a bit of spicing up? Personalize your cups and mugs by drawing on them! You can use them to add personality to your home or even give them as gifts to your loved ones. Here's how to start:
Buy white cups or mugs. You can find them in superstores, thrift stores, dollar stores, and online.
Pick a Sharpie. For long-lasting results, choose oil-based Sharpie paint markers. Regular Sharpie ink can come off even after baking. Pick a color to use on your mug. You can stay simple and choose one color, or be more ambitious and use multiple. If you're sticking to one color, then black is usually a good choice, given its striking contrast to the white background of the mug.
Start drawing. Decide what you want to put on the cup, and maybe practice drawing it on a piece of paper before drawing on the mug. Pick a meaningful quote or a cute graphic to decorate the mug with, and get inspired by mugs that are sold on Etsy or by clicking through the examples we've shared here from Instagram!
Dry it out. Let your mug dry for a few hours or overnight before placing it into the oven. You can also draw over it again if you'd like to make sure the pattern doesn't come off in the wash. If you draw over it again, be sure to leave it out to dry again before baking.
Bake it. Bake the mug in the oven for 30 minutes at 350°F. Remember to place the mug in the oven before it heats up and leave it in until the oven cools completely so there won't be any cracks. You can choose to bake the mugs twice to really set in the Sharpie drawings.
Care and wash. Hand-wash the mug gently instead of throwing it in the dishwasher, as a machine washer may ruin the design.
Some Sharpie mug DIYers may advise you to spray the mug with acrylic sealing spray to make sure the Sharpie etchings doesn't rub off. I personally didn't want to do that because the spray can be toxic. However, if you decide to go that route, be sure to avoid spraying near the top and on the inside of the mug. You can cover those areas with masking tape to protect them before you spray.
Keep reading to see more cute, creative, funny, and sentimental DIY mug examples for design inspiration. Enjoy!
— Additional reporting by Haley Lyndes and Tara Block
DIY Dwight From The Office Mug
DIY "Turn Your Wounds Into Wisdom" Mug
DIY "You're My Cup of Tea" Mug
DIY "I Drink Coffee Like a Gilmore Girl" Mug
DIY "I Run on Coffee and Cuss Words" Mug
DIY "Namast'ay in Bed" Mug
DIY "Does This Ring Make Me Look Engaged?" Mug
DIY "It's the Simple Things That Matter" Mug
DIY "After Rain There's a Rainbow, After a Storm There's Calm" Mug
DIY "Oh For Flocks Sake!" Mug
DIY "I Love You a Whole Latte" Mug
DIY "Tears of the Patriarchy" Mug
DIY "After All This Time? Always" Mug
DIY "Let It Be" and "Imagine" Mugs
DIY "I'm on Mountain Time" Mug
DIY "But First Coffee" Mug
DIY "Good Teachers Teach, Great Teachers Inspire" Mug
DIY "Live, Laugh, Love" Mugs
DIY Hocus Pocus Quote Mug
DIY "Drop It Like It's Hot" Mug
DIY "I Love You to the Moon and Back" Mug
DIY Princess Bride Quote Mugs
DIY Harry Potter Quote Mug
DIY "My 'People Skills' Are 'Rusty'" Mug
DIY "Good Day Sun Shine" Mug
DIY "I'm Quite the Catch" Harry Potter Mug
DIY "My Little Cup of Happiness" Mug
DIY "Do More of What Makes You Happy" Mug
DIY Telephone a Friend Mugs
DIY "I Can't Bear Mornings" Mug