Why You Need to See South Dakota's Surreal Badlands For Yourself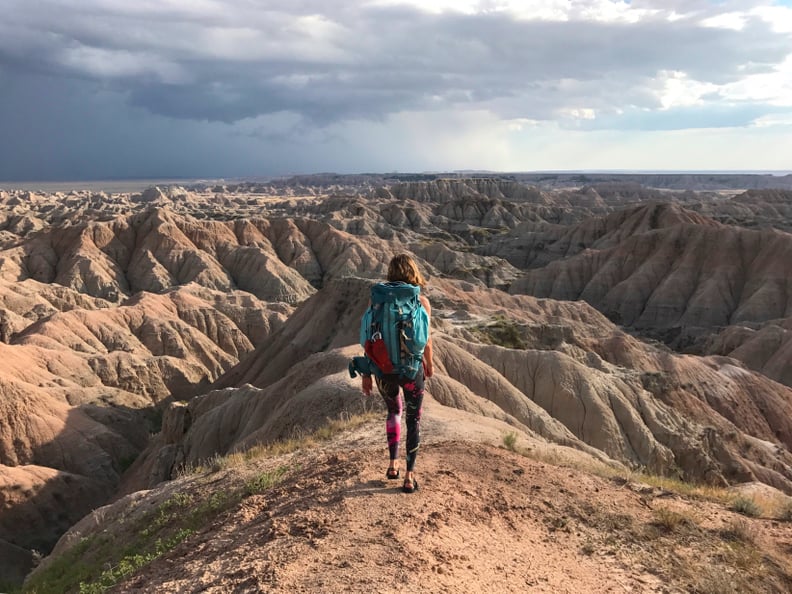 POPSUGAR Photography | Julia Sievert
POPSUGAR Photography | Julia Sievert
It was my first time seeing South Dakota's Badlands and I couldn't keep my eyes off of them. What an intriguing, moon-like landscape carved by the elements of water and wind millions of years ago. Driving into the Badlands National Park was an experience itself. Surrounded by nothing but grassland, all of a sudden, majestic towers appeared out of nowhere.
The Badlands got their name from the Lakota Nation, also known as the Sioux, due to their difficult and rugged terrain, which stretches about 244,000 acres along the southwest of South Dakota. The terrain consists of tower-like pinnacles and steep slopes. Mother Nature will eventually erode all of this magical landscape away due to its soft layers of sand, clay, and silt, so I am in awe of being able to experience such incredible geological formations during my lifetime.
You can hike for hours without seeing civilization. Walking along the steep ridges is difficult and rather dangerous due to the unstable condition of loose sediments. Hiking through Badlands requires you to switch from peak to valley over an over again. The heat throughout the day can be pretty unbearable, even in the shade. Most of its peaks are untouched due to the difficulty of the terrain. Be aware that most of this area is considered back country, with not a lot of designated trails. Hiking along undefined trails deep into the Badlands isn't a good idea if you haven't thoroughly studied the area, as it's quite easy to lose track of your location. You can find Badlands throughout the US and Canada, and they are a must to experience for any of you who feel as close to nature as I do. See photos of South Dakota's surreal Badlands ahead.