Pints and Peaks: Why Bend Should Be Your Next Oregon Vacation Stop
Yeah, yeah, we get it. Portland, OR, is pretty, cool, and intriguingly weird. It has a great fill-in-the-blank with beer, biking, food, music, artisans, doughnuts, and coffee. In fact, you hear the virtues of visiting the Rose City extolled so heartily and with such frequency that you might (mistakenly) think it's the only thing Oregon has to offer vacationers.
However, Bend is an awesome alpine alternative primed to steal back some of the tourism thunder (which, by the way, they have less of than PDX). On average, the central Beaver State mountain town has 162 days of sun a year (and most locals would swear that number is now closer to 300) compared to Portland's 144, which gives you all the more time to enjoy its bevy of beer gardens, urban trails, dog-friendly restaurants, public art, and outdoorsy activities.
The area is surrounded by wooded wonderland. It's home to 22 breweries (including a granddaddy of the American craft beer movement, Deschutes), an adorable, lively downtown, and the state's longest continuous lava tube. It's even rumored that seven people move there every day. Whether that statistic is exaggerated or not, it wouldn't be hard to buy as fact given the place's many pros, most of which also make the list of reasons to plan a trip to this Pacific Northwestern playground. Here's everything you should do when you visit Bend!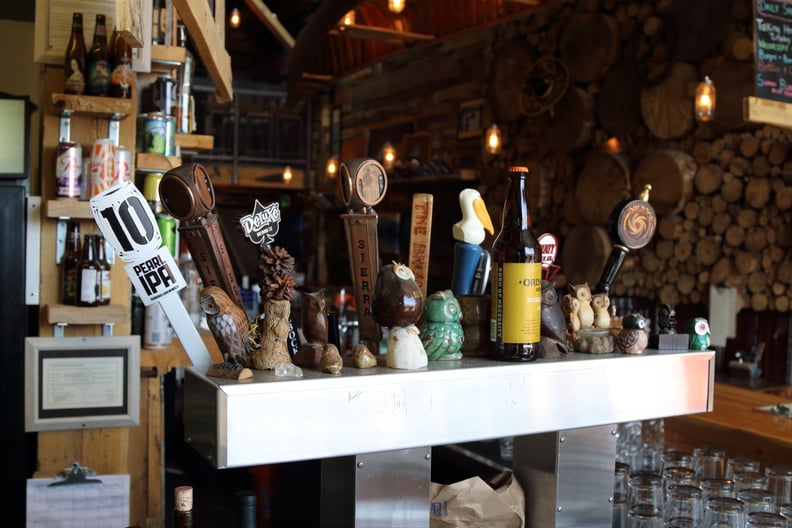 Take Part in the Beer Scene
Oktoberfest can happen any time of year around these parts. Although the number could be higher or lower on any given day (and that doesn't include tiny garage growler experiments), there are currently 22 breweries within the city limits and 28 in nearby towns of Central Oregon (three in Redmond, one in Sisters, one in Prineville, and one in Sunriver). Sixteen that have tasting rooms or restaurants with regular hours have banded together as the Bend Ale Trail.
If you have the liquid courage, try the challenge. Pick up a passport booklet at the Bend Visitor Center and collect stamps as you visit the suds slingers such as 10 Barrel, Bend Brewing Company, and Crux Fermentation Project. Collect 10, get a prize. Collect all 16, the B.D.V. will give you an extra prize, and if you hit them all during Bend Ale Trail Month (AKA November), you will even get a trophy.
Deschutes Brewery, which opened in the late 1980s and is one of the founding fathers of fermentation in the area, has four free tours of their production facility daily. You can also visit a hop farm. Many double as restaurants or have outside areas with live music, lawn games, food trucks, and more, making them kid and dog-friendly. Seasonally-inspired and sour beers are all the rage.
If you are "meh" about malted grains, there are a growing number of Central Oregon distilleries, cideries, and wineries to lift your spirits including Atlas Cider, Cascade Alchemy (which makes chai tea vodka and apple pie liquor), Backdrop Distilling, or Faith, Hope And Charity Vineyards. To help everyone drink responsibly, the free Ride Bend shuttle runs every 15 minutes from 2 p.m. to 10 p.m. during the summer. The Bend Brew Bus has beer-centric tours as well as a combo tour called The Local Pour.
If you prefer your pale ale with a side of pot, good news! Recreational marijuana is legal in the state for people 21 and older, but visit whatslegaloregon.com to determine where you can get lit before you light up.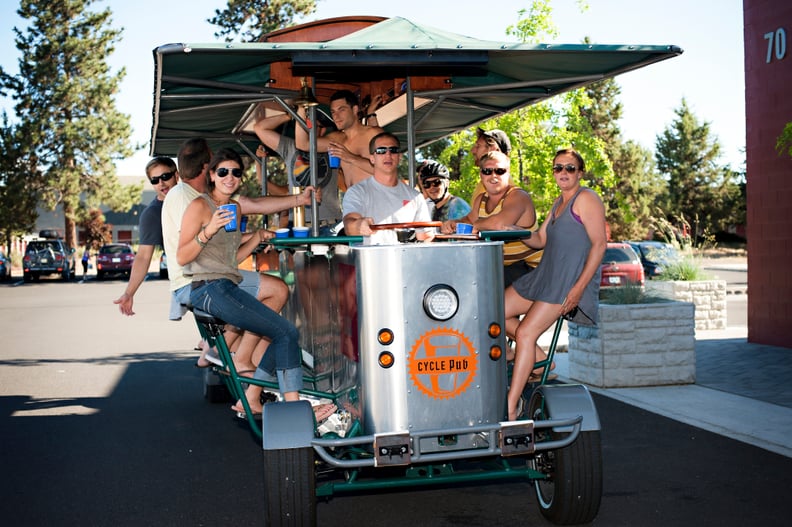 Tour the City on a Cycle Pub
You should never drink and drive, but the rules are a little looser when you bike and drive on a Cycle Pub tour through town. The Big Bike, which offers sun protection and a sound system you can hook up to your iTunes, can accommodate up to 14 riders on the two-hour pedal — and you better believe it is a workout, especially if your fellow riders start to slack off as they start over-enjoying their stout — while the smaller Cycle Round can roll out with four to six bikers. All rides stop and fill growlers at Silver Moon Brewing, but other stops can be customized depending on what type of beer the gang is into, if they need snacks, or have certain city sights they want to learn more about from the silly tour guides. (One dude is a champion yodeler. Because of course, this funky town has a semi-annual yodeling contest.)
Experience America's First Craft Wellness Center
Hop in the Spa, located in the neighboring town of Sisters, bills itself as America's first craft brew wellness center. All of the massages use custom-blended hop oil, but the place is especially known for Hop Hydrotherapy. For the microbrew soaks, participants steep in a deep solid cedar tub filled with a heated blend of hops, herbs, minerals, and water while eating a Bavarian pretzel and, naturally, drinking a Deschutes Brewery Black Butte Porter or Mirror Pond Pale Ale. They also offer body polish and hand-and-foot sugar scrub made from hops, barley, and various skin-friendly butters.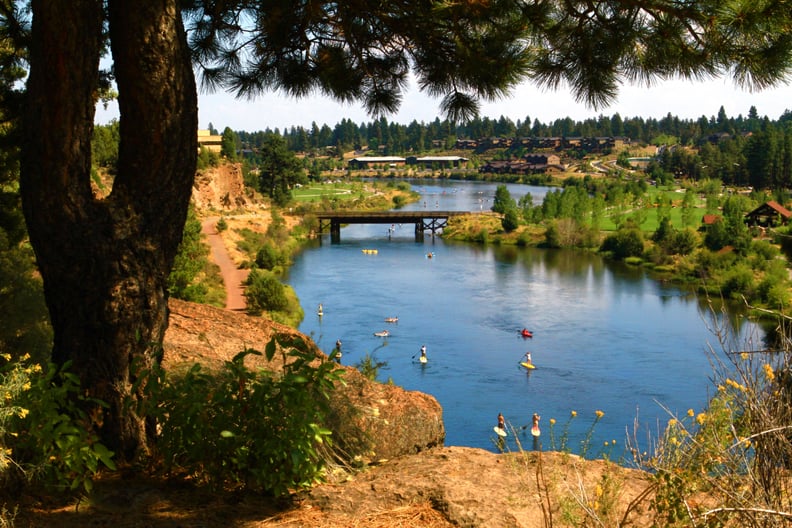 Enjoy River Activities
Because the Deschutes River runs through it, Bend is also full of river rats. Whether your mode of transport of choice is a kayak, canoe, paddleboard, tube, surfboard, or giant inflatable unicorn, you should make time to join them on the water. With multiple access points, gear rental companies, and organized tours by companies like Wanderlust, it's easy to do, even as a beginner.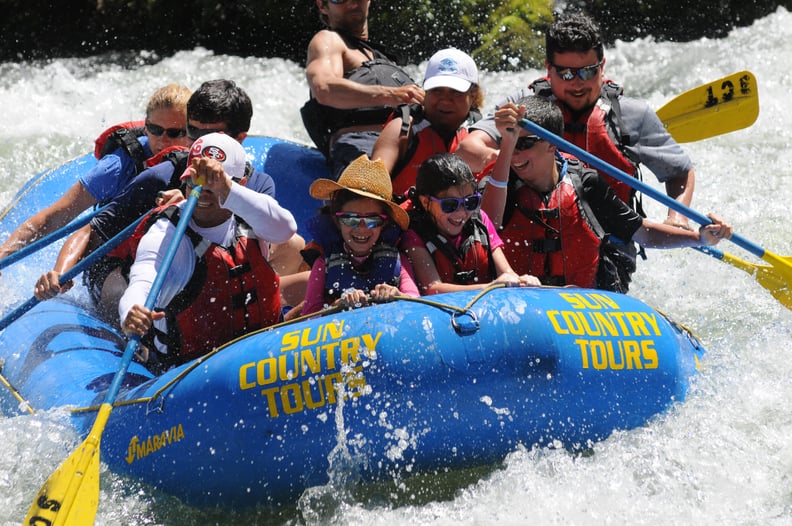 Get Active
To work off all the beer you'll be drinking, simply step outside and pick a sport from fly fishing and paragliding to trail running and whitewater rafting. Even pickleball has picked up steam in the last couple of years with courts and leagues popping up.
Smith Rock State Park, 651 acres of high desert plateau at 3,000 feet in elevation, is widely considered the birthplace of modern American sport climbing, with thousands of routes to explore. Hit the slopes once Winter comes at Mt. Bachelor Ski and Snowboard Resort, where kids ski free. National forests, buttes, and trails are great places to snowshoe as well.
Bend is also a mecca for cyclists, whether you want to roll down the road or up a mountain. The Three Sisters Scenic Bikeway is a collection of street routes that connect Central Oregon's communities and several of these itineraries are distinguished as Oregon Scenic Bikeways like the Twin Bridges Loop or the McKenzie River Pass. Mt. Bachelor has a lift-served bike park and around the area there are more than 277 miles of well-maintained singletrack that cater to all levels, from beginners to dirt-jumpers.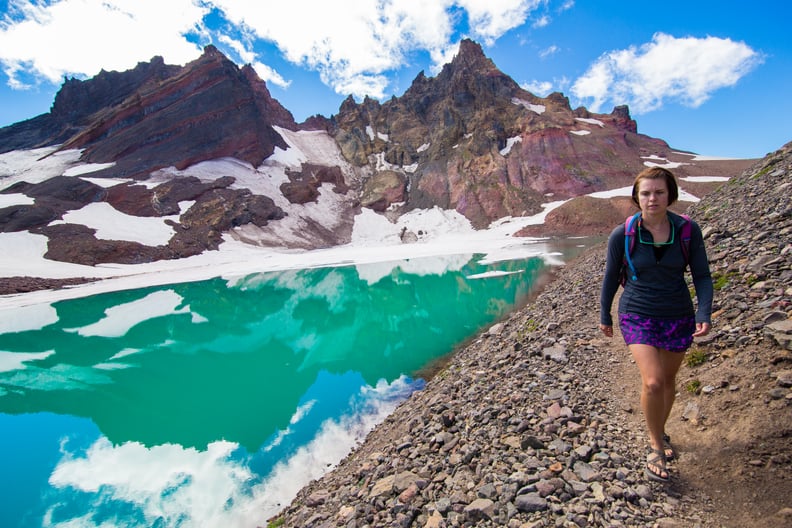 Take in the Scenery
If you're looking for an activity that requires slightly less adrenaline, there are some pretty amazing places to go for a walk (or in some cases, a drive) whether you're looking for a long back country trek or a short scenic stroll. There's a network of in-city paths as well, if you'd rather avoid the car all together or just need to walk off dinner.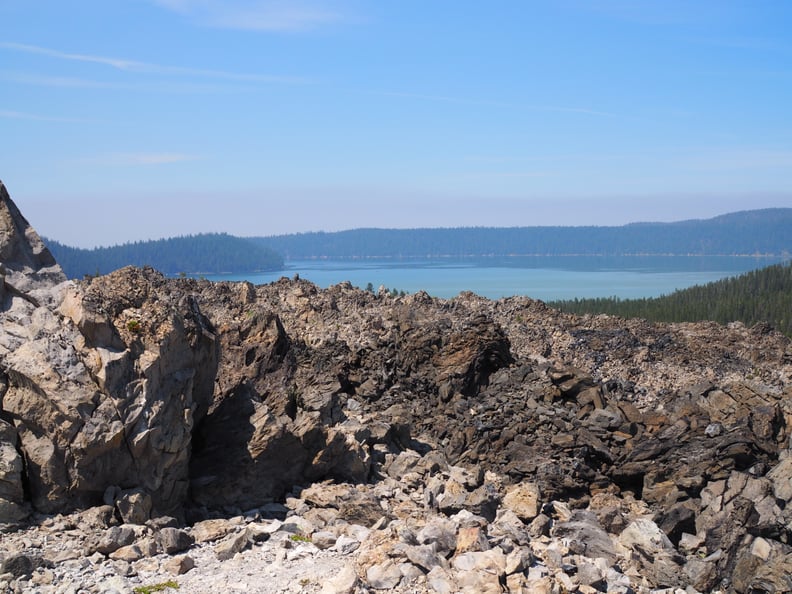 Explore the Area's Many Trails
Views from the top of Paulina Peak down to the caldera inside Newberry National Volcanic Monument, are epic. As are those around Obsidian Flow, a massive lava field where NASA astronauts have long logged some training hours thanks to its similarity to the moon's surface. The Deschutes National Forest and surrounding buttes are chock full of trailheads that will take you to mountain tops, pristine lakes, wildflower patches, and rocky landscapes. And don't forget that aforementioned lava tube.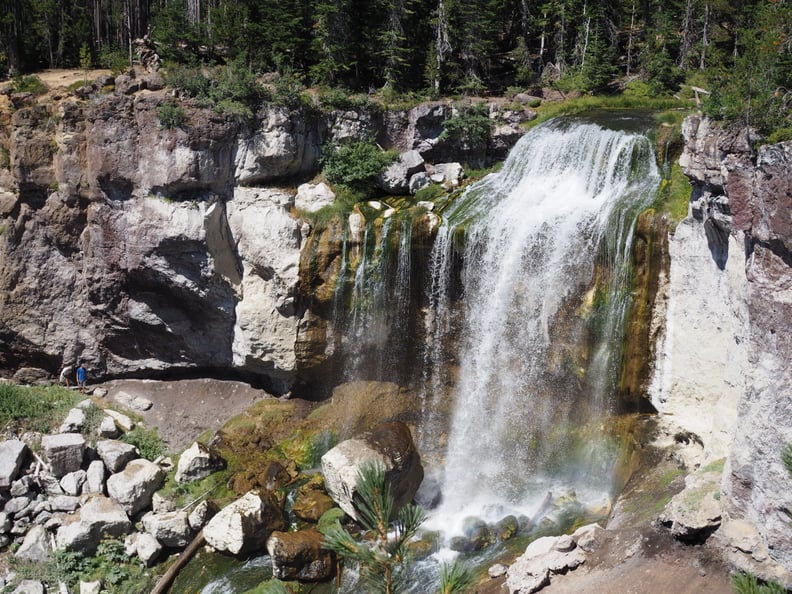 Go Chasing Waterfalls
Make sure to stop and do the quick jaunt to Paulina Falls near the entrance to Newberry National Volcanic Monument. It is a great place for a picnic, or to sooth aching feet after a day of adventuring in cold mountain water.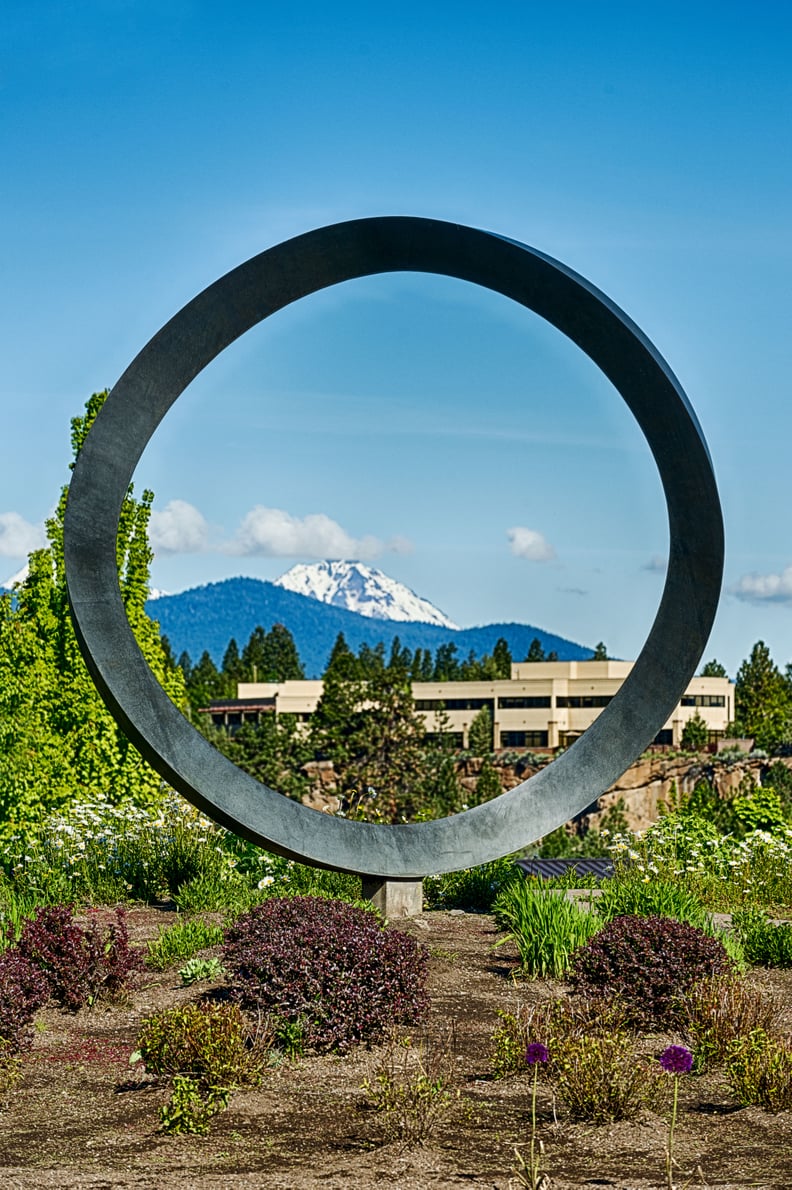 Take in the Local Art
In Bend, even art likes the great outdoors. The city planner really bought into the concept here that traffic circles help keep cars moving and ease congestion. To turn the mundane into the marvelous, non-profit Art in Public Places (which has, impressively, been on the scene since 1967) sponsored the Roundabout Art Route. Since 2001, they have placed sculptures by artists with Oregon ties in 23 of them. Some pay homage to the city's logging history, like Centennial Planter or Cogs, which repurposed giant mill wheels into flowery planters. Others were inspired by the nature and the surroundings, like Redsides, a school of kinetic fish made of steel and wire. If you only have time to see one, make it Phoenix Rising, which residents refer to as the Flaming Chicken. The nickname started as an insult, but the colorful bird has since become a beloved institution.
A local map makes it easy to guide yourself by bike or car, but if you'd prefer something more structured, the Bend Tour Company offers an Art Safari most days.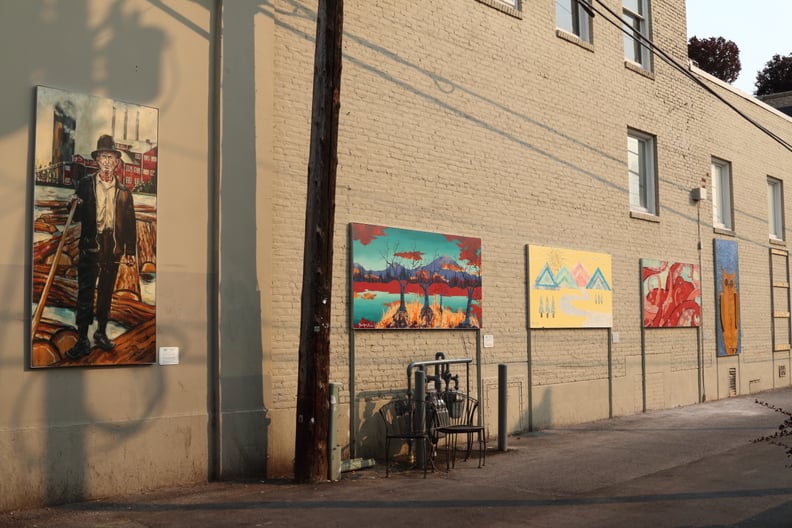 And Even More Art!
There's also 14 works, mostly paintings, sprucing up alleys and side streets around downtown as part of the Tin Pan Alley Art Collection. Don't miss Voyage, Tangled, or Ride With Me, a three-dimensional wood and metal creation that showcases the very popular pastime of mountain biking.
On a rotating basis, an artist is elected to draw on two large cement pillars in the lobby with chalk. Other works by that artist will be displayed and sold inside the center as well. There's an organized Old Mill District and downtown gallery hop on the first Friday of every month, and the art walk inspires other retailers and restaurants to feature music and stay open later. At the end of August, more than a hundred juried artists display their wares on the shores of the Deschutes River as part of the annual Art in the High Desert Festival.
And if all of this gets your creative juices flowing, head over to the Bend Art Center to take a workshop in calligraphy, photo-etching, collagraphs, monotypes, or Chine Collé. They also sponsor exhibits and talks with visiting artists. Even if you aren't the next Picasso or Banksy, getting your hands dirty is a fun way to spend a morning.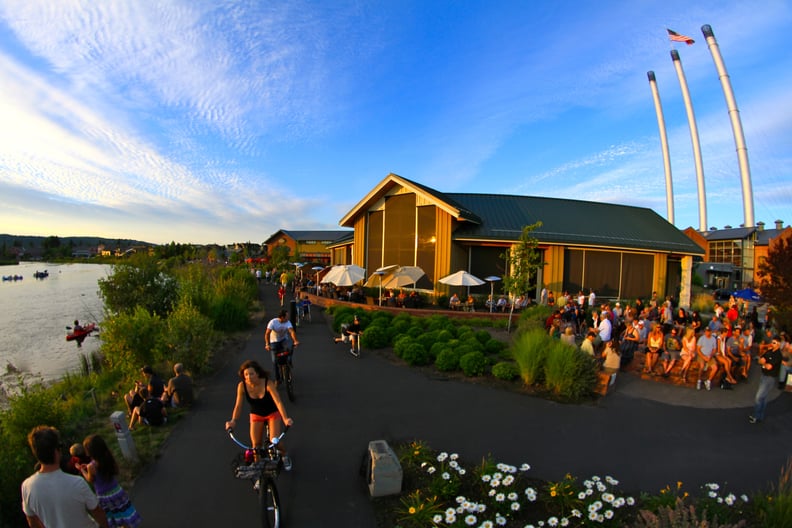 Visit the Old Mill District
Once the most industrial part of town and the heart of the lumber industry, the Old Mill District has been seriously rehabbed from eyesore to prime real estate. It is now one of Bend's premiere shopping, dining, and entertainment hubs — but they haven't forgotten their history. The entire complex is centered around a 28,000 square-foot flagship REI built into a repurposed lumber mill powerhouse, complete with three original smokestacks. There are places to eat (Anthony's specializes in Northwest seafood; Flatbread Pizzeria), sip (Naked Winery Tasting Room for Hood River reds and whites), and caffeinate (Strictly Organic Coffee Co. has six milk alternatives, kombucha, and locally made energy bars) after shopping at national chains including Victoria's Secret or Lululemon, or at mom-and-pops like Ginger's Kitchenware or Vanilla Urban Threads.
Catch acts like Modest Mouse, Jack Johnson, or the Avett Brothers at the Les Schwab Amphitheater or the latest blockbuster at the Regal/IMAX theater. Exercise inside at Bikram Yoga or Orangetheory or outside with a run on the River Trail or a quick kayak or surf (yes, surf!) at Bend Whitewater Park. Then, have the kinks rubbed out at the Bend Day Spa, which also offers facials, manicures, and pedicures. It's a popular place to catch the sunset or the annual Balloons Over Bend festival.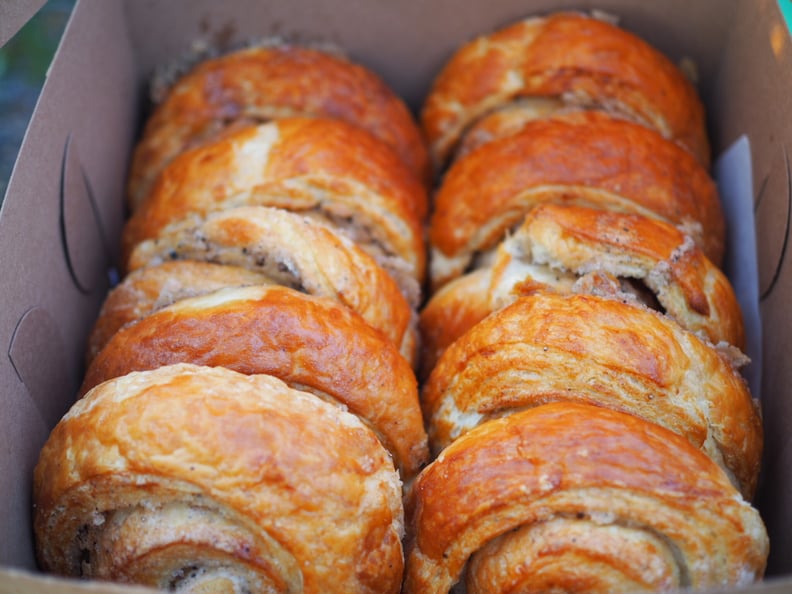 Feast on Bend's Cuisine and Treats
With all the beer drinking you'll likely be doing during a trip here, you shouldn't forget to fortify with solid foods. Jackson's Corner Westside is an adorable spot with patio picnic tables perfect for breakfast and lunch. They whip up mean biscuit sandos, salads, and coffee drinks using seasonal, local, and humanely treated ingredients. If comfort food is what you crave, sit down to fried pickles, mac and cheese, fried chicken, or salted caramel shakes with candied-pecan topping at Drake.
There are also plenty of locally made treats to put in your belly like Humm Kombucha or Bontá gelato. You can grab souvenirs for foodie friends at Market Of Choice. But you absolutely cannot leave town before putting at least one Ocean Roll from the Sparrow Bakery in your mouth. Made daily from scratch at all locations, the breakfast pastry starts with croissant dough before adding cardamom, sugar, vanilla, and an egg wash and baking it golden. It is better than a Cronut and far easier to get a box of.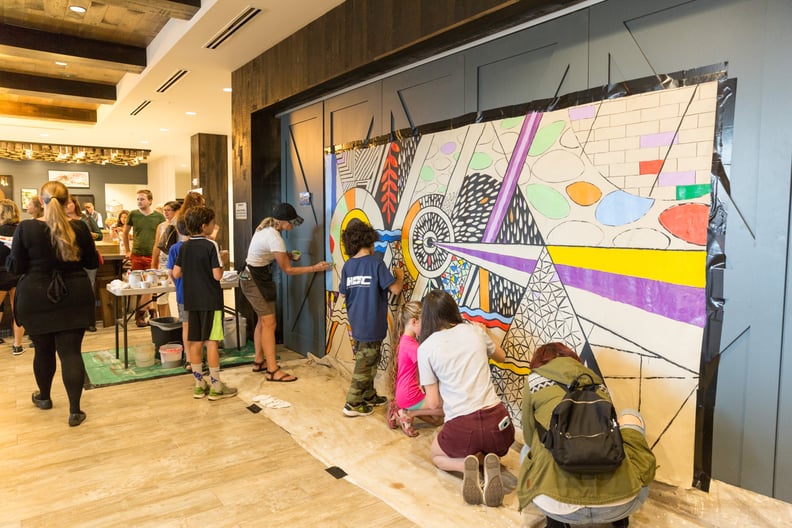 Where to Stay
Camping is an option. Tumalo State Park has 54 sites, seven yurts, and decent rainbow trout fishing along the Deschutes River. Lava Lake is in the middle of the national forest on the eastern slopes of the Cascades, increasing your chances of seeing bighorn sheep, pronghorn, and migratory birds.
But if you'd rather not lug around a bunch of gear or simply prefer to sleep on a mattress, check into Bend's newest lodgings, the SpringHill Suites, which pays tribute to the town's blue-collar timber past and the fact that it sits on the former site of a lumber mill's crane shed in its plaid-tastic design. Walls (and ceilings) of woodcuts, botanical prints, framed saw blades, "you are here" graphics, and lumberjill-approved tartans are as easy on the eyes as the included hot breakfast, WiFi, parking, and all-you-can-eat Chupa Chups (a chain tradition) are on the wallet. The lobby bar pours local pints and Willamette Valley wines. The fun monthly Art Of Local party, another of the brand's signatures, also gets the community and guests mingling with food, live music, kid-friendly activities like mural painting, and a neighborhood charity component. It is extremely close to The Old Mill District, across the street from the Cycle Pub starting point, and about a 20-minute walk to downtown and Drake Park.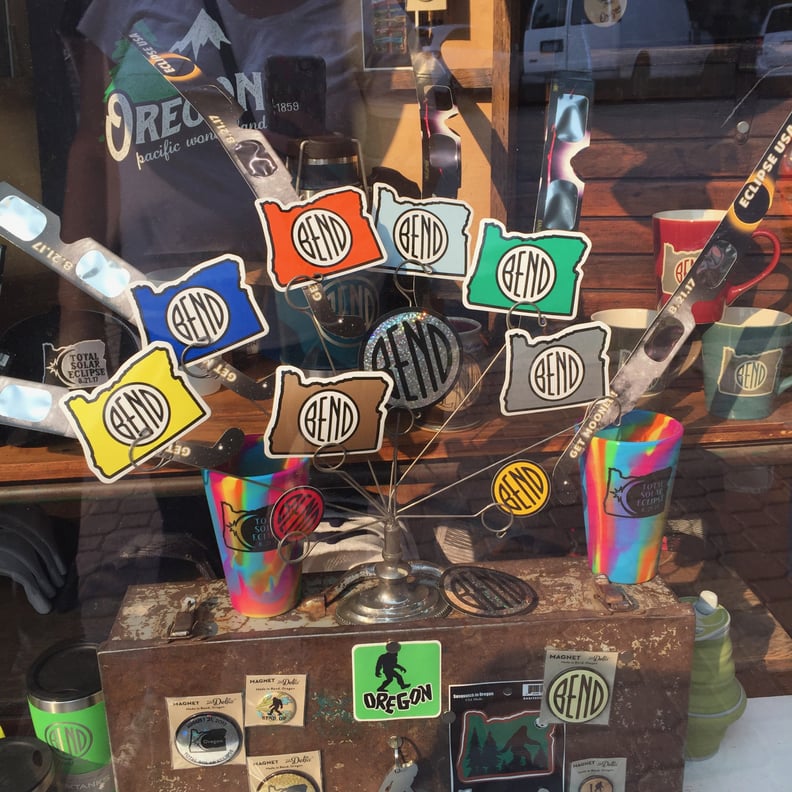 How to Get to Bend
The closest airport is in Redmond, about 15 miles from Bend, and there are regular direct flights from Portland, Seattle, San Francisco, Denver, Phoenix, and Salt Lake City. Or, choose to fly into Portland, where you will likely find cheaper flights on bigger planes, and then make a road trip of it. Depending on Stumptown's traffic, you can be in Bend in a little over three hours. But fair warning: curvy mountain roads can wreak havoc on those who suffer from motion sickness. Also wildfires are a very big problem when the heat waves hit and sometimes that can close roads or create massive traffic jams.