Tinx's Favorite Amazon Tumbler Cup | Review 2022
Yes, This Internet-Famous Water Bottle Really Is That Good
As POPSUGAR editors, we independently select and write about stuff we love and think you'll like too. If you buy a product we have recommended, we may receive affiliate commission, which in turn supports our work.
I, like so many people I know, have difficulty drinking water. I spend the entire day drinking something, but when the day starts with tea, moves on to a smoothie or sparkling water, and then likely wine or more tea, it's easier than I'd like to admit for me to go the whole day drinking one paltry cup of water. The problem is, my skin, and general disposition, was starting to show signs of dehydration. I started carrying around a water bottle, which helped a bit, but on an early-morning Amazon shopping spree (no judgment), I decided to buy the Simple Modern Insulated Tumbler Cup With Flip Lid and Straw Lid ($26), and it's one of my favorite purchases I've ever made.
I've been able to hit my water goal almost every day since I started using it.
I, like so many others, found the bottle originally from Tinx, a content creator. She loves this cup and has gotten a ton of people to buy it, including a few of my friends, who also love it. The cup just seemed to be following me around, and now it never leaves my side. It comes in a bunch of different sizes, and I bought the 28-oz. one, which is quite large, but I want to have to refill it as few times as possible. It comes in over two dozen colors, but I went with the black on black. Coincidentally, the day it came in the mail, I went to my cousin's house, only to find her drinking out of a blue version.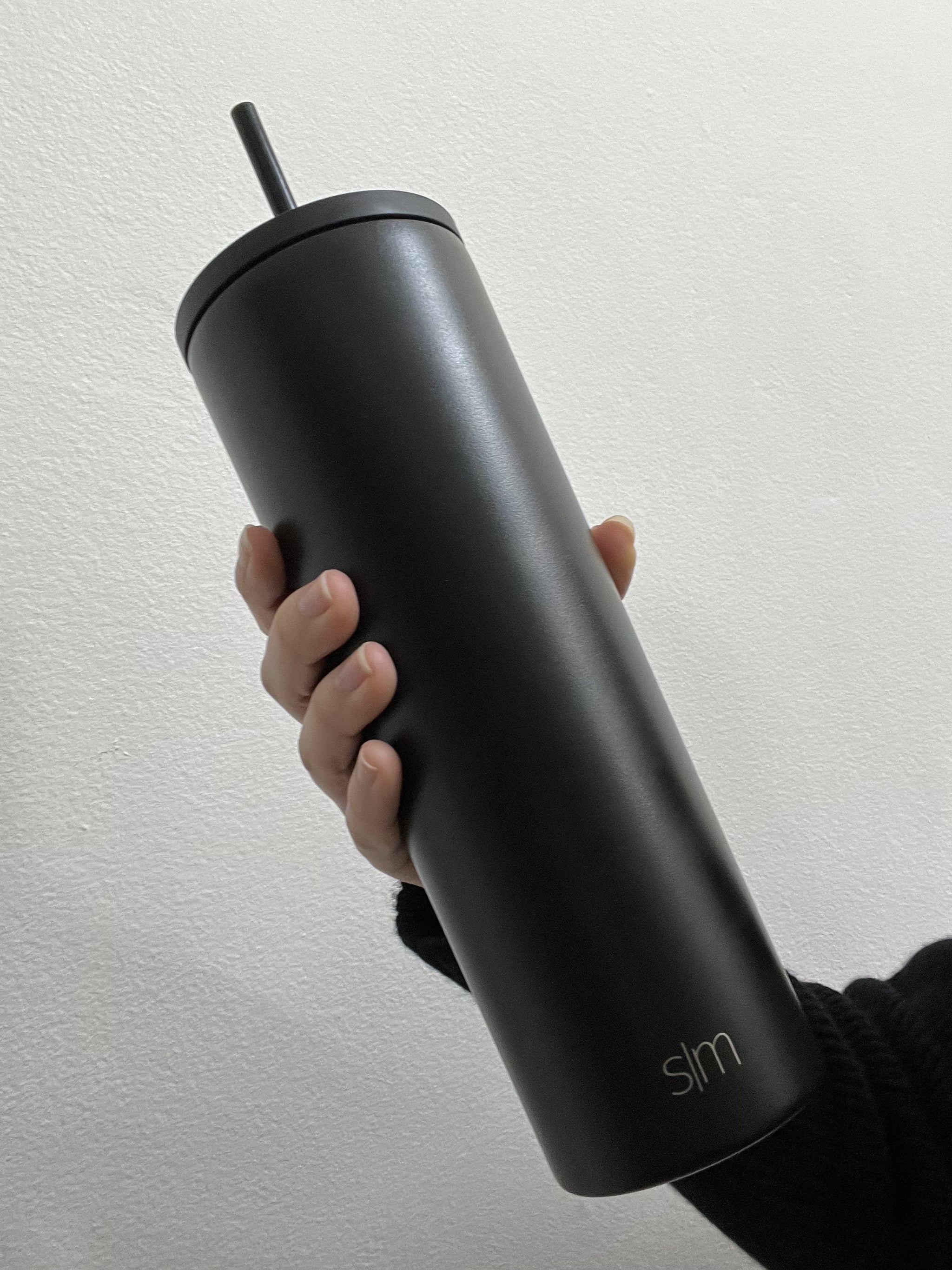 Image Source: POPSUGAR Photography / India Yaffe
I like this bottle for a few key reasons. Firstly, it doesn't make water taste weird or like aluminum, as so many stainless-steel reusable bottles are wont to do. Secondly, it keeps the water the exact desired temperature. If I put cold water in, it stays cold, and if I choose room temperature, it doesn't get hot or gross in any way. The cup comes with two lids — a flip lid and straw lid — and two reusable straws, which are the perfect height and not so tough you worry about chipping a tooth on one. Plus, each piece is dishwasher-safe, a water-bottle must in my opinion. The cup is also relatively narrow, which I appreciate. This is one of the only bottles I'm able to keep in my car because I have weirdly small cup holders. The only con I've found is that when it's full, it gets a bit heavy. This is a great incentive to start drinking, but if the weight bothers you, consider a smaller size.
I'm not 100 percent confident as to what makes this cup so great, but I think it's the straw. Drinking things out of a straw is just more fun, and it's nice to just sit and sip as I'm working. It may sound trivial, but this cup has not left my side in weeks, except to get washed, and even then I'm sad. I've been able to hit my water goal almost every day since I started using it, so thank you, Tinx, for showing me the way. I did not expect this cup to be worth the hype at all, but it is, and I may or may not be buying a second.