This All-Inclusive Luxury Vermont Resort Is $1,500 Per Night — See the Awesome Amenities!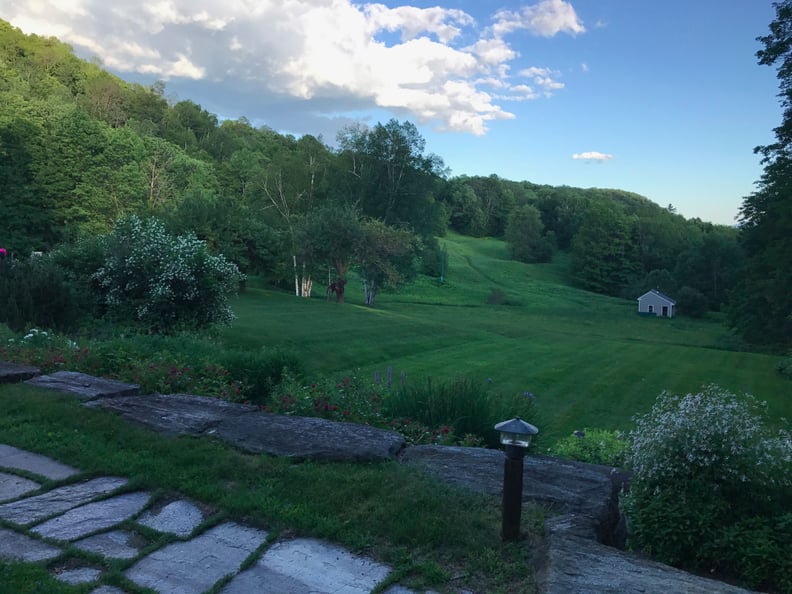 POPSUGAR Photography | Lauren Levinson
POPSUGAR Photography | Lauren Levinson
Can you put a price on truly being comfortable? Twin Farms, a luxury resort in Barnard, VT, did — and it's a minimum of $1,500 per night, to be exact. If you have the cash to spend, the staff at this gorgeous upscale bed-and-breakfast-inspired hotel will make it worth every penny.
I was so lucky to spend a romantic two-night June weekend with my newlywed husband, just one year after we got engaged in Vermont. Before we get into Twin Farms, let's talk about the state in general. Vermont is one of the most lush places in the Northeast, known for its laid-back vibe, delicious food (like cheddar and locally brewed beer), ski mountains, and stunning lakes. I've been about six times in the past three years, and I never get sick of it for these reasons. While you can certainly do Vermont on a budget, staying at an Airbnb or hotel, Twin Farms makes the case for splurging.
Here's a quick overview of how Twin Farms works. Everything you eat and drink or do (minus a reserved wine list, which you won't need since the ones included are outstanding) is part of the flat room-and-board fee. And there's no tipping. Breakfast is the only meal with a menu (pro tip: order the house-special souffle pancakes, which are technically off the menu, though always available). Lunch and dinner are multicourse meals with wine pairings.
Before your stay, you'll fill out a questionnaire about your food preferences and restrictions, and the chefs (led by executive chef Nathan Rich) will make sure the dishes are a surprised delight based on your likes. For example, I was served lobster for dinner, since I love seafood, while my husband was brought out a steak since he's a carnivore (they also gave him double portions, since I told them he eats a lot!). But you can also go off menu and basically eat anywhere on property you want — in your room, on the top of a mountain during a midhike picnic, and more. Everything is very fresh, since food is either sourced from Vermont farms located within five miles of the property or grown on the 300 acres of land that make up Twin Farms.
All activities — biking, boating, tennis, fitness classes, etc. — are all set up for you. There are even special events planned, such as a live bluegrass band at the pub on Saturday night. The only additional charge is the spa, which is totally worth it and features all Tata Harper products, a natural brand sourced out of Vermont.
In my opinion, the top two things you're paying for at Twin Farms are top-quality service and privacy. The staff at Twin Farms will do anything — seriously anything — to make your stay memorable and customized. Want a bottle of chilled Champagne waiting in your room for you and a cold bottle of Fiji water daily? Done. Call and ask for a nail file? They'll see if you need nail polish, too. Bike into town, which is all downhill, and someone will pick you up in a BMW. Speaking of which, BMW 750i xDrive sedans are available for you to drive around when needed.
This crew anticipates your needs and makes it happen if they can. For example, I casually mentioned to the after-dinner bartender that I heard Twin Farms is famous for its chocolate chip cookies and cheese. Before I went to bed that night, he made sure I enjoyed a plate of warm cookies. The next afternoon at lunch, my first course was a Vermont-sourced cheese plate. They remember and deliver.
The other element that makes staying at Twin Farms so exceptional is its exclusivity. You can't eat in the dining room — or use any part of the property — unless you're a hotel guest. And there are only 20 accommodations total, which can host about 40 people. It never feels crowded, and you can always seem to find a private bench around the lake or cozy reading nook in the main house to yourself. The rooms — or shall I say cabins — are also worth spending hours in, soaking in the double bathtubs or lounging beside your own fireplace.
I could go on and on about every little detail of this magical spot, but I'd rather you see how gorgeous and glorious your stay can be. Keep reading to see photos from my epic two-day stay.
Portions of the writer's accommodations were provided by Twin Farms for the purpose of writing this story.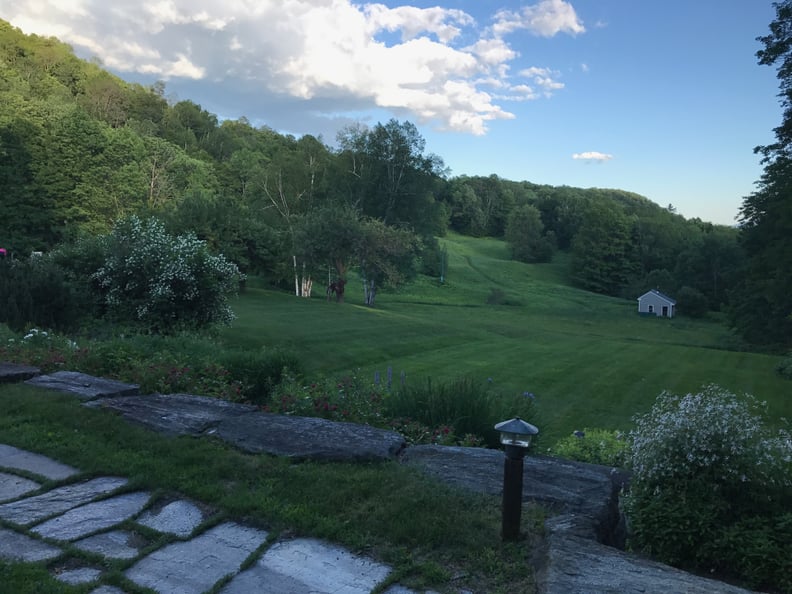 The Grounds at Twin Farms
Let's just take a moment to admire the gorgeous landscape at this country-chic resort. I wish you could smell the fresh air through the screen.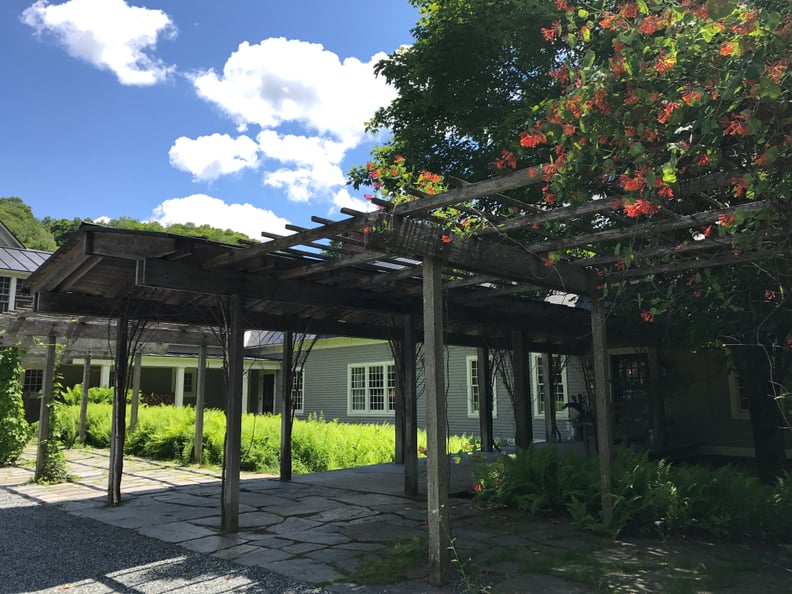 Arriving at Twin Farms
When you arrive at Twin Farms, the staff will bring your luggage to your room. In the meantime, you'll get a quick tour via a BMW of the property.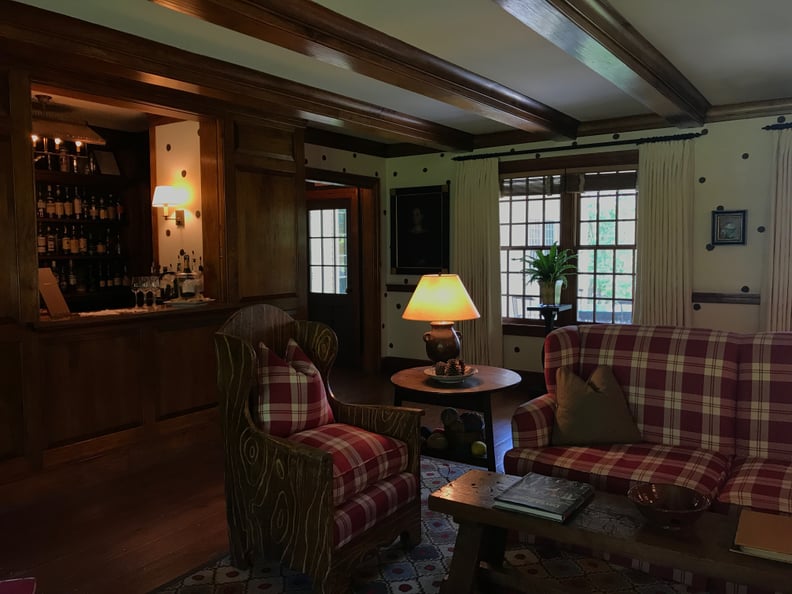 The Main House Interior
This was one of my favorite rooms. It's near the dining room, and it basically serves as a comfy place to hang out and drink whatever you want from the always-open bar. People grab their predinner drinks here. I usually went with Champagne, while my husband had a blast trying out Vermont-brewed beers, like the hard-to-find Heady Topper.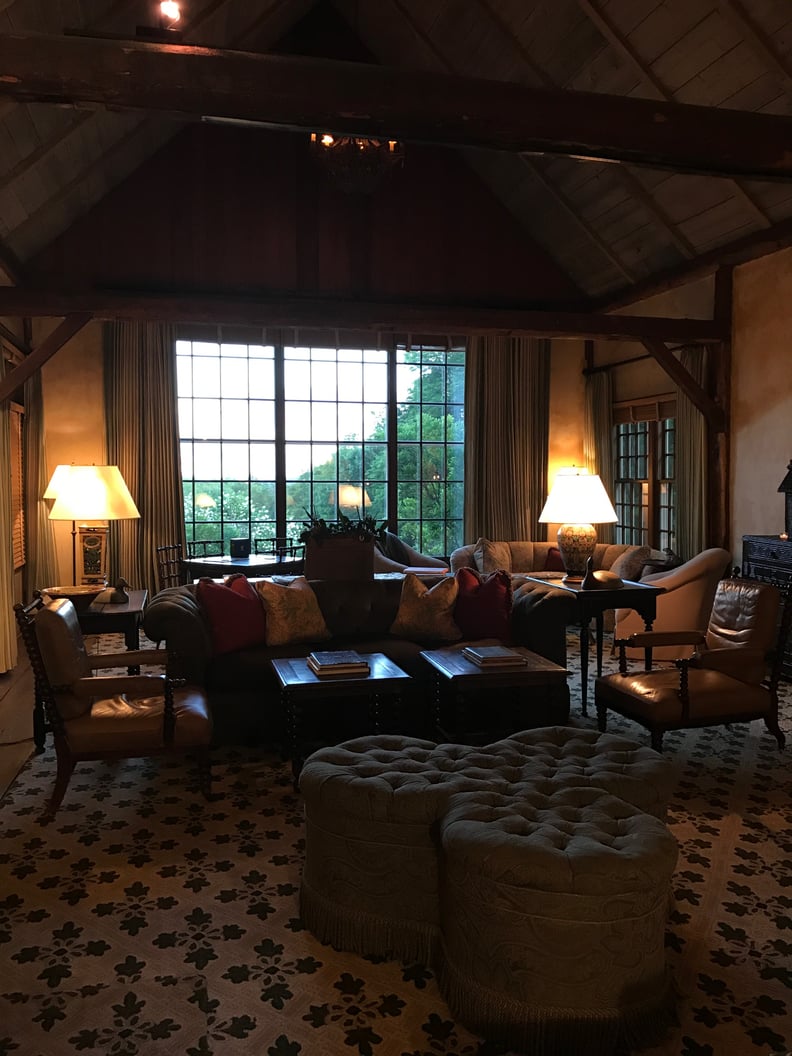 Inside Twin Farms
This is the area right next to the dining room. It's filled with nooks to read during the day and then enjoy canapés and cocktails before a meal. The high ceilings make it feel airy. It's also fun to walk around and look at the art at the resort, which includes Donald Roller Wilson's "For Flowers in the Woods," David Bates's "Full Moon, Canoe," and more famous original pieces.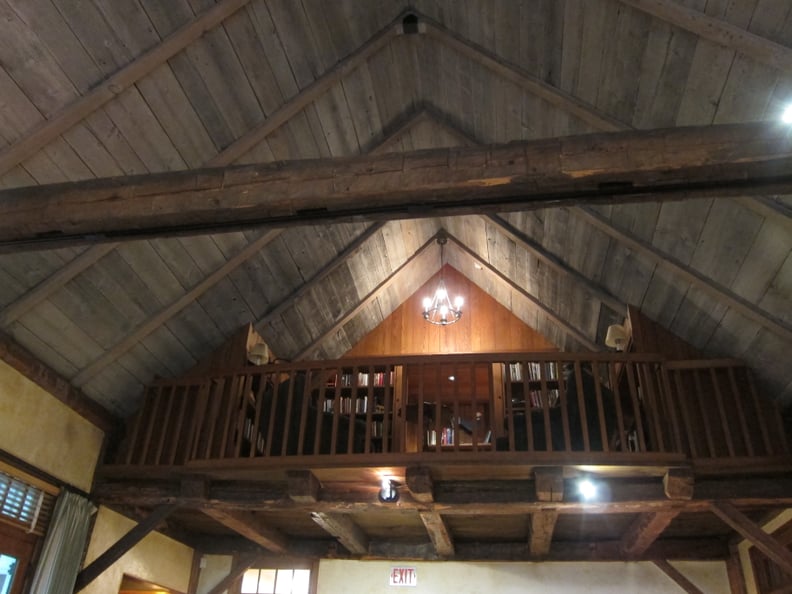 The Reading Nook
According to the staff, one of the most magical times to visit Twin Farms is during the Fall when there is foliage. I bet this reading nook in the big room from the last slide is the ideal hideout when it's chilly.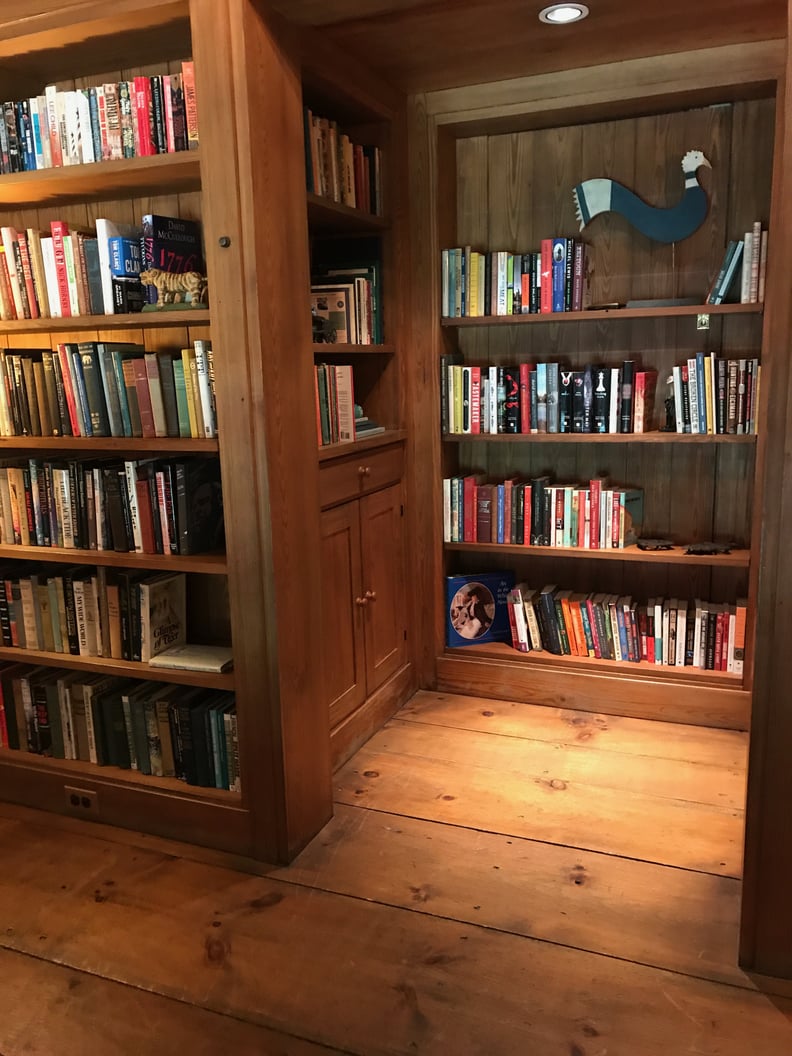 Inside the Reading Nook
The nook has lots of books to borrow, and the area has that wonderful paper aroma. You might want to leave your Kindle at home for this trip.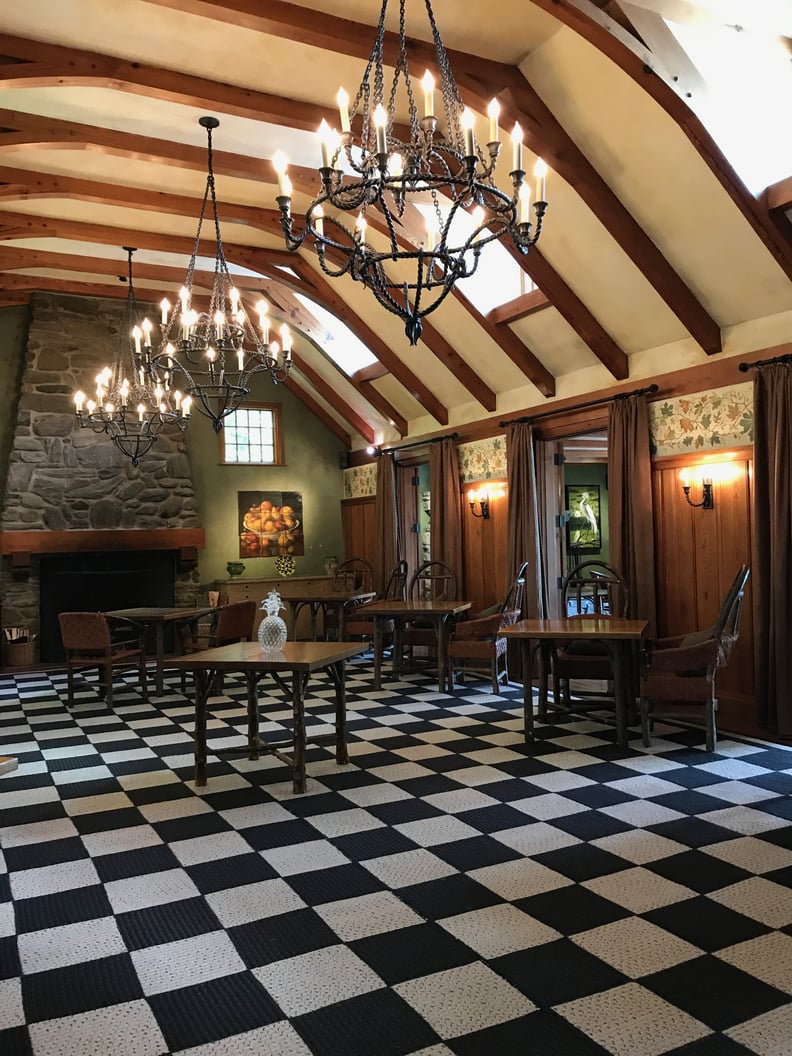 The Dining Room
Next to the main dining room is this photogenic smaller one. Thanks to the black-and-white tile floors, barn ceilings, and gorgeous chandeliers, it just begs to be Instagrammed.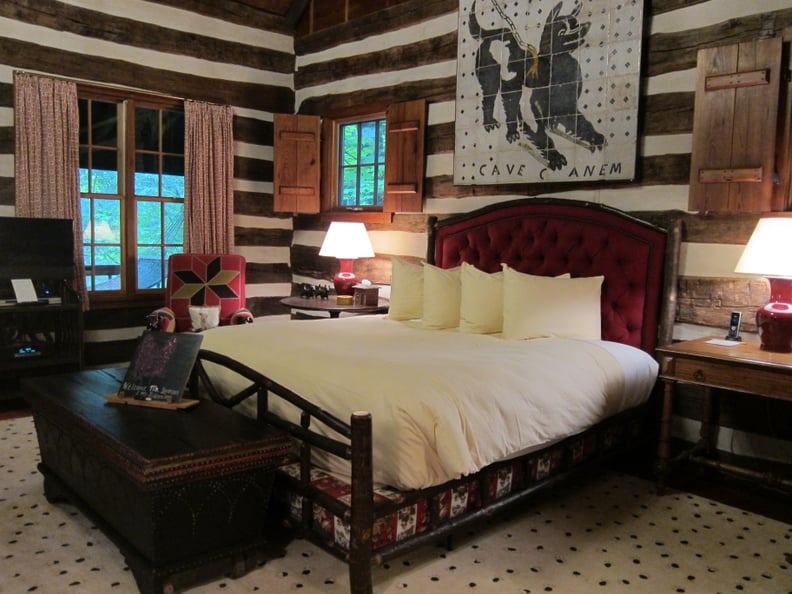 The Cabins
We stayed in a cabin with a dog-decor theme, which was so cute! Each cabin and room is decorated differently. The space reminded us of the villas we stayed at during our honeymoon but with a cottage vibe. Here is a look at the plush king-size bed.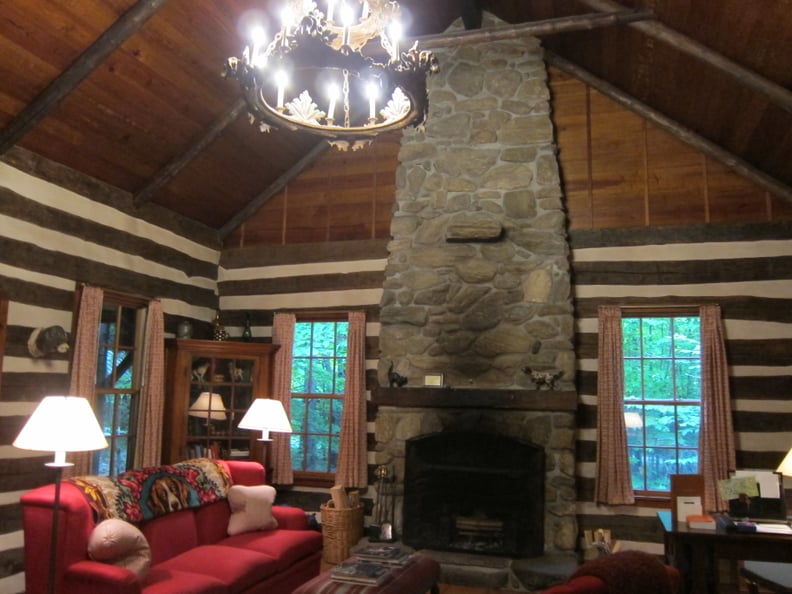 The Cabin Main Room
Even in June, we lit up our own fireplace during a short burst of rain. The wood is already set up for you, so you just have to light a flame to enjoy some romantic luxury.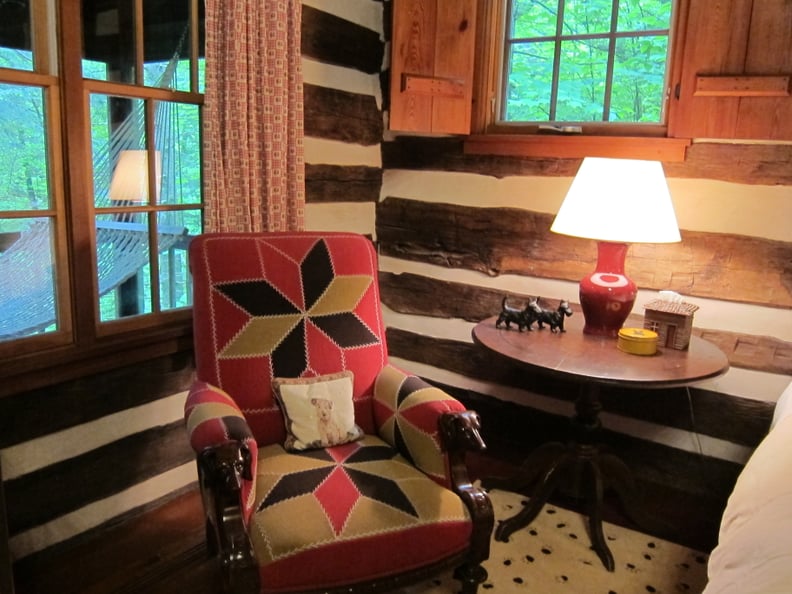 The Cabins
Again, there are many nooks for reading and reflecting, like this one inside of our cabin.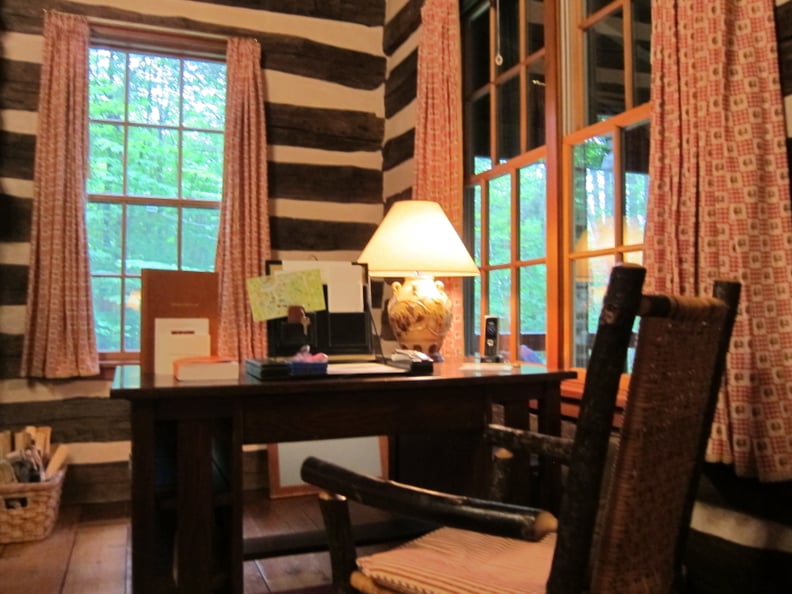 The Cabins
This was our desk, which turned out to be a fantastic place to do the puzzles provided in the rooms.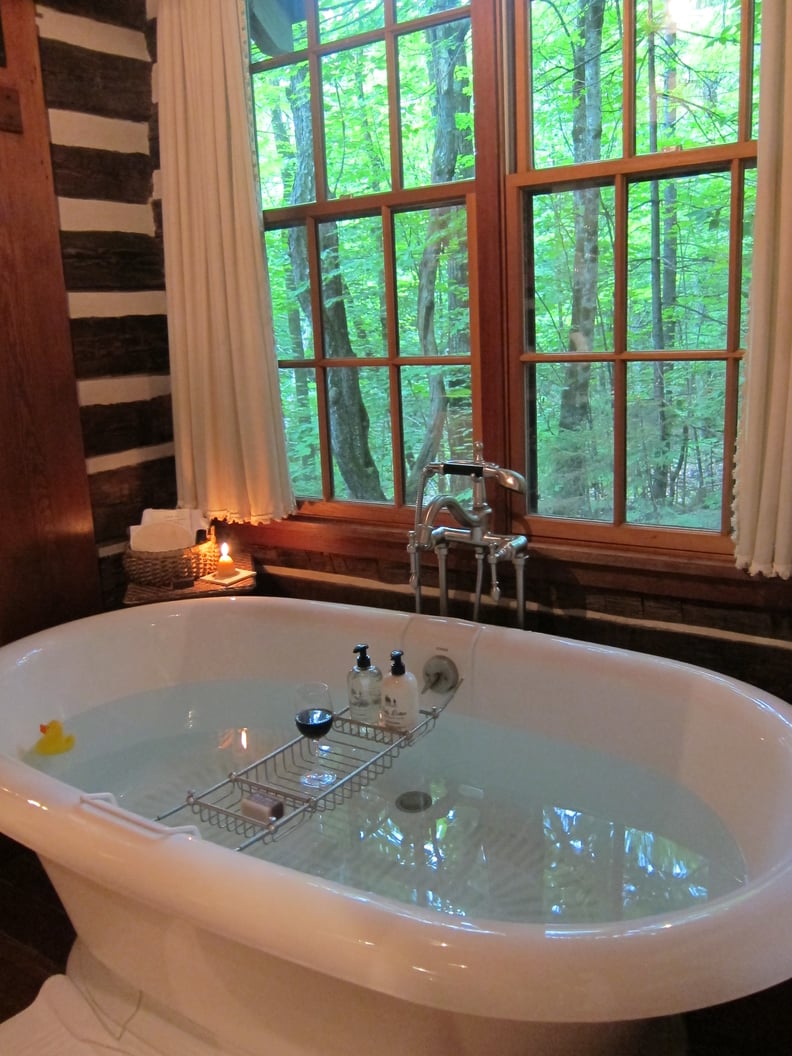 The Cabins
Within two hours of arriving, I found myself in this tub with a glass of red wine (there was a bottle waiting for us in the room), a lit candle (also comes with the room), and this gorgeous view! (Yes, the rubber duckie was included, too).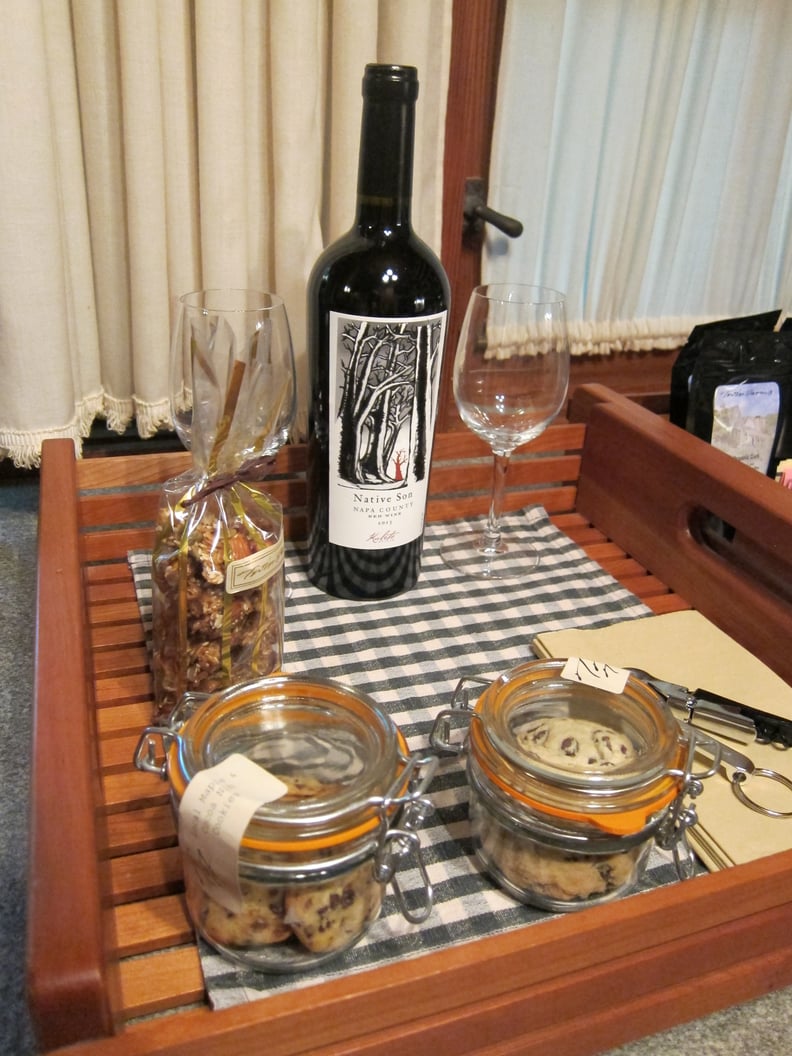 The Cabins
In my food preferences, I indicated that while I don't like sweet wines, I do love cookies! This was the complimentary bottle of wine I mentioned plus jars of homemade regular and gluten-free chocolate chip maple cookies. Heaven!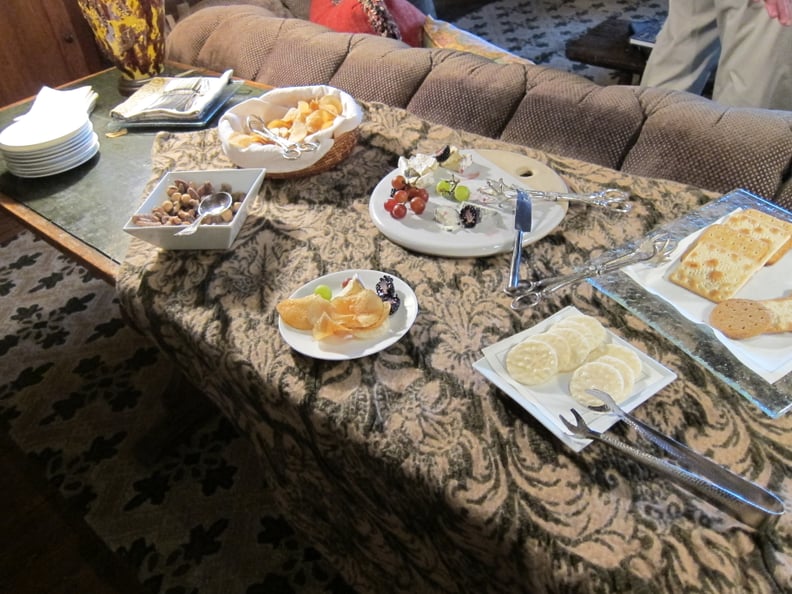 Predinner Treats
You do not need a dinner reservation any night. Just show up between 6-8 p.m. for appetizers and cocktails, and then you can be seated whenever you like. Here is a photo of the spread, including creamy Vermont cheeses.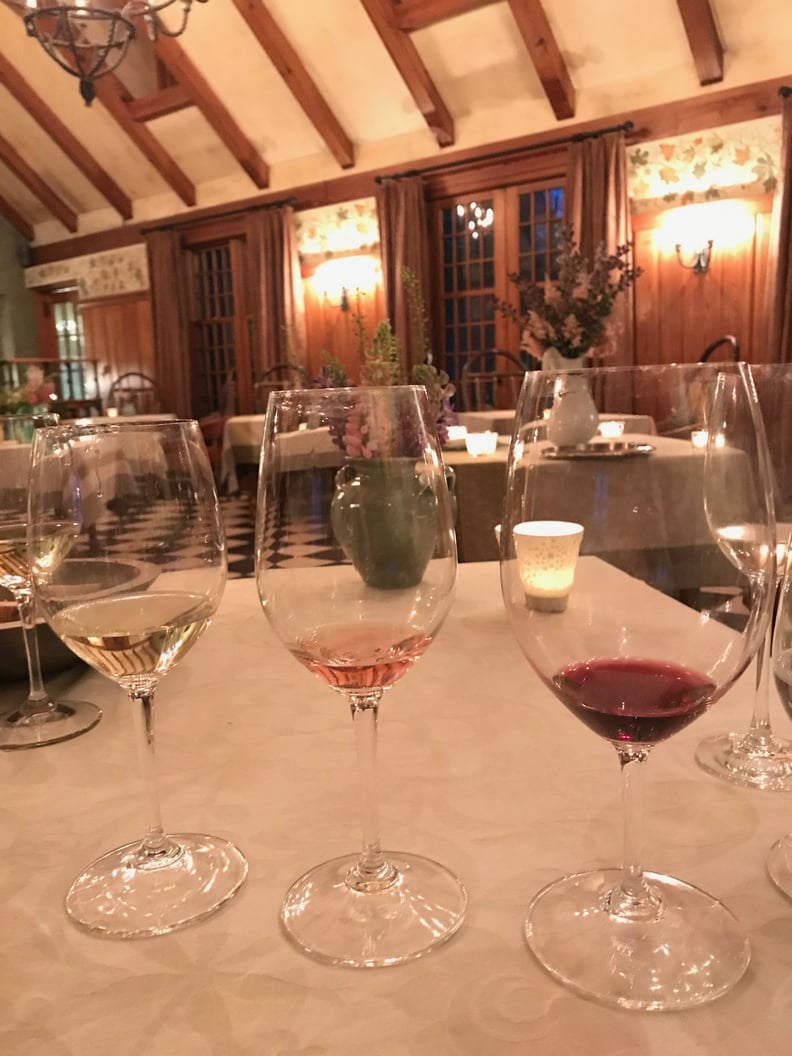 Dinner
Again, there is a wine pairing for each course during dinner. But if you don't like the wines or you desire something else (such as beer or a cocktail), you can easily be served just what you crave. My husband is not a big Rosé wine guy, but the one offered during this meal convinced him he does like that millennial pink vino after all. The selection is wonderful. And if you love a wine that is served, you can get refills. Consider Twin Farms to be the classiest all-you-can-drink party of your life.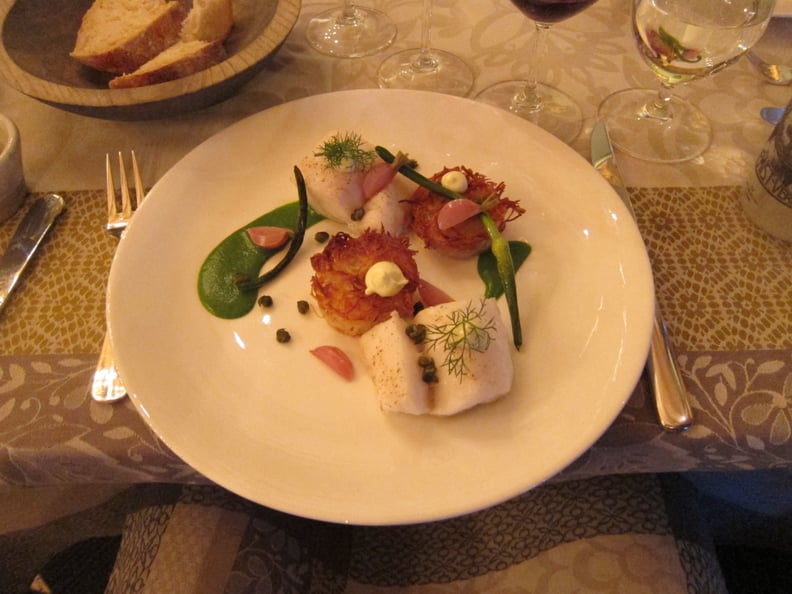 Dinner
This was my fish and potato cake dinner. Since we told them my husband is 6'1" and has a hearty appetite, they served him double protein portions (so two of these fishes). The attention to detail is outstanding.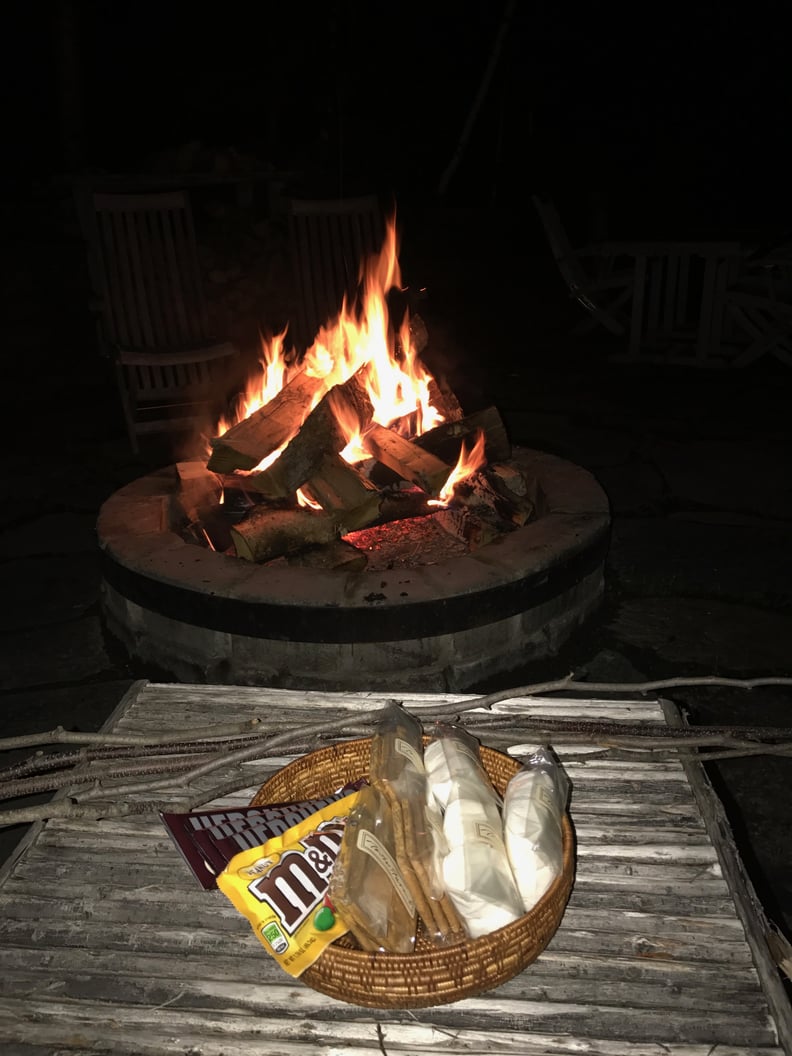 S'mores and Bonfires
After dinner and dessert, we wanted to go to the pub. So Twin Farms sent a bartender down to serve us (hi Matt!), and while we were there, they set up this private bonfire and a s'mores kit for late-night snacking.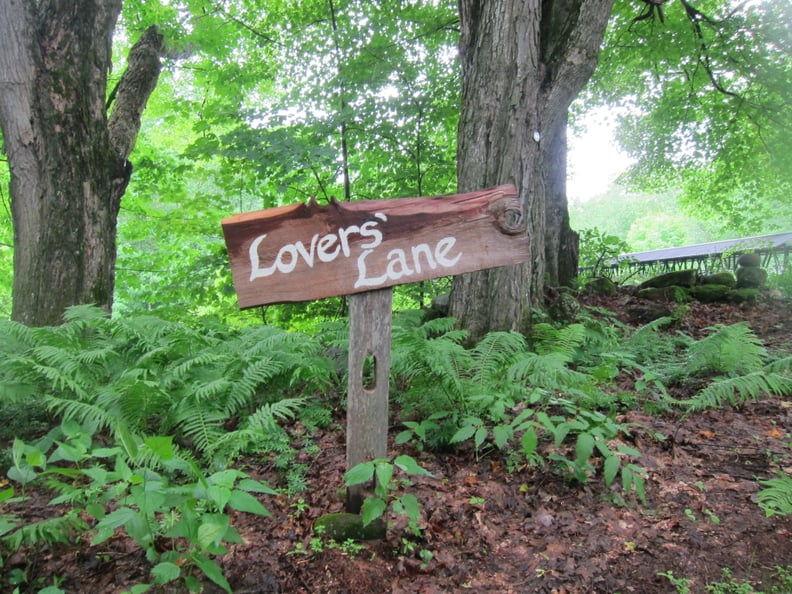 Hiking
No matter your activity skill level, hiking is a must do at Twin Farms if the weather permits. You can climb up a ski mountain or do an easier nature walk. We did the latter and came across this sweet sign.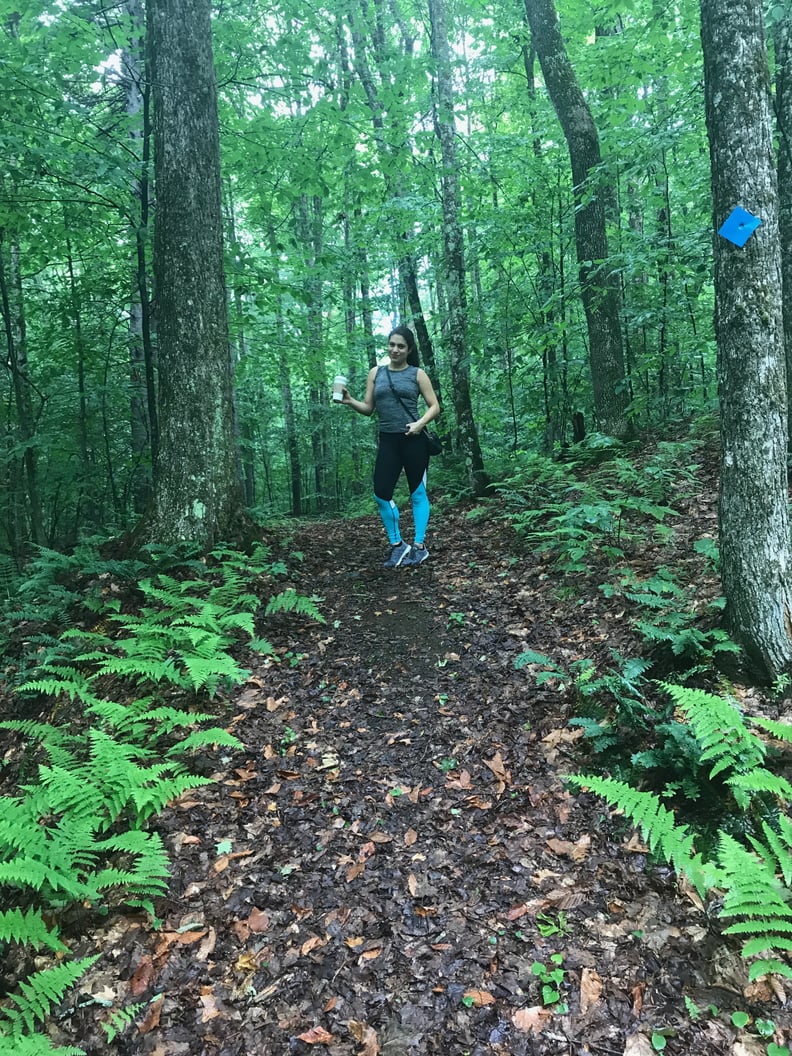 The Trails
Here I am during our hour-long nature walk. Even though it was a bit rainy, the trees protected us from getting wet.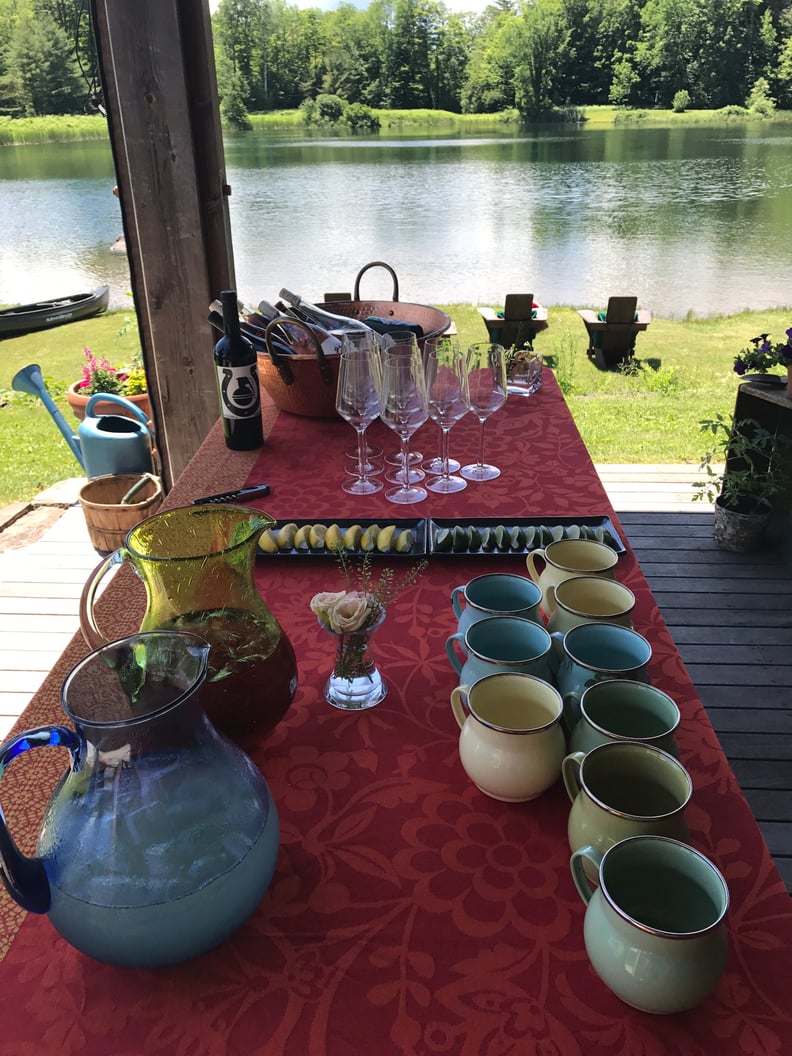 Lunchtime
We were blessed that the weather cleared so we could enjoy the barbecue buffet lunch by the lake. This is the drink station where wine, beer, iced tea, and lemonade were served in pretty pottery.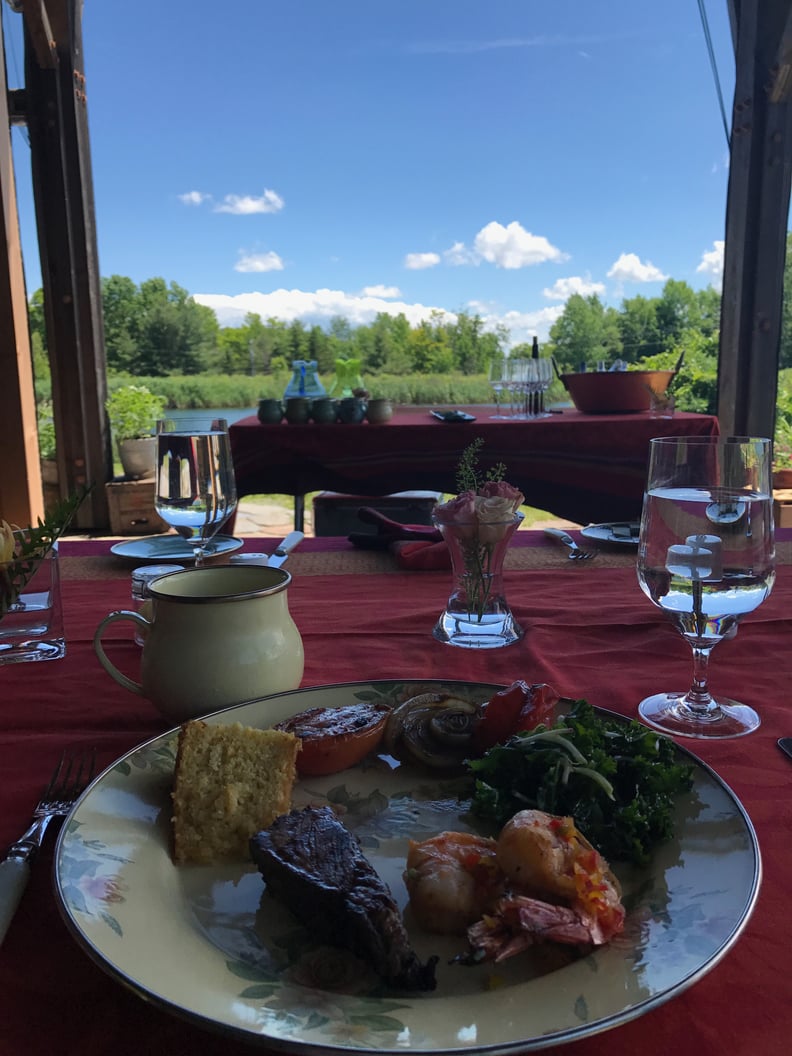 Lunchtime
You choose from a buffet of raw meats and seafood that are cooked on the spot. There were also sides like healthy kale salad and delicious homemade cornbread. The view was not bad, either.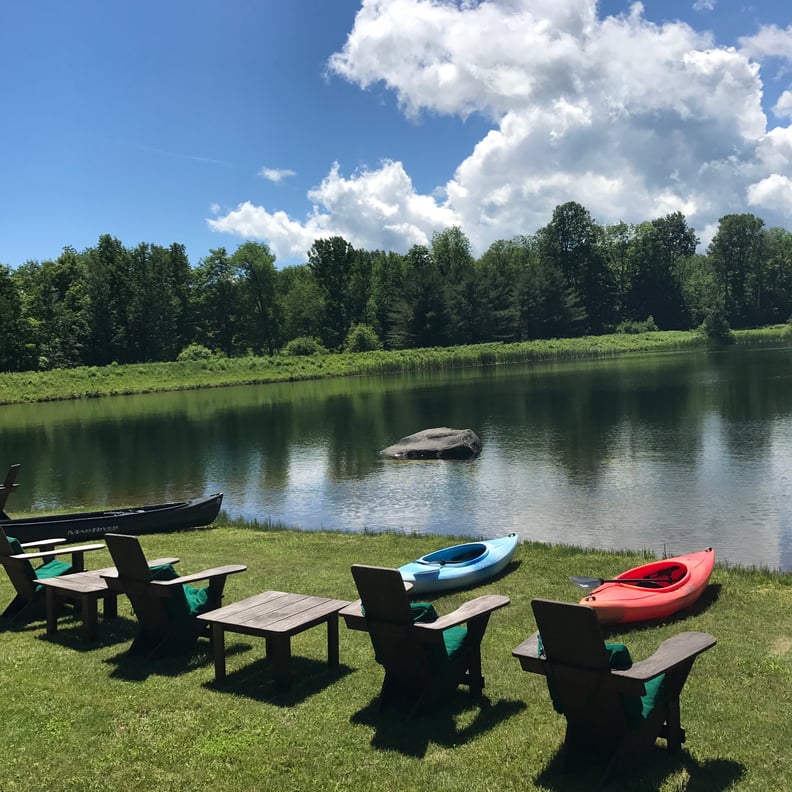 The Lake
If you are lucky enough to visit Twin Farms when the weather is warm, spending time at this private lake is lovely. You can canoe, kayak, paddleboard, swim, or just sit in these Adirondack chairs and ponder.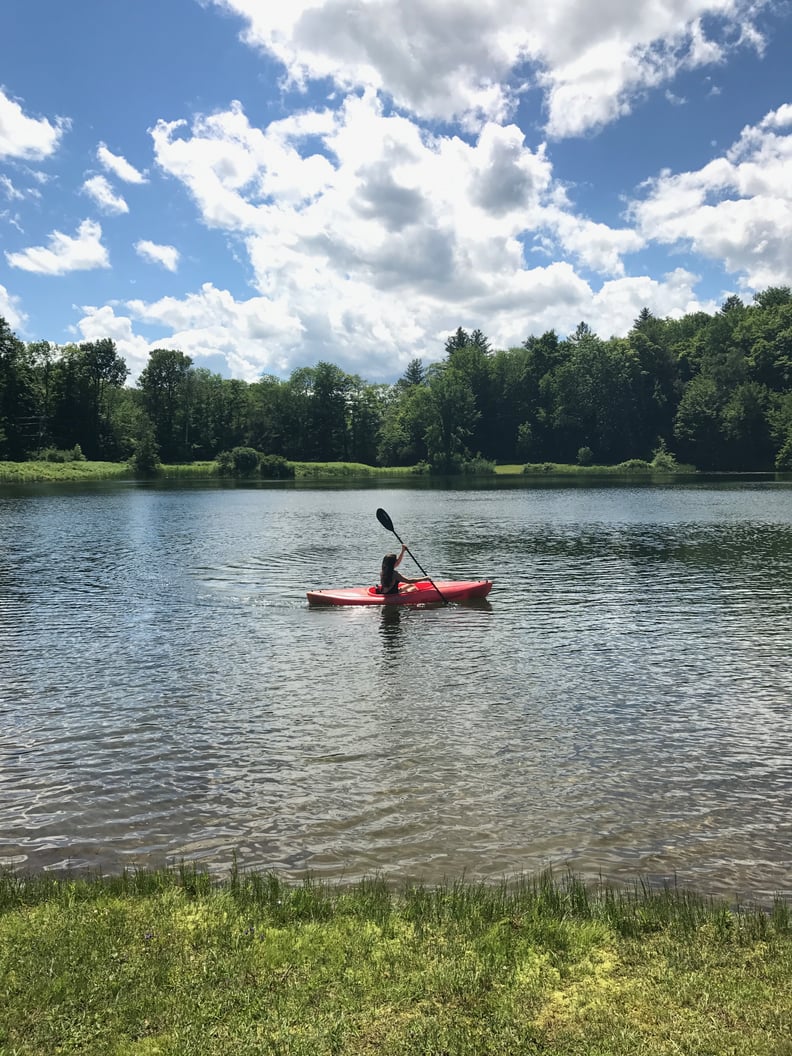 The Lake
Here I am kayaking before I went paddleboarding. My husband and I also walked the exterior of the lake. So peaceful!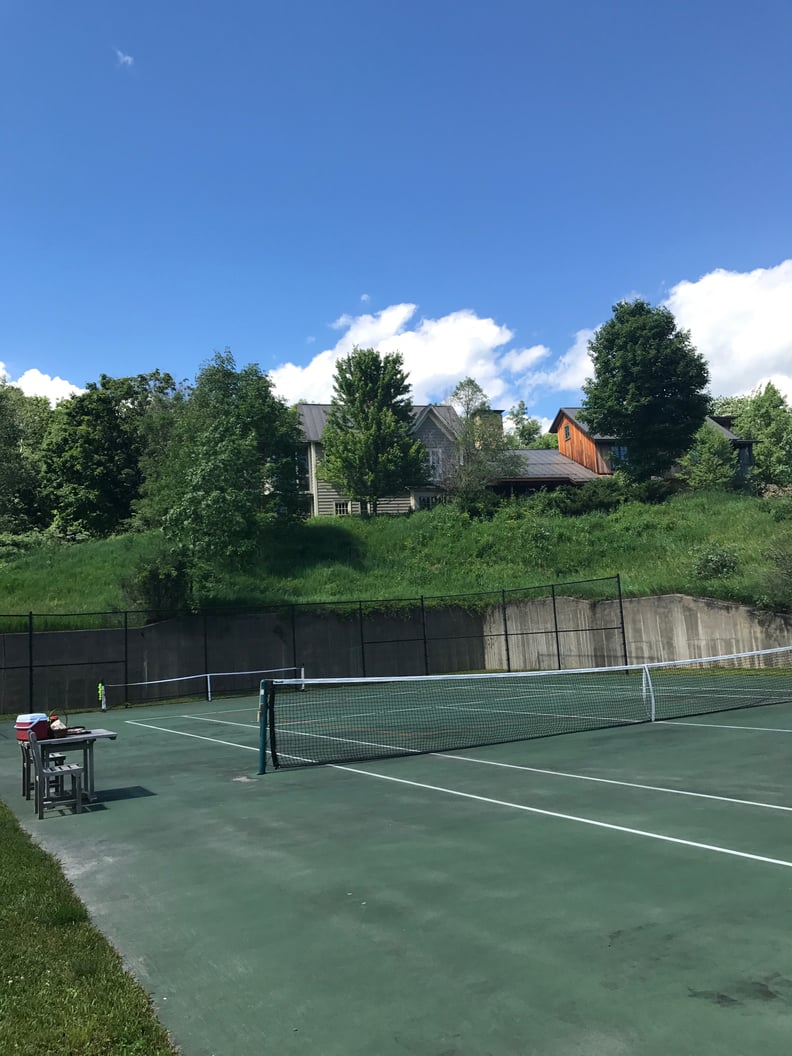 Tennis
If we'd had more time, we would've played tennis on the courts at Twin Farms.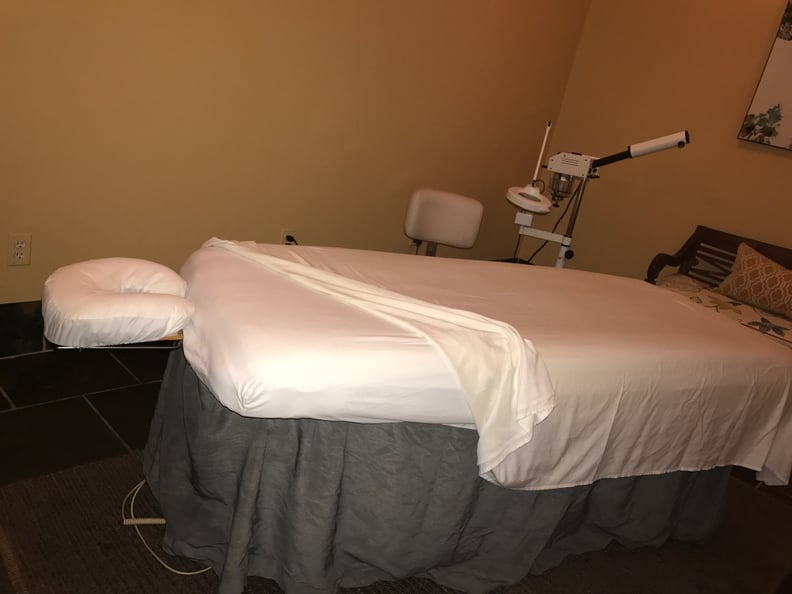 The Spa
Located next to the gym — where fitness classes like yoga and full-body conditioning are also offered — is an intimate spa. There are just two treatment rooms and a space for manicures. The spa features products by Tata Harper, which are all made at a farm in Vermont. As a beauty editor, it's one of my favorite botanical lines!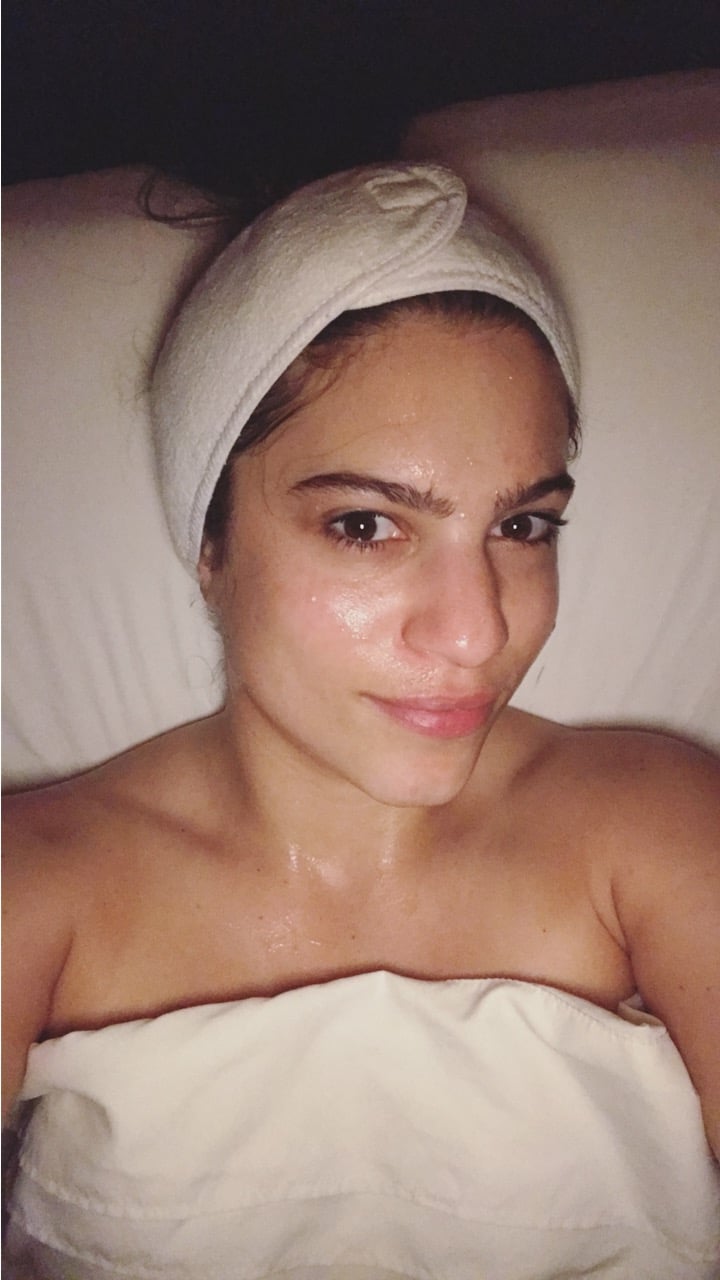 The Spa
Here I am while receiving a Supernatural Facial ($195), and I have the Tata Harper Resurfacing Mask all over my face. It's an amazing, gentle way to make skin glow. I also got a tension-relieving 60-minute massage ($195) featuring Tata Harper body oils. And as I mentioned, the spa treatments are not free, but as a frequent spa-goer, I think they're worth it. Tata Harper spas are rare!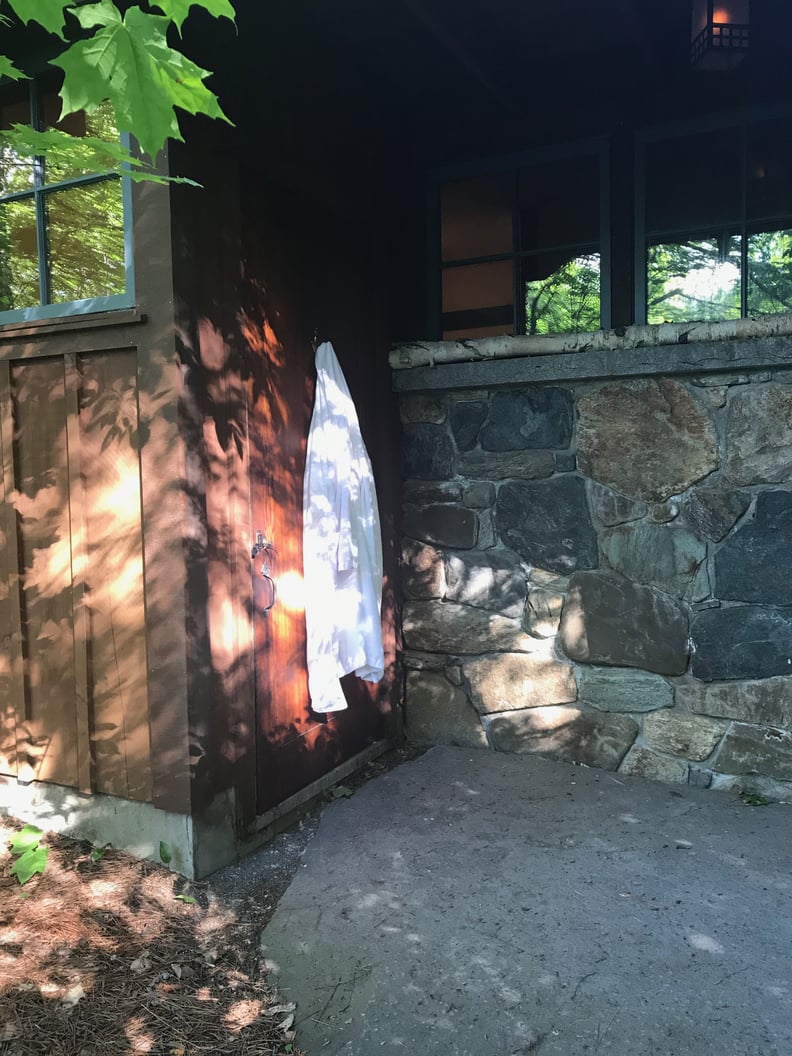 Japanese Furo
This is the outside of Twin Farms' Japanese Furo, which is basically a hot-tub room. The pool is heated to 104 degrees, offering hydrotherapy benefits. The door has two entrances, one for men and one for women. If you leave towels or robes (like we did here) on the door, it means a couple is in there naked. Again, people pay for this type of privacy!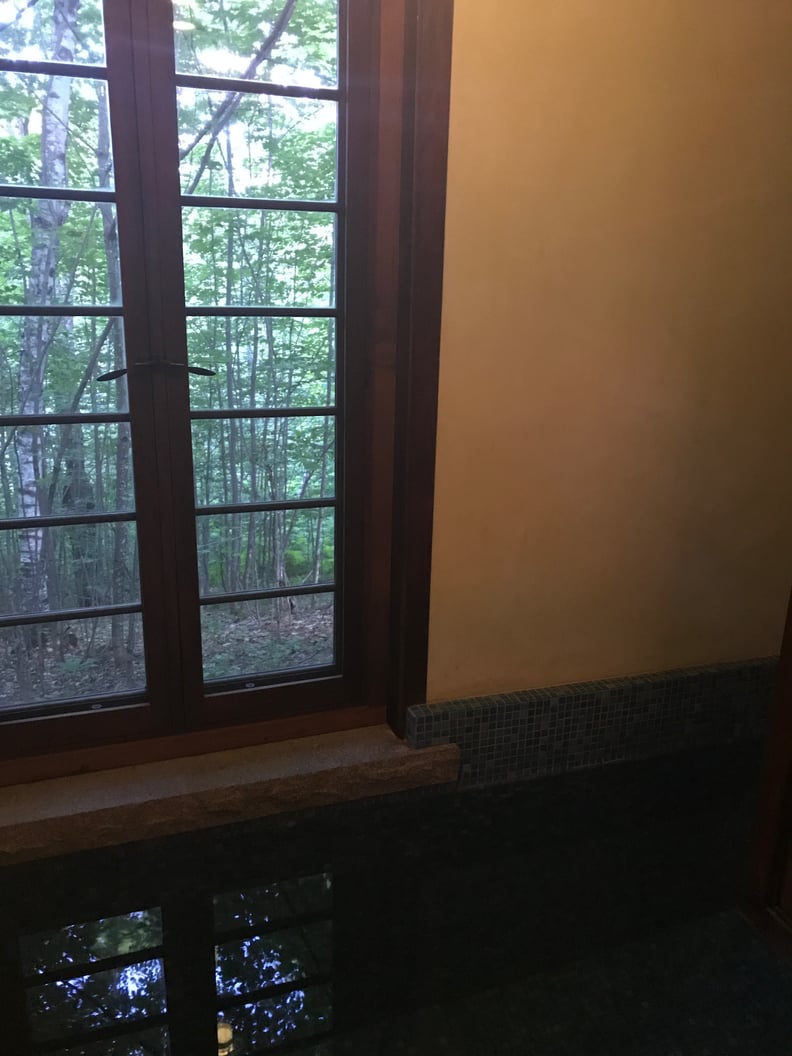 Japanese Furo
This is a snippet of what the heated tub looks like. It's much bigger, but I did not bring my phone in out of fear of dropping it into the water. Plus, there are some places where you just need to be in the moment.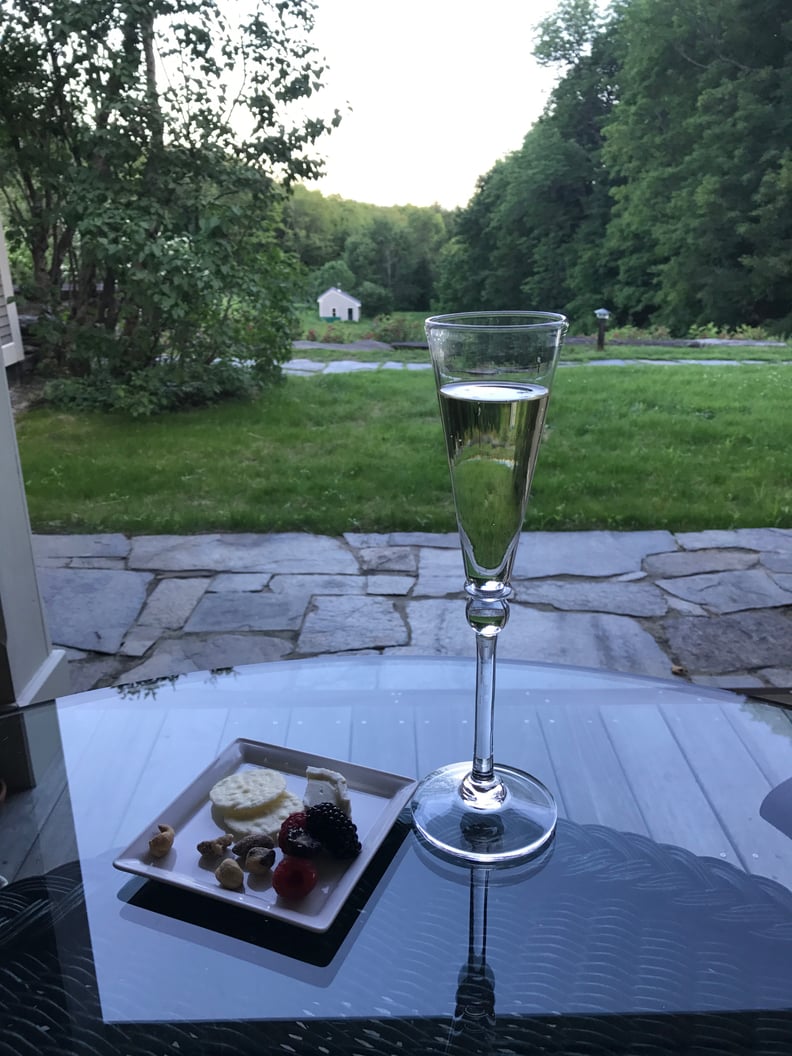 Predinner Drinks and Canapés
If the weather permits, I recommend having your canapés and predinner drinks outside. You can also dine out here!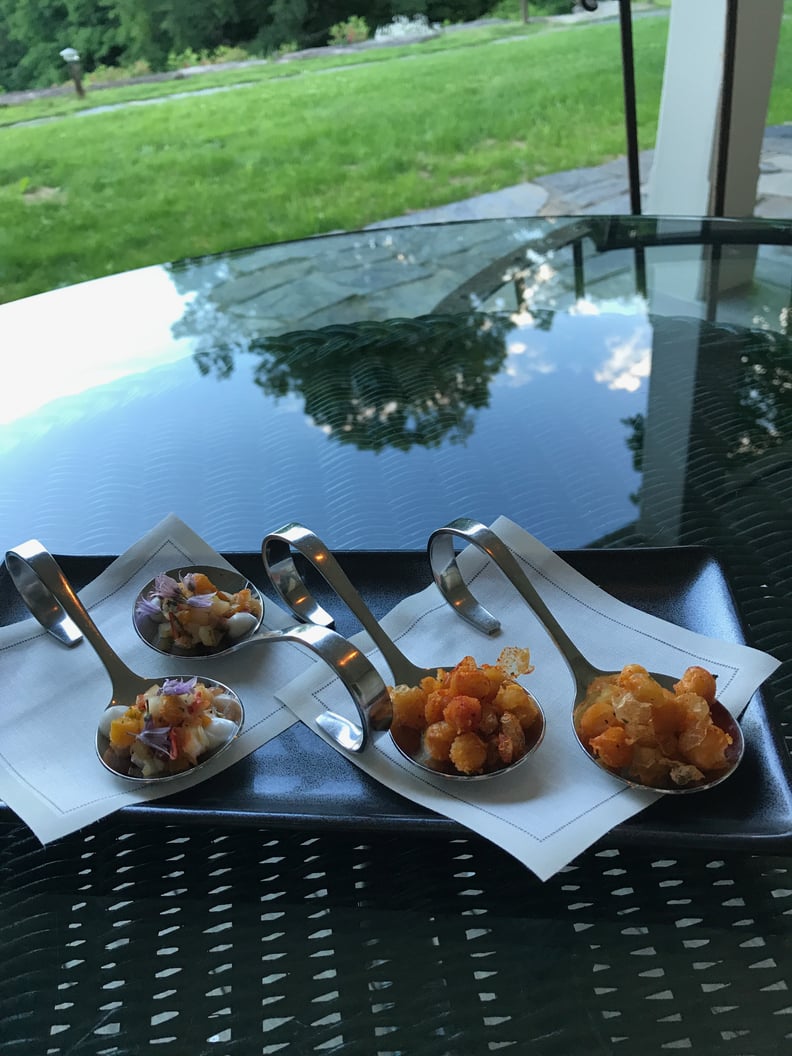 Amuse-Bouche
Before dinner, waiters also pass around two amuse-bouche, like these ones featuring lobster salad and crispy chickpeas.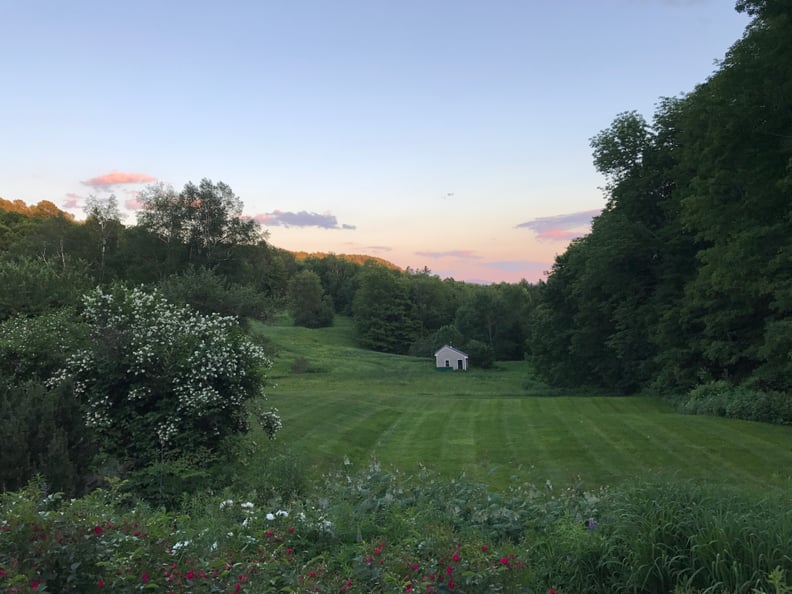 The Views
And if you dine outside at the right hour, you'll see this gorgeous pink light as the sun sets.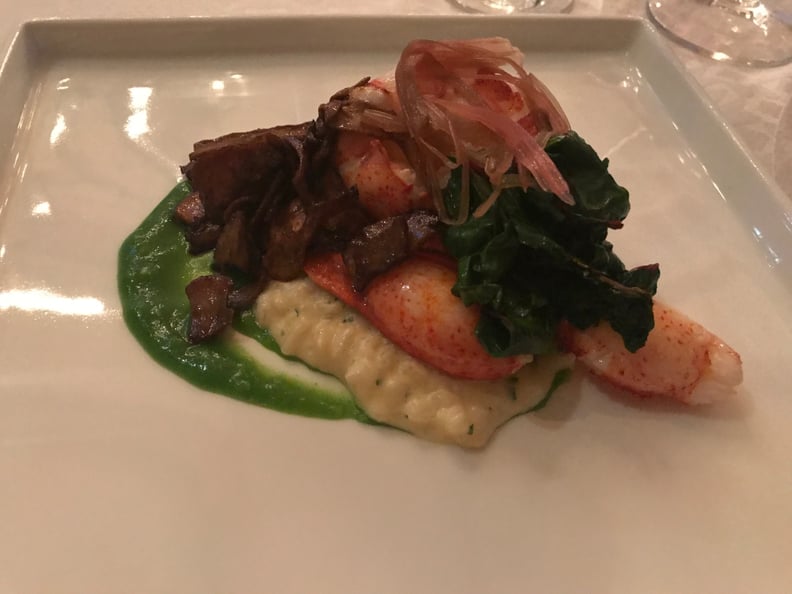 Dinner
Here's that delicious lobster dinner I mentioned. It's so relaxing not to have to worry about what to order!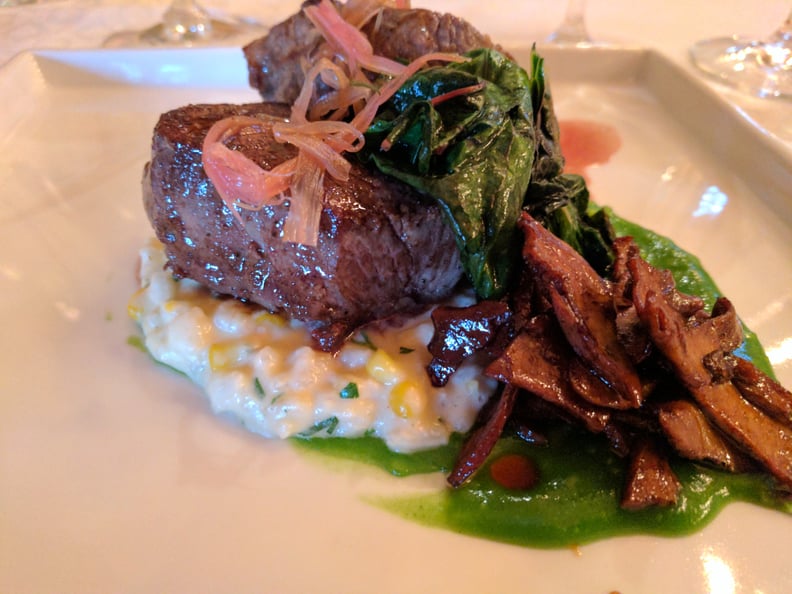 Dinner
I was not joking when I said my husband was served double protein portions. Yes, he ate it all — thankfully we were pretty active during our stay.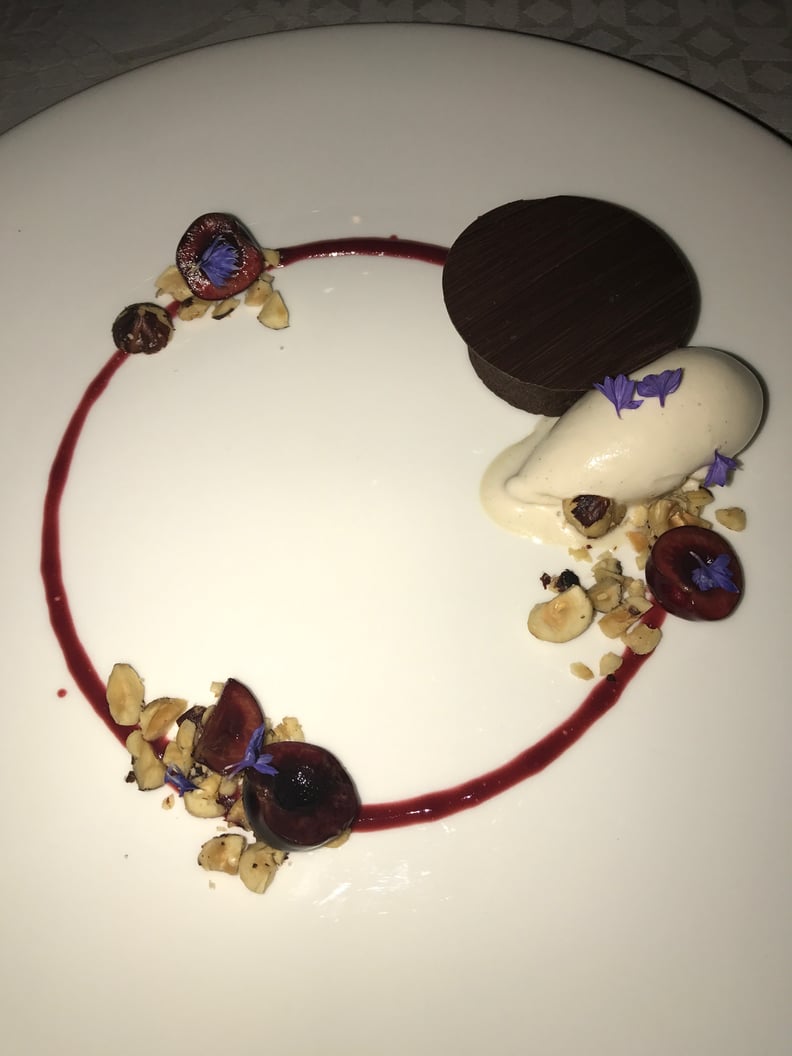 Dessert
Even if you eat three courses plus bread at dinner, don't skip dessert — especially if it includes chocolate and ice cream!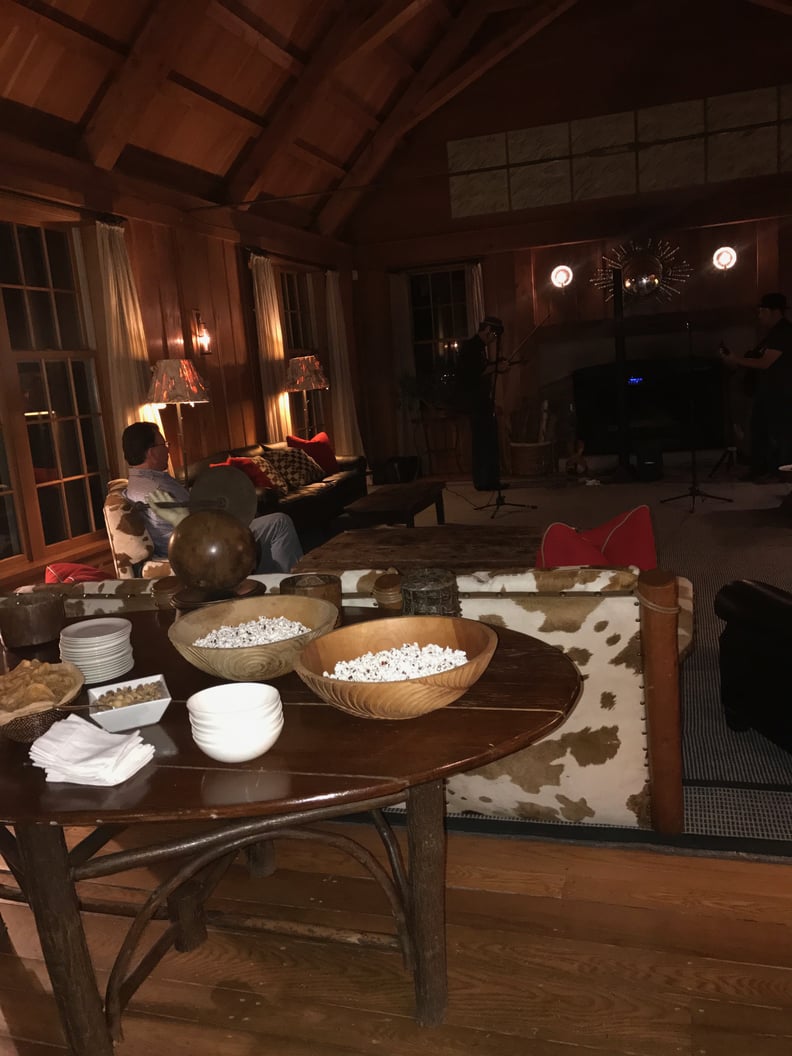 The Pub
After dinner, we enjoyed live music from a bluegrass band (they were amazing!) as well as truffle popcorn and delicious margaritas. This room also has a big-screen TV and DVD selection for rainy and snowy days.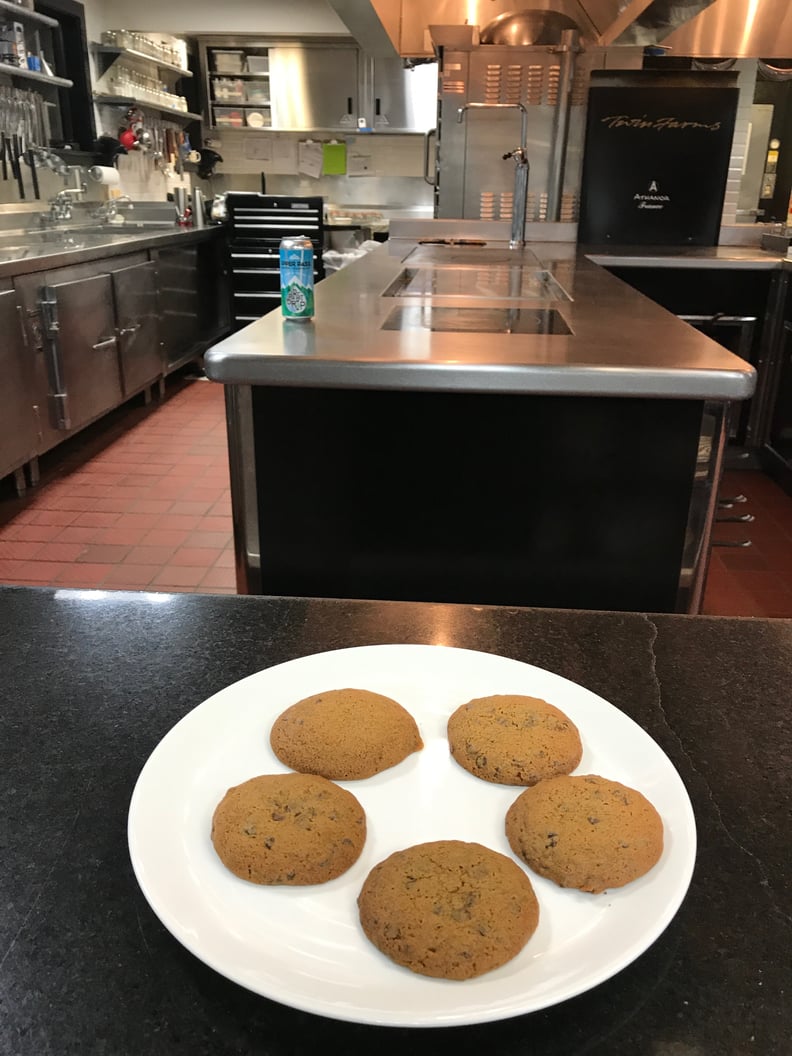 Late-Night Cookies
The bartender brought us into the kitchen for late-night warm chocolate chip cookies. He then drove us back to our cabin in a BMW!
Also, this kitchen space is used for another special event. Had we arrived one day earlier (on Thursday), we could have participated in a cooking class held there. Guests can watch executive chef Nathan Rich prepare a multicourse meal (one you can't get in the main dining room!) and learn about wine pairings, thanks to the property's wine manager Keven Ring. This class is actually an add-on ($250 per person), but after tasting the food, I am personally itching to learn Rich's culinary secrets!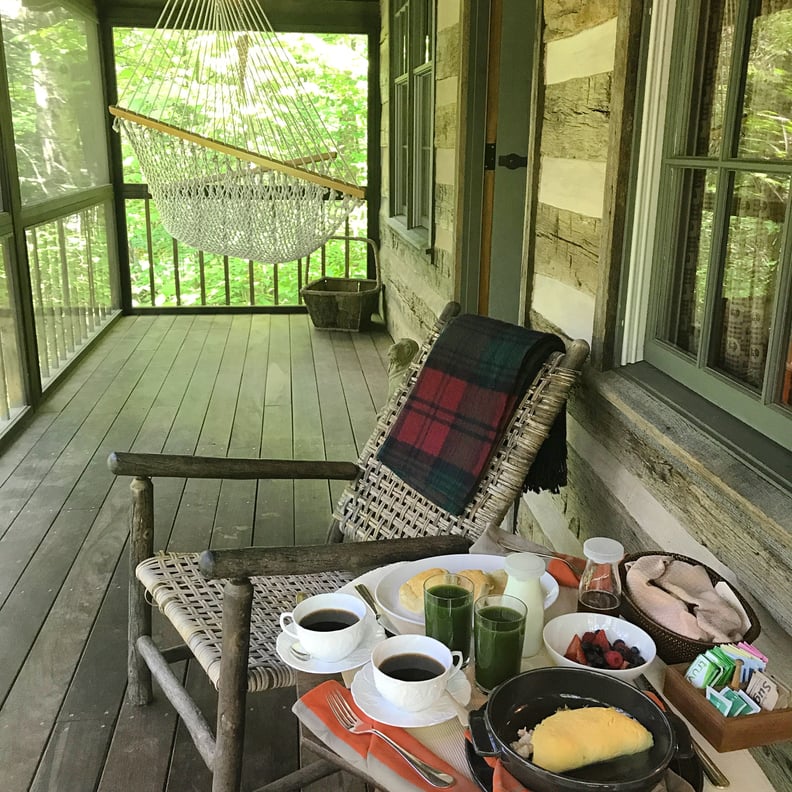 Breakfast on Your Balcony
You can have breakfast in the dining room, the bed, or your balcony (like we did here!). The daily pastry basket and fresh-pressed juices are not to be missed.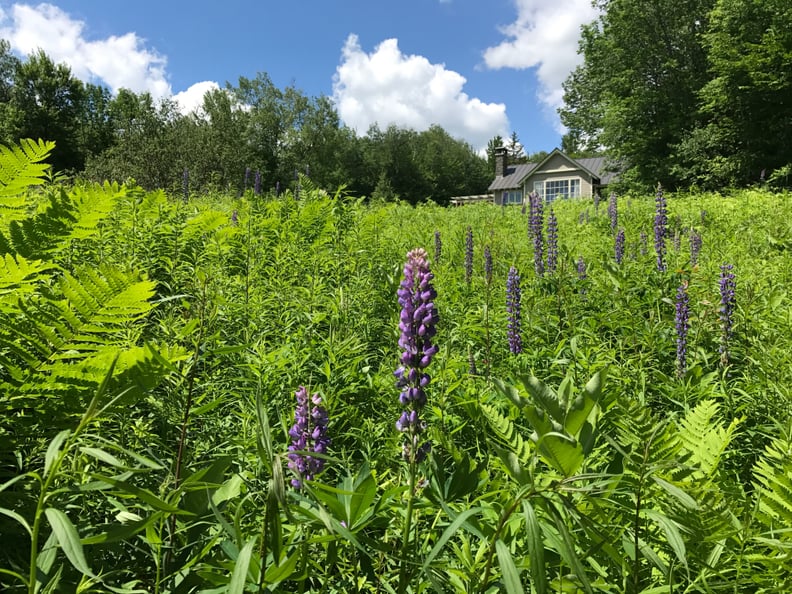 The Grounds
Oh yes, and if it didn't smell amazing enough, there is fresh lavender everywhere. That's also another cabin, where you can stay.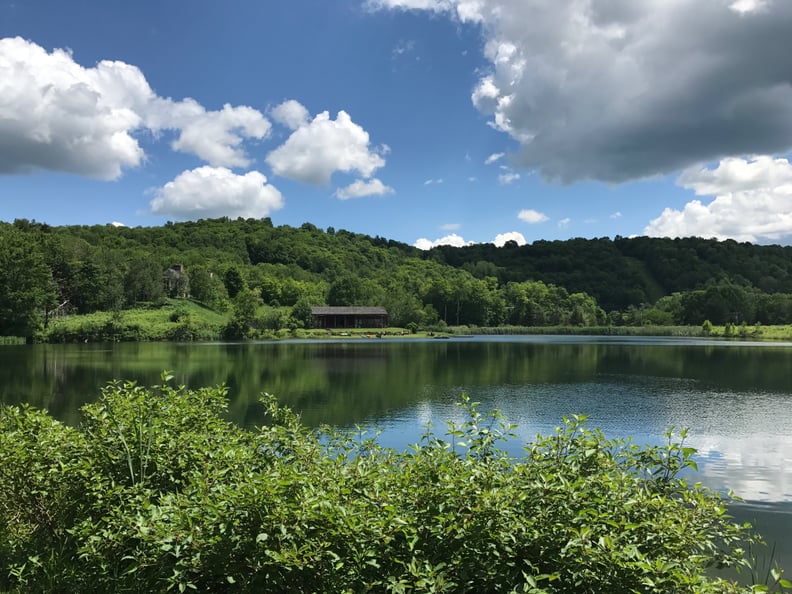 The Scene
This is the gorgeous view of the lake. Twin Farms was made for lovers!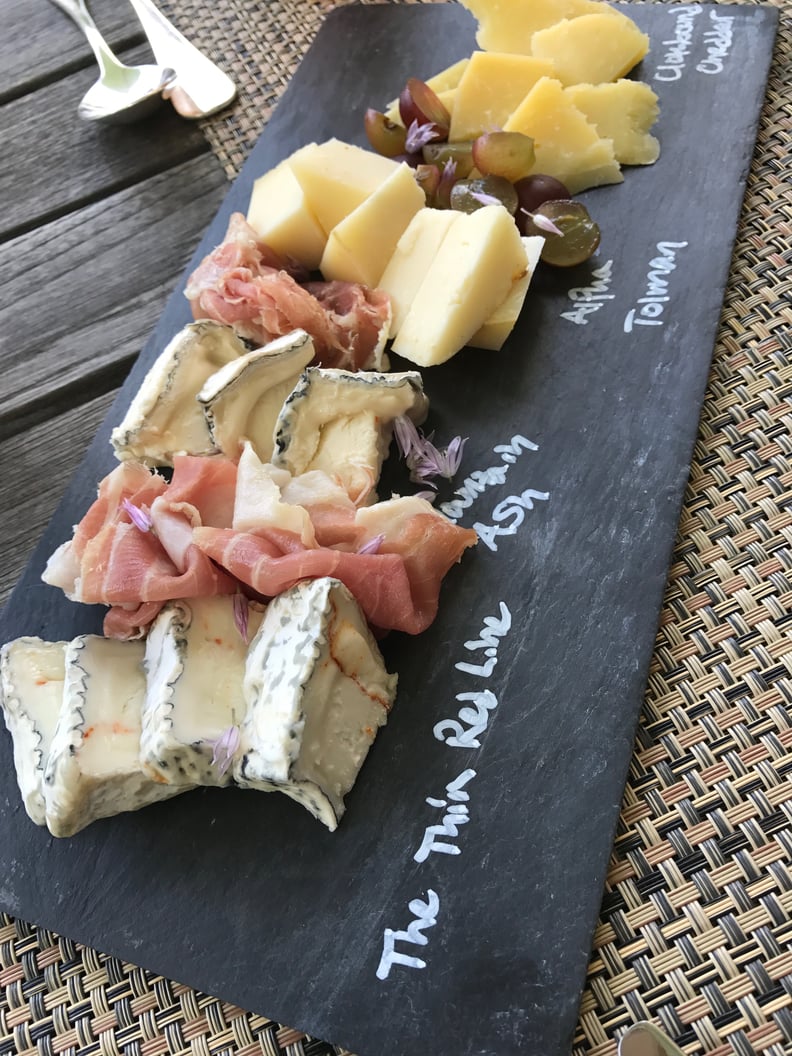 The Cheese
Before leaving, we had to enjoy a local cheese and charcuterie plate. It all tasted as amazing as it looked.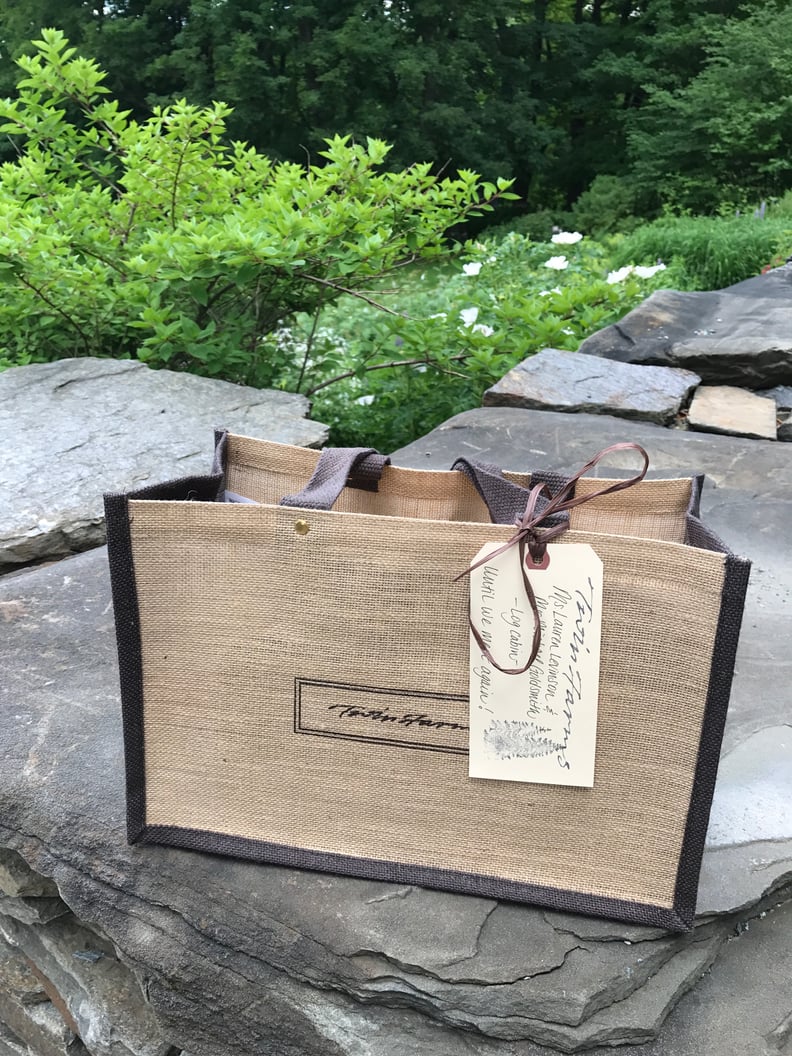 Goodbye Bags
Insider tip: ask for a packed lunch for the road. Enjoy freshly made bread with the best tuna salad (featuring fresh — not canned — tuna and homemade mayo), among other choices. We also were given crisp apples, a Vermont cheddar cheese block, crackers, and more of those homemade cookies — which I will dream about until the next time I return to Twin Farms.