From Bottle Openers to Candles, These Are the Most Useful Wedding Favors
Every editorial product is independently selected by our editors. If you buy something through our links, we may earn commission.
When deciding what kind of wedding favors you should give to your wedding guests, one thing to consider is if they'll keep them after your big day is over. Besides the fact that you pour so much money into every detail of your wedding, the gifts are also meant to act as a thank you to your guests for taking the time and oftentimes traveling pretty far to attend your special day. So it's important to make sure you shop for useful wedding favors they'll be excited to receive and use throughout their day-to-day life, rather than trash the moment they get home.
Fortunately, there are plenty of cool and totally unique wedding favors that are available to shop online and at a variety of price points, particularly through retailers like Etsy. After scouring the internet for gifting inspiration, we narrowed down the 10 best wedding favors to give your guests that are equal parts unique and practical so they can get extended use out of them and have a special way of memorializing your wedding day, too.
From customizable bottle openers and durable tote bags to scented candles, specialty coffee blends, and even unique terrariums that double as adorable wedding centerpieces, here are some wedding-favor suggestions that will make your guests think twice about throwing them away. Keep reading to see our top picks.
— Additional reporting by Lauren Harano, Emily Co, and Haley Lyndes
01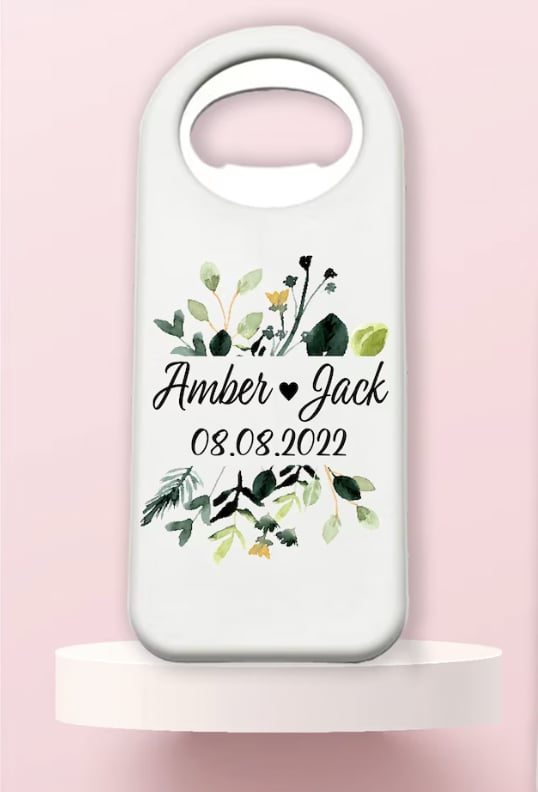 Useful Wedding Favors: Bottle Openers
Bottle Opener Magnet Pack ($57, originally $190 for 50)
As far as truly useful wedding favors go, we'd argue that a classic bottle opener is one of the best gifts you can give — and this style from Etsy even allows you to make it your own with different customization options. Shoppers can order the compact product in bulk or personalize their order so it meets their needs with wedding guests. With over 40 different magnet designs, you and your partner can add your own personal flair to the wedding favor, and your guests will get a kick out of using this bottle opener long after the ceremony ends. Plus, it even features a magnetic detail on the back, so they can stick it on their fridge to ensure it never gets lost.
02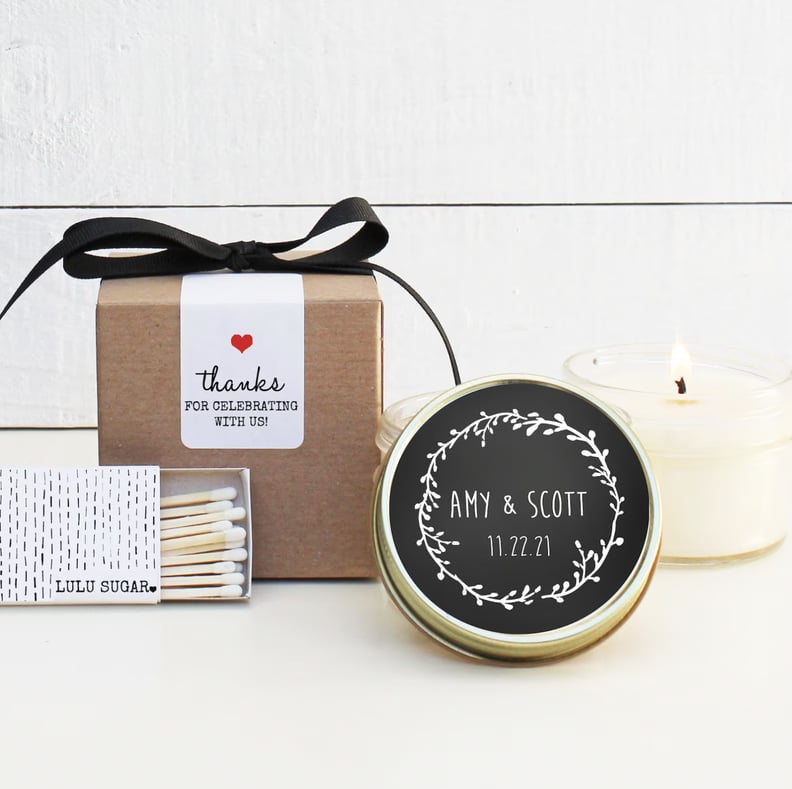 Useful Wedding Favors: Candles
Soy Candle Wedding Favors ($5, originally $7)
People can always do with more candles, and buying personalized candles — like these Soy Candle Wedding Favors from Etsy — or even making your own is such a nice touch. Try to choose a scent that is significant to you; perhaps the smell of both of your favorite desserts or fruits (really, anything that will remind your recipients of you). While a customizable candle is one of the best wedding favors to give to guests in any season, it's also a darling way to showcase the "burning love" in your relationship with your partner.
03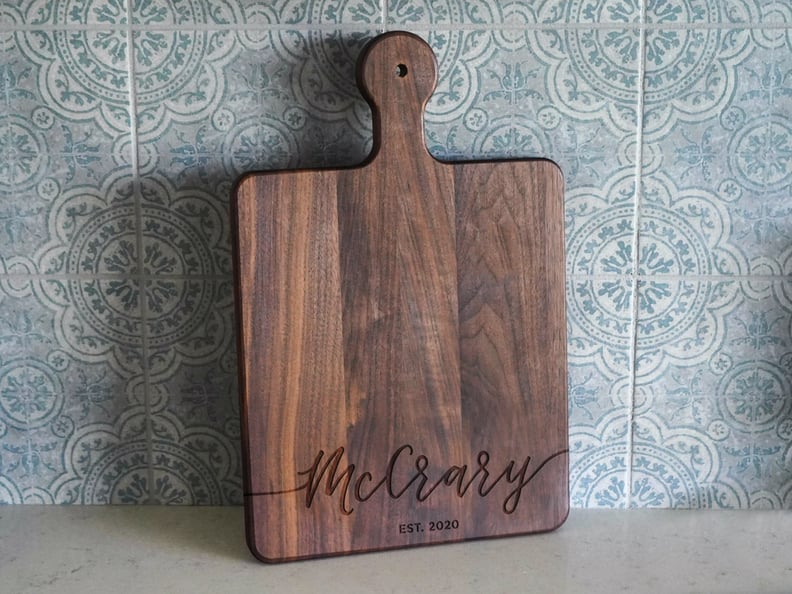 Useful Wedding Favors: Artisan Cheese Boards
Personalized Serving Board ($26, originally $34)
If you're in the market for some more unique wedding favors that your guests will truly appreciate, we recommend going for something totally atypical — just like this artisan cheese and breadboard. Everyone is obsessed with the charcuterie-board trend these days, and this is a product your guests could use during the ceremony or afterparty to munch on snacks (with their wine, of course) and then take home to enjoy on their own time.
04
Useful Wedding Favors: Personalized Tote Bags
Wedding Tote Bags ($22, originally $24)
Reusable tote bags are extremely practical and durable. This favor can be especially helpful if you're giving out more goodies — with this customizable wedding tote bag, your guests will be able to stock up on any take-homes for the road and use the product throughout their daily life, too. Even better, the design of this particular accessory is so pretty.
05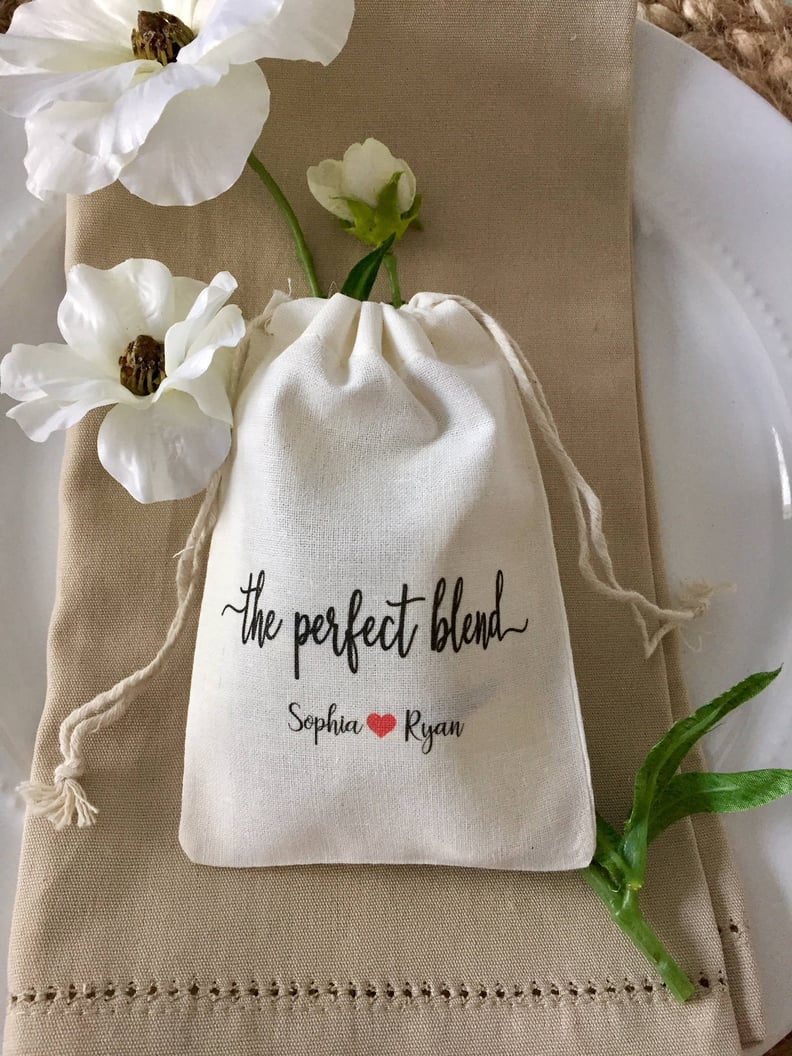 Useful Wedding Favors: Coffee Grounds
The Perfect Blend Personalized Coffee Wedding Favor ($20)
If they love to party and will probably be dancing into the early hours after your wedding, get them something that's cute, customizable, and sure to help them wake up feeling refreshed the next day — regardless of how many drinks they downed the night before. With this personalized coffee blend, your guests will be thinking of you every morning as they make their daily cup of joe.
06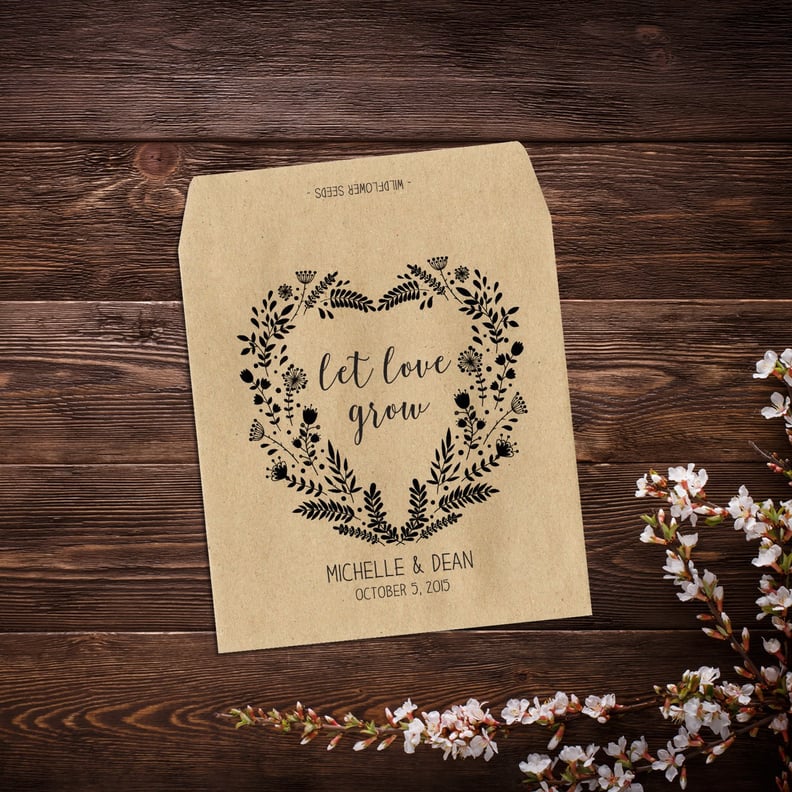 Useful Wedding Favors: Gardening Seeds
Seed Packet Wedding Favors ($17, originally $19)
Many people give out gardening seeds as wedding favors for guests because not only are they affordable, but they also double as a great eco-friendly gesture. With this particular seed packet, you can literally "let your love grow" and customize the design on the front of the packet so it matches with your wedding's theme. Just keep in mind that not everyone has the space in their home to grow plants or a yard, so this might be more of a niche wedding favor — unless you buy seeds that are good for tiny-container growing.
07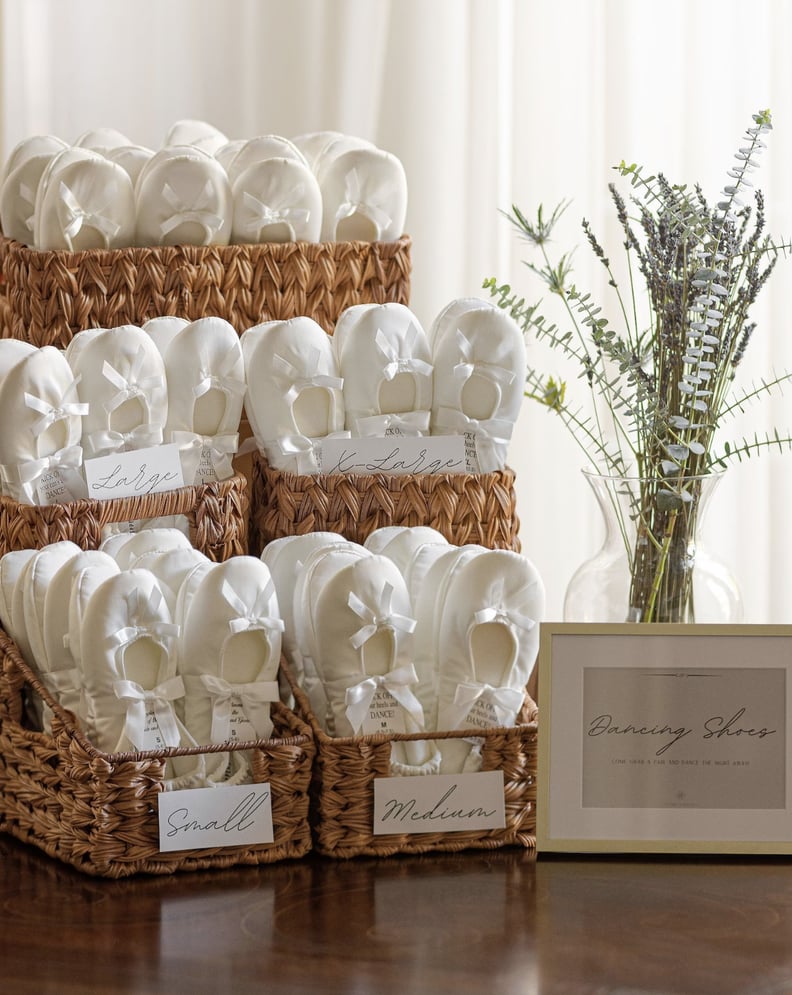 Useful Wedding Favors: Dancing Slippers
Satin Ballet Slippers ($315 for 30)
Nothing says "let's party" like a pair of satin slippers that your guests can slide right into after the ceremony finishes — and the inevitable dance party begins. As far as unique wedding favors go, these practical shoes will definitely be an unexpected surprise for your guests, but also a welcomed one. Any attendees wearing heels will be so delighted to kick off their shoes, and they're also compact enough to fit into a purse or clutch on the car ride home.
08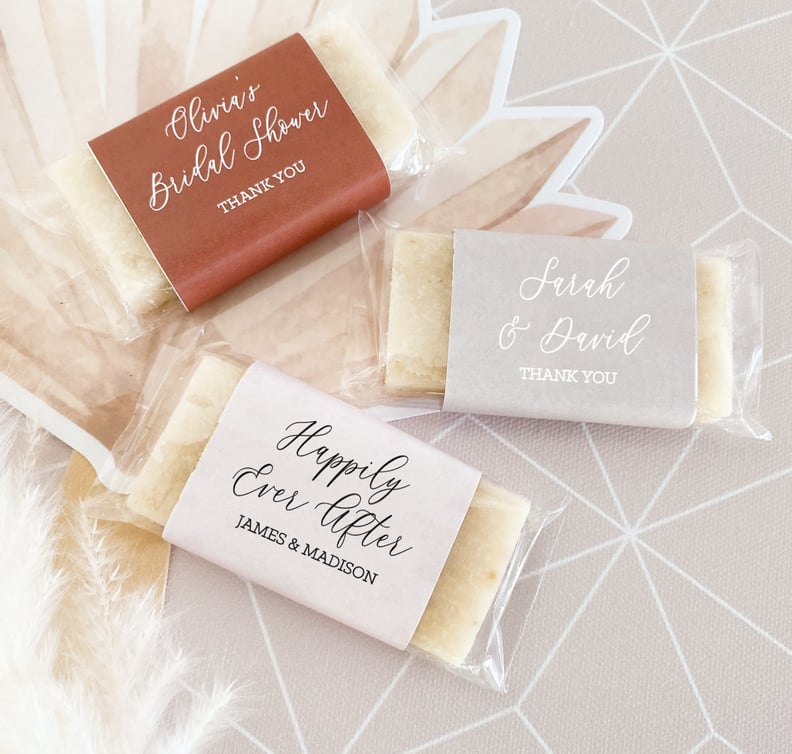 Useful Wedding Favors: Customized Soaps
Soap Wedding Favors ($19, originally $23)
If your guests are likely to work up a sweat on the dance floor, then a personalized soap bar will serve as a unique (and, let's be real, very funny) wedding favor to gift them after the ceremony finishes. These compact soaps are easy to give out, and you can always make them look good by choosing different colors or packaging. They are also something you can easily make on your own.
09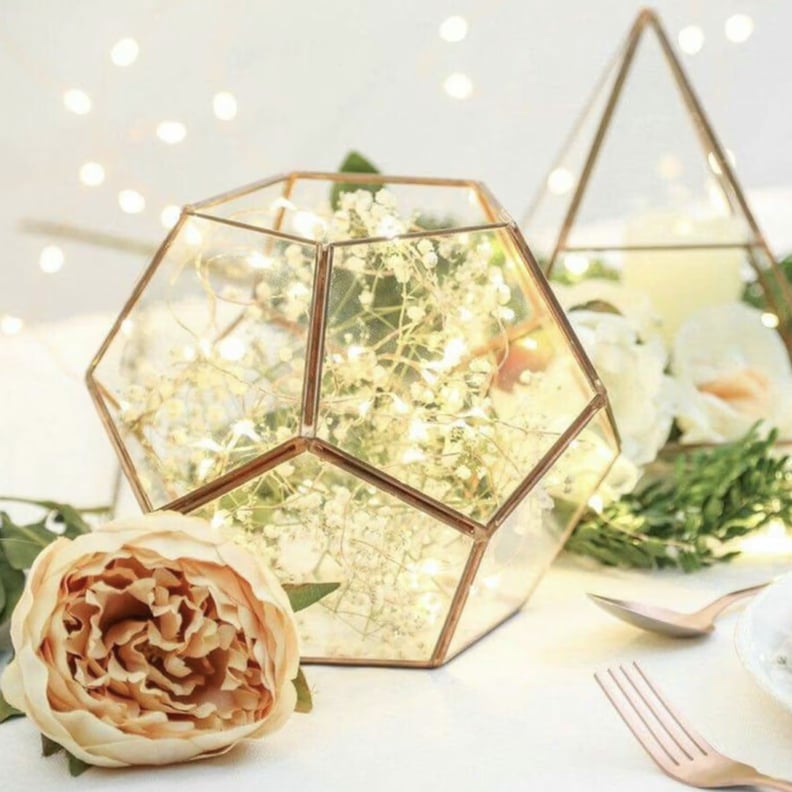 Useful Wedding Favors: Glass Terrariums
Glass Geometric Terrarium ($6)
Make this glass terrarium the centerpiece of all of your wedding tables, then simplify the cleanup process by letting your guests take them home as wedding favors afterward. The glitzy product features an earthy succulent on the inside, which is surrounded by sparkling fairy lights. This unique wedding favor will add an extra shimmer to your afterparty, and your guests will love getting to take them home as souvenirs, too.
10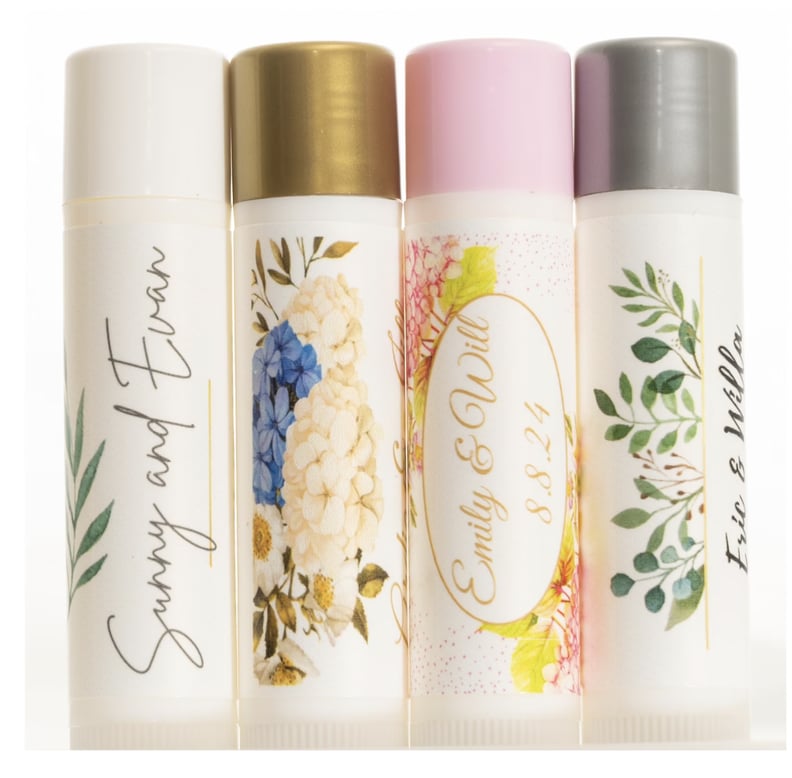 Useful Wedding Favors: Personalized Chapsticks
Wedding Lip Gloss Chapstick ($81 for 100)
You can never have too much chapstick in your life, and with this customizable pack of chapsticks from Etsy, you can order your wedding favors in bulk without having to spend too much money in the process — who doesn't love a budget-friendly find?