Here Are the 11 BEST Rides at Disneyland, According to Parkgoers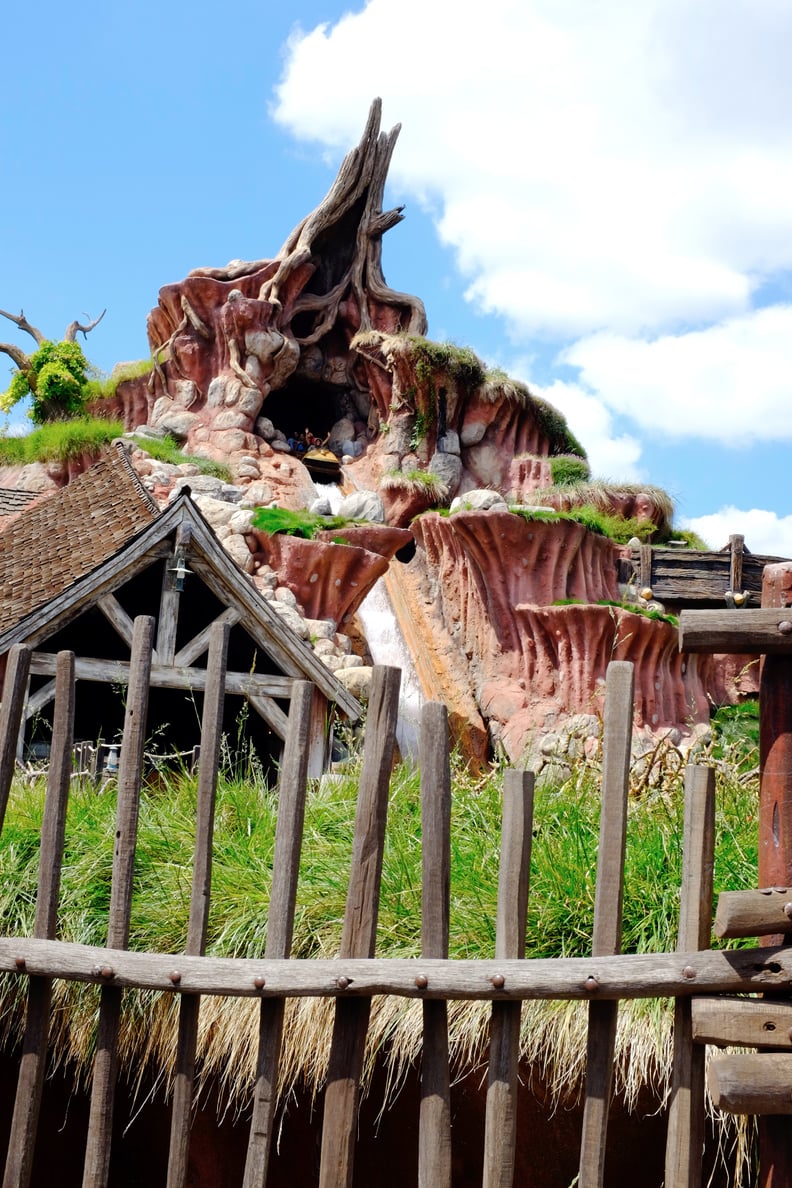 POPSUGAR Photography
POPSUGAR Photography
Disneyland is open 365 days out of the year, but for most park visitors, you may only have a handful of days or maybe even just one day at the happiest place on Earth — so which rides should you prioritize? I reached out to POPSUGAR editors who are obsessed with the Southern California Disney park to find out which ride is their favorite. Here are the 11 rides that rose to the top. So if you only have a precious few hours at Disneyland and Disney California Adventure, these are the rides that are definitely worth waiting in line for!
01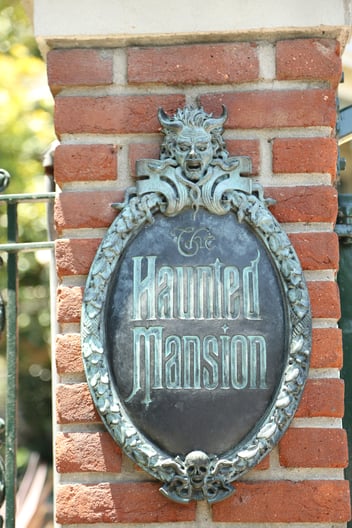 Haunted Mansion, Disneyland
"My favorite ride is the Haunted Mansion — I love everything about it. The smell, the spooky vibes, the music, the doom buggies. I even bought a candle that smells like the ride so I can be transported to Disneyland when I'm at home! Also, it's located right next to the New Orleans Square beignet shop, so I can snack on the best munchies at Disneyland while I wait in line."
"The Haunted Mansion used to scare the sh*t out of me as a kid, but now I love it all: the tongue-in-cheek headstones you can read in the (usually epic) line, the spooky introduction with the elevator that extends, the slow and steady trip through the many creepy rooms, concluding in discovering that a ghost has been riding with you all along. Having said that, I'm a purist; I do not enjoy the Tim Burton makeover it gets during the holidays. My back-up is obviously the Dumbo ride."
02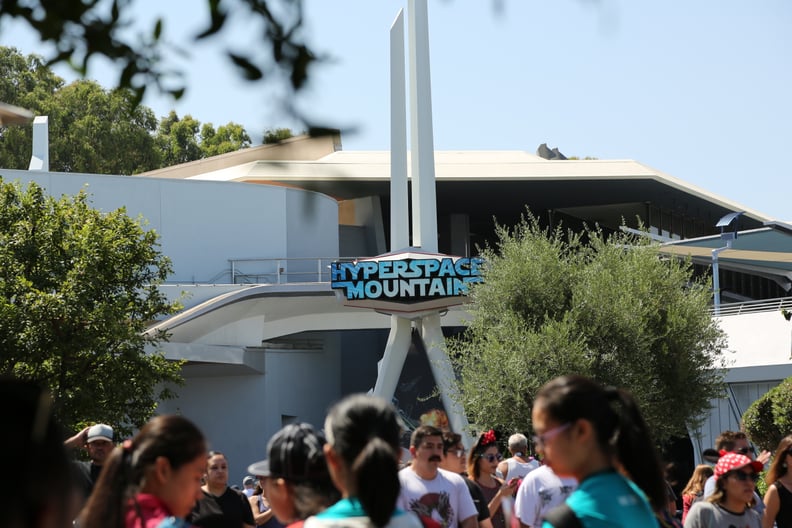 Space Mountain/Hyperspace Mountain, Disneyland
"SPACE MOUNTAIN NO QUESTION. This has been my favorite since I was tall enough to ride. It's fast and you have no idea what's coming next. And if you get the extra magic hour, it's the best way to wake up!"
"Especially now that it's Hyperspace Mountain. It's genuinely just as thrilling as an adult as it was when I was a kid!"
"Space Mountain is my ultimate favorite! You literally get to travel through space and greeted with bajillion lights coming from every angle. What more can you ask for?"
"I can remember going on this as a kid and riding it now just brings back the memory of being absolutely terrified riding a roller coaster in the dark yet having the greatest time. I always like to ask to ride in the front row too since it makes the experience that much more realistic not being able to see anything in front of you or what direction you're going. I will admit though, when I ride in the front I always end up having to wipe tears off my face (from the wind, of course, not from terror)."
"Space Mountain. It's a totally clichéd pick but every time I get off I'm always ready to get right back in line. (Plus, the change into Hyperspace Mountain has only made it better.)"
03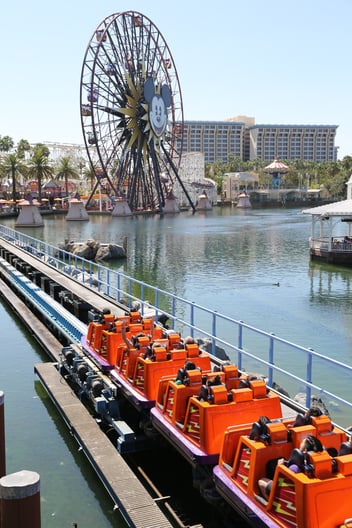 California Screamin', Disney California Adventure
"My favorite is California Screamin' at California Adventure because it's the only actual roller coaster in both parks and it overlooks the pier! It's especially pretty to ride at sunset."
04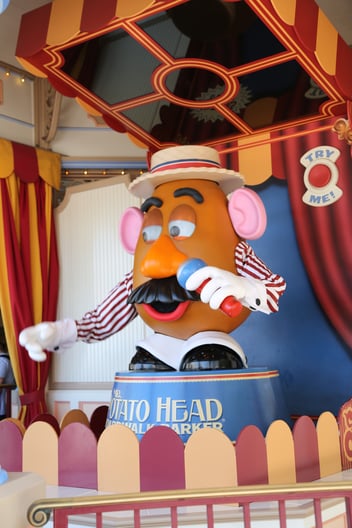 Toy Story Midway Mania!, Disney California Adventure
"Toy Story Mania is always fun. My family's really competitive, so we actually stretch before we get on this ride. I love this ride because of its interactive aspect. You're pretty much in control over your experience on this ride, in this case, whether you win or lose."
"Toy Story Midway Mania is by far the best ride at Disney. It's a ride and game all in one, so I get to be super competitive with whoever I'm riding with when I inevitably beat them at the midway games."
05
Splash Mountain, Disneyland
"My favorite ride at Disneyland is without a doubt Splash Mountain. I think it has the perfect combination of classic Disney charm (the internal parts with characters singing) and adventure/thrill (the amazing drop). Besides, who wouldn't feel their happiest with a ton of Disney friends singing 'Zip-a-Dee-Doo-Dah' to you? If I could I'd ride Splash Mountain a million times in a row. Clearly, I love it."
06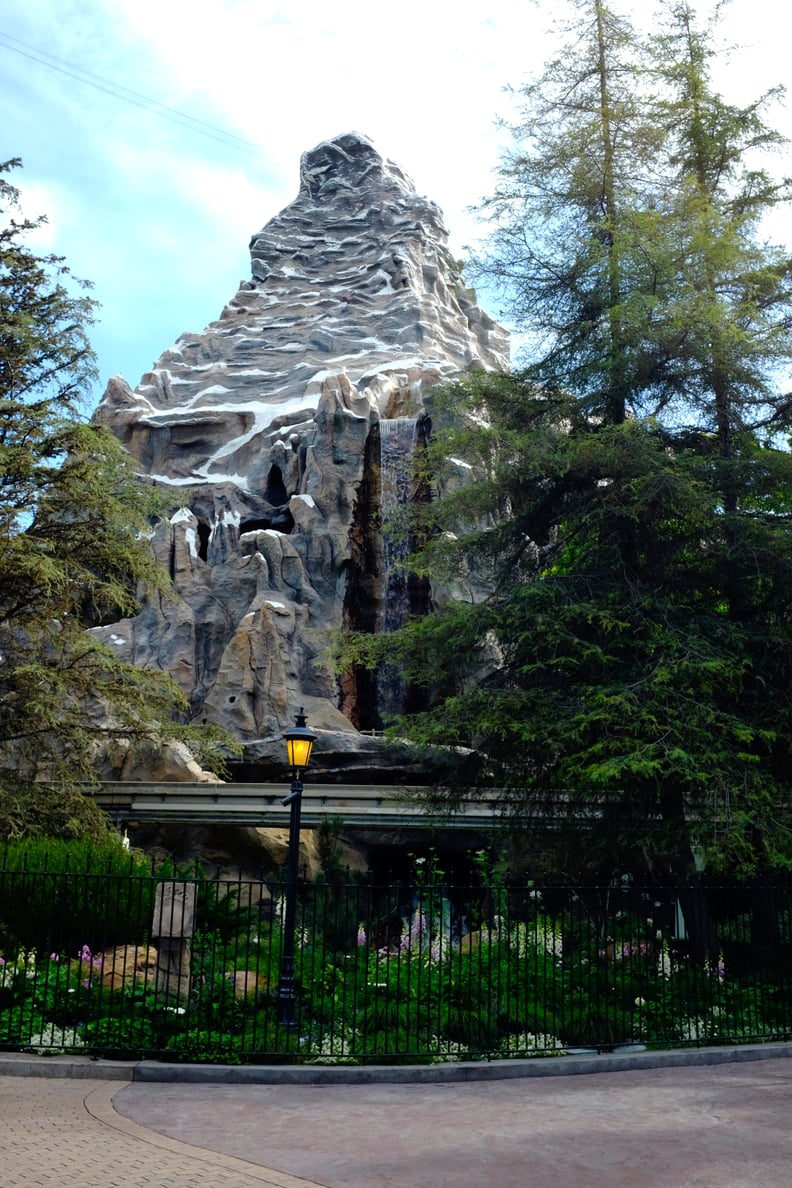 Mattherhorn, Disneyland
"I am not a roller coaster person AT ALL, but I absolutely love Matterhorn. It's the only ride that makes me simultaneously laugh and scream the entire time. It would be a dream to ride it on repeat. I don't think I could ever get sick of it. I love the Abominable Snowmen at every turn! I only wish I could get a selfie with one (does Disney do that??)."
07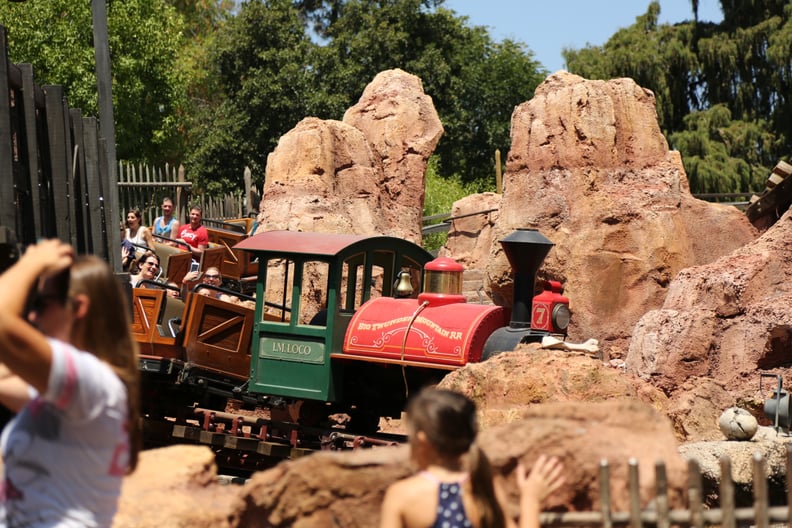 Big Thunder Mountain, Disneyland
"Riding Thunder Mountain at night is a whole different experience! I love the idea of not being able to see where you're going heading next on the ride, and if you time it right during the night shows and fireworks it makes it even more magical!"
08 Indiana Jones Adventure, Disneyland
"It's tough to choose my favorite ride in Disneyland, but if I absolutely had to, I'd choose Indiana Jones. Though the ride usually breaks down, I've had a lot of fun memories with my family on that ride. We're one of those crazy families people make fun of that pretend the ride is real life and yell at the driver to either drive faster or to turn around, scream as we try to brush off the scarabs, or try to dodge the 'spears' and play dead when we get to the end of the ride."
09 Radiator Springs Racers, Disney California Adventure
"I LOVE Radiator Springs! It's the perfect mix of a slow-moving character ride that's impressively immersive and an exciting, take-your-breath-away ride. It's fast! I especially love this one at night. It's so magical you'll forget you're at a theme park."
10 Pirates of the Caribbean, Disneyland
"It NEVER gets old. Every time feels like the first time. And depending on where you sit on the boat, the experience is completely different."
"I love Pirates of the Caribbean today just as much as I did when I was a kid. The initial eeriness of setting out on that dark water before plunging down the first waterfall and cruising through pirate mayhem always thrills me."
"When I was a kid, Pirates of the Caribbean really made me feel like I was transported through time and space to a really magical place . . . and also the Caribbean. To this day, it's still just as enchanting, and I wish it was real TBH."
11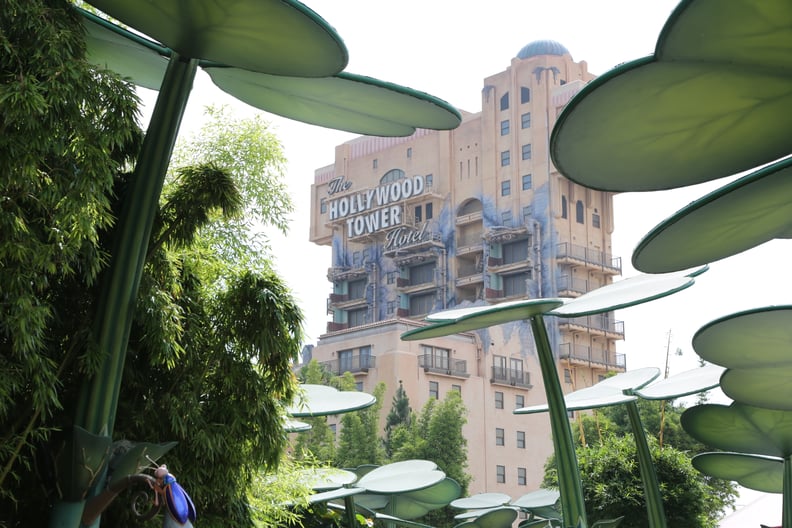 Tower of Terror/Guardians of the Galaxy, Disney California Adventure
"TOWER OF TERROR (before it was Guardians of the Galaxy) because I absolutely love the creepy Twilight Zone story that goes along with the ride, and I love how each time you ride it you might get a different variation of it. It's definitely one of the scarier attractions at either park, and I love thrill rides over other kinds any day! RIP Tower of Terror."
"My favorite ride, though it's closed now, was the Hollywood Tower of Terror. The ride itself was an adrenaline rush, but my favorite part about the whole thing were the cast members and their overall efforts to add to the creepy ambiance."
"Tower of Terror was the only ride that made me cry every. single. time. It made me feel so many emotions all at once I didn't know what to do with them! Fear, anxiety, happiness . . . it always gave me such a rush!"