I Didn't Think an Air Conditioner Could Be Sexy Until I Tried the Windmill AC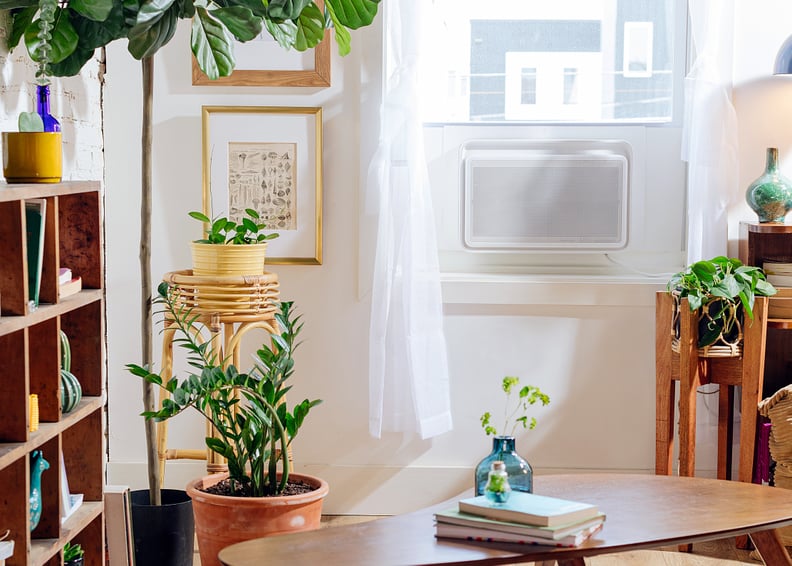 Courtesy of Windmill
Courtesy of Windmill
As POPSUGAR editors, we independently select and write about stuff we love and think you'll like too. If you buy a product we have recommended, we may receive affiliate commission, which in turn supports our work.
I've always had a love/hate relationship with my window air conditioner unit. Yes, it's considered a functional necessity (or necessary evil) when summer comes around. But I hate that it's an eye sore in my otherwise intensely curated apartment. So when I replaced my clunky unit with the, dare I say, sexy Windmill AC, I was pleasantly surprised with its aesthetic value.
But it wasn't until the air quality in New York plummeted due to Canadian wildfires that I really saw the health benefits of its dual-filtration system. The antimicrobial-protected mesh and activated carbon filter at least partially protected my apartment from dangerous air particles and volatile organic compounds (VOCs) that had taken over the city. And when we're not experiencing air quality alerts, the filter blocks the fumes, gases, and odors that come with living in Manhattan on any given day.
To be clear, Windmill doesn't state that their air conditioner doubles as an air purifier, and it can't replace a HEPA model. But it still gave me additional peace of mind during the worst air quality days. And considering that natural disasters like wildfires will likely become more common with climate change, for me, investing in air-purifying tools like the Windmill AC is a way to make my home a healthier environment.
The Windmill with WhisperTech ($429- $529) comes in two sizes, medium or large, that can effectively cool a room up to 350 square feet or 450 square feet, respectively. (The brand also sells a small and medium unit without WhisperTech.) Ahead is an honest review of the unit's benefits and drawbacks to determine if it's right for you.
What I Like About the Windmill AC?
The Windmill is really pretty. Like, really, really pretty. I always assumed I'd have to deal with the eyesore of an air conditioner if I wanted to survive the humid summers in New York, but no longer! You can even switch out the grill with different colors; I went with the Dusk Front Panel ($49).
And when its cool enough to retire the air conditioner for the season, you can just pop on a Winter Cover ($49), which is made with mold-resistant cotton for extra insulation during colder weeks, instead of uninstalling the unit altogether. (I have the limited-edition Sophie Collé version in confetti.) That's a big plus, considering that most people with window units they need to remove know the struggle of re-installing it too late, and having to suffer through a few 80-plus-degree days as a result.
But if I did want to remove the unit during winter for whatever reason, the installation is so easy that I honestly wouldn't mind that much. Despite knowing it came pre-assembled, when I first read that the Windmill AC would only take me 40 minutes to install I initially rolled my eyes. This wasn't my first air-conditioner-rodeo and assumed that I'd find myself drenched in sweat an hour later cursing climate change and my weak bicep strength. Instead, I installed it in the record-breaking speed of 20 minutes by myself, all thanks to the easy to follow installation kit. I nearly cried tears of joy.
Finally, for those who love to control everything from their phone, I have good news: the Windmill is Wi-Fi controlled and pairs with an app so you can adjust settings before you get home. This is a great feature for someone like me who hates getting to my bedroom after a long day only to realize it's not the crisp cold temperature of 68 degrees. To avoid that disappointment I make sure to adjust an hour before bedtime.

What's Worth Noting About the Windmill AC?
I'll admit that the whisper technology is impressive. The near-silent fan is way better than the usual grumbling and groans of my old unit whenever I'd switch it on. However, it does still have a white noise quality when it's actively blowing air, so don't expect no sound at all.
Also, the carbon filter needs to be replaced every two to three months if you want to reap the benefits. At $60 for four, that can get a little pricey. Windmill offers an auto-refill subscription (and you save money by signing up), or you can opt into text alerts that remind you when it's time to replace.
Who Is the Windmill AC Best For?
Anyone who's looking to replace or invest in a window AC unit should check out the Windmill AC, especially if they value aesthetics. And it's especially great for city dwellers, who'll benefit extra from the filtration capabilities.
Is the Windmill AC Worth the Splurge?
Honestly, the aesthetic quality alone was enough to initially sway me. But what makes the price tag really worth it is the user-friendly design. My WFH desk set-up is right next to the only usable window in my bedroom. This used to mean that I went back and forth between being blasted by my old AC unit until I was frozen, turning it off to thaw, and then starting the cycle all over again. Now, with the vent being on the top and sides of the unit, the fresh air doesn't blow directly on me. I think I'm in love.
Additional Details
Size: The Windmill is available in medium (8,000 BTU) and large (10,000 BTU) to cool spaces up to 350 square feet and 450 square feet, respectively.
Filters: The antimicrobial-protected mesh is washable but the activated carbon needs to be replaced every three months.
Colors: The Windmill AC comes with a white grill but is interchangeable with four color alternatives (Lavender, Sky, Dusk, and Sunset).
Where Is the Canopy Humidifier Plus Available?
The Windmill AC with Whispertech is available online, or in stores at P.C. Richards in medium ($400, originally $450) and large ($550), and the standard Windmill AC is available at Home Depot in small ($325) and medium ($350).
Rating
★★★★★