Adobe Video-Editing App
Create Your Story in Minutes With Adobe's New Video App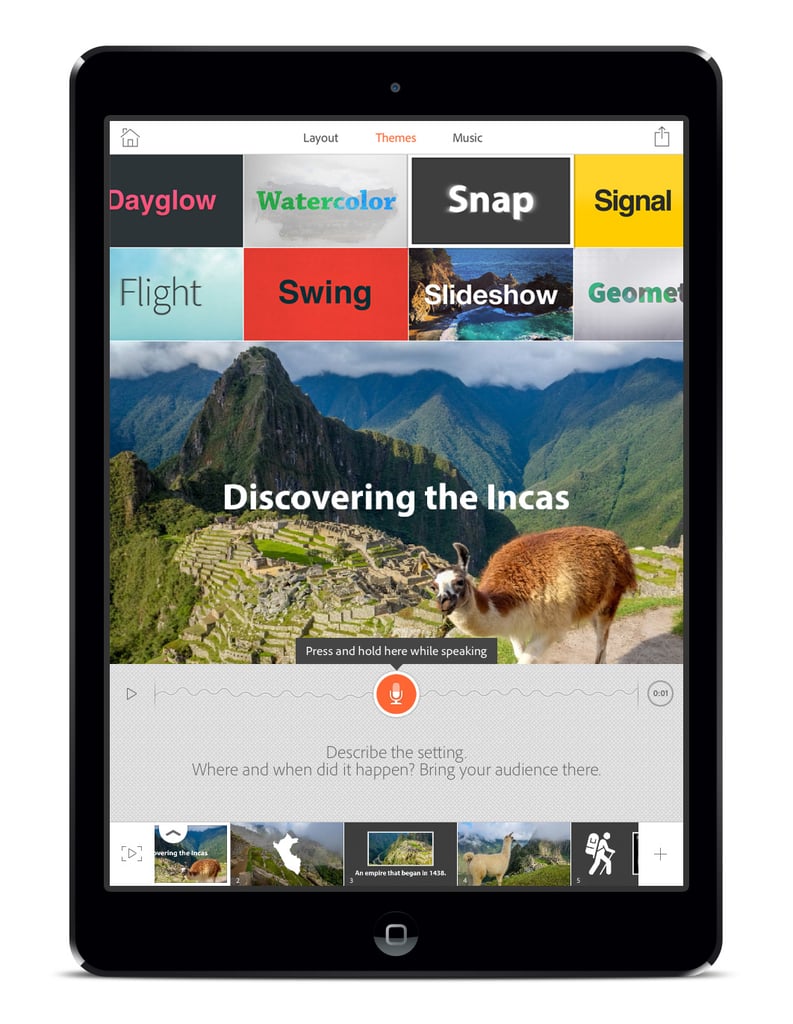 0
Create Your Story in Minutes With Adobe's New Video App
Videography tools are being democratized by the day with new video-editing apps that even amateur creators can easily afford and use. This week, Adobe took video creation a step further than simply crop, edit, and filter with the introduction of Adobe Voice, a free iPad app that guides you in the quick creation of animated, narrated videos.
You know all those inspiring app teasers and nonprofit videos that use snappy music and fun graphics to introduce themselves to the world or raise awareness for a campaign? With Adobe Video, anyone can create those same video presentations in less than 15 minutes.
The app has 25,000 icons and millions of images available to legally use even if the video has an end commercial purpose (like selling an app). Over 30 (legal) music tracks can be pulled into a video with themes ranging from horror to rousing, depending on the mood you want to create. A credits page is automatically added to the end of every video, so you don't have to worry about crossing the legal attribution T's.
If you're drawing a creative blank, story starters are on hand by them like "How Your $1 Can Save 100 Lives" under the Causes category or "How to Negotiate Effectively" under Business. As the app takes you through the steps of making the video, you'll be able to add narration using the iPad microphone, animated themes, and text alongside icons, images, and music.
Once the video is created, share it via email, Facebook, Twitter, iMessage, or a URL. You'll need iOS 7 and an iPad 2 or later to get started with Adobe Voice. Take a closer look at the app in the video and images below.