Agent Carter at Comic-Con 2014
Marvel's First Agent Carter Poster Is So, So Good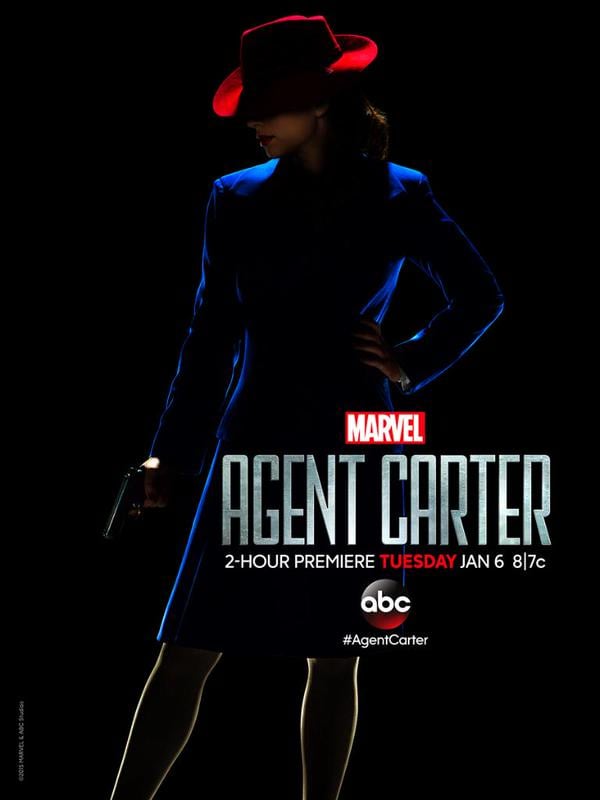 Source: Twitter user AgentCarterTV
It's been a big year for geek ladies. At this Summer's Comic-Con International: San Diego, the excitement for the announcement of Agent Carter, which features the first superheroine in the Marvel Universe with her own show, on ABC, could not be contained. In fact, the first three audience members of the Q&A portion of the Marvel panel were dressed in head-to-toe Peggy Carter cosplay. Needless to say, geek girls have a lot riding on the upcoming series, which is set to debut in 2015.
And finally fans are seeing some progress on the show. Agent Carter premieres Tuesday, Jan. 6, and to commemorate Marvel released a sneak peek of what's in store for season one.
Want more about Agent Carter? We got to interview the star and showrunner during Comic-Con, who revealed that viewers should expect cool gadgetry, Stark tech, Hydra — and a lot of great villains.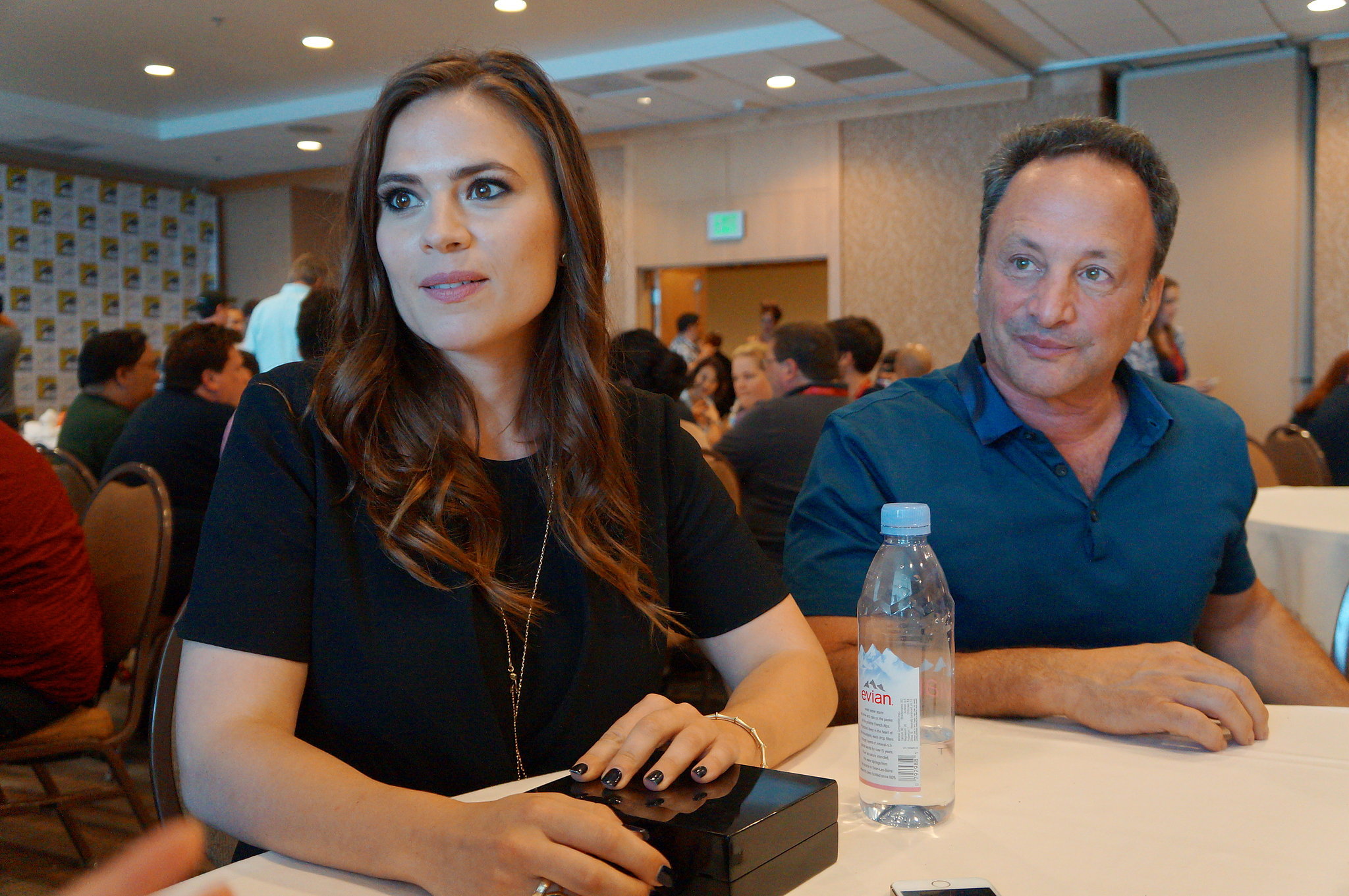 Photo: Kelly Schwarze
Who is Peggy Carter?
She is Captain America's first love, who — until now — hasn't really been fleshed out on the big screen. The show is set in the 1940s and 50s, and focuses (duh) on none other than Agent Peggy Carter, one year after the Captain's death, during her time with the S.S.R. The Strategic Scientific Reserve is the top secret agency charged with battling the Nazis in war-stricken Europe. Peggy later founded S.H.I.E.L.D. (the top secret agency in that other show), along with Howard Stark.
How little do we know of Cap's lady love? Writer Stephen McFeely put it this way at the panel: "Peggy has been in 12 minutes of a good one shot, and in her pilot, she will have equaled her entire time on screen in the Marvel Universe."
Who plays Peggy?
Actress Hayley Atwell will continue her role from the Captain America films. During the Comic-Con panel, she said: "The exciting thing with Peggy is that we haven't even touched upon the powers that she has. In the pilot is the beginning of an incredible opportunity as a superspy. We see the cost of someone who takes on extreme pressure and still keeps it together."
.@HayleyAtwell: "It's a great bonus that I get to play someone who young women will hopefully look up to as a role model." #MarvelSDCC

— POPSUGAR Tech (@POPSUGARTech) July 25, 2014
From her Comic-Con appearance, it seems that Hayley has really embraced the role of being a geek girl hero. In the pressroom, she told us: "It feels like a privilege, I hope I can exceed expectations but it also means that we want to see the human side of Peggy, not just her at work, but her as a human being, the vulnerabilities that she has, the limitations of her character, the personal cost of losing the love of her life."
Then Louis D'Esposito, executive producer, jumped in: "And from the Marvel perspective, we have a lot of strong female characters — and we're constantly asked, 'When will a female heroine have her own show?' and I think that's been answered now. So we're very proud of that fact."
How involved is the Cap?
It's clear that Peggy's grief over the Captain's death is one of the show's recurring themes, but not in the way you might think.
Hayley told us: "She always longed for Skinny Steve, the first Steve, who he really was, the heart of who he was, and his morals, his values — more than the gorgeous, buff man that he became. She's very alone now. They were kindred spirits: they understood each other. That grief will be played throughout the series."
How much of the show is written?
In the pressroom, Louis revealed: "We do have the pilot written . . . The challenge is more logistics than story. How do we execute [a period show] with the limitations of budget and time?"
While we don't know the story, we do know that Agent Carter is in good hands. Executive producers Tara Butters and Michele Fazekas (both women!) were behind Resurrection, and a few of the show's episodes will be led by the directors of Captain America: The Winter Soldier.
The directors of Cap. America Winter Soldier will direct, the 2nd and 3rd episode of @AgentCarterTV! #MarvelSDCC

— POPSUGAR Tech (@POPSUGARTech) July 25, 2014
What did the panel reveal?
In the trailer that premiered at Comic-Con, we could hear Peggy's voice saying: "The world is changing. And if history has taught us anything, it's that freedom is not free. Sometimes the best thing you can do is start over. Welcome to the S.S.R."
With this show, we're going to explore a different side of the Marvel Universe and, hopefully, better understand where S.H.I.E.L.D. came from. We'll let you know when more on Agent Carter is unveiled. Stay tuned for more on Comic-Con!
— Additional reporting by Kelly Schwarze