Lego Female Minifigure Set
Lego's Newest Set Is a Win For Women Everywhere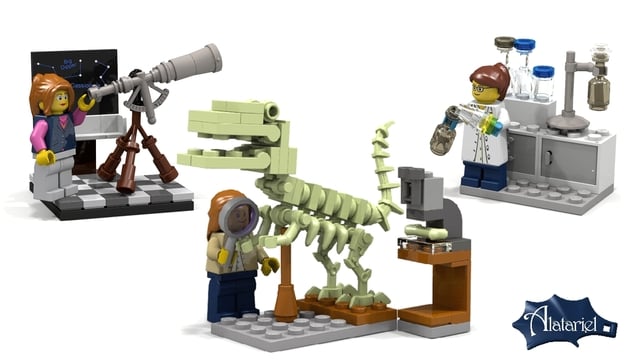 Every year, Lego does this cool thing where it chooses a fan-designed set to become an actual Lego product that you can buy. Currently, a team with the best job ever is reviewing this set of ideas, with the Apple Store, a Doctor Who design, and a Big Bang Theory set being among the finalists.
But let's go back to last year's fan-base project entries, because Lego just announced the winner for its 2013 Winter competition. (Six Winter projects and one from the Fall of 2013 were the finalists after getting at least 10,000 votes on the Lego site.)
The victor? A "Female Minifigure Set" that beat out ideas based on Sherlock, The Legend of Zelda, Japanese old-style architecture, Adventure Time, The Super Dimension Fortress Macross, and the DeLorean.
Submitted by Alatariel Elensar in May 2012, the Fall '13 science-based design features a Lego paleontologist, an astronomer, a chemist, and all their scientific equipment.
The actual Lego set will be titled "Research Institute" and is currently in development to be released in August of this year. (Still no word on pricing.)
You may remember that past Lego fan-base winners include a Ghostbusters 30th anniversary set and the Mars Curiosity Rover.
"Although recently Lego has started to design and add more female figures to their sets, they are still a minority. A small set of minifigures would provide a great opportunity to add women to our Lego town or city communities," wrote Elensar when she submitted her entry. "I have designed some professional female minifigures that also show that girls can become anything they want, including a paleontologist or an astronomer."
Hear, hear!
See more in the official Lego announcement here:
Source: Lego