Orphan Black at Comic-Con 2014
Why Everyone Started Crying During Orphan Black's Comic-Con Panel
That was rough, you guys. Fans were walking away from Orphan Black's Comic-Con International: San Diego panel in tears. The hit BBC America sci-fi show, about a woman who discovers she is one of many clones, has unleashed a star in lead actress Tatiana Maslany. She recently took home her second Critics' Choice Award for best actress in a drama series. But her acting prowess in playing nine distinctive characters is only a small reason why such a rabid fandom has developed around the show. At this year's Comic-Con, it was the actress's humanity that was on full display. These tweets say it all.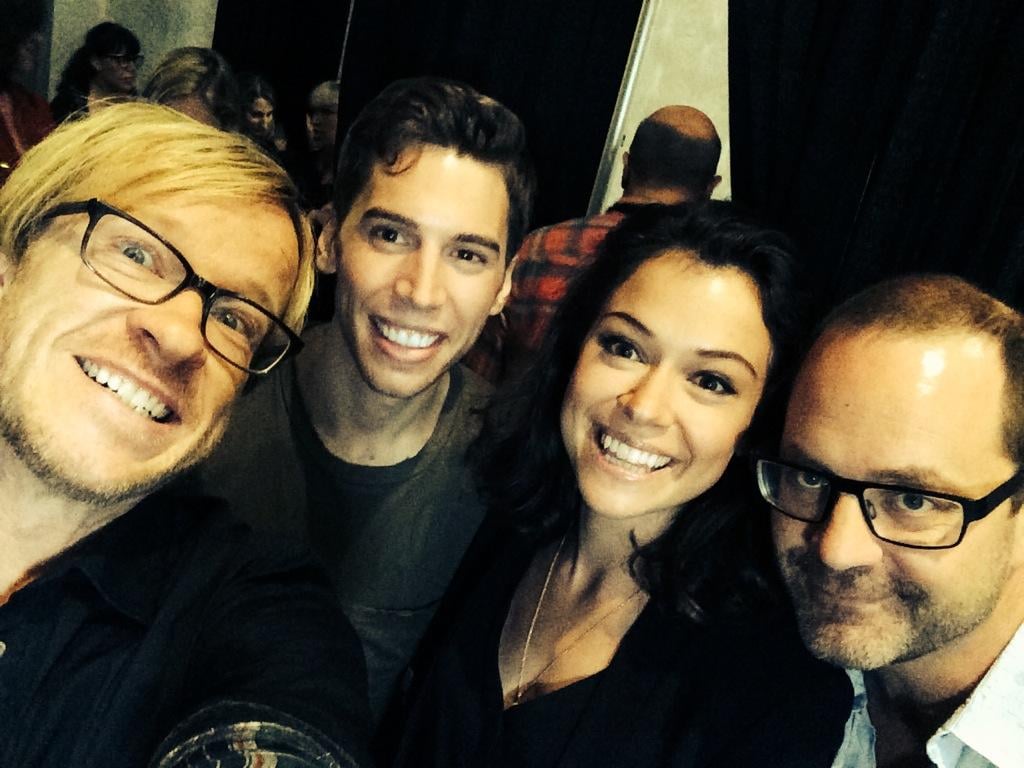 Source: Twitter user JohnFawcett75
An audience member gave Tatiana an award for "best actress in the world."
Gifts given to @tatianamaslany at the @OrphanBlack #SDCC panel. pic.twitter.com/vDEnNEXlqc

— Dalton Ross (@DaltonRoss) July 26, 2014
The clone nesting dolls!
. . . Because she can do anything.
Look who's drivin! #CloneClub pic.twitter.com/FfemVpfFQD

— Graeme Manson (@GraemeManson1) July 26, 2014
Even drive a golf cart to her own panel!
Even Tatiana's costars are in awe of her talent.
"She's so bloody good her own MOTHER doesn't even recognize her!" @mariadkennedy on @tatianamaslany's brilliant work #OrphanBlack #SDCC

— Orphan Black (@OrphanBlack) July 26, 2014
She does drama — AND comedy super well.
But the most tear-jerking moment? This.
.@tatianamaslany has been brought to tears by amazing testimony from a gay fan inspired by Cosima. #SDCC #OrphanBlack

— anglophenia (@anglophenia) July 26, 2014
Here's exactly what went down.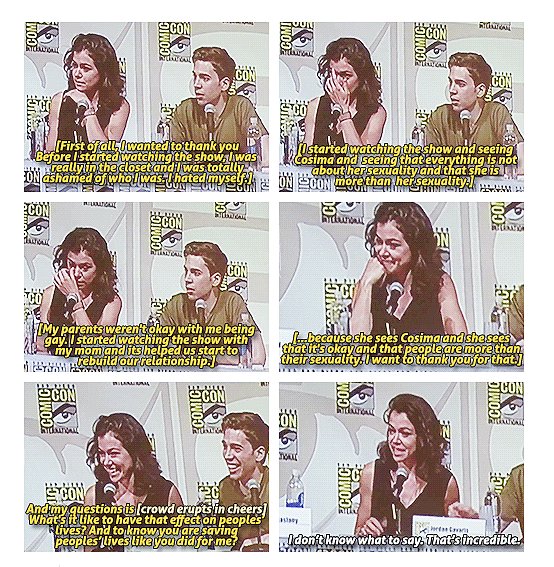 Source: thecloneclub.tumblr.com
She even discussed the subject before the panel, with the press.
"Tatiana teared up talking about how proud she is to play a transman."
Naturally, people refused to stop clapping for her.
STANDING OVATION for Tatiana Maslany in Room 6A! #OrphanBlack #SDCC

— Dark Chador (@Charlie_LJ) July 26, 2014
We love Tatiana because she has compassion — but she's also kinda twisted.
Q: If the clones had to die, how would they die? A: @tatianamaslany "Helena would eat herself to death." #OrphanBlack #SDCC

— Orphan Black (@OrphanBlack) July 26, 2014
Stay tuned for MORE from San Diego Comic-Con!