The Secret to Kim Kardashian's Selfies
So THIS Is the Device Kim Kardashian Uses to Take the Perfect Selfie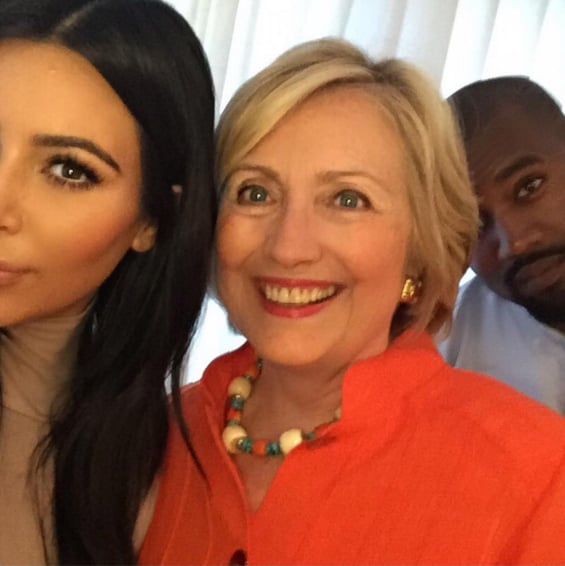 When you meet a presidential candidate, the first thing you should ask for is a selfie, right? On an episode of The Ellen DeGeneres Show, Hillary Clinton revealed this was exactly Kim Kardashian's request when the two met during a fundraising event in Los Angeles.
"First of all, she was very nice and of course when she says to me, 'Can we take a selfie?' I said, 'Hello, of course.' I mean that's like an obvious answer," Hillary said. "She takes out her phone and she presses the button — I've never seen this anywhere else . . . She pulls it out, it has lights all the way around it, like, little tiny, tiny lightbulbs."
Here is the full clip:
Though the Democratic candidate may have just accidentally revealed Kim's secret to amazing selfies, the reality star quickly took to Twitter to give Hillary a shout-out. And more importantly, she shared with Hillary and fans that the device she uses is called LuMee, a smartphone case that lights up.
Selfies about to be LIT!!! The secret to my selfies https://t.co/GYe09RFqQp pic.twitter.com/z0MXmTHGVu

— Kim Kardashian (@KimKardashian) January 11, 2016
On the Ellen Show today Hilary Clinton talks about how she never looked better in our perfectly lit selfie! #LUMEE pic.twitter.com/6svy37T46u

— Kim Kardashian (@KimKardashian) January 11, 2016
Genius? Yes! Because there's nothing like bad lighting to ruin a potentially good selfie.