There's no denying that DSLRs are great at taking quality photos. But you can take pictures that are just as great — truly! — straight from your phone with just a few pointers. If you're headed to a wedding soon, these tips will help you realize you don't have to be a professional to produce wonderful images that everyone will be sharing. Here, we break down how you can go from guest to wedding photographer in a, er, flash.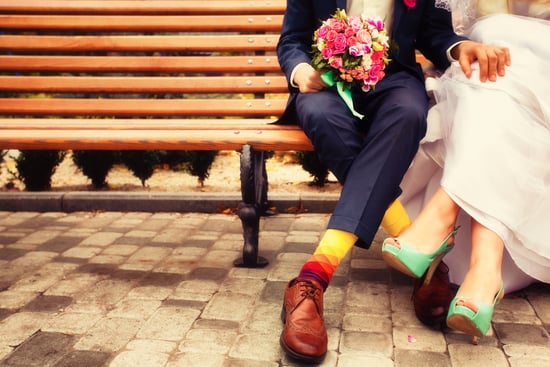 Look for the light: Great lighting will be your best friend when it comes to taking awesome photos. Pay attention to where natural light falls. For instance, if someone's back is to the bright sun shining overhead, she will come out looking dark. And steer clear of using flash: it only makes your photos look less authentic.
Set your focus and exposure: Once you know the shot you want to take, tap the screen on your phone's camera to set your focus and exposure where you want it. For instance, the thing you tap on will look sharp as opposed to blurry. And if you tap on the brightest object in the shot (a window, for instance), the rest of your photo will look especially dark. You'll have to practice based on your phone's settings, but giving thought to these two details will make all the difference between a mediocre and great photo.
Focus on the unexpected: Sure, you'll want to snap certain must-have wedding photos, but some of the most memorable images come from candids. While the best man is giving a toast, for example, instead of taking his picture, turn your attention to the newlyweds, who may be hugging or sharing an emotional moment.
Zoom with your feet: Using your phone's zoom feature can lead to photos that are out of focus or more pixelated than normal. Instead of relying on it, just get closer. If you have to shoot from afar, you can always crop later.
Try different angles: Stooping low, getting up high — you might feel a little awkward at first when everyone else is shooting at eye level, but the pictures will be worth it. Just imagine the view you'll get by climbing a few stairs during the father-daughter dance. It's also a chance to focus on details (like the groom's quirky socks) that may otherwise go unnoticed.
Use an app: Despite how great your camera's phone is, it doesn't hurt to get an extra boost from mobile apps. Camera+ ($1), for instance, gives you more control over things like focus and exposure and comes with extras such as grids to line up your pictures. Night Camera (free) is also great for taking pictures in low light without a flash.
Pay attention to the background: It's easy to focus on the person or thing you want to photograph and tune out what's in the background. But give thought to all the distractions behind your subject, like poles or lights that can look like they're poking out from someone's head.
A bonus tip: take a whole lot of pictures. It's totally normal to get just one great photo out of a batch of dozens. But with enough practice, that one photo will be killer.