Twitter Reactions to the New McDonald's Hamburglar
The Most Honest Reactions to the Controversial New Hamburglar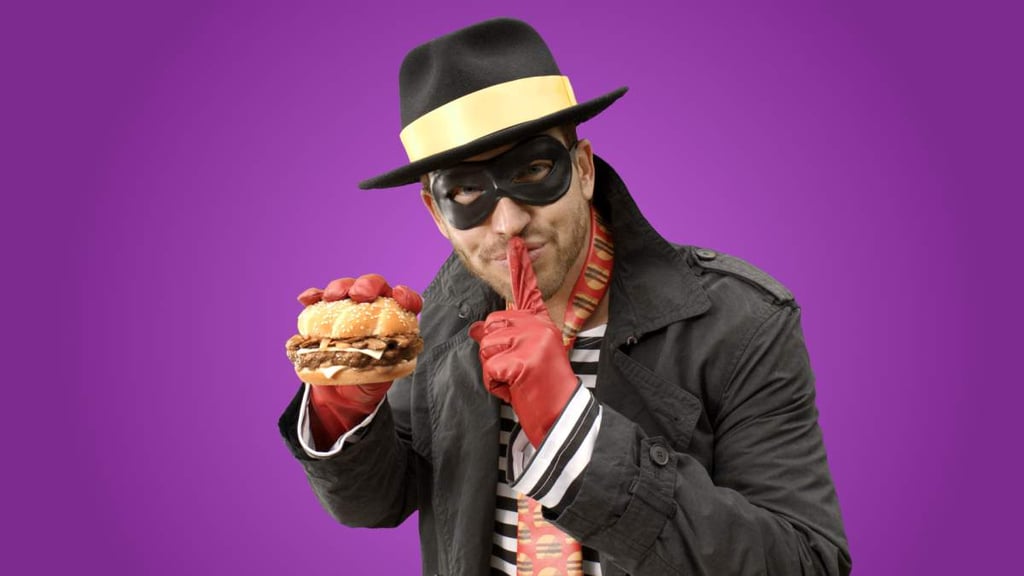 If somebody came to steal your dinner, would you rather he be surprisingly attractive or predictably unnerving? Well, according to Twitter, the McDonald's Hamburglar is both of those things. When the fast-food chain unveiled its beef-thieving mascot's return with a mysterious video, the Internet began to debate whether the newly fedora-clad character was hot or creepy. Check out some of the hilarious reactions below, but don't be fooled . . . the new Hamburglar is obviously Ryan Reynolds in a mask.
Update: You can check out the first Harmburglar promo video here:
McD's is after me (apparently, so is my wife)! Tweet #RobbleRobble to keep them off my trail. https://t.co/JBVThrmHir

— McDonald's (@McDonalds) May 12, 2015
And now for the reactions . . .
If you need me I'll be over in the corner grappling with the realization that I'm attracted to the new Hamburglar pic.twitter.com/lSTpOnkI1R

— Stephanie Grimes (@stephgrimes) May 6, 2015
I don't think I'd let that new Hamburglar near my kids. pic.twitter.com/21YNSEoliq

— Big Head Sports (@BigHeadSports) May 6, 2015
The new Hamburglar is kind of a DILF. http://t.co/M3JyUESLml pic.twitter.com/mVd0SKkmOI

— Annie Colbert (@anniecolbert) May 6, 2015
It's super obvious that Superman is Clark Kent, but it's even more obvious that The Hamburglar is Macklemore. pic.twitter.com/Vi23so5mLF

— Joseph Scrimshaw (@JosephScrimshaw) May 6, 2015
Is McDonald's trying to reach the hipster demographic? If so, they should embrace nostalgia, not give the Hamburglar a fedora.

— Tessa Dare (@TessaDare) May 6, 2015
#TrueDetectiveSeason2 pic.twitter.com/RxwT0Uz0RS

— Gabriella Paiella (@GMPaiella) May 6, 2015
BREAKING: Following reveal of reimagined #Hamburglar look, McDonald's leaks photo of their new Grimace. pic.twitter.com/dfNYGc8HaA

— Andy Bowers (@evilpez4) May 6, 2015
Getting a strong "sends dickpics" vibe from the Hamburglar.

— Ian (@iboudreau) May 6, 2015
the new hamburglar???? ha ha thanks. pic.twitter.com/7lG94tcXWZ

— kc grəən (@kcgreenn) May 6, 2015
The new McDonald's Hamburglar looks like a dad who picked the lamest costume at Party City http://t.co/AabRpfAYFn pic.twitter.com/NRl9Yqd9gj

— The Verge (@verge) May 6, 2015
Pretty sure new Hamburglar is actually 1990s WWF wrestler the Repo Man. @sundownmotel back me up here. pic.twitter.com/Wy0T7AUSGd

— Chris Welch (@chriswelch) May 6, 2015