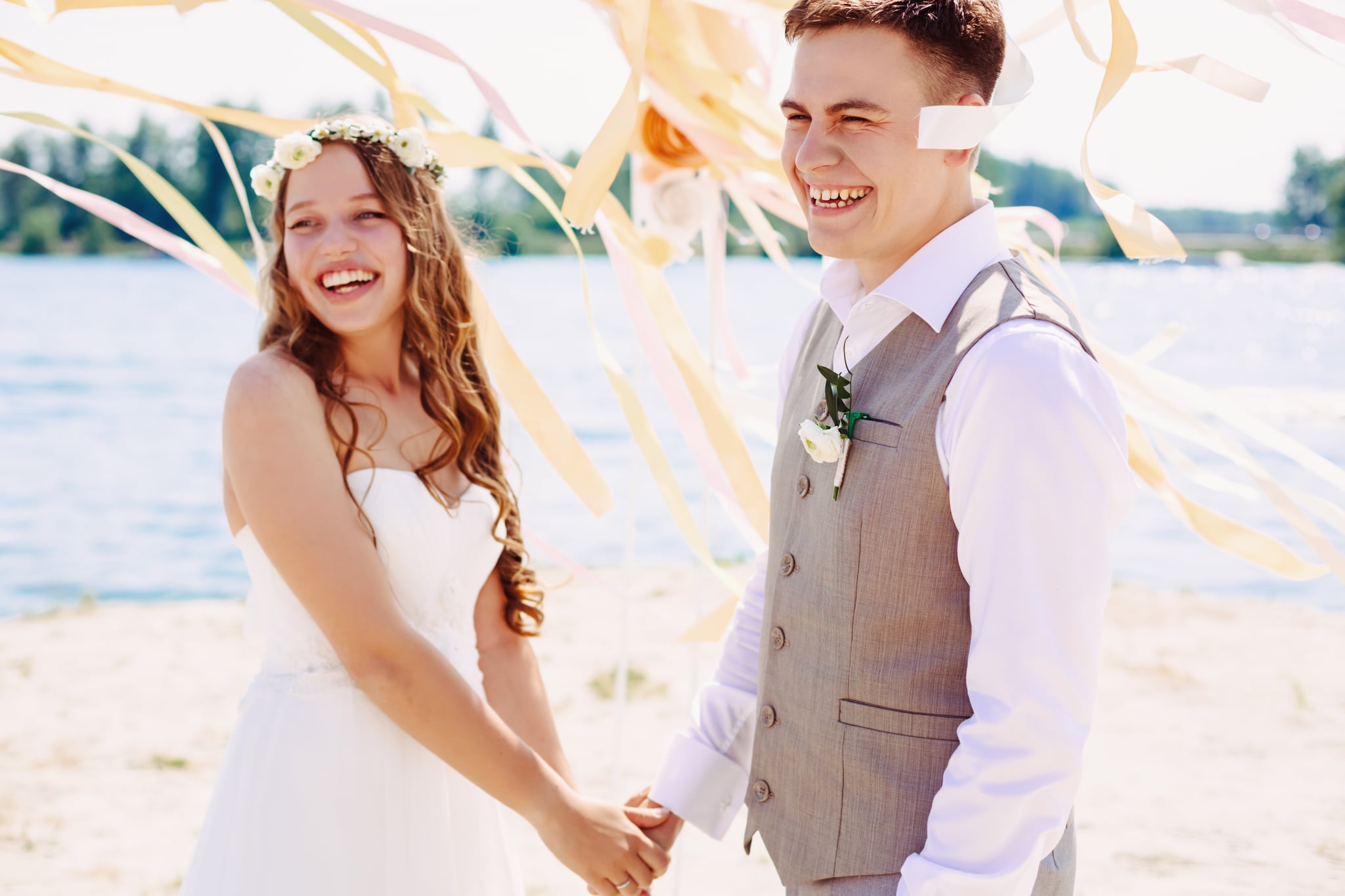 Your wedding is a big day, which is why we partnered with Best Buy to share ways to make it easier thanks to tech.
Planning your wedding is so exciting — and can leave you feeling breathlessly overwhelmed. You have to finalize your guest list and decide on the perfect DJ, but there's also preserving the moment to consider. And that's where technology can help ease the stress of your big day while making the event memorable. Along with being so creative, these techie tips can be personalized just for your wedding ceremony.
Register online: Make it easy for your guests to pick the perfect gift and register online for everything on your wish list. Most keep track of purchases so there's no duplicate gifts — and the process couldn't be simpler. You can create lists for everything you need to start your new lives together, including coffee makers, cameras, and new gadgets.
Create a memory station: This is a fun way to give guests a glimpse of your relationship while letting them interact in a really sweet way. It's as simple as putting together a quick video then setting it to play on loop via your tablet at a viewing station. Position at the entrance of your reception or next to your guest book.
Use digital maps: I'm first to admit to always getting turned around in new locations, so utilize Google Maps for emailing your wedding ceremony and reception locations. This way no one gets lost.
Make a hashtag: Take advantage of all your creative friends by letting guests know your wedding hashtag, which then brings all the pictures together in one spot thanks to social media. And it's a digital way for others to see all the fun — especially if they couldn't make the date.
Do social media: Guests want to see what's going on before the ceremony — from the bride or groom or members of the wedding party. It's OK to share a selfie or two along with behind-the-scene snaps while preparing for the wedding.
Make a charging spot: Everyone loves using their phones to take pictures during celebrations, but when battery life gets low, the last thing you want is guests having to scramble to recharge. Set up a charging station equipped with cords for various phone types that can be disguised under a beautiful bouquet. This way everyone's all charged up for documenting the event.
Get video: There are so many new ways to take video, and we love how GoPro cameras catch action from different perspectives. Think about outfitting Champagne glasses during toasts, asking guests to wear while dancing, or even attaching to the adorable flower girls as she's sprinkling petals. Use the clips to create a memorable video to share with friends and family.
Go online: Use a free music-sharing site to create a digital playlist featuring songs from your wedding, like your first dance. This way your guests can download and enjoy after the event.
Live stream the ceremony: It's always disappointing when you find out a special someone can't make it to your wedding, but consider live streaming the ceremony so it can be seen anywhere. Most wedding photographers are happy to help set up a spot to film the big event.
Did you use tech in an inventive way at your wedding? Share in the comments below!


Click here for more wedding gift ideas from Best Buy!