What to Ask Your Wedding Photographer
7 Essential Questions to Ask Your Wedding Photographer
Photos are arguably the most important part of your wedding — you can't pull out the wedding cake to relive the big day, right? Getting the best snaps comes down to having a top-notch photographer. But that's not all: you have to be comfortable with the person and their shooting style to be truly happy with the end result. One way to make that happen? Sitting down with them to chat about all your preferences and concerns. Here are a few questions to get you started so you walk down the aisle with your mind at ease that you're in good hands.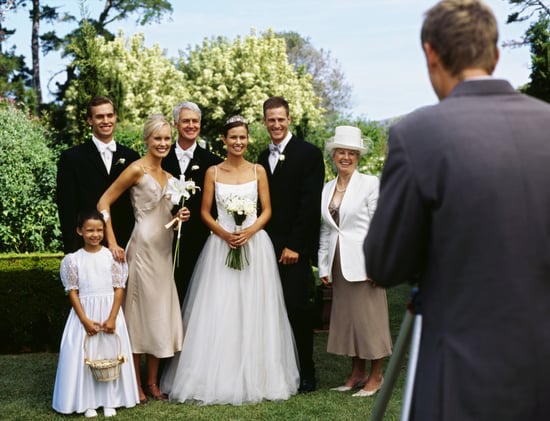 What's your photography style? It's possible for one photographer to have a few different shooting styles, so be clear on which one she'll bring to your wedding. Will she be using film or digital, black and white or color, shooting with a photojournalistic feel or a more creative one? Maybe you want a mix — either way, all of these details need to be discussed before the wedding so there are no surprises.
What's your typical wedding day schedule? Find out when the photographer plans to arrive (an hour before the ceremony starts? Two hours?) so you know which moments will be caught on camera and you can plan details like when to get ready with your bridesmaids. Also something to factor in: how long she plans to stay. You'll have a different set of pictures depending on whether she waits until most guests have left or leaves much earlier.
What is the post process like? Every photographer has their own way of getting out the pictures: figure out her way before it's a month after the wedding, wondering where your photos are. You should ask questions like, "How long will it take to see the proofs? Will I get disk copies of the photos? Is there a limit to how many I get? Will it come packaged in an album?"
What's your backup plan? Photographers are human, so don't rule out the possibility that she'll get sick on the day of or that a lens might break. She should have a plan B for situations like these and provide you with a contact to reach out to in case you can't get ahold of her. Being prepared for the worst scenario will ensure you keep your wedding day cool (and have the pictures to prove it).
Can I give you a list of shots that I want? Do you need that picture with an out-of-town cousin? Or just hate being photographed from a certain angle? Your photographer won't know these things unless you tell her, so ask if it's OK to send her a breakdown of your must-have snaps.
Are you familiar with the wedding venue type? Shooting a beach wedding, for instance, comes with many challenges. There's the harsh sun shining overhead (if it's in the middle of the day) and the chance of sand getting in the lenses. Make sure your photographer has experience with your setting type so that she's prepared for things like lighting and space.
How much are the extras? You might not automatically think of it, but it's important to consider what else you want your photographer to capture. Say that you decide you want her to stay a little longer than you had anticipated. Will there be a fee? Is she available for the rehearsal dinner, too? Get these answers down pat so you can get the shots you want without any surprises.
While you're discussing these points with your photographer, share the ultimate wedding photo checklist to ensure the day's big moments are documented.