Jazz Up Your Photos With Typography Apps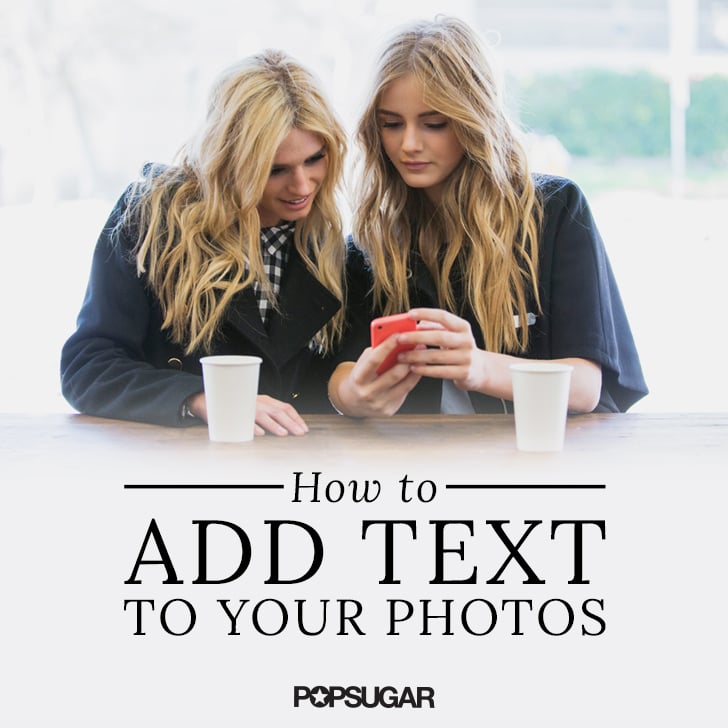 As POPSUGAR editors, we independently select and write about stuff we love and think you'll like too. If you buy a product we have recommended, we may receive affiliate commission, which in turn supports our work.
We've got font fever! Beautiful typography adds that little extra sumpin' to photography, and there are plenty of mobile apps with fonts readily awaiting your clever captions. We found nine of the best apps for iPhone, iPod Touch, and iPad to add photo captions on your snaps. From design elements to filters and fun badges, these text-on-photo apps have much more than type editing tools, too. Continue on to find out how to create pictures worth a thousand words.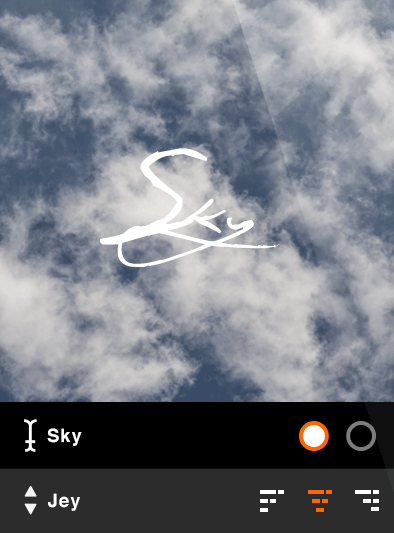 Piction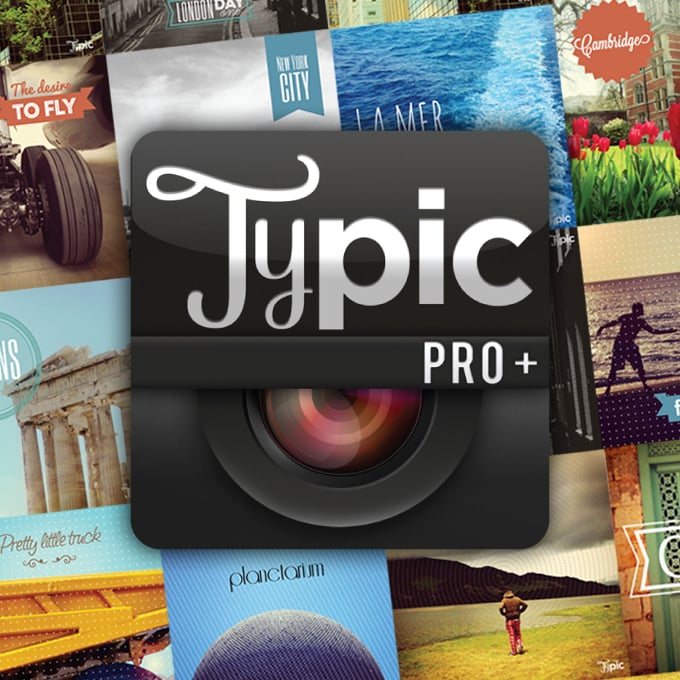 Typic Pro
Typic Pro ($2) pairs fonts with different photo filters and design elements such as banners, badges, and embellishments.
Typic
Typic (free), the lite version of Typic Pro, doesn't have design elements and limits text color to black and white, but it has some of the same beautiful fonts and filters.
Quipio
Create beautiful inspirational quote images in Quipio (free) with one of the app's many premade designs. While this app doesn't have a ton of editing options, it is a fast and easy way to add type and share through social media.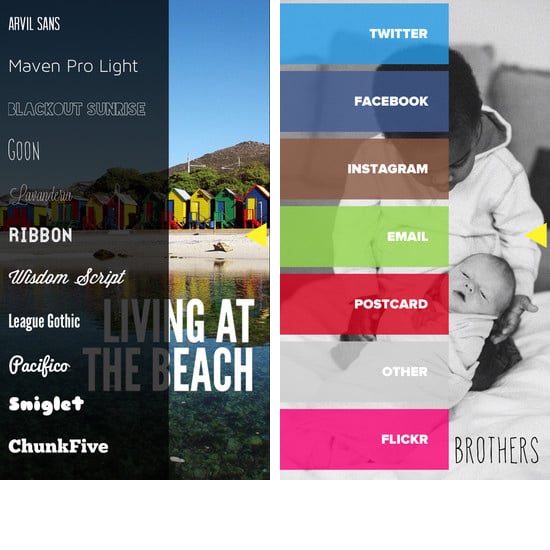 Over HD
Over HD ($2) has 28 different fonts to choose from and an option to buy 200+ additional typefaces for $1 in the app. Resize, align, and position the text, then share to Instagram, Twitter, Facebook, Tumblr, Flickr, email, camera roll, or a postcard. The app has by far one of the most social sharing options.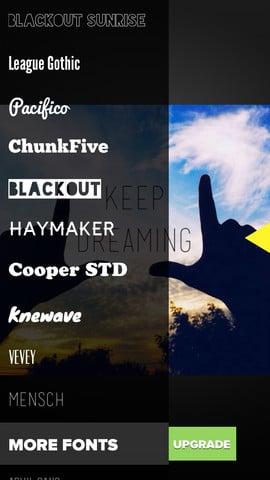 Overgram
Overgram (free) was developed by the same makers as Over HD. The app includes 10 of the most popular fonts from the premium app and has the same text resizing, alignment, and positioning tools. But you can only share the photos to Instagram or camera roll.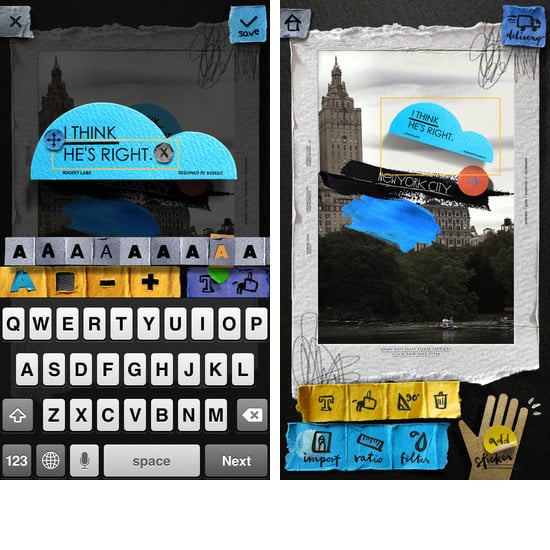 Stickr
The 3D-looking badges from Stickr ($2) really pop up off the screen. There are over 100 different shapes and filters and editing tools for adding, resizing, and coloring text.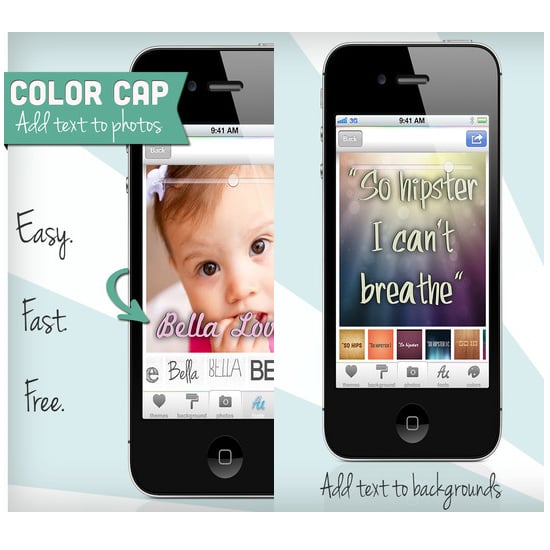 Color Cap
Color Cap (free) has over 100 captions already written, ready to be put on your Instagram snaps. There are also 15 different fonts to choose from if you want to add your own words and 15 backgrounds if you want the quote to stand for itself.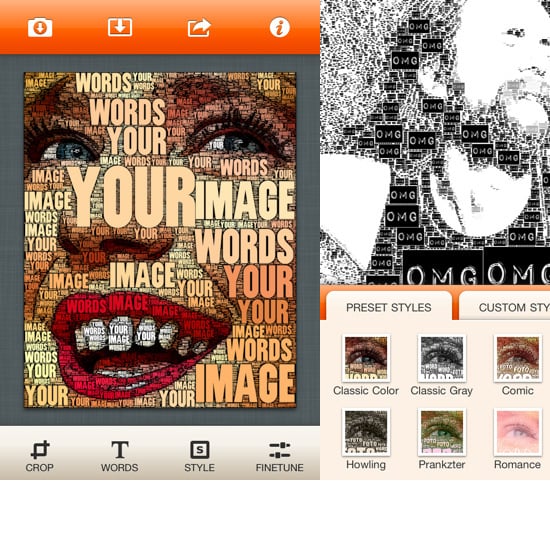 WordFoto
Instead of adding words on top of photos, WordFoto ($2) turns your pictures into images made of words. The word-filling algorithm automatically turns your images into graphic works of art. The app also has tons of fine-tuning options to edit shadows, highlights, brightness, and color tolerance.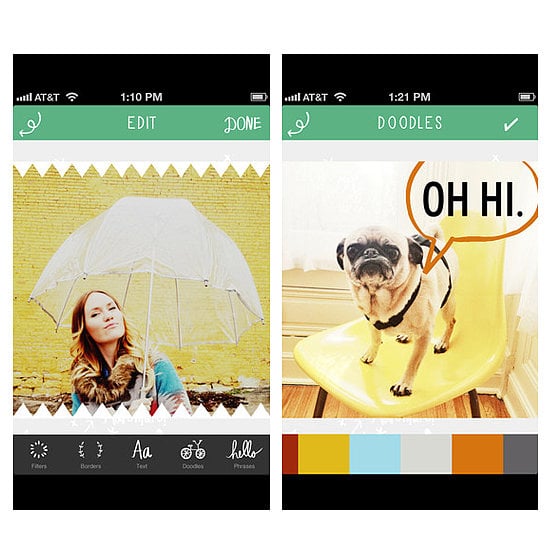 A Beautiful Mess
Scrapbooking meets Instagram meets blogging with A Beautiful Mess ($1), a fun photo app by the blog of the same name. There's fonts, doodle, and word bubbles, plus extra design elements for $1 per pack.