Coming up short on Valentine's Day date ideas? If you and your sweetheart are more of the geeky persuasion, simply hitting up an overpriced restaurant just won't cut it. Check out these 50 date ideas that incorporate science, tech, and video games for a special Valentine's Day. But don't limit yourself — tackle these date ideas all year!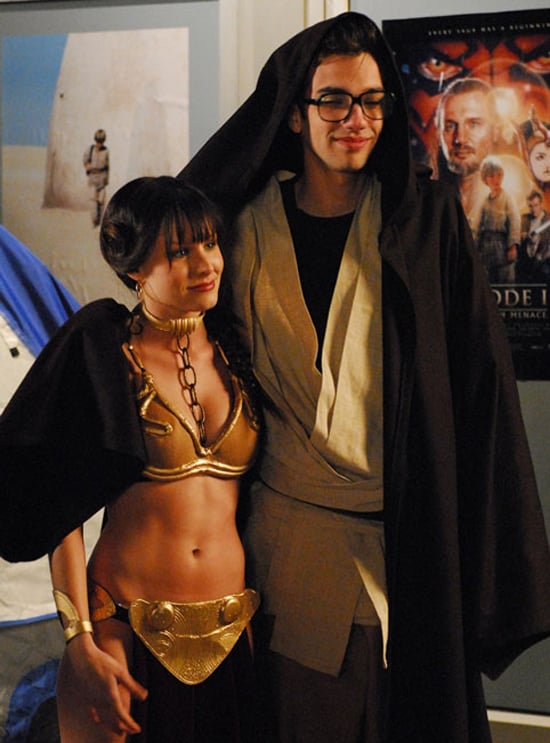 Bundle up, pack a dinner picnic, and head to the park for some stargazing.
Watch Contact (for the millionth time).
Go to a science museum.
Hit the natural history museum and check out your favorite dino bones.
Go retro — grab a roll of quarters, a slice or two, and hit the arcade.
Build your own planetarium with glow-in-the-dark stickers.
Catch up with the Doctor Who craze by watching the series from the beginning.
Throw a Star Wars party for two.
Whip up a batch of Cloud 9 mojitos (complete with mason jar glasses) and have a Battlestar Galactica marathon.
Visit Nerdy Day Trips and find geeky stuff to do near you.
Go to the planetarium.
Take a dream vacay to the Hobbit Hotel in New Zealand.
Spend a few romantic nights in the Hobbit House of Montana.
Visit the actual Lord of the Rings movie set.
Travel to the Chott el Djerid salt lakes in Tunisia, which were transformed into Luke Skywalker's home on Tatooine.
Sing a duet with these karaoke apps. Might I recommend "More Than Words" by Extreme?
Break out the Legos and build your own colorful city.
Make some Lembas bread and watch The Lord of the Rings trilogy.
Tackle career mode and tour your way through Rock Band together.
Walk through a vivarium to check out some exotic reptiles.
Create a photo scavenger hunt. Each of you writes down a random clue, rhyme, or abstract fact about three locations, then exchange clues and have the other person take photos based on the clues received.
Take a trip to Stovepipe Wells Village in California's Death Valley, where R2-D2 wandered the same sand dunes in Star Wars.
Build a mobile phone-based scavenger hunt using SCVNGR. The prize? You, of course!
Grab this molecular gastronomy kit and get geeky in the kitchen.
Bake some geeky sweets using Star Wars- or Marvel-themed cookie cutters.
Create your own cocktail and top it off with nerdy ice cubes.
Gift a geeky cookbook and try out a recipe together.
Take a pilgrimage to Lake Como in Italy to visit the place where Anakin Skywalker and Padmé Amidala were married — on the terrace of the beautiful Villa del Balbianello.
Grab your cameras and spend the day snapping photos of your hood.
Honor your shared love of photography by baking some camera cookies.
Top off a retro gaming session with Pac-Man treats.
Go to the physics-defying Mystery Spot in Santa Cruz, CA.
Play a story-centric game together, like Heavy Rain or Alan Wake, from start to finish.
Make a pink Captain Picard cake to celebrate Valentine's Day and your mutual love for the captain who is number two in your heart.
Build a blog together . . . who knows, it could be worth millions one day!
Take in a killer sci-fi classic at your local drive-in.
Visit an air and space museum.
Go to a children's science museum to explore the laws of physics on simplified and fun terms (aka a building full of toys to play with).
Download a DJ app on your iPad and spin some tunes.
Pack a tech suitcase and get to know your city (or a new location) with the help of some apps.
Take a Segway tour or walk through an audio app tour of your city.
Take a walking tour through Tall Trees Redwood Grove in Humboldt County in California, where the Endor scenes of Return of the Jedi were filmed.
Use as many Scoutmob, Gilt City, and Groupon coupons as possible in one day.
Attend a silent disco (a silent dance floor where you bring your own headphones and dance to your own music).
Convene with animal couples at your local aquarium.
Do a bar crawl to hit up the city's best photo booths. Take a set of pics and have a different cocktail at each.
Make funny GIFs of your favorite memories together.
Battle it out in an epic match of Super Smash Bros. Brawl.
Say cheese and challenge yourself by posing for self-portraits together using every filter in Instagram or every film style in Hipstamatic in different locations.
Make some Earl Grey tea and watch a Star Trek marathon.
Have some date ideas of your own? Leave them in the comments!
— Additional reporting by Kristy Ellington