Want to have a little salt rubbed in your open wound today? Cool, I'm here to help with that. It's been years, but the pain of Dumbledore's death still hasn't really faded (at all), and these Half-Blood Prince quotes will remind you (or enlighten you in case you missed it!) how Dumbledore and Harry's entire relationship came full circle in the end.
In chapter four of Harry Potter and the Half-Blood Prince, Dumbledore takes Harry to meet Horace Slughorn in hopes that Harry's "Chosen One" status can sway him to come back and teach at Hogwarts. As you'll remember, good old Horace was a bit hesitant because, as he puts it, "taking up a post at Hogwarts just now would be tantamount to declaring my public allegiance to the Order of the Phoenix!"
On the way to see Horace, Dumbledore tells Harry to keep his wand at the ready, just in case something happens (they were living in dark times, after all). But, he assures Harry that he need not worry about being attacked. "Why not, sir?" Harry asks. "You are with me," Dumbledore answers. What seems like a simple reply — very Dumbledore-esque in nature, of course — comes completely back around again toward the end of the novel. A recent Reddit thread put two portions of the book together — the section from chapter four and one from the very end of chapter 26, after Dumbledore is forced to drink the poisonous draught in Voldemort's cave: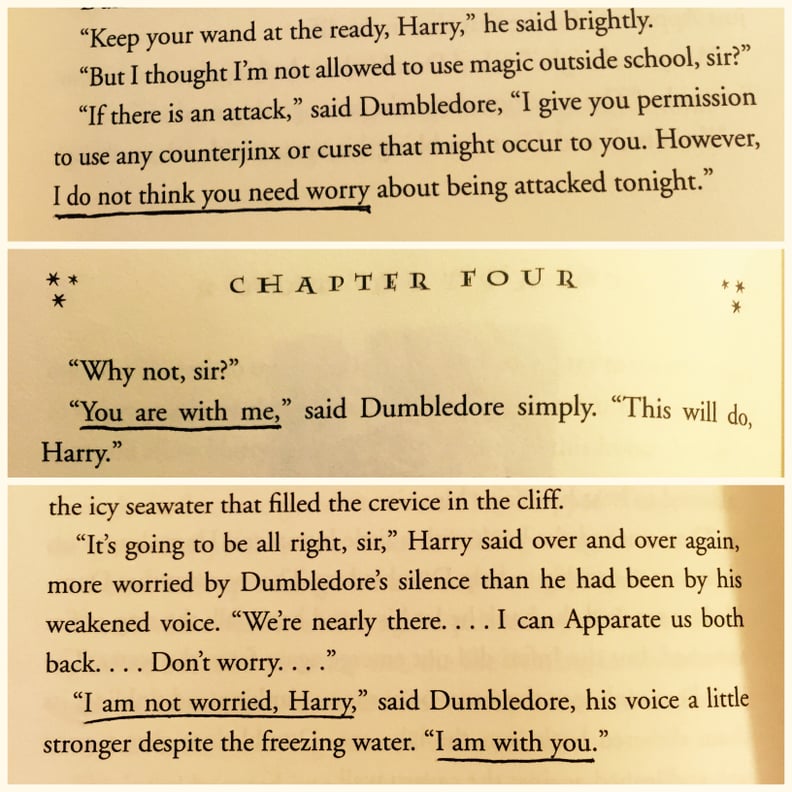 The touching moment brings not just the beginning and ending of the book together, but it ties together Dumbledore and Harry's entire relationship in a beautiful and simple way. Harry, once the child and the student, has now become a man — and someone Dumbledore considers his equal. One Redditor made a great point, saying that "in all instances, the basic theme is that Harry has taken on the role of the man, the adult, the guardian: Dumbledore knows he's taught Harry everything he can, and that Harry is ready to step into his own to fight Voldemort."
Dumbledore knew at this point for quite some time that he was dying, and with these words, he is passing the torch to Harry and giving him the confidence he needs to go forward and destroy the Horcruxes and ultimately Voldemort himself. It's a pretty fitting way to say goodbye, I'd say.