About to use Comic Sans? Put down that mouse, friend. There is a wealth of gorgeous, playful, bold, eye-catching new fonts that are ready for you to download (look at all of these free ones!) and use at your disposal.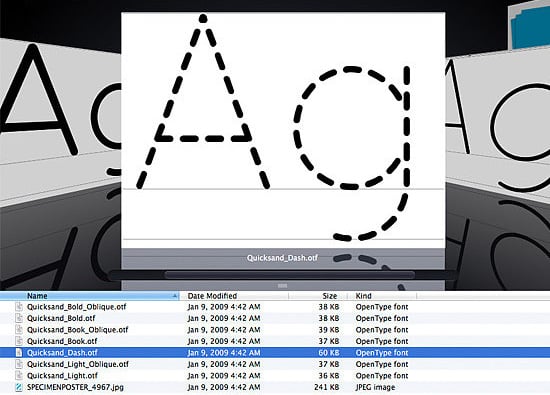 The font options are endless, and their applications are too. Spice up a Powerpoint, create beautiful personalized paper goods, or make a custom text-on-photo cover for the Facebook album of photos from your island vacation. Find out how to install type sets once they're downloaded using your Mac's best-kept secret — Font Book.
1. Close all applications
Microsoft Word, Powerpoint, Photoshop . . . whatever you're using, shut it down. When you reopen these applications, the new fonts will be installed and ready to use.
2. Download fonts and locate the font folder
Once you've downloaded the font from the web, open the folder where it's located. Typically, font sets are downloaded as zip files, so you may need to unarchive them. They will either be TrueType (.ttf), OpenType (.otf), or PostScript Type 1 (.ps1).
3. Double-click on the font
Clicking on the font file will open Font Book automatically. You'll see a dialog box with a preview of the font. Press "Install Font." Voilà — the font is installed!
3. (cont.) OR you can drag and drop the files
If you've downloaded a font with different "weights" (bold, italic, extra bold, etc.), then make sure to grab all the files. Select everything you need, and drop it into the Font Book window.
4. Reopen your applications
The new fonts should be installed and ready to go! Have any questions? Send us your font troubles in the comments below.
Windows user? Follow these steps: Start button > Control Panel > Appearance and Personalization > Fonts. Click File > Install New Fonts (if you don't see file press ALT). In Add Fonts (under Drives), select the drive where you want to install the new font, and under Folders, click the fonts you want to add. Click Install.