Instagram Just Released a "Captions" Sticker, Which Will Add Subtitles to Instagram Stories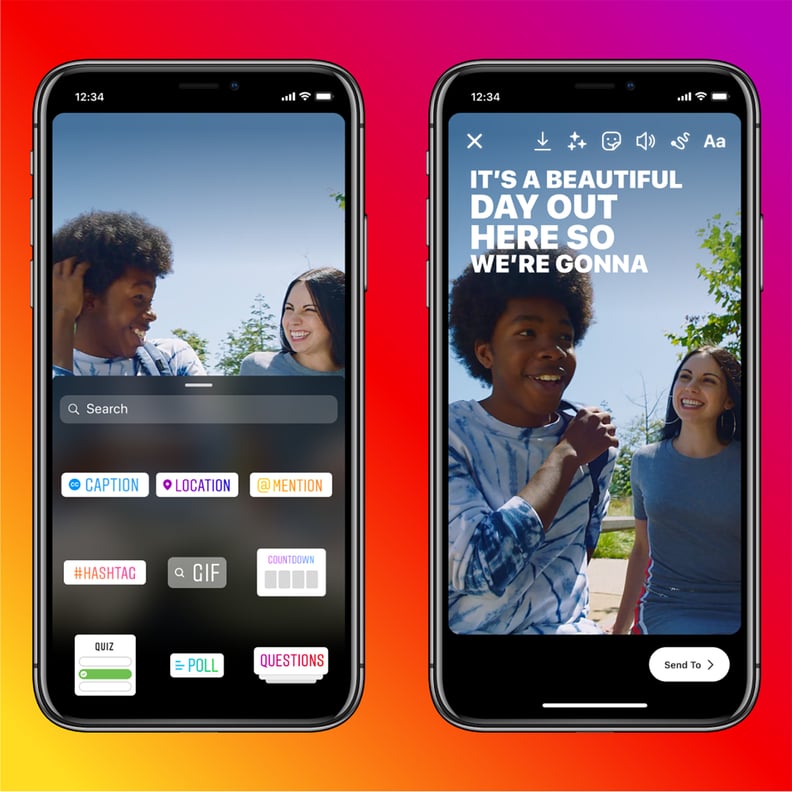 Photo Courtesy of Instagram
Photo Courtesy of Instagram
The rumors have been discussed for months, but we're happy to report it's official: Instagram has added auto-generated captions to its Stories! The new tool will allow creators to reach a whole new audience — including those with hearing disabilities — in a more effortless way. The captions work just like a sticker and will transcribe the audio of your video into synchronized text, allowing users to read or listen to content as they tap through. The format is similar to Instagram's music lyrics tool and even offers the same four font options, so it already feels familiar.
How Do You Add Captions to Instagram Stories?
Instagram captions are available with the latest version of the app and can be found in the stickers section in the top right-hand corner of a story that's been filmed or uploaded. The sticker is blue and says "captions" — once you tap on it, the audio of your story will begin transcribing and when it's done, you'll have the option to personalize your video's subtitles by changing their style, text, or color. The text, in particular, is helpful because it allows you to edit or correct any typos the auto-generated tool might have misunderstood.
Are the Captions Available in Other Languages?
Instagram has launched a translations feature that will allow users to translate captions in over 90 different languages. To do this, a "See Translations" banner will pop up in the upper left-hand corner of a story if another language is detected, tap it, and your translation will appear! It's important to note that this feature is only available for stories with text and not for audio (yet).
Do Instagram Reels Have Captions?
Currently, Instagram only offers captions in Threads, Stories, and IGTV (which allows users to caption their videos in up to 16 different languages). However, according to a press release, Instagram plans to start testing in Reels soon — so be on the lookout!