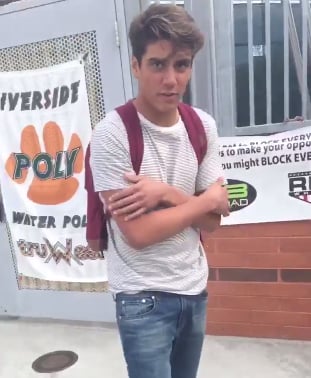 Twitter | josholzz
"Damn, Daniel." If you haven't been slammed with the phrase at least 1,000 times this year, then we can assure you that your time will come soon, because Daniel and his white Vans are pretty much taking over the Internet.
You might be wondering, "Who TF is Daniel? And why is everyone talking about him?" Well, Daniel made his debut in a 30-second video posted to Twitter on Feb. 15 by his friend Josh. In the video, Josh captures Daniel walking around, smiling, looking cool, and showing off his outfits. Josh, unable to control his amazement at Daniel's swag, compliments his friend by exclaiming, "Damn, Daniel!" Josh seems to especially love it when his bud comes to class "back at it again with the white Vans."
Both terms have since sparked an Internet frenzy and have become the new way to compliment your friends, ignite the love in a bromance, or just be annoying AF. The video has been retweeted over 300,000 times and has since resulted in a variety of memes and even a rap song. The video has become so popular that the two boys behind the video were guests on The Ellen DeGeneres Show, and they even have a cameo in the new Weezer music video, "California Kids."
While we still can't put our finger on what makes the video so hilarious, we admit: once you watch this a few times, it'll be hard to not get Daniel (or his white Vans) out of your head. Read on to crack up at some of the hilarious memes.