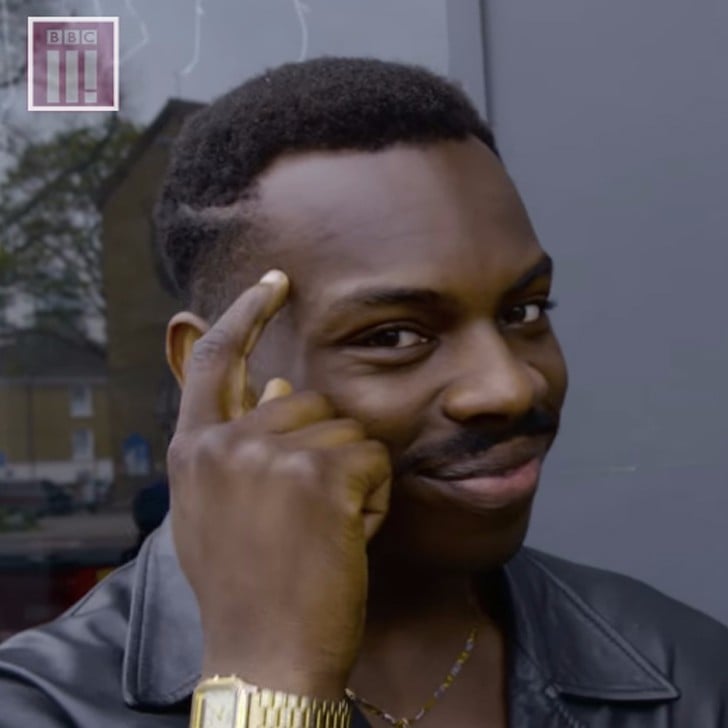 We're only two months into 2017 and the internet has already blessed us with several amazing memes. From the Hollywood sign change to Salt Bae, it's hard to imagine what could come next. That's where roll safe, the internet's new favorite meme comes in, here to offer you advice you didn't know you needed.
Reece Simpson, aka Roll Safe, aka RS, is a character played by actor Kayode Ewumi. The character is an aspiring rapper, and his dreams and life are "captured" in a mockumentary called Hood Documentary. The six-part series aired on BBC Three's YouTube channel. The first episode, called "Happy Belated," was uploaded on June 1, 2016 and includes the now-infamous meme. In it, the filmmaker is talking to RS and his upcoming date. The filmmaker asks, "Oh, so you're attracted to intelligence, RS?" He responds, "Yeah man, I think Rachel is beautiful because she's got good brains." He then points to his head and smiles. Watch the episode below.
This single episode has more than a million views and inspired the Roll Safe meme. Basically, the meme pairs RS pointing to his head and smiling, with some terrible piece of advice. See some of the best Roll Safe memes ahead.
Tough day? Just go to sleep.
This is one way to remain body positivity?
Kids, we don't recommend trying this.
Nothing like bringing back advice from Shrek.
Just one more reason to eat McDonald's.
This goes out to all the single ladies.
Hard to argue with this logic.
For anyone who needs a vacation.
This goes out to everyone's co-workers.
This is one way to improve your credit score.