Kanye West Running For President
29 Reasons Kanye West Will Be the Greatest President of All Time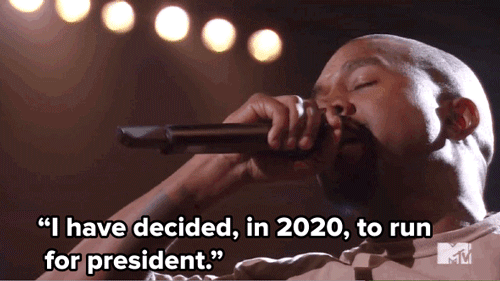 1
29 Reasons Kanye West Will Be the Greatest President of All Time
Kanye West — the bodacious rapper, producer, and self-proclaimed genius from Chicago. He's compared himself to the likes of Steve Jobs and Walt Disney, took on the moniker "Yeezus," and during a 12-minute speech at the 2015 VMAs, he took the world (
and even his wife
) by surprise when
he announced
that he would be adding president to his growing résumé. While it's still not clear if Yeezy was joking or being totally serious, the thought of him running for office started to dawn on us. President Kanye West sort of has a nice ring to it,
right
? Even if you're not in favor of leaving the future of our country in the hands of Kanye, there's no denying that a man of his influence and personality would make a memorable candidate for office. He's already been endorsed by his cult of fans and has gotten backed by celebs like Miley Cyrus, Taylor Swift, and even
Chelsea Clinton
— and we totally understand why. Turns out, Kanye might have the chops to make a pretty decent politician. Read on for all the hilarious reasons he's got our vote, too.