Katy Perry Diet and Exercise Routine
Katy Perry's Fit Philosophy
Singer Katy Perry has an amazingly fit body to go along with her strong and bold voice but jumping on stage isn't the only way she stays in shape. The 27-year old, who's the new face of PopChips, is all about eating right, exercising, and even meditating.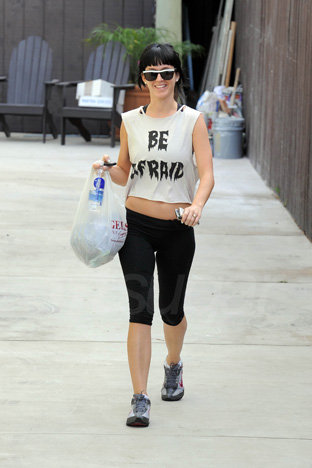 An immune-boosting diet: While occasionally indulging in fast-food places like the In-N-Out Burger, Katy is also a fan of Harley Pasternak's Five Factor Diet. It encourages you to eat five small nutritious meals a day, and to exercise five times a week. She recently told People that now she's all about light, brothy soups, grilled chicken, whole grains like quinoa, and grilled asparagus. She gets vitamins and nutrients from fresh-pressed juices and coconut water and focuses on eating a balanced diet to keep her energy levels high for performances and to avoid getting sick.
Smart swaps: Katy has a salt tooth, so when she's craving something like Mexican food, she finds a healthier version such as quesadillas with turkey, black beans, and low-fat cheese.
How she stays fit: This pop singer prefers getting outside instead of hitting the gym and enjoys hiking and peddling around on a bike. But she also makes time for workouts designed by trainer Harley Pasternak and loves jumping rope.