Cupcakes! Vanilla-Thyme Cupcakes (lotsa pics)
Here I am again with another sweet recipe!
I don't know what has gotten into me, I have turned into a complete sweet tooth.
I might just have to make a baked desserts group or something, because sweet bakes is all I've been posting lately.
I hope everyone is enjoying these recipes, as much as I am, because many more are yet to come! :D
The other day I was browsing around one of my fave food blogs, Vanilla Garlic. The recipes in this blog are amazing, very different and original. One of the blogs specialties are cupcakes and boy do I like cupcakes.
There are ALL KINDS of cupcake recipe there, such as, Bacon Cupcakes, Pea Cupcakes, Green Tea Cupcakes to Butternut Squash Cupcakes!
They may sound oh so weird but let me tell you, from the ones of tried, they are damn good. :P
One I recently tried was Vanilla-Thyme Cupcakes, I had no idea that vanilla and thyme would go so well together, it was a completely new sweet taste to me, I loved them!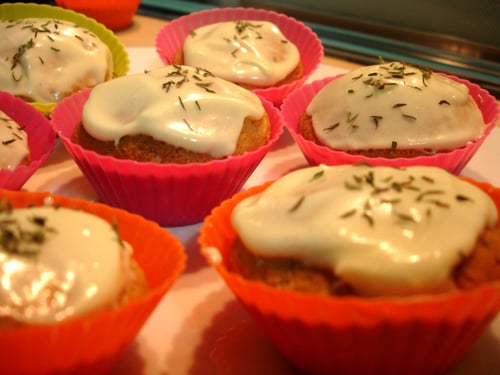 Cupcakes! Vanilla-Thyme Cupcakes (lotsa pics)
www.vanillagarlic.blogspot.com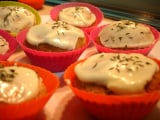 Ingredients
For Cupcakes:
3/4 cup (1-1/2 stick) unsalted butter, room temperature
1-2/3 cups vanilla sugar
2 large eggs, room temperature
2-2/3 cups flour
1-1/2 teaspoons baking powder
1/4 teaspoon salt
3/4 cup + 2 tablespoons milk
1 teaspoon vanilla extract
1 vanilla bean, seeds scraped out
2 teaspoons of loosely packed, fresh thyme
For Vanilla Bean Cream Cheese Frosting:
1/2 cup of butter (1 stick), room temperature
8 oz of Philly cream cheese (1 package), room temperature
2 - 3 cups of powdered sugar
1 teaspoon of vanilla extract
Scrapings from 1/2 of a vanilla bean
Directions
Cupcakes
1) Beat the butter and sugar together for a few minutes until light and fluffy.
2) Add the eggs, one at a time, beating in each for 30 seconds.
3) Measure the flour, baking powder, salt and thyme into one bowl.
4) Measure the milk, vanilla bean scrapings, and vanilla into another bowl.
5) Add about a third of the dry ingredients to the butter/sugar and beat to combine. Add about a half of the milk/vanilla and beat to combine. Continue adding, alternating between dry and wet and finishing with the dry.
6) Scoop into cupcake papers about 2/3 full. Bake for 22-25 minutes or until a toothpick comes out clean. Allow to cool on wire racks. When completely cool, frost with cream cheese frosting.
Vanilla Bean Cream Cheese Frosting
1 With an electric mixer, mix the butter and cream cheese together, about 3 minutes on medium speed until very smooth. Scrape down the sides and bottom of the bowl to ensure even mixing.
2 Add the vanilla extract, vanilla bean and mix. Slowly add the powdered sugar. Keep adding until you get to desired sweetness.
3 Either spread on with a blunt knife or spatula, or spoon into a piping bag to decorate your cake or cupcake.
4 Sprinkle some Thyme on top to decorate
Information
Category

Desserts, Cupcakes