Middle-Eastern Beef Stew- Family Friendly
Posted this in The Children's Table Group but wanted to let others know about it too!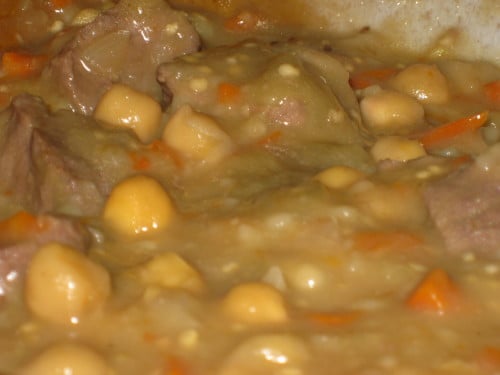 Middle-Eastern Beef Stew- Family Friendly
Source: The Baby's Table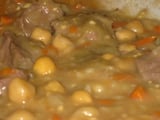 Ingredients
2 tbsp olive oil
1/4 onion diced (I used a full one)
1 tsp grated ginger – optional (I used a sprinkle of powder)
1 tsp ground cumin
1/2 medium eggplant, washed, peeled, diced
1 can chickpeas, drained and rinsed
8 cubes stewing beef (I think I had about 24...?)
1 carrot, washed, peeled, diced
2 cups water
1/4 cup chopped fresh parsley (optional)
~ 4 tbsp whole wheat flour (not in original recipe, I added to thicken stew)
Directions
In saucepan, heat oil over medium heat; sauté onion and ginger for 5 minutes. Add cumin, eggplant and chickpeas; continue to sauté for another 20 minutes
Add beef, carrot and water; stir. Bring to a boil. Reduce heat and simmer, partially covered, until meat is cooked, 25-30 minutes. Stir occasionally. The consistency should be that of a thick stew. If you feel there is too much liquid, remove the lid for the last 5 to 10 minutes of cooking. (This is where I added flour). Remove from heat add parsley and stir.
Serve.
Information
Category

Soups/Stews, Stew

Cuisine

Mediterranean/Middle Eastern