Smoky Miso Tofu Sandwiches
I love sandwiches, but I typically don't post any unless they are unique and out-of-this-world. This sandwich is just that! The baked tofu slices will keep in the refrigerator for a while for future lunches, snacks, pasta salads, etc. I end up making a batch every couple of weeks. When it comes to sandwiches, anything goes! Add your favorite ingredients. I like mayo, roasted red pepper, spinach, a Tofutti cheese slice. I sometimes substitute the roasted red pepper for tomato. My husband likes to add some balsamic vinegar. Just go for it! (But if you just can't do tofu, try the marinade on chicken breasts or steak).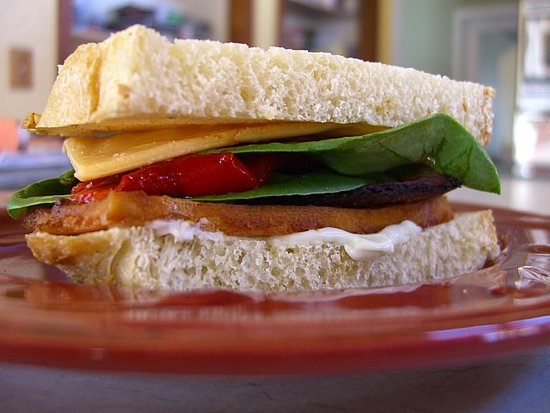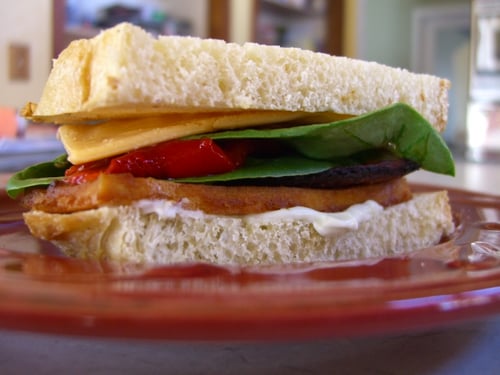 Smoky Miso Tofu Sandwiches
Vegan Yum Yum cookbook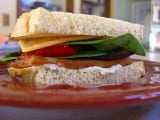 Ingredients
1 block extra-firm tofu, drained and pressed
3 Tbs red miso
3 Tbs lemon juice
3 Tbs sugar
3 Tbs tamari or soy sauce
1 Tbs nutritional yeast
1/4 tsp Liquid Smoke flavoring
Your favorite sandwich bread
Directions
Preheat oven to 425. Wrap drained tofu in a few paper towels. (What I do is wrap in paper towels, place in/on a large dish or plate. Top with a plate and then stack 2-3 heavy cans on the plate. I press down just a little. I wait 5 mins then re-wrap tofu again in new paper towels and repeat. Works great). Meanwhile, mix together the miso, lemon juice, sugar, tamari, yeast, and Liquid Smoke to make the marinade. Unwrap tofu and cut many thin, width-wise slices with a large knife. (Don't use a serrated knife--you don't want to saw your way through the tofu. I like it a bit thick and got 17 slices, but depending on how thick or thin you want it, you can get 20 slices). I then line a large cookie sheet with aluminum foil. I brush one side of each tofu slice with the marinade, placing the brushed side down. Then I brush the other side. Let the slices absorb the mariade for 10 mins, then brush just the tops again. Bake for 20 mins (unless you go really thin with the slices--check after 10 mins). Remove from the oven and let the slices cool on the sheet. (I like them a bit warm). The tofu should be darkened around the edges, but not burned.
To make a sandwich, I toast a couple slices of sour dough and add my favorite sandwich toppings! Here's some suggestions:
roasted red peppers
spinach
Tofutti cheese slices
cucumber
tomato
avocado
sprouts
Dijon mustard
bell pepper
The ideas are endless. What your favorite sandwich ingredients?
I store the leftovers in a well-sealed container in the fridge. Dice up the slices for pasta salad, stir fry, rice, or just plain snack on it! Enjoy!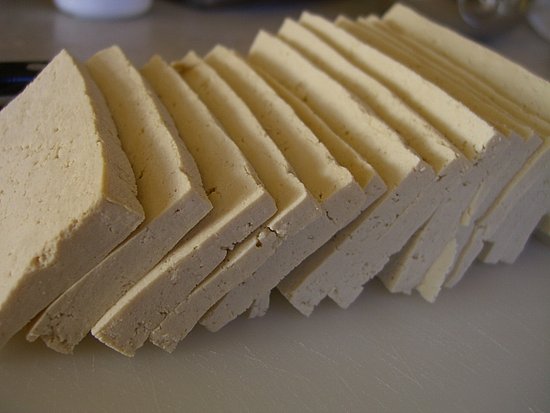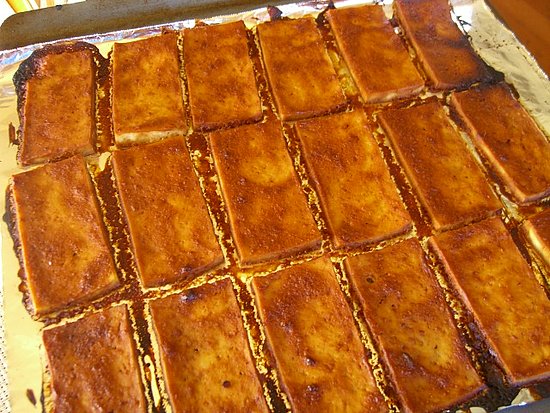 Information
Category

Main Dishes, Sandwiches