2012 Olympics Beauty Rules
Beauty Slip-Ups That Could Cost Olympians the Gold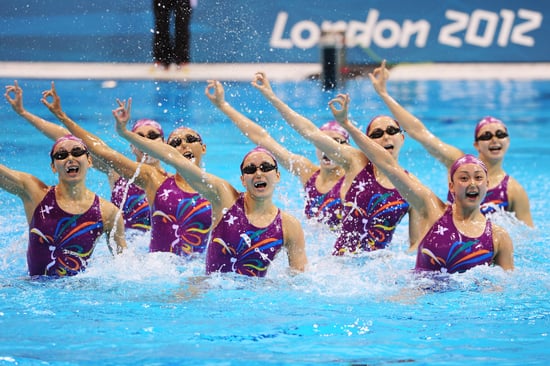 Olympic athletes have endless worries: their competition, the judges, and . . . their hair? The weirdest rules of some of our favorite sports could make the difference between the gold and the silver medal. Even at the Olympics, there are beauty rules that can't be broken.
Synchronized Swimming:
While the primary concern for synchronized swimmers is touching the bottom of the pool, they could also get deductions if their headpieces go afloat. According to the Federation Internationale de Natation (FINA), "messy stray pieces" are also prohibited. That's why these water ballerinas use gelatin to keep flyaways at bay and freeze their style in place. Competitors must also cover any tattoos. And when their waterproof mascara doesn't stand the test, that's a problem, because running makeup is a blatant faux pas.
Trampoline:
These bouncing beauties are rather new to the Olympic competitive scene. But with all the upside-down action, there are strict hair-accessory rules. Ribbons, clips, and scrunchies that fall out could cause a 0.3 point deduction, according to the US Trampoline and Tumbling Association.
Gymnastics:
Despite all the uproar about the US teams' messy buns at the 2012 London Olympics, there are no set rules regarding hair. However, it is highly encouraged to wear hair off the neck. Plus, there's a reason you don't see neon nail polish on these tumblers. If a judge finds their dress distracting, then points can be taken away from their artistry score.