This morning, Sunisa Lee, superhuman and first Hmong American gymnast to compete in the Olympics, took home the gold medal in the women's artistic gymnastics all-around competition in Tokyo, etching herself a spot in the US sports history books. Yet, if you thought her Yurchenko double twist on the vault was masterly, move to the side: Lee did it all while wearing an impressively long set of acrylic nails. Zoom in, and you'll even spot a nail-art design of five Olympic rings smattered along her left pointer and middle fingernails.
The tiny detail is just that — minuscule in contrast to the athlete's momentous accomplishment — but it does lend itself to the overarching conversation around the role of beauty in sports, or rather, the expectation for women athletes to downplay their femininity in order to be taken seriously.
In my humble opinion, anyone who can flip, swirl, and handspring, multiple times, along a four-inch-wide balance beam while wearing long-ass nails deserves nothing but the upmost respect. Therefore, Lee gets a 10/10 all around from me, and not just because I can't look at my contact lenses while wearing press-ons without at least tickling my cornea.
It's more that Lee serves as direct proof that you can be an Olympic athlete (or regular athlete, or even someone who just enjoys PE class) and still love doing your nails, wearing sparkly eyeshadow, dyeing your hair, or otherwise showing your femininity with pride if you so choose — and win.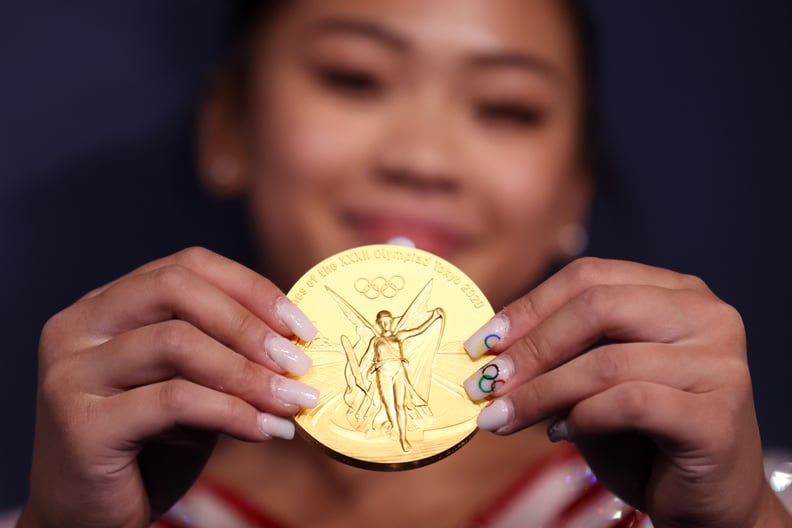 Olympic runner Christina Clemons said it best in a recent POPSUGAR interview: "A lot of people may not expect female athletes to look feminine. I believe it's important to show our femininity while being athletic because it is a strength, not a weakness."