"I'm Alison — it's nice to meet you," I say, passing out pens to each person who walks into the room. "I know! It's so great to see you. I love your work!" replied Rebecca Seals, a fiery redhead. Normally, I would be flattered. But the problem is that my name isn't Alison.
Let's back up. I'm at Benefit Cosmetics Brow Search, where 20 contestants have been chosen out of 17,000 people to partake in a brow competition. It's the second year of "Camp Benefit," as the brand calls it, which lasts four days and culminates in a grand prize of $50,000 and a year-long campaign with the brand. Each contestant will be placed on teams of five with influencer coaches and engage in different camp-centric activities to prove they are best in show when it comes to eyebrows.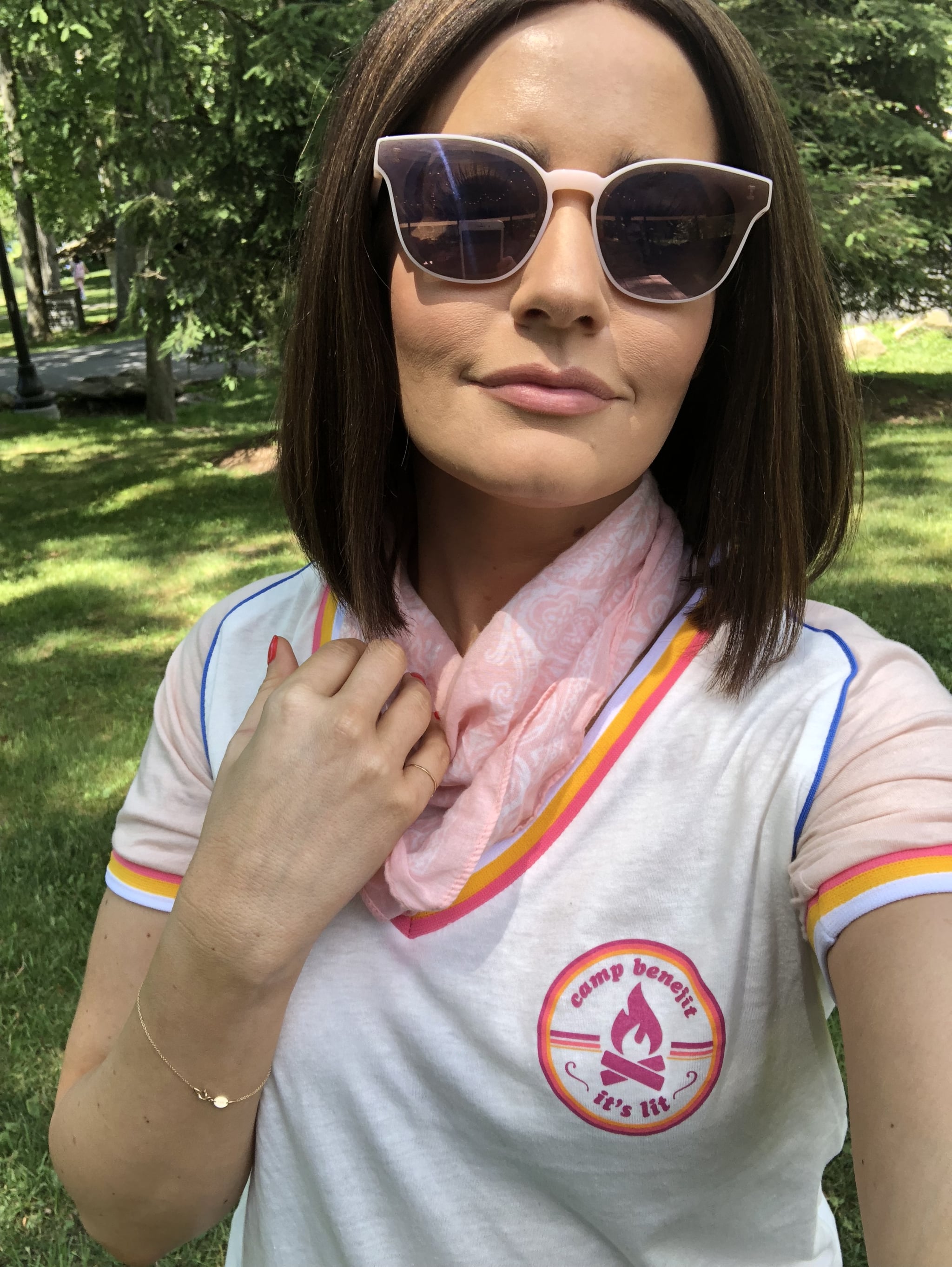 Going undercover. Instagram user @kirbiejohnson
I'm wearing a brunette wig in hopes of disguising myself as Alison Clemens, a new PR hire at Benefit celebrating my first year ("Beneversary") on the team. Going undercover, my hope is to learn how brands like Benefit are producing their own mill of influencers at camps like these and to see how the 20 contestants really play the game when the stakes are high. Benefit has asked me to join, but only the team and the coaches are aware that I'm a reporter. At the end of the shenanigans, my wig will literally be snatched when I reveal who I really am — and part of the grand prize will be a feature on POPSUGAR. The contestants have no clue.
Well, except for Seals, we think. I thank her for the compliment and carry on, hoping my cover hasn't been totally blown.
We've arrived in Manhattan on a Sunday for the welcome party ahead of our hour-and-a-half journey to Cedar Lake Estate in the Hudson Valley, giving everyone the chance to meet and bond before our trek to the woods. The spread of campers is a motley crew: we've got people from Los Angeles to Venezuela. Some are makeup artists; some haven't touched a brush to anyone's face except their own. One contestant, Mackenzie Brown, performed as Ariel at Disney World. We've got Ivana "Ivi" Slobodianik, a mom with a full-time job in addition to her social media following, and a girl who says she actually "hated makeup last year," but people liked her makeup on social media so she moved in that direction.
It's interesting because social media has now become formulaic, with the algorithms and aesthetics. Several contestants mentioned that they moved locations for "social media," similar to how an actor might move to Los Angeles. While authenticity and determination play a huge role in social media fame, it's intriguing how online fame has changed — being a social media influencer is now a vocation, like becoming a lawyer or teacher. With experience, education, and mentorship, you can succeed, which is why many brands like Benefit are putting together competitions like Brow Search. The relationships developed with the coaches, plus brand recognition, could turn any of the contestants into an in-demand content creator with more opportunities, more clout, and eventually more money. Of course, the brand reaps the rewards of getting in on these smaller influencers before they "make it," similar to how reporters who agreed to interview Meghan Markle in 2011 are thanking the entertainment gods right now.
Some of these contestants are shy and reserved in real life, but on the 'gram, their personalities come out. Or are they their personalities? From what I learned, a few captions posted online did not depict the people I interacted with on site. It seems that everyone here has the right strategy, look, and formula to catapult them into the micro-influencer (or mega-influencer, for some) category, with some more authentic than others. Would this ring true for the rest of camp?