Fake-Nail Tips
What You Need to Know About Wearing Fake Nails For Halloween
As POPSUGAR editors, we independently select and write about stuff we love and think you'll like too. If you buy a product we have recommended, we may receive affiliate commission, which in turn supports our work.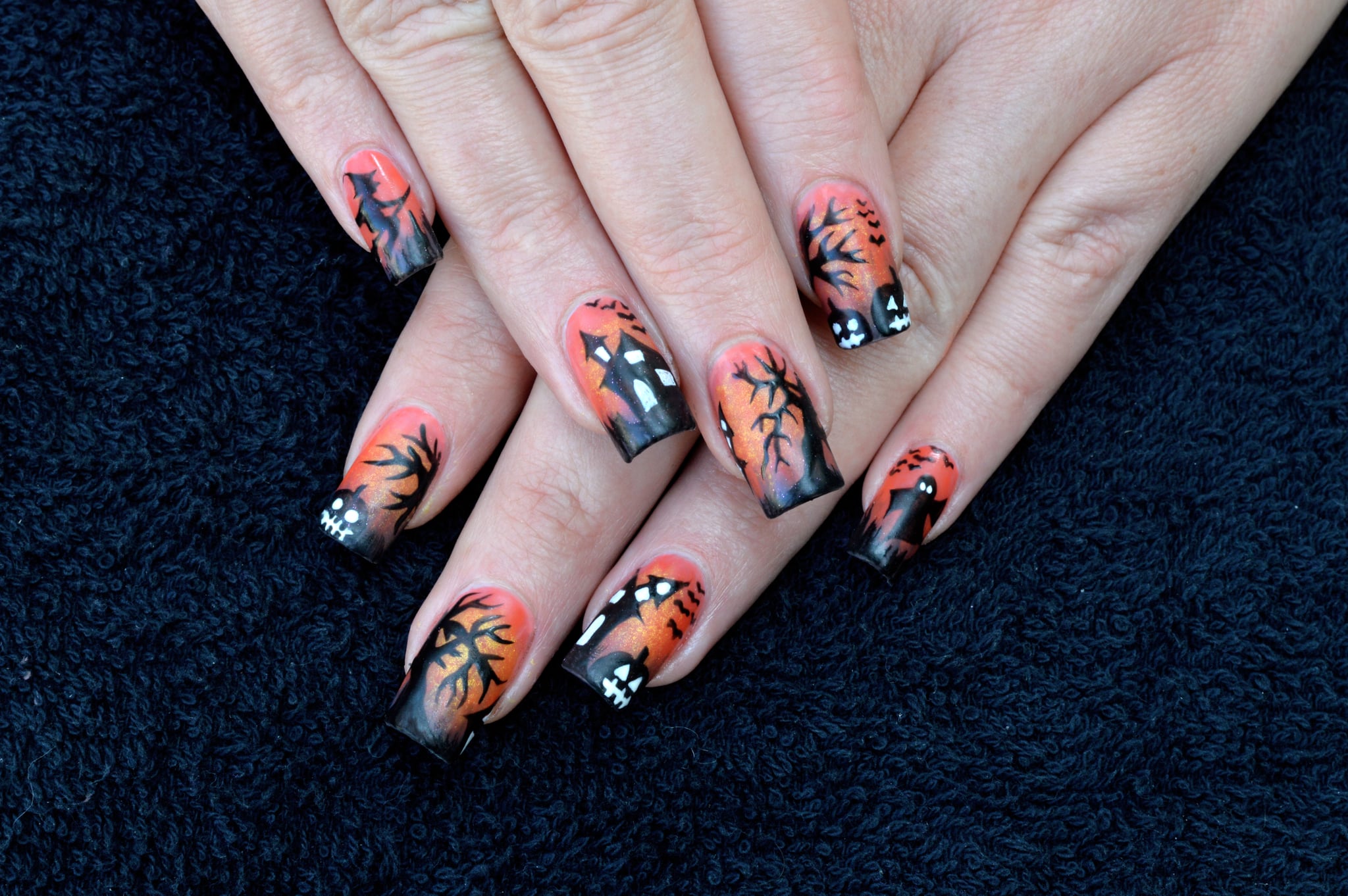 Halloween is the perfect time to play with a fabulous new look, and the best costumes always come down to the details. So while you're mastering everything from the actual ensemble to wigs and makeup, don't forget one of our favorite parts: the nails. Patricia Yankee, international celebrity nail designer, and Gina Edwards, celebrity manicurist for KISS products, share their tips for mastering the art of fake nails.
Tip #1: Figure out the shape you want/need.
Both Yankee and Edwards agree the first tip to successfully wearing a set of fake tips is to get the shape just right. "It is always wise to adjust the length and shape prior to application," Yankee says. "Check them as you go along nail by nail to make sure the length and shape is even."
If the fake nail is not the right shape, get out your file. "Mastering the nail shape takes time with a good file," Edwards advises. "Always look at the nail from several angles before moving on to the next nail to ensure the shape and length is the same."
Tip #2: Start with a clean nail.
Once you're ready to apply, make sure to "start with a clean nail free from polish, oils, and lotions," Yankee explains. "Make sure the cuticle area is pushed back and cleaned of any attached skin that could interfere with the adhesion of the nail."
The best way to make sure you're starting with a clean nail? Acetone-based nail polish remover, according to Edwards.
Tip #3: Apply nails to your dominant hand first.
"Put the nails on your dominant hand first, then apply the nails on the other hand," Edwards says. "It makes it a little easier."
Tip #4: Glue gives you the best lasting power.
"If you want to feel secure and safe all night that you won't lose the nails, glue is definitely your best option," Yankee says.
Tip #5: There are other adhesive options.
If you're looking for a glue alternative, there are other options. "Broadway Nails imPRESS Press-On Manicure ($6) is a press-on nail that has the sticky tab adhered to the nail for easy peel-off and press-on application," Edwards explains. "Another option is the KISS Gel Fantasy ($9) nails, which include sticky tabs and glue in the kits."
Tip #6: Try plain nails to give your manicure a custom look.
"I think creating your own is always fun and makes your Halloween costume more unique," Yankee says. "You can decorate them easily by using double-sided mounting tape (from Staples) to secure them while you decorate them in your own style."
Try: Patricia Inspire Full Coverage Pre-Glued Nails Set ($8) or KISS 100-Count Full Nail Covers ($8).
Tip #7: Use olive oil to remove your nails.
Soaking your tips in acetone is the most effective method to remove tips that are glued on and is the only way to safely remove without damaging your nails. Olive oil is a more gentle option and can be used as an alternative to acetone when removing tips that are applied with adhesive tabs. "My favorite trick is using a small dish filled with olive oil," Edwards shares. "Place your fingers into the bowl for up to five minutes and take a wood stick and gently pry corners and around nail grooves to remove your tips."