The Best Press-On Nails to Give You an Instant Mani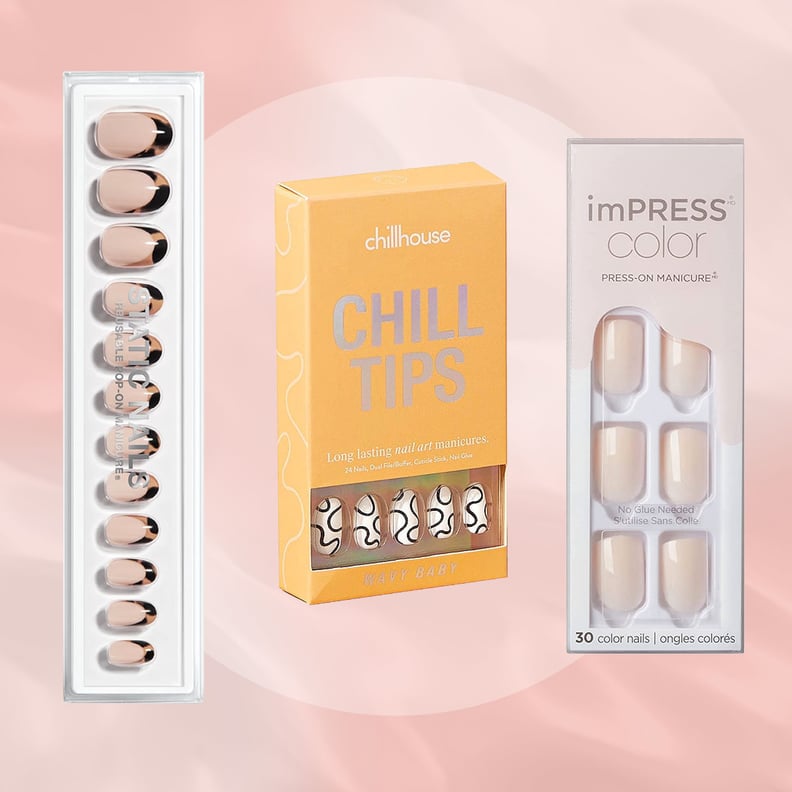 Getty | Anna Efetova and Static Nails / Chillhouse / Amazon
Photo Illustration by Ava Cruz
Getty | Anna Efetova and Static Nails / Chillhouse / Amazon
Photo Illustration by Ava Cruz
As POPSUGAR editors, we independently select and write about stuff we love and think you'll like too. If you buy a product we have recommended, we may receive affiliate commission, which in turn supports our work.
Nothing beats going to the nail salon and getting a manicure done by a professional — you leave the salon feeling like a million bucks. But when you can't get to one or you need to cut back on your spending, an at-home manicure can do the trick. The only caveat is you can't add length to your natural nails with just regular old nail polish. To achieve the look of longer tips at home, you need the best press-on nails on the market.
Press-on nails have come a long way in recent years. There's far more than just the square-shaped, one-style varieties that you'd find at the drugstore with your mom. The first step in creating a salon-quality mani at home is gathering the right tools. You can shop items piecemeal, like buying individual nail sets and the best press-on nail glue you can find, or go the easy route by grabbing yourself a fully stocked press-on nail kit. Then with a little practice using a tutorial for how to apply press-on nails, you'll be on your way.
Press-ons come in so many different lengths, shapes, designs, and patterns to match the latest nail trends. Some of the most popular brands include ImPress Nails and Kiss press-on nails, but there are also new options from brands like OPI, Olive & June, and more. Whether you go with the traditional adhesive tab option or step it up a notch with the glue-on style, fake nail sets are a fool-proof way to get great nails in minutes — especially if you have trouble painting and creating nail-art designs on yourself. They only take a matter of minutes to secure into place, and the longest-lasting press-on nails can last up to a week, depending on how hard you are on them — similar to a regular manicure.
From affordable options under $10 to pricier alternatives for an ultra-luxe-looking manicure, we rounded up the best press-on nails for you to shop ahead. Get ready to have people asking you where you got your nails done, only to tell them you put them on the night before at your kitchen table.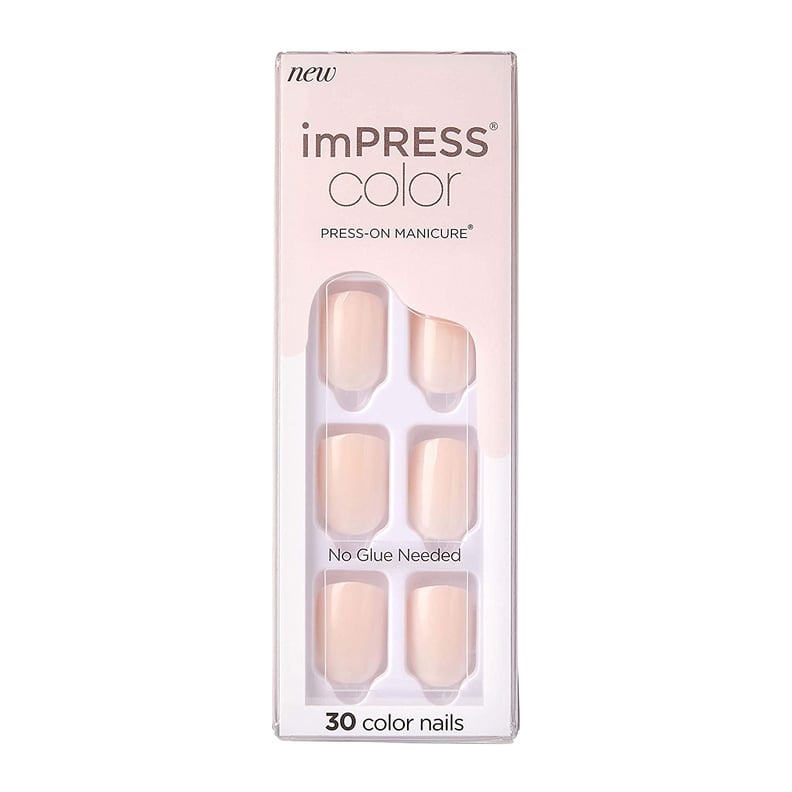 Best Affordable Press-On Nails
Kiss ImPress Color Press-On Manicure ($6)
Looking for short press-ons that look like your real nails? Look no further than the ImPress Color Press-On Manicure. They attach to your fingers using a peel-and-stick backing, meaning there's no need for glue.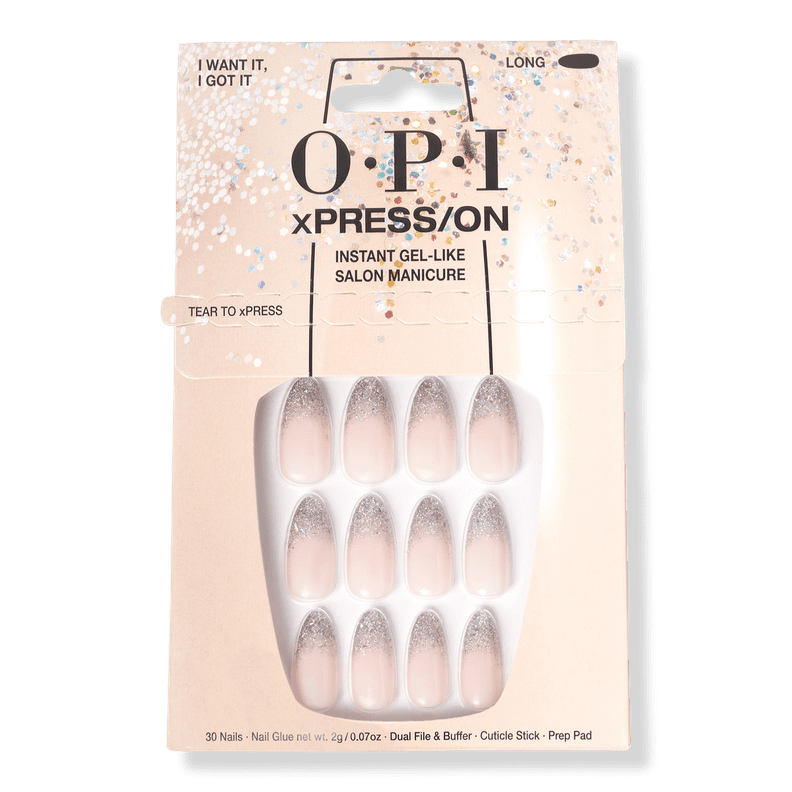 Best Natural-Looking Press-On Nails
OPI XPress/On Nail Art Press-On Nails ($16)
The OPI XPress/On Nail Art Press-On Nails will have everyone asking you where you got your manicure done. From the delicate shape of each tip to the designs, the nails look ultra realistic.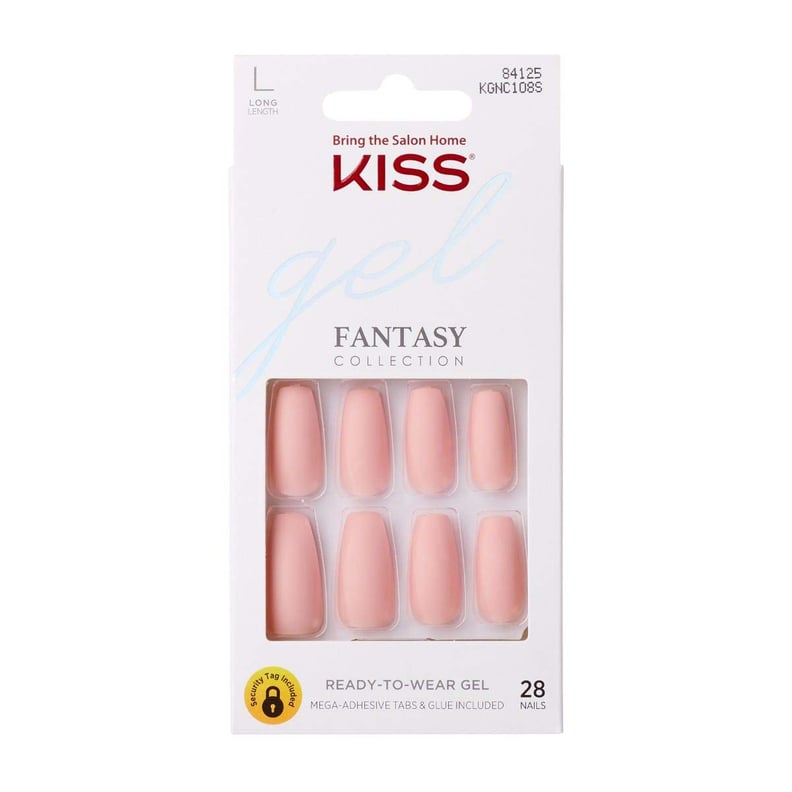 Best Adhesive Press-On Nails
Kiss Gel Fantasy Ready-to-Wear Press-On Gel Nails ($9)
Kiss has a press-on nail style for everyone. The brand's Gel Fantasy variety gives you the illusion of a long, ultrasmooth gel manicure. Each set contains 28 nails to allow you to find the best size for each finger, and they're applied with glue or adhesive tabs.
Best Long-Lasting Nails With Designs
PaintLab Press On Nails in Sweet Strawberry ($15)
Paintlab specializes in fun, on-trend designs that will have you looking like you just spent upward of $150 at the salon. Each kit includes 24 nails and a tube of the best nail glue for press-ons to help you secure them to your fingertips.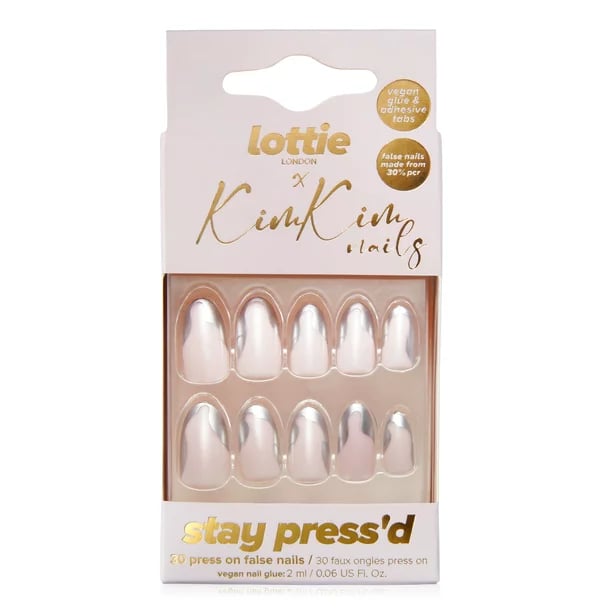 Best Trendy Press-On Nails
Lottie London x Kim Kim Nails Press-On False Nails Set ($7)
Created in collaboration with celebrity manicurist Kim Truong, these almond-shaped tips appear to be dripping in chrome — a trendy nail-art design right now. Each set comes with 30 nails, adhesive pads, nail glue, a nail file, and a wooden stick.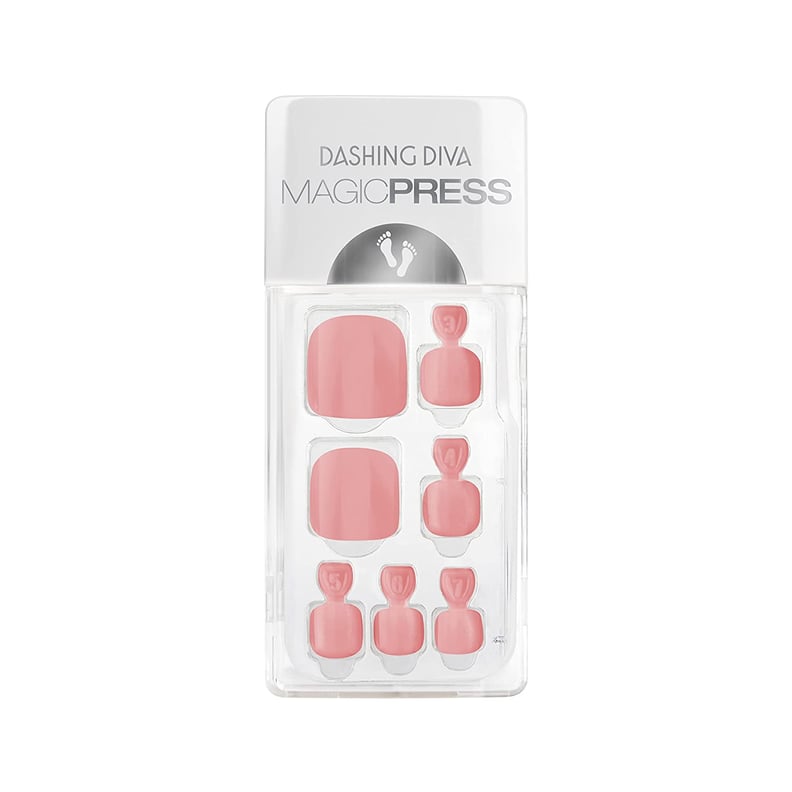 Best Pedicure Press-On Nails
Dashing Diva Magic Press Pedicure Nails ($9)
Press-on nails aren't just for your fingers. If you're in need of a quick pedicure, look no further than the Dashing Diva Magic Press Pedicure kit. Inside are 26 press-on nails in 12 sizes, a prep pad, a nail file, and a wooden manicure stick.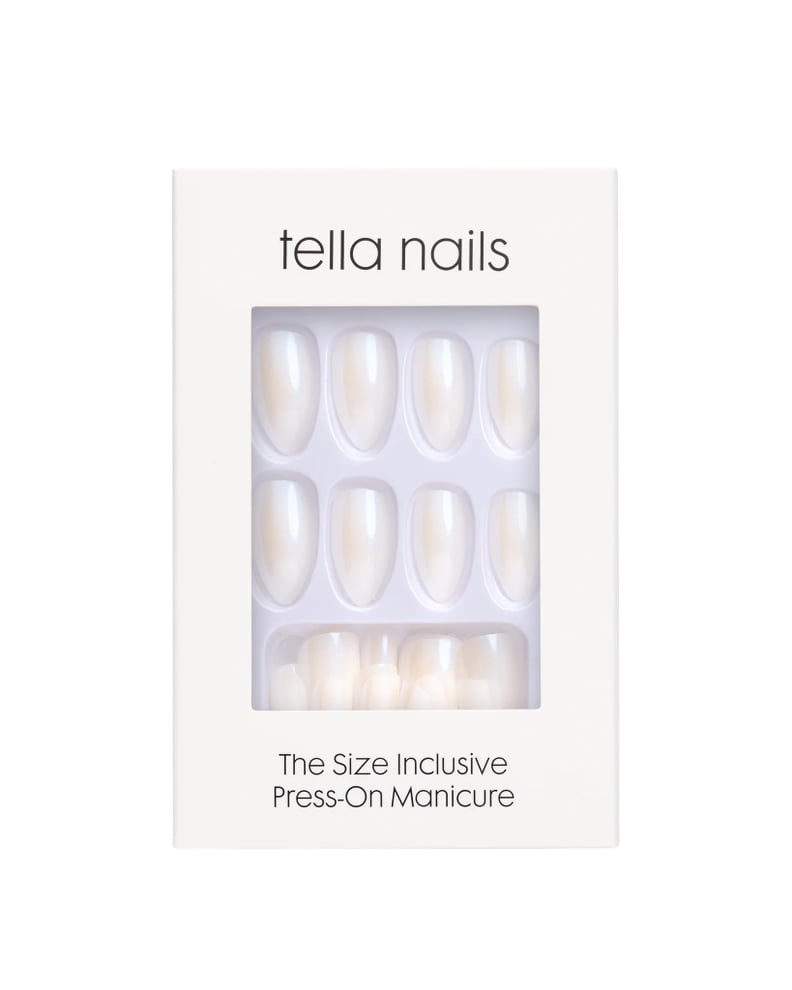 Best Minimal Press-On Nails
Tella Nails Glazed Press On-Manicure ($16)
If you're not a big fan of nail art and over-the-top designs, Tella Nails are for you. The brand carries a variety of basic, single-colored press-on nails to give you a sleek, minimal manicure in seconds. The brand also boasts size inclusivity, guaranteeing you'll find the perfect fit for your fingers.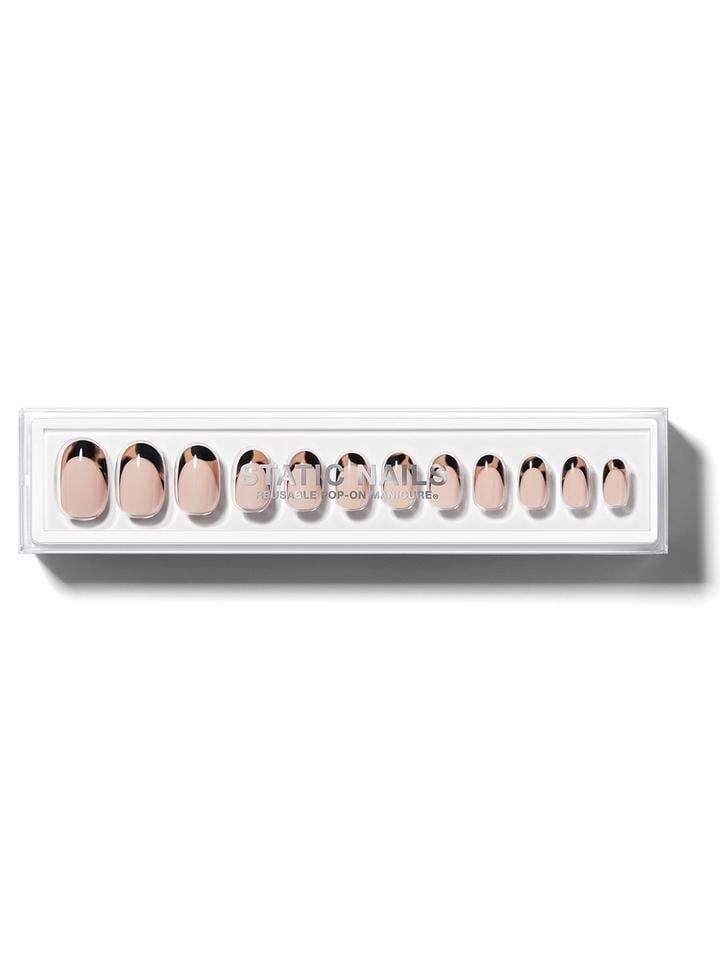 Best Reusable Press-On Nails
Static Nails Tortoise Shell French Mani Round ($18)
You know the tortoise french manicure trend that's all over Instagram? You can achieve the look with the Static Nails Tortoise Shell French Mani Round. The pop-on nails can be applied with the glue that comes in the set. They're also removable and reusable if you take care of them during wear.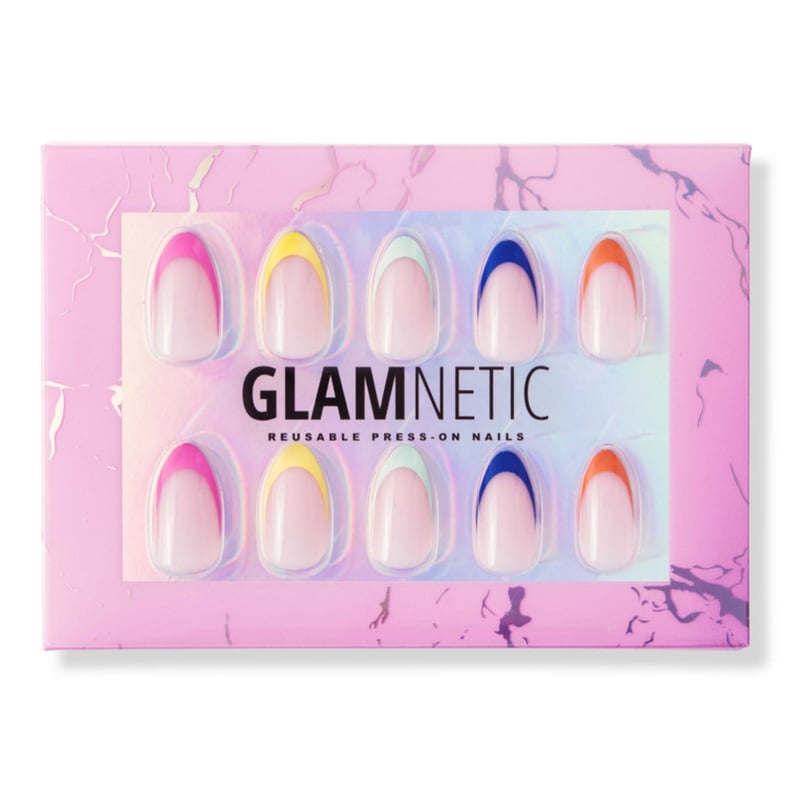 Best Almond-Shaped Press-On Nails
Glamnetic Sprinkles Press-On Nails ($15)
Glamnetic specializes in fun, trendy designs (it even has a "Euphoria" collection). The Sprinkles Press-On Nails set is a multicolored french manicure with almond-shaped tips. The kit includes your basic nail tools and nail glue to attach them.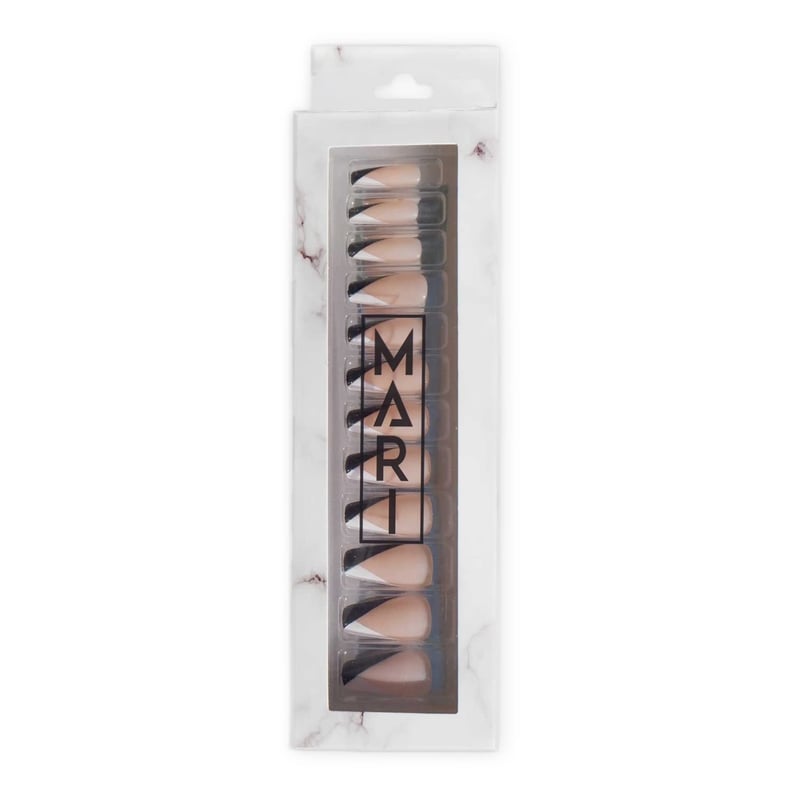 Best Celebrity Press-On Nails
Mari by Marsai French Black White Coffin Shape Press-On Nails ($22)
Marsai Martin is a nail-art queen, so it should come as no surprise that the star has her own line of press-on nails, allowing you to get a red-carpet-worthy manicure at home. The Mari by Marsai French Black White Coffin Shape Press-On Nails feature a trendy, minimal design that will match everything in your closet.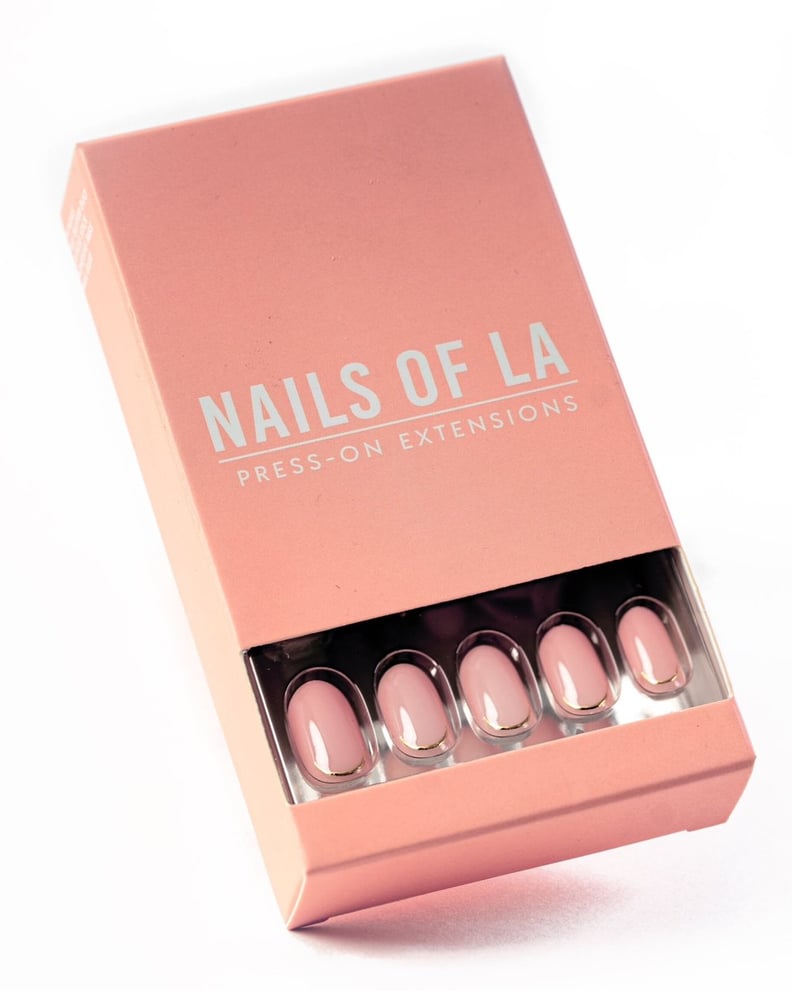 Best Short Press-On Nails
Nails of LA The Minimalist Press-On Extensions ($16)
Nails of LA is by celebrity manicurist Brittney Boyce, whose clients include Megan Fox, Machine Gun Kelly, Olivia Rodrigo, and the Kardashians, to name a few. The Minimalist Press-On Extensions are just one style of her many fun press-on nail sets.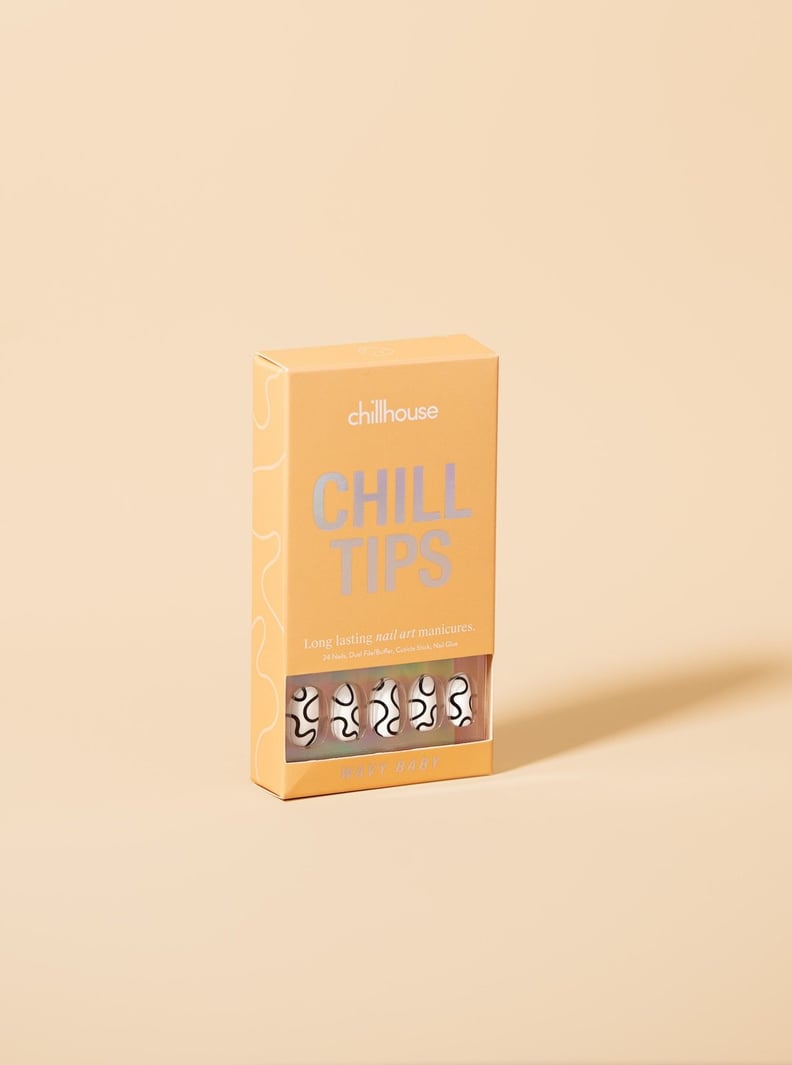 Best Round Press-On Nails
Chillhouse Chill Tips Wavy Baby ($16)
Chillhouse, a New York City-based nail salon, launched fake nail sets to allow its customers to achieve salon-level manis at home. The Chillhouse Chill Tips Wavy Baby has a modern black-and-white design.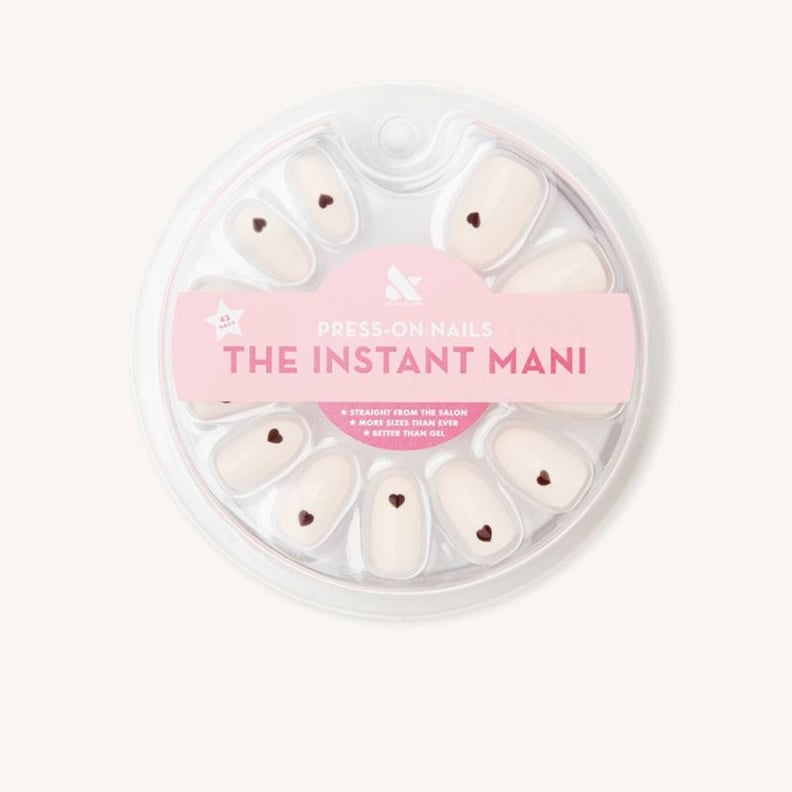 Best Size-Inclusive Press-On Nails
Olive & June Press-On Fake Nails ($12)
The Olive & June Press-On Fake Nails give you an instant manicure with trendy designs to boot. The nail kit includes 48 oval-shaped nails in 21 different sizes, so you're sure to find your perfect fit.