Fenty Match Stix Earrings Hack
We Bet You Didn't Know That Fenty's Match Stix Have Another Secret Use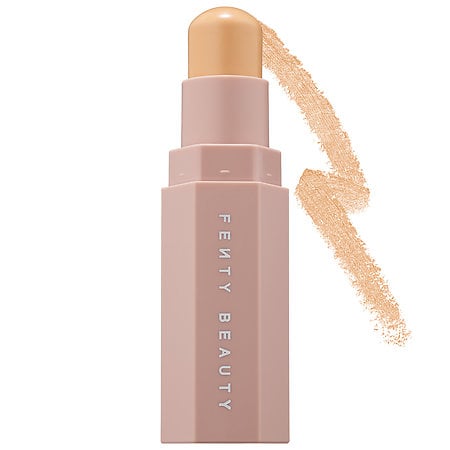 You can do a lot of things with your Fenty Beauty Match Stix ($25). You can swipe the chubby on your cheeks for an instant unicorn flush. You can use the shimmering "Blonde" shade to build a blinding highlight over your collarbone. You can use the magnetic packaging to help find all your little lost jewelry. Wait, what?
According to Austin, TX, Twitter user Shelby, Rihanna has solved one of life's most frustrating dilemmas. "I threw all my earrings in my makeup bag, and my Fenty set caught them all," she wrote. Game changer.
I threw all my earrings in my makeup bag and my FENTY set caught all of them... wow @rihanna never stops giving back pic.twitter.com/rZq5mrNvbi

— shelby 🌙 (@ItsShelbyTho) November 25, 2017
Sure enough, Shelby posted photographic evidence of her claim. In the picture above, you can see two silver studs clinging onto Match Stix for their dear life (which is also what we did with the products when we first got our hands on them).
This news sent Twitter into a tizzy, but apparently Shelby wasn't the first person to notice this truly wonderful hack. "This is how I find my tweezers in my makeup bag," one person commented on her post. BRB while we go play around with our fun magnetic Match Stix and pretend we're controlling sh*t with our minds.
Told y'all Matchstix are multi-purpose 😏 https://t.co/9ysr8wf52a

— Fenty Beauty (@fentybeauty) November 28, 2017