Lavanila Armpit Detox Mask
I Tried a Natural Underam Detox, and It Made Me a New Woman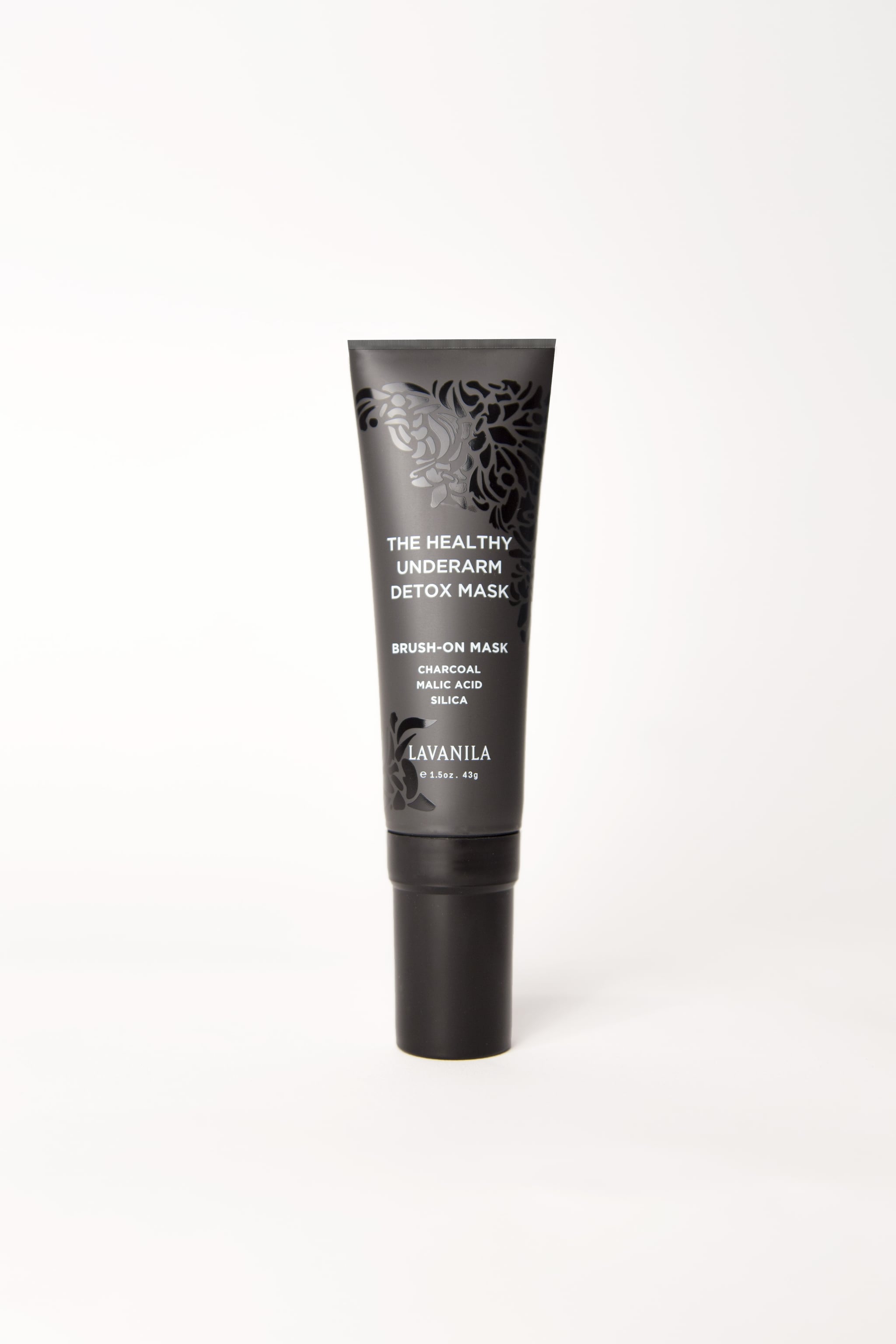 I sweat so much, sometimes I think that my armpits heard Beyoncé sing, "A little sweat never hurt nobody," and replied, "Challenge accepted." It's been a lifelong struggle. In middle school, I used to line the insides of my sleeves with Always Infinities in hopes of stopping stains (FYI: all it stopped was boys talking to me).
I eventually matured into using men's deodorant, which cured my perspiration — at a cost. Such strong, chemical deodorants contain aluminum, which has been linked to causing Alzheimer's and breast cancer. It felt extremely irresponsible to risk my future health in favor of smelling good. Sure, I would have loved to be one of those graceful hippie women whose sweat smells like fresh patchouli, sunshine, and good vibes. But alas, I am a musky woman.
So when POPSUGAR Senior Beauty Editor Lauren Levinson suggested that I try transitioning to the new Lavanila Vanilla + Water Element Deodorant ($14, out Oct. 15), I almost hid under my desk. This antiperspirant is made of essential oil, not aluminum, and I was sure it would leave me a stinky mess.
Plus, the transition period between throwing out your traditional deodorant and picking up a natural one is notoriously rough. According to Lavanila's site, going natural means that your pits "start to breathe," open up, and release toxins that don't smell great.
If you can get over the first five days of using this mask, your whole body feels fresh, and you will no longer be afraid of stinking up tight spaces and crowded elevators
Luckily, Lavanila also just released its Underarm Detox Mask ($26), which is made of active charcoal, malic acid, and silica. According to a release, this formula draws out impurities from the skin to "detoxify, beautify, and transform the underarm." I decided to use it in tandem with trying natural deodorant for the first time, in hopes of making the change as seamless (and stench-free) as possible.
The mask consists of sticky black goo, which you apply to your pits via an attached brush. I put it on five minutes before taking a shower, and then rinse it off. Unlike the Boscia Luminizing Black Mask ($34), which it sort of looks like, this Lavanila offering doesn't harden or tighten up as you keep it on. It doesn't feel like anything, really, so even the most ticklish among us can use it without uncomfortable side effects.
In the picture below (you're welcome, internet), you can see how I applied the mask in one smooth layer. A little of this goes a long way, so don't feel like you have to slather it on.

Image Source: POPSUGAR Photography / Alaina Demopoulos
The first week I used a natural deodorant was what can only be described as "the worst of times." I had a wedding to go to, where I wore a strapless dress and danced all night. I could literally feel the toxins seeping out of my pits, but I wasn't not going to raise the roof when "Shout" played. But I'm a stubborn Taurus, so I didn't give up on my detox. I went home that night and put on the mask.
For the next few days, I felt squeaky clean. There was no odor or excessive sweating, and I even felt comfortable enough wearing a tight, black turtleneck, which would have betrayed any pit stains.
If you can get over the first five days of using this mask, your whole body feels fresh, and you will no longer be afraid of stinking up tight spaces and crowded elevators. I also noticed that this formula softened my armpit hair, which has been ravaged by more than a decade of continual shaving. The skin has become less stubbly, and I feel so comfortable in tank tops that I might just have to go book a vacation so I can flaunt my arms.
After years of doing everything I could to mask my perspiration, undergoing the sweat and tears it took to transition to natural deo actually stops it. My Always Infinities-touting middle school self would be so jealous. Plus, during Breast Cancer Awareness Month, what better way to say f*ck you to cancer than by eliminating a huge cause of it from your lifestyle? Now, that's just one fewer thing for me to sweat about.