Nicole Kidman on Ageism in Hollywood
Nicole Kidman Wishes People Wouldn't Worry About a Woman's Age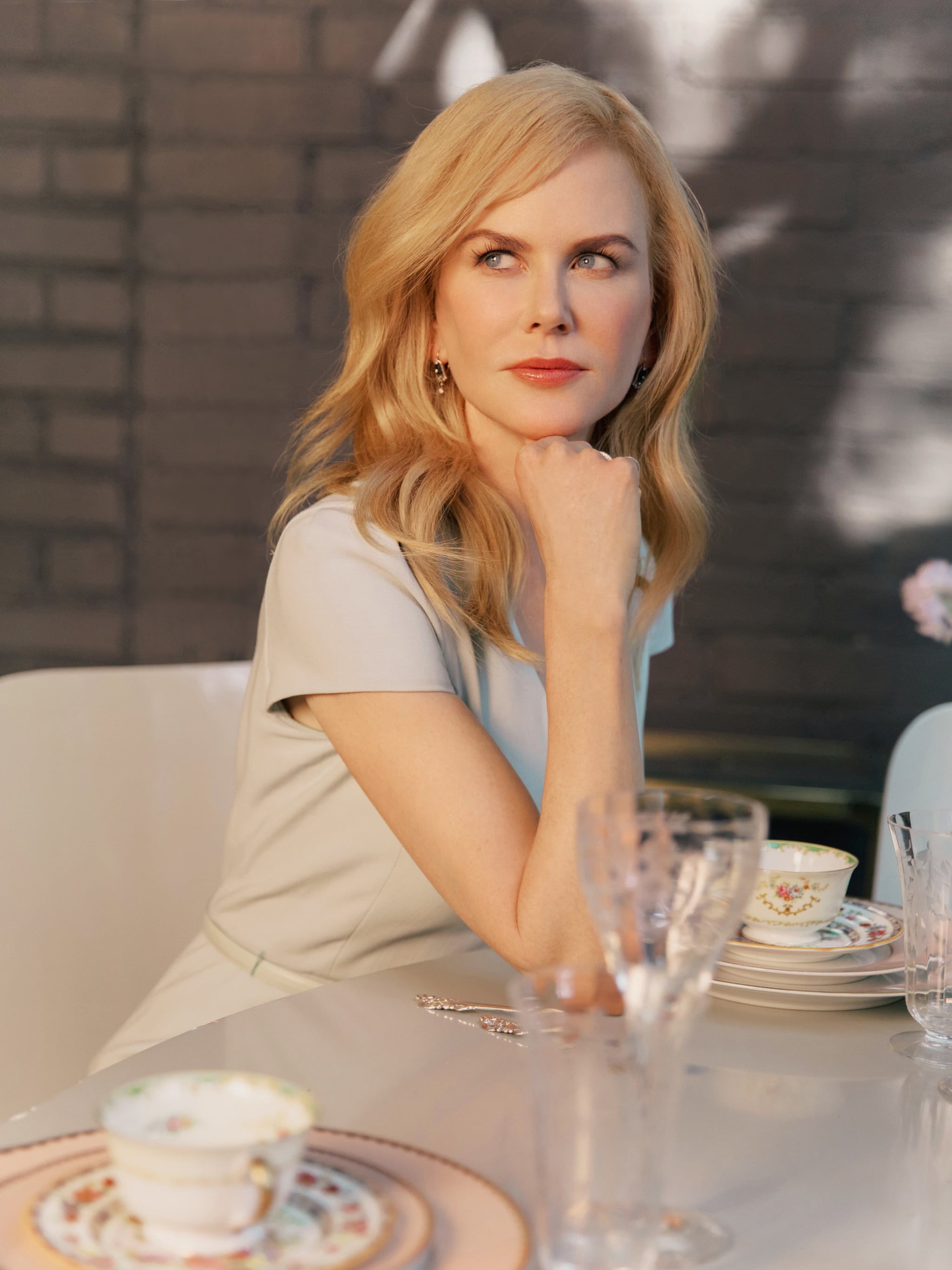 Image Source: Neutrogena
Ahead of the 2017 Emmy Awards, I sat down with award winner Nicole Kidman for tea. No, not the gossipy kind, but an actual sit-down with egg salad and lox sandwiches and an assortment of teas. At a local LA florist and perfumery, Nicole discussed a variety of topics, from self-care to fighting ageism in Hollywood.
Nicole has blown audiences away with her performance in Big Little Lies this year — which won five awards at the ceremony — and recently signed on as an ambassador with Neutrogena. These two events have contributed to a Nicole renaissance in the last few months. A woman who has delighted us with films like Moulin Rouge and Practical Magic somehow felt distant and unrelatable, stuck in the past . . . until now. Was it the role of Celeste, a woman trapped in a domestically violent relationship, that made her, Nicole, real to us? Was it the subtle shade she showed toward Giada de Laurentiis on The Ellen DeGeneres Show? Was it that she was capable of making "Wannabe" by the Spice Girls sound sexy? Or maybe that she appeared to get on the level of those who adore her by partnering with a mass brand?
Whatever the case, she's undergone decades of scrutiny about everything from her personal life to her looks — an unnecessary evil women in the media know all too well. But this year, with the debut of Big Little Lies and a political climate in which women have fully had it, we appreciate the fact that she is 50 years old and still at the top of her game. She can play sexy, whimsical, mature, and intelligent, and it doesn't matter what she looks like. She's playing women who don't need men to "save" her. She commands the screen, and she does it better than most of her peers. But surely the criticism over the years has affected her. She's only human, right? At least, that's what she said to me. (More on that soon.)
"Instead of saying, 'What's her age?', just saying, 'She looks good.'"
As Neutrogena's ambassador, Nicole is invested in changing the age conversation and hopes the emphasis on it for women will start to diminish. "For a man, (age has) always been far more less important," Nicole said. "You need to have the same thing for women. It's an important issue right now. The more we can blur the lines and not worry about that, the better. The better for all of us together as a society. The things that are available to us means we have different, longer lives. A lot of these ideas were set in place 50, 100 years ago. It's very different now. Being able to present yourself to the world, instead of saying, 'What's her age?', just saying, 'She looks good.'"
Reese Witherspoon, executive producer for Big Little Lies, got the manuscript for the show. But Reese credits Nicole for closing the deal and getting the option by meeting directly with the author of the book. Together, their star power allowed them to create a strong female-focused mini series. "The more we're a team . . . the more you bring [women] together on all issues that are important to us, the more powerful we are," Nicole said. "Big Little Lies showed me the power of Reese and I going in together. That was us, and our friendship, and our strength and our power together. We can do it for things like aging. We can do it for our children, creating opportunities for our daughters. But that also creates opportunities for our sons. The family prospers. Society is changing now."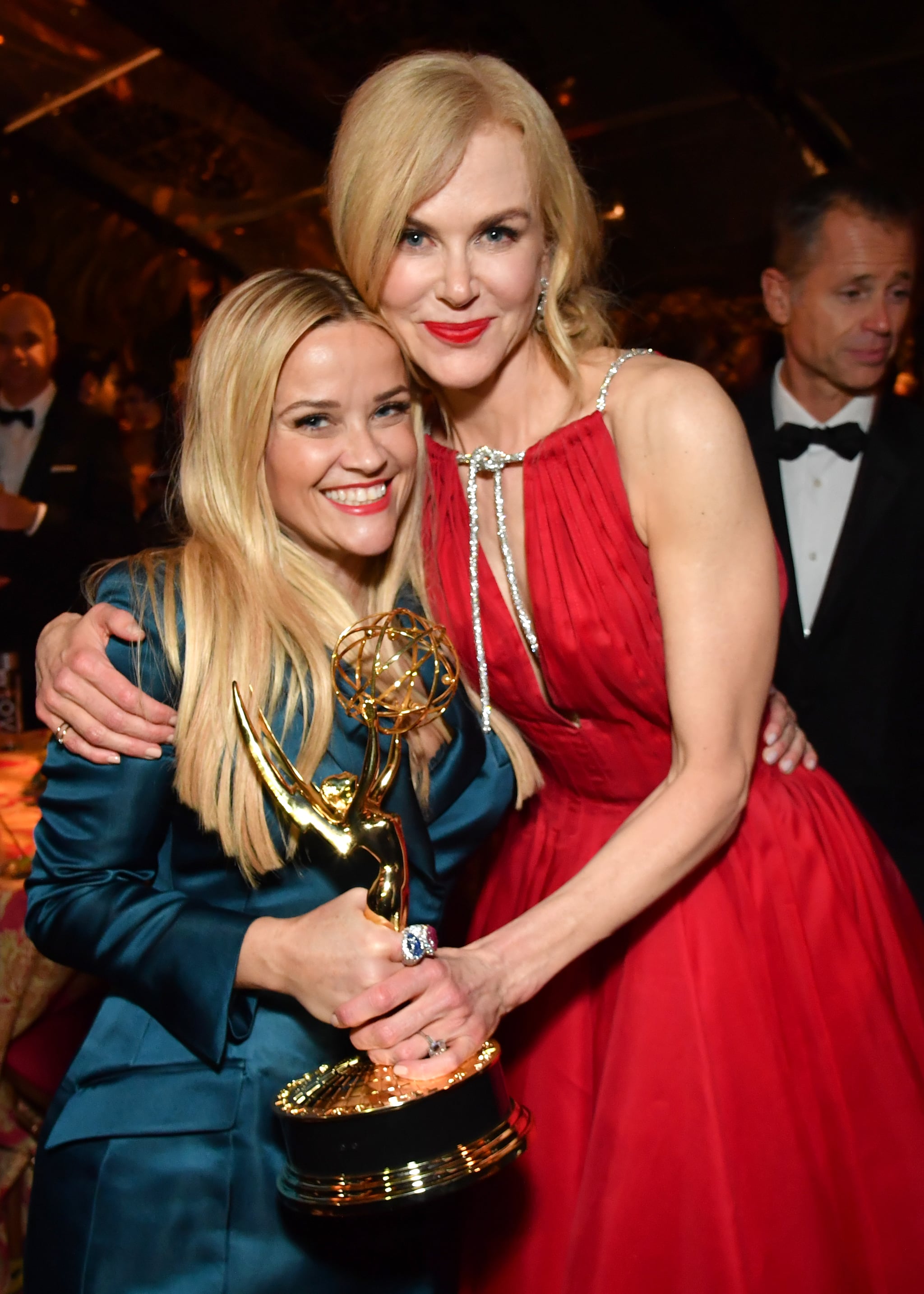 Image Source: Getty / Film Magic / Jeff Kravtiz
I'd be remiss if I didn't address this: if you're thinking, "Neutrogena? Nicole Kidman? What?", don't worry, I was a bit puzzled myself. After speaking with her, I understand now what could have propelled an A-list actress such as herself to align with an affordable skincare line — especially when she could easily get any beauty deal she wanted. Namely, she truly believes in the products and seems to actually use them.
She prefers to keep things simple when it comes to her skin. Another thing? She is personable. She speaks directly to you, as if you're listening to your best girlfriend. She laughs heartily at jokes made. She isn't looking around anxiously for her agent to step in. She might be dressed in couture by night, but during a conversation, you're inclined to believe everything she says, as if you've known her for years. This experience easily made her more relatable to me, even in a regal setting at a flower shop with tea.
"I'm passionate about sunscreen," said Nicole, when I brought up skin care. Her mother used to slather her in thick zinc oxide for days at the beach in Australia. She uses Neutrogena's Rapid Wrinkle Repair with retinol because it helps her with fine lines and with brown spots.
When it comes to removing her makeup, she's claims to be addicted to wipes. "I take off makeup with wipes, on the plane if I'm traveling, which is a lot," she said. "Or in the car if I'm going from [an event like] this to parties. I'll use them to take off my lipstick or my makeup if it needs refreshing. I don't do a lot of facials, because I don't have the time. I used to when I was younger."
That doesn't mean she's gone without some rather intense Hollywood-type treatments. "I've done something where I went to one of those spas, and they sprayed me down with hoses," she said. "I went with one of my girlfriends, and we were like 'Nah, stop.'" (Editor's note: there is nothing more endearing than hearing her Australian accent say "nah.") "We were standing in the concrete room with these supposed hydrating salt hoses and we were like, 'It just feels cold and damp and depressing. I want a candlelit room with a massage, please.' I've been to the places where they take you on a hike for two hours, and they give you a few almonds to eat and I'm like, 'Nah, I'm hungry. I'm 5'11. I gotta eat.'"
Being in the business since she was 14, Nicole surely has some tricks to offer when it comes building self-confidence, or at least a thick skin, right? Not exactly. Her advice: don't have thick skin.
"Keith always says, 'You don't want a thick skin. I love that you feel things, that you're emotional.'"
"Really, because a thick skin is really the wrong way to be," Nicole said. "We're feeling, we are sensitive. That's how we connect, how we empathize. I have that stoic mother who goes, 'Just get back up, Nicole, what's the worst it can be?' and I'm like (incoherent crying sounds), and she's like, 'Get back up. One foot in front of the other. Get to sunset and then you will get to another sunrise and off you go.' I suppose that's what you can call thickening your skin."
Nicole has been with her husband, Keith Urban, for 11 years now. Both have Australian roots and currently reside in Nashville with their children, Faith, 6, and Sunday, 9. "Keith always says, 'You don't want a thick skin. I love that you feel things, that you're emotional, that your antennae is up for other people, that your desire is to take care of other people, and that you nurture,'" she said.
At the end of the day, the actress relies heavily on her ability to empathize with others, which also means she isn't immune to the scrutiny that comes with her job. "The idea of not feeling or 'toughing it out,' that's just not me. Maybe other people are like that, and I would take inspiration from it . . . but I'm in the world to have compassion, empathize, and reach out. And that's how I act. That's how I played Celeste. That's how I could go into her brain and go, 'What is this feeling and how do I feel this?' That's how I can cry. That's how I can feel and emote. By being emotional."
"I'm in the world to have compassion, empathize, and reach out."